Sweet, slightly tart apples are perfectly caramelized and encased in a soft, flaky crust. These mini apple pies have just the perfect crust to filling ratio!
When I was growing up, I actually hated apple pies. I detested the mushy filling and would pick off the crust with single minded determination. I would wipe off any of the apple goo before I deigned to take a single bite. Now that I'm older, I'm just pretty sure I had some bad apple pies in my childhood. I love the combination of warm, melty apples and flaky, buttery crust. Though I do still have a soft spot for crust – it's my favorite. That's honestly one of the reasons I love these mini apple pies. You get way more crust for each bite of filling, and the ratio is beyond compare. Heavenly. Amazing.
I will warn you that they are a bit of work. You have to roll out their little pie shells, then make mini lattices. It took me waay longer than a regular apple pie. But it was totally worth it and next time I think I'll be a bit faster.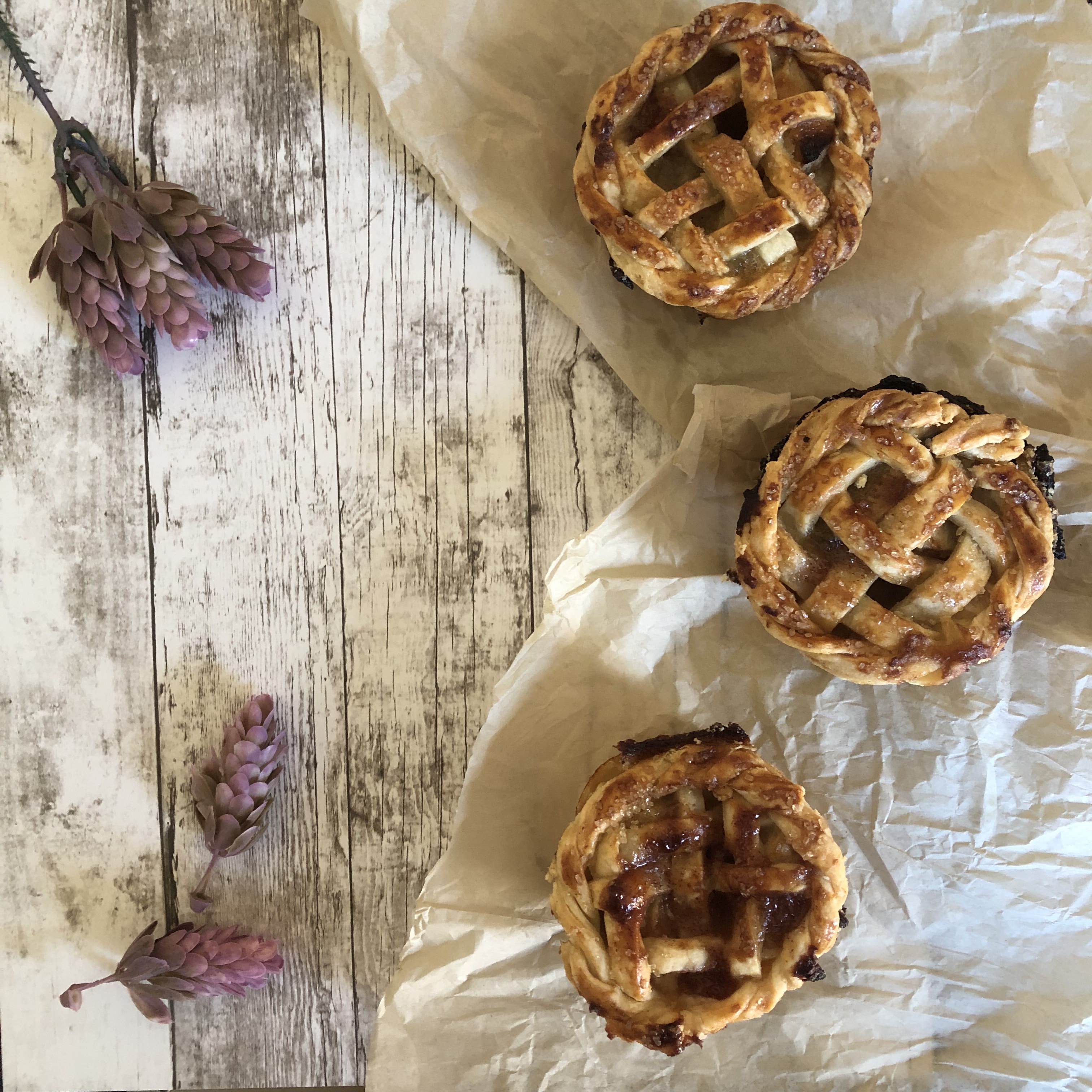 Recipe is adapted from my regular apple pie recipe, should you be inclined to make a normal sized pie: Forgiveness and the Best Apple Pie
Mini apple pies
Servings: 12 mini pies
Prep time: 1-2 hours
Bake time: 45 minutes
Ingredients
3/4 cup granulated sugar
1/4 cup water
Pinch of salt
3 pounds apples (about 5 medium apples)
Juice of 1/2 lemon (optional)
1 tablespoon all-purpose flour
Pastry for 3, 9-in pie crusts (1.5 boxes of pie crust mix)
1 tablespoon butter
1/2 tablespoon ground cinnamon
1 egg (for egg wash, optional)
Demerara or Turbinado sugar (optional)
Directions
Lightly grease a 12 cup muffin tin
Prepare pastry crust and roll out to 1/4 in thickness. Cut out circles that are slightly wider than your muffin cup, and line the cup. I use Betty Crocker's pie crust mix and it's super simple to bring together
Preheat oven to 375 degrees F
Peel and core apples and cut into eight slices. Halve each slice. Mix with lemon juice if your apples are not tart.
Put sugar, water, and salt in large pan and cover on low-medium heat until sugar dissolves
Drop apple pieces into sugar syrup to cover the bottom of the pan and cook until tender. Leave the cover of the pan on while the apples cook.
Remove apples onto flat tray and continue until all apples are cooked.
Thicken syrup with flour (you should have about 1/3 cup remaining)
Place apples onto pastry-lined muffin tins. Don't fill too much, as the apples will expand when cooking.
Add butter and cinnamon to the syrup and mix well over low heat
Pour syrup over apples and cover with top pastry or lattice
For border of each mini pie, cut 2 thin strips of pastry about 6 in. long and 1/4 in wide. Twist strips together. Dab egg wash around border of each pie and gently press on twisted strips.
For a beautiful finish, brush each pie with egg wash and sprinkle with Demerara or Turbinado sugar (optional).
Bake for 45 minutes until tops are deep golden brown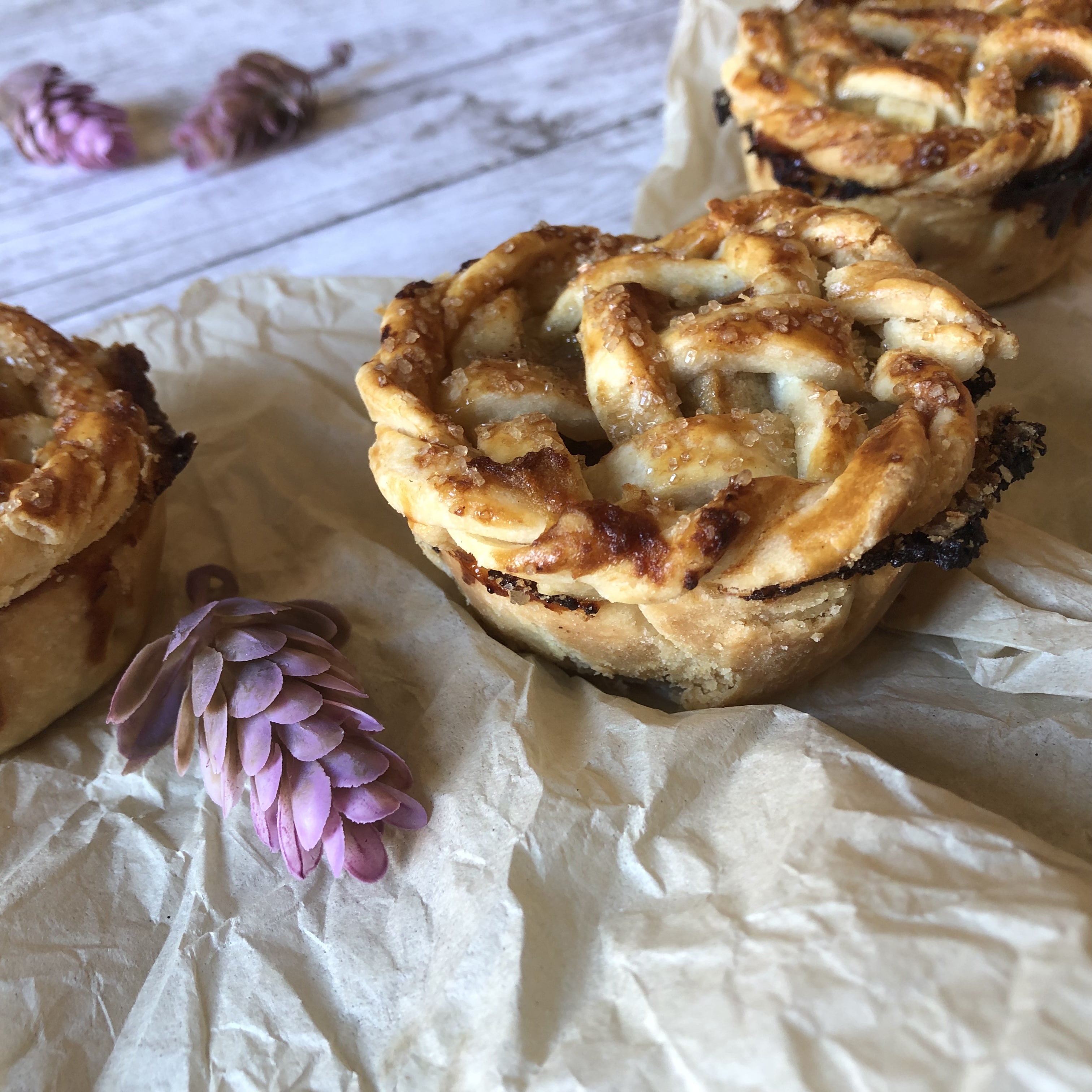 These mini pies are so delightful and perfectly proportioned. I'm going to be honest – I nearly lost my mind making the tiny lattices. But they were adorable and tasty and a big hit in my house. So I think they were worth it 😋
Sharing to Fiesta Friday!