Thick chunks of chocolate mix with crunchy nuts and chewy toffee in every bite to create an explosion of textures and flavors in these super chunky chocolate chip cookies. Eat them warm out of the oven or dip them in milk for a perfect cookie experience.
Sometimes I want a traditional chocolate chip cookie, and sometimes I want a cookie that is so thick and hearty you could build a house with it. I want it crammed full of flavors and textures, and I want it to be thick enough that I can really give it a good dip in a tall glass of milk.
So what are ways to get a really full and chunky cookie? One way is to chill your dough before baking so it spreads less in the oven. But I am lazy and simply want the quickest way to go from cookie dough to cookies to into my mouth. Another way is to mix in thickeners such as corn starch or oatmeal. But this fundamentally changes the soft, melty texture of my favorite kinds of cookies. The final way is to cram your dough so full of non-cookie-dough items that it helps support the cookie and keeps it from getting too thin. And that's the method I decided to go with.
But it's hard (and potentially expensive) to get all the different ingredients to make a nut / chocolate / toffee filled cookie. Even harder if you want to mix up dark and milk chocolate. Which is where my special ingredient comes in – Hershey's Nuggets. These mini chocolate treats have an assortment of dark, milk, nut, and toffee-filled flavors, They're easy to chop up and provide all the textures straight out of the bag. They will take your cookies to that chunky level you dream of.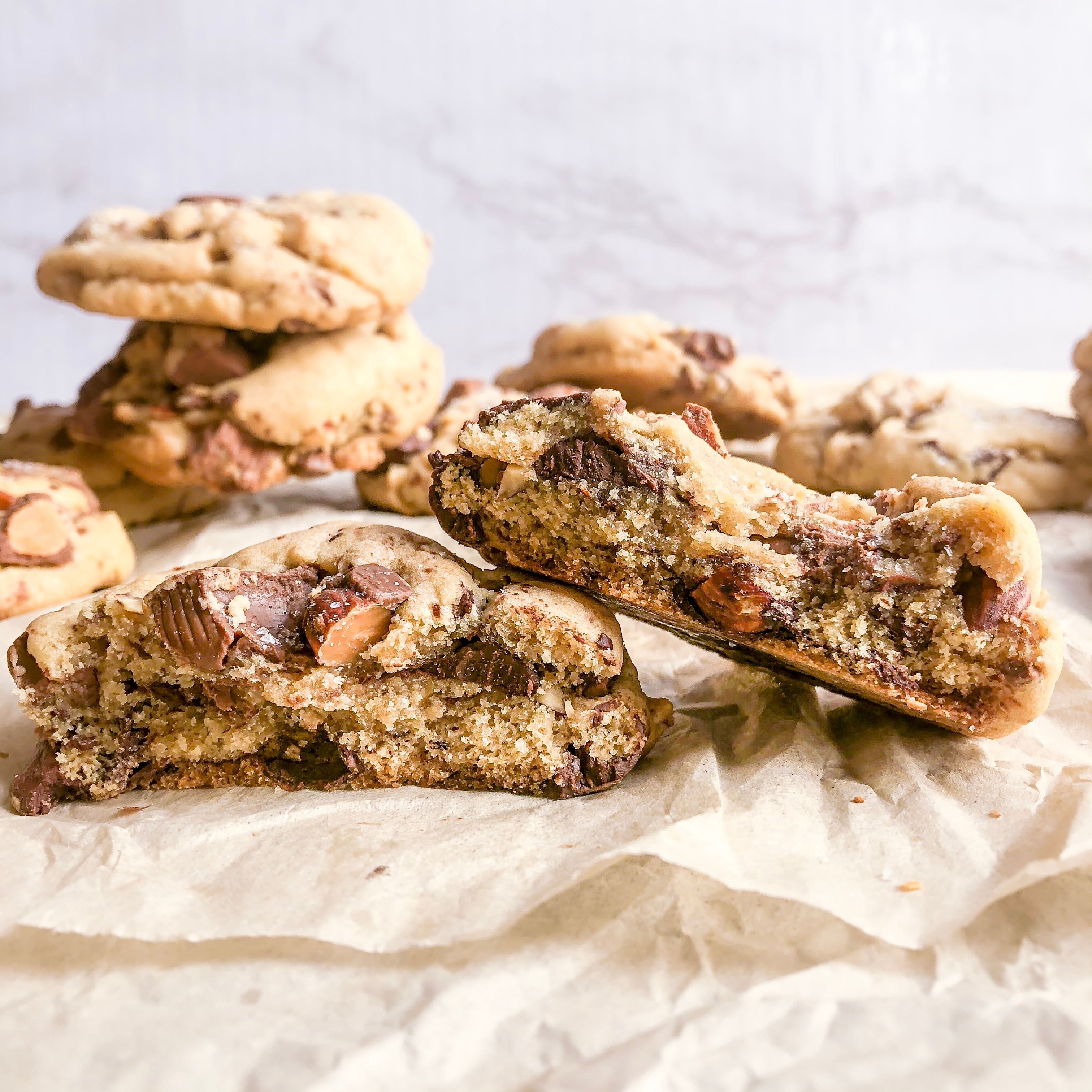 Some tips for optimal cookies
Make sure your butter is truly at room temperature before creaming with sugar
Adjust the ratio of chocolate flavors depending on how much nuts and toffee you want in your cookie
Either light or dark brown sugar will work fine in this recipe. You can learn about the difference here: Dark vs Light Brown Sugar – Does it Matter?
Bake time will vary based on your oven. These cookies are also quite thick, so you can expect the inside to be a little soft.
To get picture perfect cookies, take some chocolate chunks and press them into the top of the dough ball before baking.
Recipe adapted from http://www.hotchocolatehits.com/2015/05/salted-chocolate-chip-cookies.html. She makes some bomb recipes and you should check her out!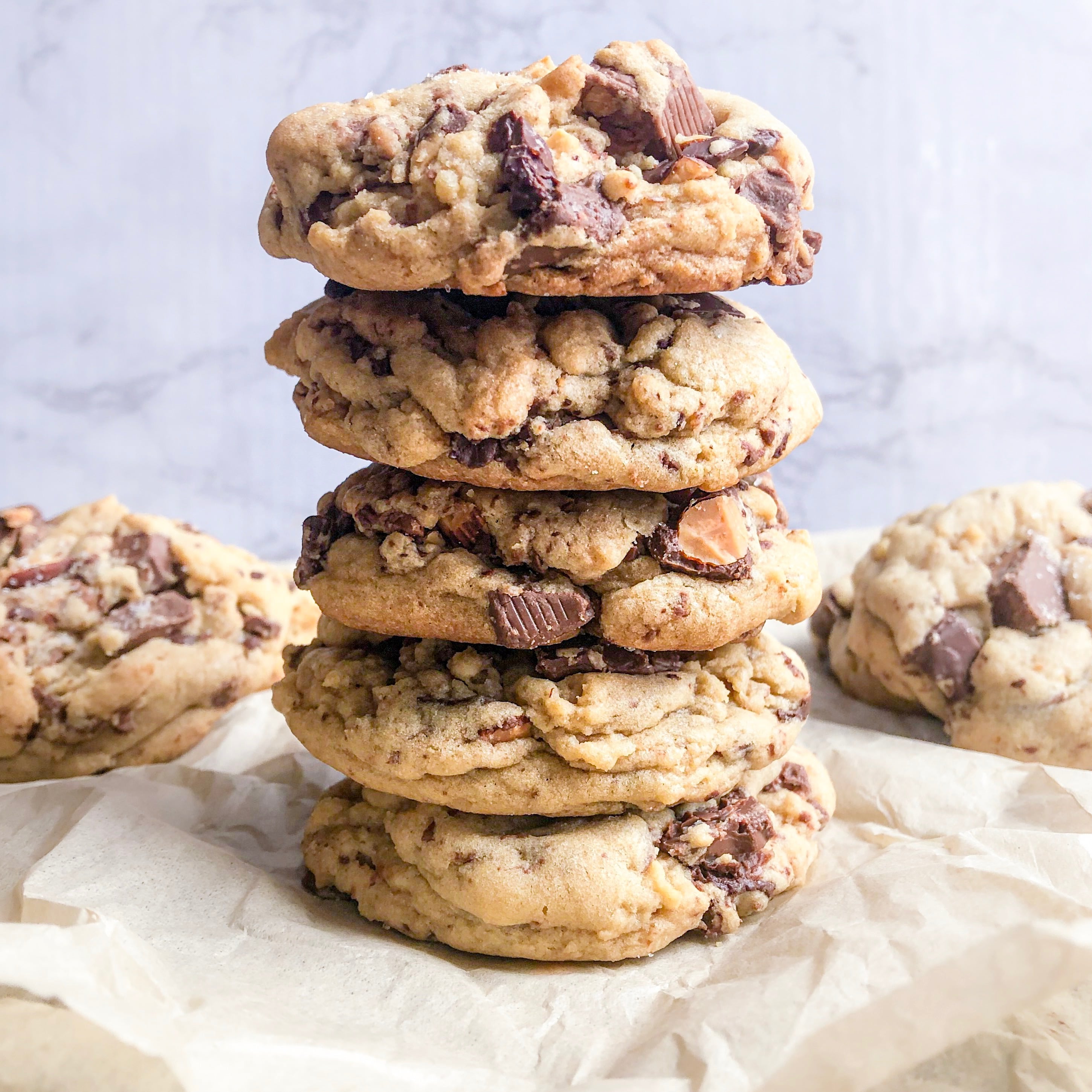 Super chunky chocolate chip cookies
Prep time: 20 minutes
Bake time: 12-14 minutes
Servings: ~12 cookies
Ingredients
1/4 cup granulated sugar
3/4 cup brown sugar (light or dark)
1 3/4 cups all-purpose flour
1 egg
1/2 cup (1 stick) room temperature butter
1 tsp vanilla extract
1/2 tsp salt
3/4 tsp baking soda
25 –  30 assorted Hershey's Nuggets (I used 25 – depends on how much chocolate you like in your cookie!)
sea salt for sprinkling
Directions
Preheat oven to 350F and line a baking sheet with greased aluminum foil
Chop Hershey's chocolates into rough quarters
Cream butter and sugars together until fluffy
Mix in egg and vanilla extract until evenly combined
Stir in salt and baking power
Add flour in batches, combining well between each batch
Fold in chocolate chunks. There may be too many chocolate chunks to thoroughly incorporate into the dough. Press any leftover chunks on the top of cookie dough balls before baking.
Place 3 tbsp scoops of dough on the baking sheet, about 2 inches apart
Sprinkle with sea salt and bake for ~12-14 minutes or until dough is slightly golden brown
Allow to cool and serve with a hot cup of tea!
I love these cookies, especially with the holidays coming up. They are truly a decadent treat, and every bite is full of flavor. Perfect with a hot beverage in front of the fire!