I've been going a baking spree with the holidays, but it's lonely to eat so many cookies by yourself. So, I've been enabling my friends to indulge in these unhealthy (but wonderful) habits with me. Today's Earl Grey shortbread was made by my friend who is such a tea lover. So he combined his love of tea with my love of sweets, and we took a spin at these rich shortbread cookies.
We used this recipe for the shortbread cookies. They were so decadent (like just pure, delicious butter) and the perfect tea cookies. I was pretty surprised by how well the Earl Grey flavor came through and balanced with the richness of the biscuit. They were a bit difficult to make – essentially, the ratio of butter and flour makes for a crumbly mix that's hard to wrestle into slice and bake form. Some tips we learned from our struggles:
Try not to sub granulated sugar for confectioners sugar. Everyone usually has some granulated sugar in their pantry, but confectioners sugar is a little less common. So lazy 20 something year olds we are, we just used granulated. It worked, but it made the dough a lot looser.
Be generous with plastic wrap. Wrestling the crumbly dough into the plastic wrap was a powdery struggle. Using one long continuous sheet helps create a dough sausage, and make sure you squeeze tight!
Chill for a sufficient amount of time. Be patient – the dough is all over the place and needs time to settle into a perfectly round cookie log. That which is most delicious comes to those who wait.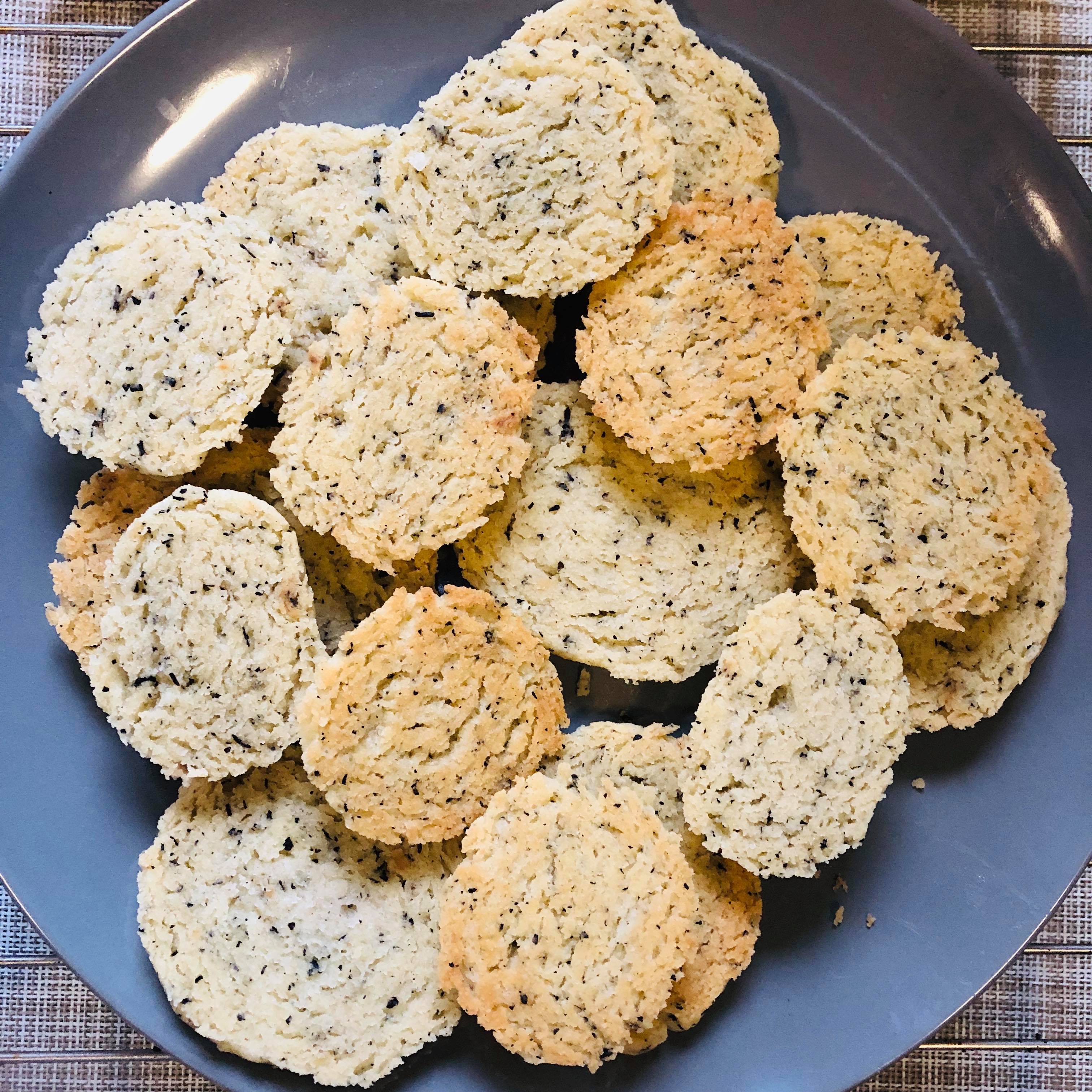 After spraying a good amount of flour and butter around the kitchen, we produced about 15 absolutely delicious cookies. Buttery, soft, melt in your mouth with a subtle Earl Grey flavor. Note that there were 2 whole sticks of butter in those 15 cookies for an impressive butter to cookie ratio. Mmm yes no time like the holidays to indulge in all the best treats with the best people 🙂
Overall, I would definitely make these cookies again. They are such a treat and are really elevated by the Earl Grey. It's an impressive cookie to make for guests, and would be perfect for a tea party or even a quiet afternoon with a book and cup of tea.