These light and fluffy blueberry baked donuts are made with a special ingredient – sourdough discard!
Fluffy, healthier donuts that don't require any frying? Yes please! These blueberry baked donuts are the perfect way to get your donut fix in less than 30 minutes.
They're soft, tender, and studded with sweet, juicy blueberry. And if you want a little more sweetness, you can finish them off with a simple glaze – because who can resist a blueberry glazed donut?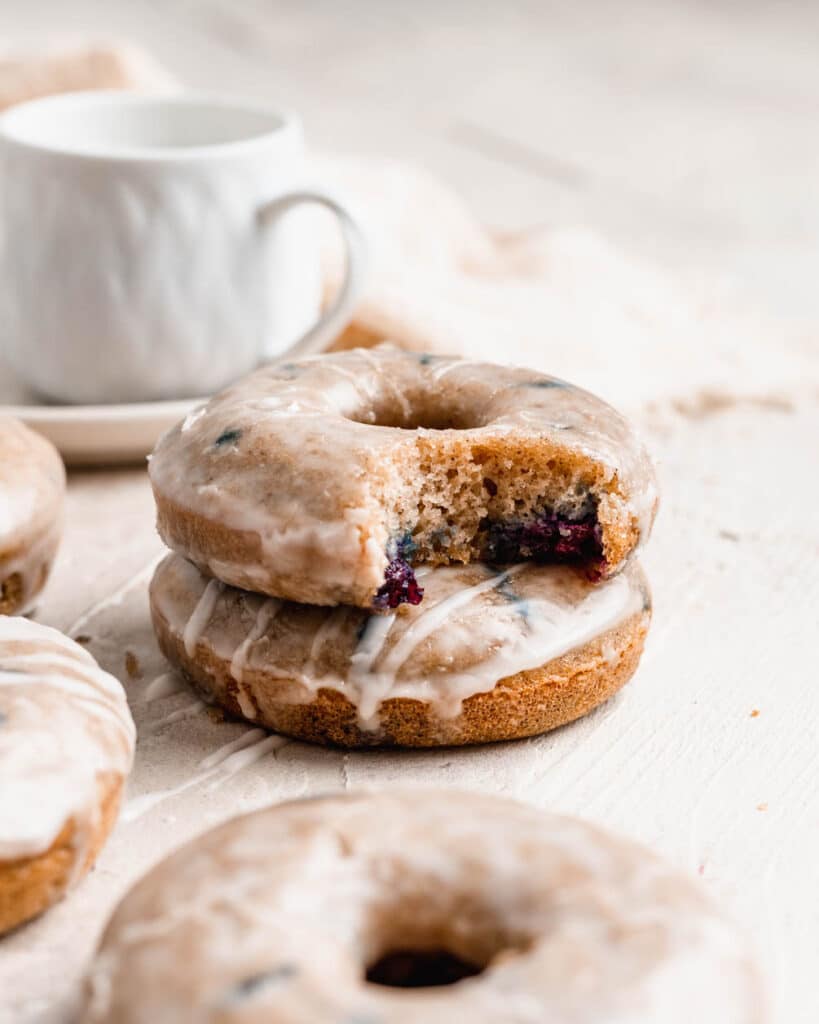 How to make baked donuts
I love making baked donuts because they're so quick and easy to make. The batter comes together in 10 minutes and then you need another 10 minutes to bake – and just like magic you have fresh, warm donuts.
First, we'll mix together all the dry ingredients:
All purpose flour – all purpose flour works great for this recipe, but if you like a little bit of chew, I recommend a half and half mix of all purpose flour and whole wheat flour. It adds wonderful texture!
Baking powder – helps create that nice, fluffy texture
Baking soda – also helps leaven and create a fluffy texture
Salt – for flavor and too balance out the sugar
Ground cinnamon – adds a wonderful warmth and flavor that goes perfectly with the blueberries!
Then, we'll mix together all the wet ingredients plus sugar:
Egg – helps bind everything together
Brown sugar – adds more moistness than white sugar
Milk – any milk will do, from plant-based to whole milk
Sourdough discard – depending on how old your discard is, it could add a little tang to your final donuts
Vegetable oil – best to use a neutral-flavored oil. Melted butter would work as well.
Vanilla extract – adds amazing flavor!
Then it's a simple matter of adding the wet ingredients to the dry, whisking together, pouring into the donut molds, and adding blueberries.
I like to coat my blueberries with a little bit of flour so they don't sink to the bottom of the tin.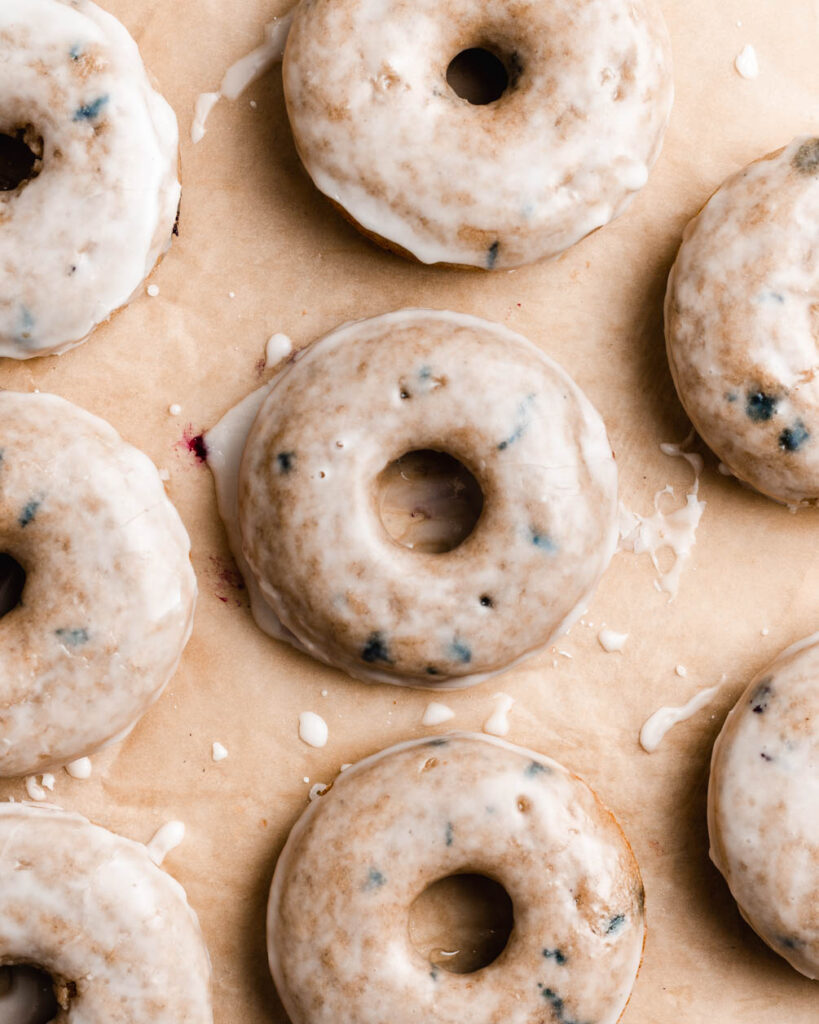 How to glaze donuts
Making the glaze is super easy – all you need is powdered sugar and a bit of milk. You want the consistency to be thick enough to coat the donut, but not so thick you can't pour it or dip the donuts in. 
I like to dip the donuts in once they have cooled, since warm donuts are a little delicate and may crumble into the glaze. I recommend glazing right before serving, since after a few hours the glaze can make the donuts a little moist and soggy.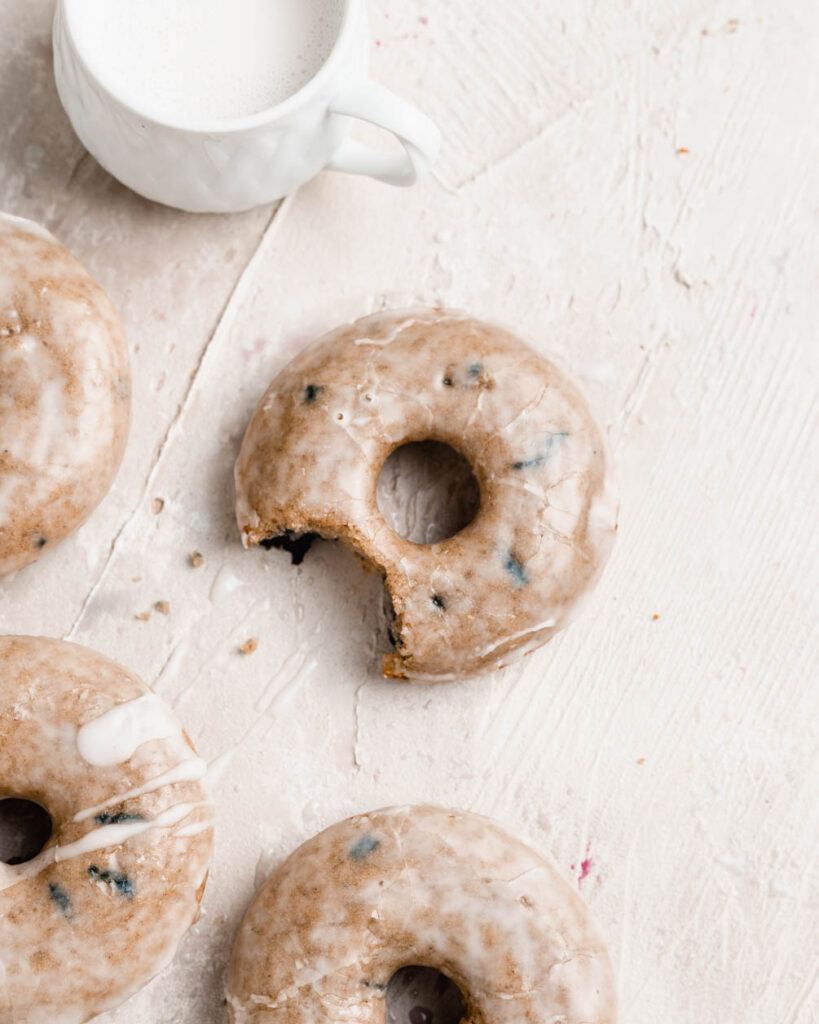 Can I replace the sourdough starter?
Yes! While this recipe is a great way to use sourdough starter, you can replace the starter with a 1/2 cup of flour and 1/4 cup of greek yogurt or milk mixed together. It will create a similar consistency.
These donuts have less sugar and oil than a traditional fried donut, and they make for a light and tasty treat! 
Other sourdough discard recipes:
If you make this recipe, please let me know! I always love to see what my readers are baking. You can comment below or tag me on Instagram @halicopteraway.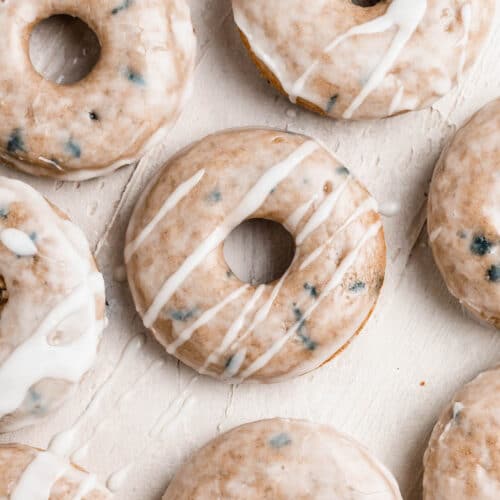 Sourdough blueberry baked donuts
These light and fluffy blueberry baked donuts are made with a special ingredient – sourdough discard!
Equipment
Donut baking pan

Mixing bowl
Ingredients
1/2

cup (65g)

all purpose flour

1

tsp

baking powder

1/4

tsp

baking soda

1/2

tsp

salt

1/2

tsp

ground cinnamon

1

egg

1/4

cup (50g)

brown sugar

1/2

cup (100g)

sourdough discard

1/4

cup (60g)

milk

2

tbsp (30g)

neutral-flavored vegetable oil

1 1/2

tsp

vanilla extract

1/2

cup

blueberries, fresh or frozen

2

tsp

all purpose flour
Glaze
1

cup (120g)

powdered sugar

1/4

tsp

vanilla extract

1 – 2

tbsp

milk
Instructions
Generously grease your donut baking tin and preheat oven to 350°F. It's very important to grease your tin well to avoid sticking.

In a medium mixing bowl, whisk together the flour, baking powder, baking soda, salt, and ground cinnamon

In a separate bowl, mix together the egg and brown sugar. Then, add the milk, sourdough discard, vegetable oil, and vanilla extract and mix to combine. Add the wet ingredients to the dry and mix until just combined, being careful not to overmix.

In a small bowl, toss together the blueberries and 2 tsp of flour. This prevents the blueberries from sinking to the bottom of the batter.

Pour or spoon the batter into the donut tins, filling about 1/3 of the way. Place 5 – 6 blueberries into each donut mold. Pour more batter into each tin, covering the blueberries and filling the mold 2/3 – 3/4 of the way full.

Bake for 9 – 10 minutes until a toothpick comes out clean. A little blueberry juice is okay. Remove the donuts and set aside to cool.

While the donuts cool, prepare the glaze. In a small bowl, whisk together the powdered sugar, vanilla extract, and 1 tbsp of milk. If the glaze is too thick, add a little more milk.

Once the donuts are cool, remove from the pan and dip into the glaze. Donuts are best enjoyed immediately.
Notes
For a nuttier, fuller texture, I recommend using 1/4 cup of all purpose flour and 1/4 cup of whole wheat flour instead of 1/2 cup of all purpose flour. This is my preferred way to make these donuts, but I understand that not everyone has whole wheat flour on hand!
Light or dark brown sugar works for this recipe
You can replace the sourdough discard with 1/4 cup flour and 1/4 cup milk or greek yogurt
The glaze adds extra sweetness, but I actually love these donuts just as much without the glaze.