These cute mini Basque cheesecakes are baked in a muffin and have a sweet and crunchy Oreo crust. They're the perfect one-bowl dessert to bake for a party!
Creamy, smoky caramelized cheesecake finished with a crunchy Oreo as a crust – doesn't that sound like a bite of heaven? These miniature Basque cheesecakes are individually-packaged desserts that make the perfect finger food!
To make these cheesecakes as simple as possible and minimize cleanup, this recipe uses a standard muffin tray and muffin liners to create the mini shapes. They're quick, easy, and absolutely delightful!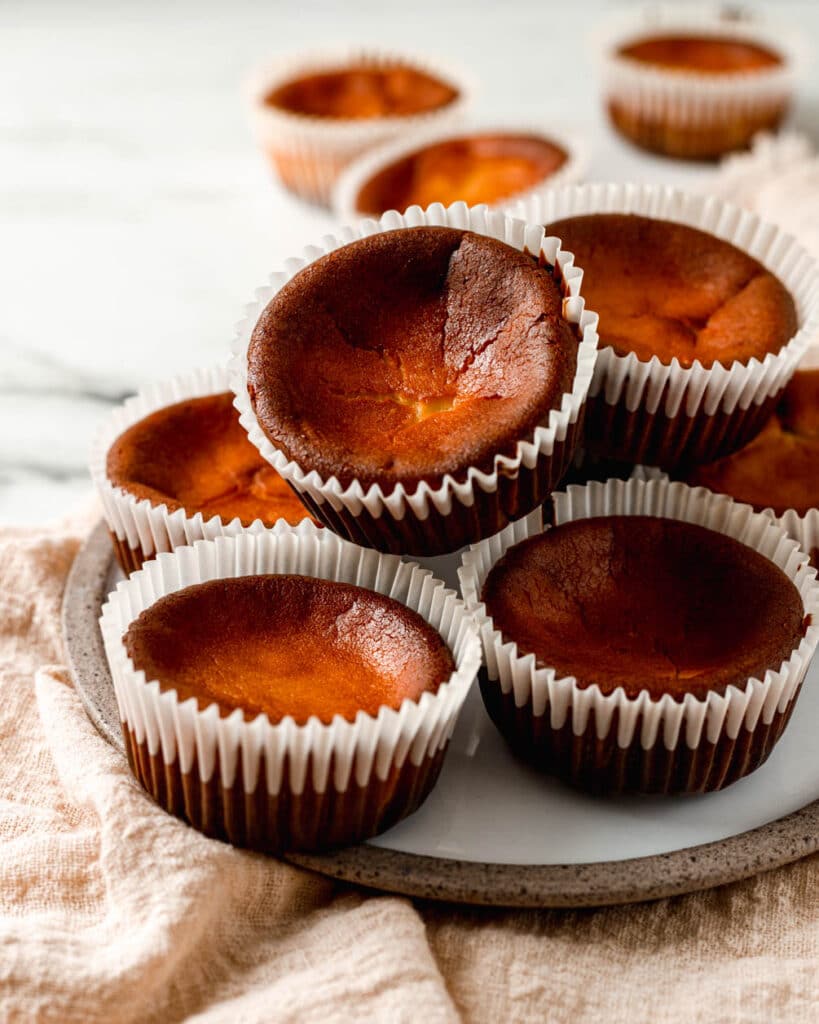 What is a Basque cheesecake?
Basque cheesecakes originated in Spain and have a caramelized outside and creamy center. They typically don't have a crust and have a beautiful, free-form look. They're baked at a super high temperature to get that lovely deep brown finish.
What makes these the easiest cheesecake?
I am all for conserving energy, and a couple of things make this the quickest and cheesecake recipe:
One bowl to mix all of your ingredients so you'll do less dishes (I'm always thankful for that!)
Standard muffin tray and muffin liners so you don't need to shape the parchment paper or use a springform tin
No need to make a custom crust – just drop in an Oreo or other premade cookie of your choice!
No water bath needed – part of the beauty of Basque cheesecakes is the perfect imperfection of slightly sunken centers and cracked tops
Minimal cooling time – no 4 – 8 hour chill here! These mini cheesecakes just need to come to room temperature.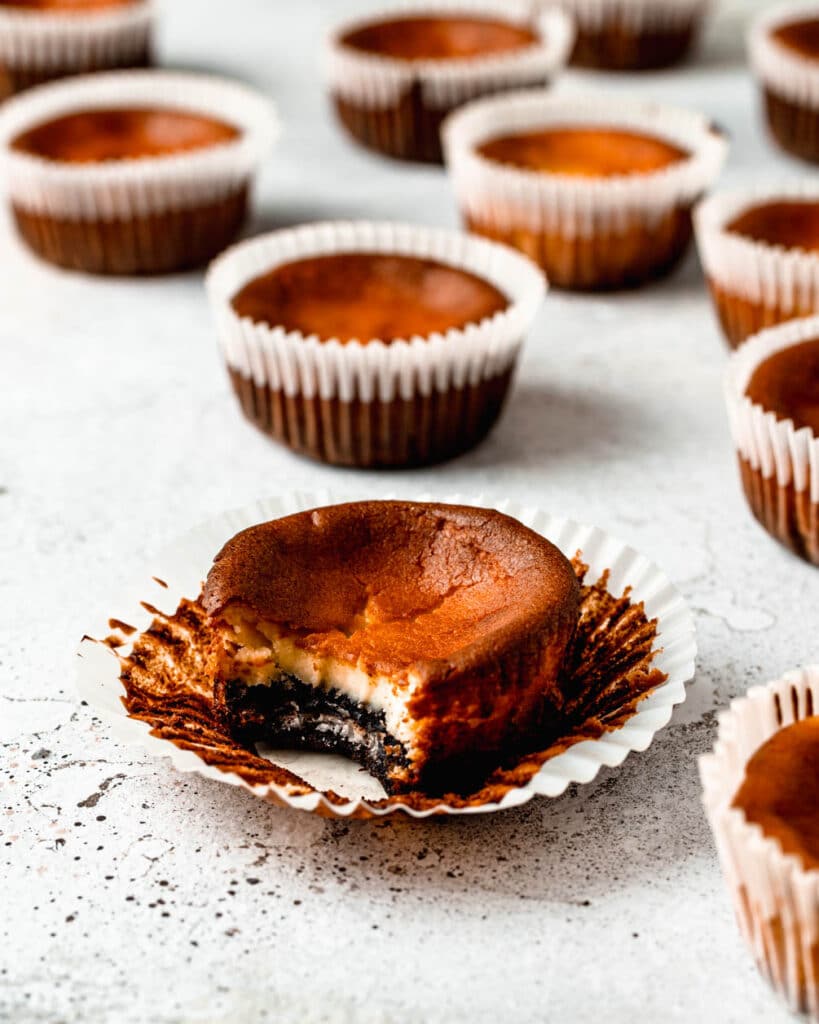 The one must have for perfect, silky smooth cheesecake
Because this recipe is so simple, you want to make sure the batter is silky smooth without any chunks. What's the one trick to help you do this?
Make sure your ingredients are at room temperature! Your cream cheese, eggs, and cream all need to be at room temperature so that they incorporate smoothly and evenly.
Scrape down the sides of the bowl frequently to make sure everything is incorporated into the batter as you mix.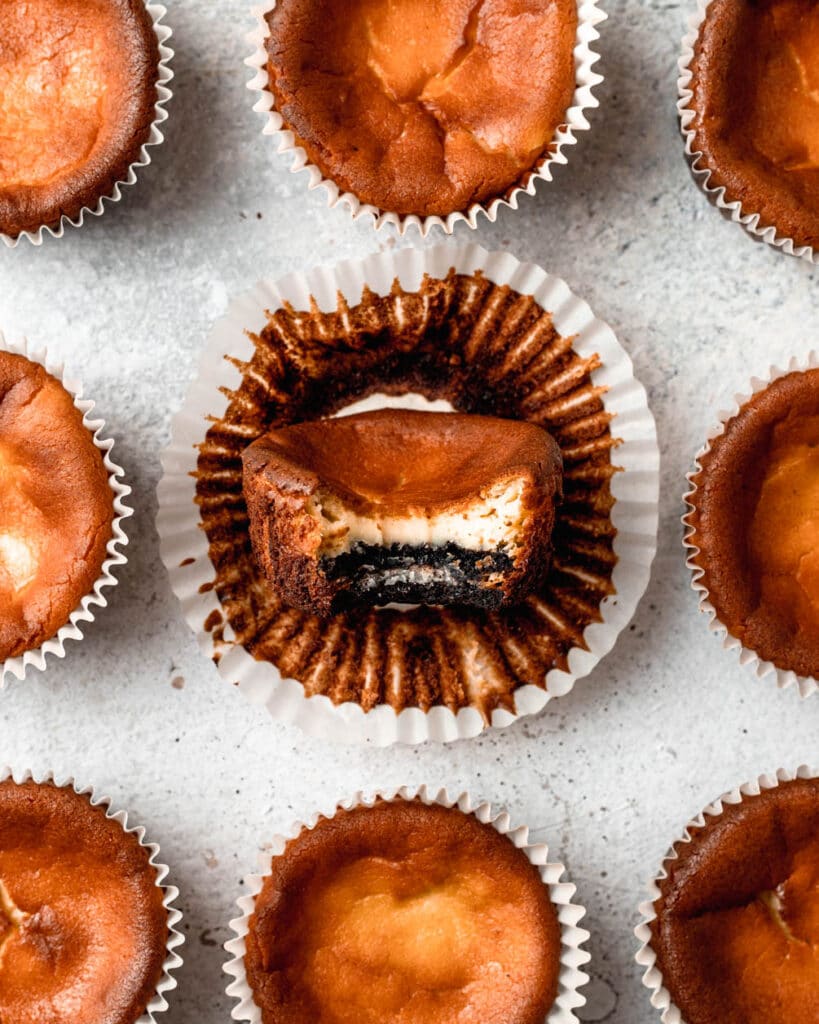 What can I use instead of a muffin tin?
I think muffin tins are the easiest way to get the mini cheesecake shape. However, you can also use ramekins if you prefer. Just be sure to line them with parchment paper first. Ramekins are generally bigger than muffin tins, so I would recommend baking for 5 minutes more.
These miniature cheesecakes are so easy and so delicious – I hope you love them as much as I do!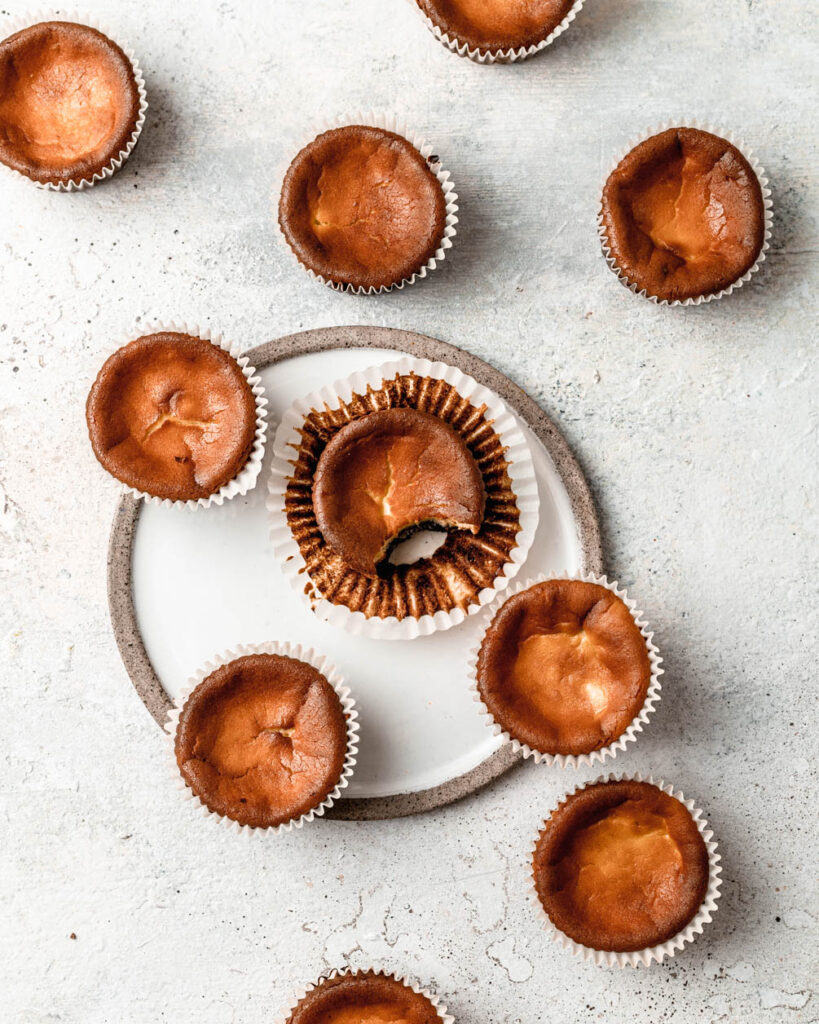 Other cheesecake recipes to try:
If you make this recipe, please let me know! I would love to see your mini cheesecakes. You can comment below or tag me on Instagram @halicopteraway.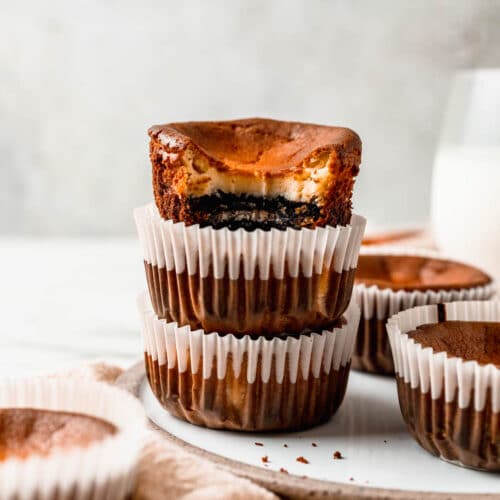 Mini Basque cheesecakes with Oreo crust
These cute mini Basque cheesecakes are baked in a muffin and have a sweet and crunchy Oreo crust. They're the perfect one-bowl dessert to bake for a party!
Equipment
Mixing bowl

Hand or stand mixer

Standard 12 cup muffin tin

Muffin tin liners
Ingredients
24

Oreo cookies, or cookies or your choice

16

oz (450g)

cream cheese, room temperature (2 standard blocks)

3/4

cup (150g)

granulated sugar

3

eggs, room temperature

1

cup (240g)

heavy cream, room temperature

1/2

tsp

salt

1

tsp

vanilla extract

2

tbsp (20g)

all purpose flour
Instructions
Preheat oven to 400°F. Line a muffin tin with muffin tin liners. Place one Oreo at the bottom of each liner. If you only have one muffin tin, you will need to bake two batches of these cheesecakes, or reduce the recipe (see notes).

Using a hand mixer or stand mixer fitted with a paddle attachment, beat the cream cheese and sugar together on medium speed until well combined. Scrape down the sides of the bowl frequently to avoid chunks.

Add the eggs one at a time, mixing on medium speed until each egg is just combined before adding the next. Make sure to scrape down the sides of the bowl frequently as you add the eggs. Add the cream, salt, and vanilla and mix in on medium-low speed. Again, make sure to scrape down the sides of the bowl to avoid chunks.

Add the flour and beat on low speed until incorporated. Scrape down the sides of the bowl (seriously, this is important to get that silky texture) and continue to beat until the mixture is smooth and all ingredients are incorporated.

Fill each muffin tin until it's about 3/4 full. The cheesecakes will rise in the oven, so be careful not to overfill. I like to use an ice cream scoop to evenly distribute the batter. You should be able to make about 24 cheesecakes.

Lightly tap the muffin tin against the counter to smooth out the tops.

Place the cheesecakes in the middle rack of the oven and bake for 20 – 25 minutes until the tops are deep brown.

Remove from the oven and let cool for a few minutes before removing from the tins. Let cool on a wire rack to room temperature. As the cheesecakes cool, they will sink in the middle – this is completely to be expected! If unable to bake 2 muffin tins at once, repeat with the second batch of cheesecakes.

Leftover cheesecakes should be stored in an airtight container in the fridge.
Notes
If you don't want to use a muffin tin, you can use ramekins lined with parchment paper instead. Extend baking time by about 5 minutes if using ramekins.
Make sure to get the blocks of cream cheese, not whipped cream cheese or cream cheese spread. This is important to get the right consistency.
Depending on how many muffin tins you have and the size of your oven, you may have to bake these in two batches. Do not place the tins on different levels – this will lead to uneven browning.
If you want to reduce the number of cheesecakes so that it can fit in one muffin tin, I would recommend making 1/3 of the recipe to get 8 mini cheesecakes. This is because the original recipe calls for 3 eggs, which cannot be divided in half.