Perfectly fluffy, incredibly juicy, and bursting with flavor, these baozi will transport you straight to the bustling streets of China. This baozi recipe uses pork belly and napa cabbage for a delicious filling.
Click here to skip to recipe
Soft, fresh pork baozi will always take me back to summer mornings in Shanghai. I would wake up before 6, right when the streets were starting to get busy. The world would be illuminated in a cool, grey light, and already you could feel the humidity in the air. These were the mornings when I would walk out of my grandparents' apartment, go down their old, slow elevator, and venture out to find a bite to eat. 
There was always, ALWAYS, a plethora of options.  You could find baozi on every corner, their perfectly fluffy, white forms stacked high in bamboo steamers. That first bite was pure heaven – soft, airy skin would fall open to reveal the warm, savory insides.
I'm now an adult and haven't spent a summer in Shanghai for many years, but the memory of these fragrant steamed buns lingers on my mind and on my tongue. This is definitely something I want to bring to my own kitchen, though of course with a homemade twist. Today's baozi recipe will teach you how to make perfect, fluffy steamed buns with the absolute juiciest stuffing. I hope when you bite into it, you will taste some of the joy I felt during my summers in China.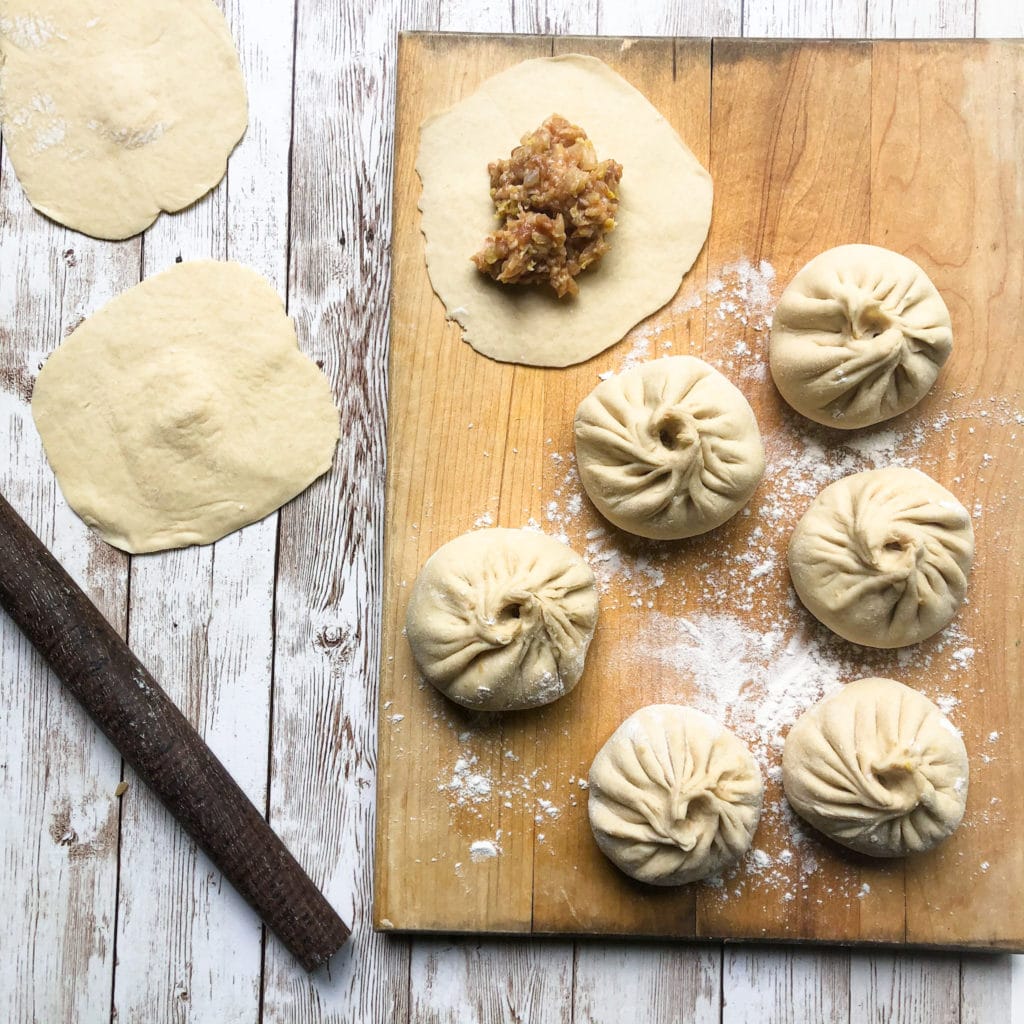 Tips and tricks for baozi wrappers
Make sure your water is lukewarm, but not hot. You don't want to kill your yeast.
Add the water a little bit at a time – the dough will come together slowly and you don't want to make it too sticky.
Place the dough in a warm area to help it rise. One trick is to place it in the oven and wedge a spatula to crack the door. The oven lights will create a nice warm environment.
Make sure to knead thoroughly to remove any lumps and bumps, otherwise the dough may collapse in the steamer
If you find you have a little dough leftover, you can roll them up into little buns and steam them to make mantou (steamed buns)
Tips and tricks for baozi filling
For a super juicy filling, use meat with a high percentage of fat. I find that ground pork belly gives you the juiciest texture. Of course, the juicier the filling, the more likely your bao will sink a little when you steam them
Make sure to squeeze the water out of your napa cabbage to avoid extra moisture
If find that you have a little filling leftover, you can cook in a pan with some oil to create a pork and napa cabbage stir fry
If you're vegetarian, you can replace the meat with soft tofu or finely chopped firm tofu. Just remember to squeeze out any moisture, and that your texture may be a little stiffer without the fat of the meat. 
Tips and tricks for shaping and steaming
When you make the wrapper, only roll the edges of the dough so that the center is thick and can support the weight of the filling
When you're just learning to fold the bao, put less filling to make it easier to close. As you get more experienced, you can add more.
If you don't have a steamer, you can do the following in a pinch:

Fill the bottom of a pan or wok with water. You'll need a pan with deep sides. Place a heat proof bowl in the water. Place a heat proof plate on top of the bowl, cover with parchment paper, and add your bao. Cover everything with a lid, which will trap the steam and create a pseudo-steamer.
If you have any confusion about how to fold the bao, I've made a video for you. It's much easier to follow along visually, so I would recommend taking the time to watch on my Instagram:
How to make baozi (Chinese steamed bun)
Making this baozi recipe is one of my favorite family activities. It's so fun to fold and relaxing to fold the bao, and you're always rewarded with a delicious meal at the end!
Other Asian-inspired recipes:
If you make this recipe, please let me know! I always love to see what my readers are cooking. You can comment below or tag me on Instagram @halicopteraway.
Baozi (Chinese steamed pork buns)
Perfectly fluffy, incredibly juicy, and bursting with flavor, these baozi will transport you straight to the bustling streets of China.
Equipment
2 medium mixing bowls

1 small wooden rolling pin

Steamer
Ingredients
Wrapper dough
5

cups (600g)

all purpose flour

2

tsp

instant or active dry yeast

2

tsp

granulated sugar

2

tbsp

vegetable oil

1 1/4

cup (290g)

lukewarm water
Pork and napa filling
1

pound (450g)

ground pork belly (or other pork)

1

pound (450g)

napa cabbage, finely diced

2 1/2

tbsp (15g)

ginger, finely diced

1/4

cup (30g)

rice cooking wine

1/4

tbsp

granulated sugar

1 1/4

tbsp

dark soy sauce

1 1/4

tbsp

light soy sauce

1/4

tbsp

salt
Instructions
Make the dough
Add flour, yeast, sugar, and oil to a medium mixing bowl and stir to combine

While stirring with a fork, slowly trickle in water until a soft, smooth dough is formed. You may have to press with you hands to bring it together. Alternatively, fit a standmixer with the dough hook and slowly trickle in water on slow speed.

Knead for 5 – 10 minutes until dough is smooth without any lumps

Place dough in mixing bowl and cover with a damp towel. Let rise for 45 minutes to 1 hour, until doubled in size.
Make the filling
While the dough is rising, make your filling. Use clean hands to squeeze out any excess water from your napa cabbage. Combine the pork, cabbage, ginger, rice cooking wine, dark soy sauce, light soy sauce, salt, and sugar in a mixing bowl. Stir until well-combined.
Fill and wrap your bao
After your dough has doubled in size, gently punch down with your fist to release the air. Place on a floured surface and knead until the dough is back to its original size. Roll into a long cylinder and cut into 24 round, even pieces.

Gently flatten each piece so it is circular. Using your rolling pin, push with your dominate hand. Use the other hand to rotate the dough in a circle so that you only ever flatten the edges. You want to center to remain thick so that your bao doesn't leak. Please refer to my video above if you need visual guidance. Your wrapper should be ~5 inches in diameter.

Place a few spoonfuls of filling in the middle of the wrapper. Hold the wrapper in your non-dominant hand. Use your thumb and index finger of your dominant hand to pinch the edges of the wrapper together. Please refer to my video above if you need visual guidance.

Let the buns sit for 20 – 30 minutes until puffy.

Boil water in a steamer. After water is boiling, line the steamer with parchment paper and place bao in. Steam for 18 minutes. Remove and serve immediately.