When I'm deciding what to eat for dinner there's a couple thoughts floating around my head:
I want something tasty
But I also want to feel good / healthy after I eat it
Will it be ready to eat in the next 30 min? I'm hungry now!!
Also it can't be too expensive…
It can be so hard to decide on something to eat that fits all four of those criteria. That which is tasty and quick can often be unhealthy, and that which is healthy and tasty can often take a long time to prepare or be quite expensive. What's a health-conscious, price-sensitive, budget-constrained, food lover to do? Pull together a tasty and fragrant batch of chicken and bell pepper stir fry!
Like my Colorful Tofu and Vegetable Stir Fry, this dish is a vibrant mix of protein and fresh veggies that goes great with a side of rice. You can have a complete, balanced meal that is simple to put together and packed with flavor. This recipe is one of my dad's, and anything he makes is always 100% delicious and 80% good for you. If you're looking to make this vegetarian or vegan friendly, I would recommend subbing the chicken with dried bean curd, a heavier alternative to tofu that will hold up better in this stir fry.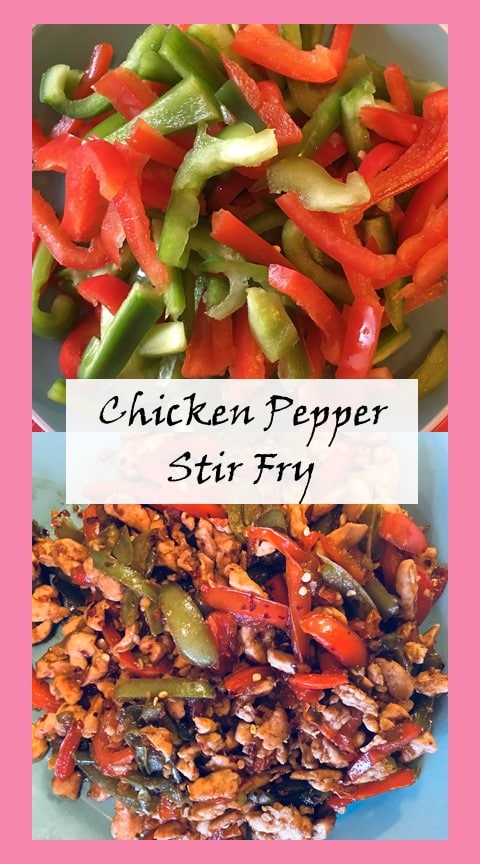 Fragrant Chicken Pepper Stir Fry Recipe
Prep time: 30 minutes
Serves: 2
Ingredients
2 cloves garlic
1 in fresh ginger
1 red bell pepper
1 green bell pepper
1 lb chicken breast
3-4 tbsp canola oil
4 tbsp dark soy sauce
1 tbsp granulated sugar
2 tbsp rice vinegar
2 tbsp cooking wine (optional)
1 tsp chili flakes (optional)
Directions
If serving with rice, prepare 1 cup rice according to package instructions.
Chop bell peppers and chicken breast into thin strips, about 1/2 inch wide and 2 inches long
Mince garlic and ginger until fine
Heat 1 tbsp of oil on high heat in non-stick frying pan and add chicken strips. Add optional cooking wine, and stir fry chicken until just cooked through for about 5 minutes. Remove from pan and set aside.
Heat remaining oil in non-stick pan on high heat and add ginger and garlic. Stir fry until ginger and garlic just begins to brown.
Add soy sauce, sugar, vinegar, and optional chili flakes.
Add bell pepper strips and stir fry on medium – high heat until cooked through
Add cooked chicken strips and toss to coat in sauce. Stir fry on medium-high heat until remaining liquid has boiled off and the sauce has thickened.
The garlic, ginger, and chili come together to bring a rush of flavors in every bite, and the soy sauce, vinegar, and sugar create a richly sweet and savory mix. Each bite reminds me that I'm taking the time to feed myself the right things 🙂