Buttery shortbread cookies dressed up with sunny pieces of lemon zest and then dipped in a lemon curd glaze. Easy to make and even easier to eat all in ones sitting!
After four weeks of hanging out on the east coast and drowning in heat and humidity, I was desperately missing San Francisco's 70 degree summer and cloudless skies. Despite SF's reputation for foggy summers, this past July has been filled with bright blue, perfect days. I dreamed about days lounging in Dolores Park, the sun warm on my face and the grass soft and warm on my back. Which is 100% an idealistic dream view of SF because the grass is prickly, wet, and dirty.
Anyways, these buttery, lemony, pure sunshine cookies are the result of my SF summer dreaming. They taste exactly like a perfect summer day – crisp, mild, comforting, and sweet. The tart flavor perfectly balances out the richness of the butter and sugar. It's delicious!
For the shortbread base, I modified this recipe: https://www.foodnetwork.com/recipes/ina-garten/shortbread-cookies-recipe-1945855
For the lemon curd, I used the recipe and tips in this post: Sunny lemon curd and scones
Double sunshine lemon shortbread cookies

Ingredients
For shortbread cookies
3/4 cup (1 1/2 stick) unsalted butter, room temperature
1/2 cup granulated sugar
1 3/4 cups all-purpose flour
1/4 teaspoon salt
Zest of 1 lemon
For lemon curd glaze
1/4 cup fresh lemon juice (about 1 average lemon)
1/4 cup granulated sugar
1 tsp lemon zest
1/6 cup (1/3 stick) unsalted butter
1 egg
Instructions
Preheat oven to 350 degrees F
Make sure the butter is at room temperature and quite soft – otherwise your dough will not combine correctly. Mix the butter and sugar until combined.
Sift together flour, lemon zest, and salt and add to butter and sugar.
Mix on low speed or with your hands until dough comes together
Place on surface dusted with flour and shape into flat rectangle
Wrap in plastic warp and chill for 30 minutes – 1 hour
Prepare lemon curd – in a small skillet over low heat, combine all lemon curd ingredients and stir consistently for 15-20 minutes until the curd thickens and the whisk leaves marks. Go over low heat; rushing will only scramble your eggs.
Flour surface and rolling pin. Roll dough 1/2-inch thick. Cut with a cutter of your choice – I happen to like squirrels!
Place on ungreased baking sheet and bake for 10-12 minutes until edges begin to brown
Remove from oven and place on wire rack to cool
Gently dip the top of the cookies into the lemon curd for a neat glaze
Despite the generous amount of butter and sugar, I felt like I could keep eating these cookies forever. If I could put a gorgeous SF summer day into a cookie, these would be it.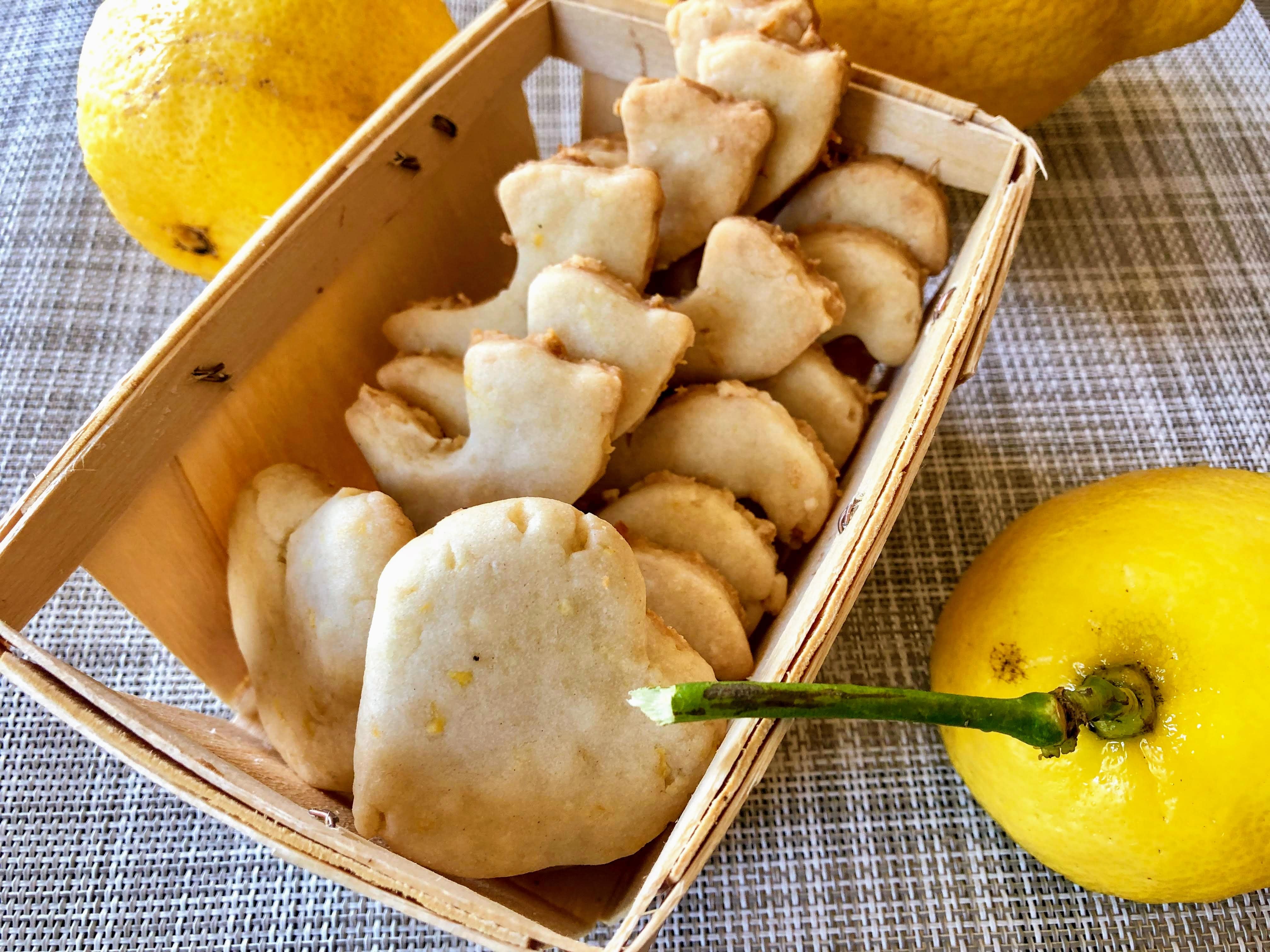 Sharing to Fiesta Friday, co-hosted by Mollie @ Frugal Hausfrau and Laurena @ Life Diet Health!