Eggs with perfectly runny yolks float on a bed of tomatoes, onions, garlic, and spices. The flavorful, rich combination goes perfectly with slices of grilled bread. 
In undergrad, I had a Computer Science theory lecturer who would intersperse his lectures on Turing Machines with exclamations of "I love Shakshuka!" This was the first time I had heard of Shakshuka, and I assumed it was a convoluted CS term. I am now older and wiser and know that Shakshuka is a Middle Eastern / Mediterranean / Northern African dish (exact origin up for debate) made with tomatoes, spices, and eggs.  It's usually served in a skillet and tastes wonderful with a side of crispy bread. You can't beat the combination of bread, runny egg yolk, and tomatoes.
Since I first heard of Shakshuka, I've always thought of it as a "special" dish – something that I could never be able to make at home. But I needed a good vegetarian dish this past Sunday, and Shakshuka (completely with my CS teacher declaring "I love Shakshuka!!") popped into my head. I was pleasantly surprised by how simple and forgiving the dish was. There is wide margin of error for proportions and room for the dish to turn out amazing. As my friend puts it, "I just kind of wing the proportions and see what happens." A perfect dish for the lazy cook!
My recipe also has a number of optional items and substitutions, like chili flakes for cayenne, since chili flakes are a more common spice rack staple. The dish will turn out great no matter what you choose.
Shakshuka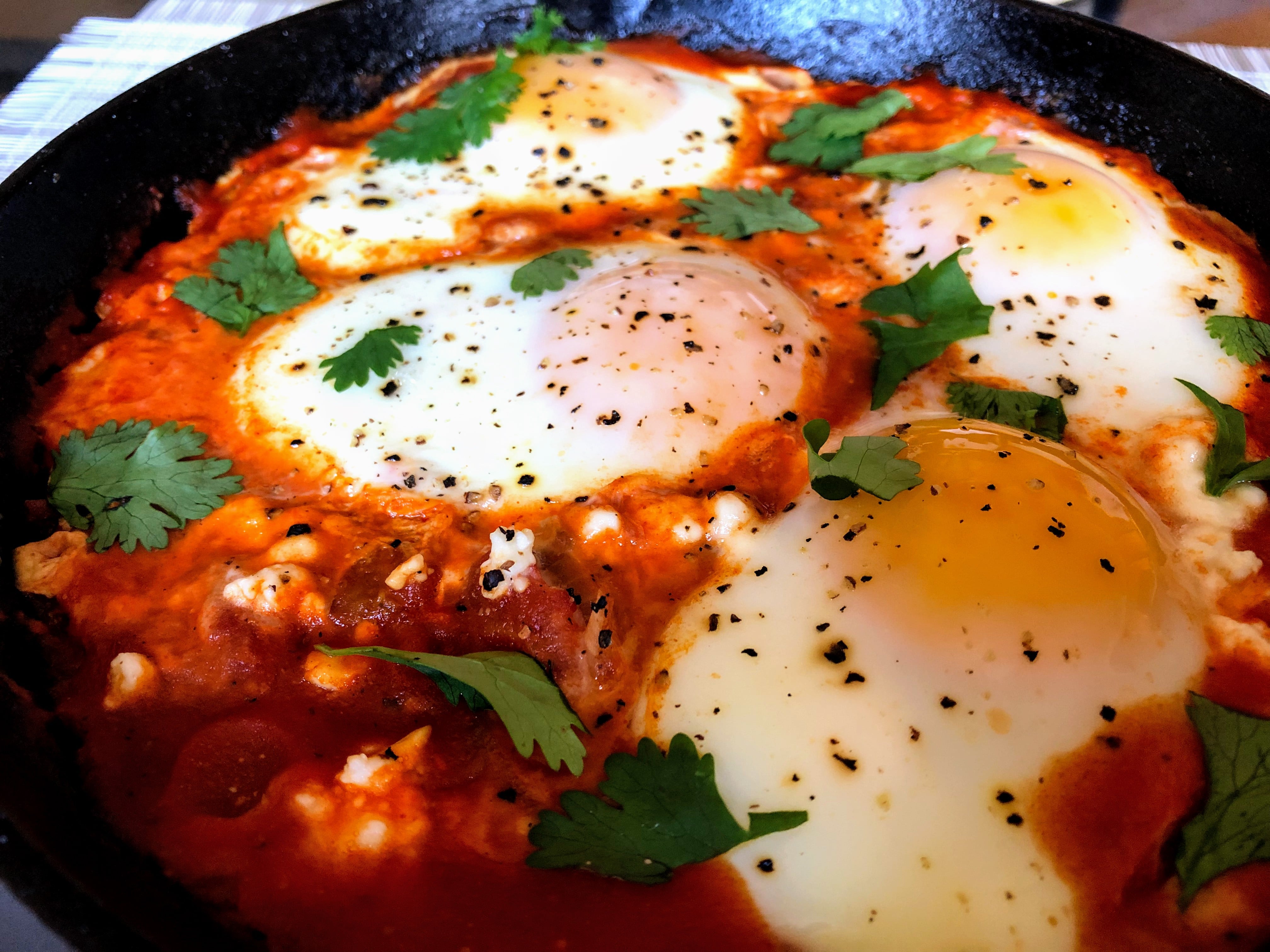 Cook time: 50 minutes
Servings: 2
Ingredients
* you'll also need a cast iron or other oven safe pan
4 eggs
1/2 large onion, thinly sliced
1/2 large red bell pepper, thinly sliced (optional)
3 cloves garlic, thinly sliced
2 oz feta cheese (or more if desired, cheese is great)
1 can peeled whole tomatoes
1 tsp ground cumin
1 tsp paprika
1/4 tsp cayenne or chili flakes
salt
pepper
olive oil
1 tsp tomato paste (optional)
chopped cilantro (optional)
Directions
Preheat oven to 375 Fahrenheit
Thinly slice onion and garlic and roughly dice canned tomatoes
Pour a generous amount of olive oil into a cast iron pan (about 2 tbs) and cook the onions and garlic on medium heat until soft, which takes 15 – 20 minutes. Stir in cumin, paprika, and cayenne / chili and add tomato paste if desired.
Add tomatoes and add salt and pepper to taste. Stir and cook over low-medium heat until thickened, which takes about 10 minutes. Sprinkle in feta crumbles.
Gently crack eggs into the tomato mix and transfer to oven. Bake for 10 minutes until eggs are just done.
Sprinkle with cilantro and serve with grilled bread for the ultimate combination!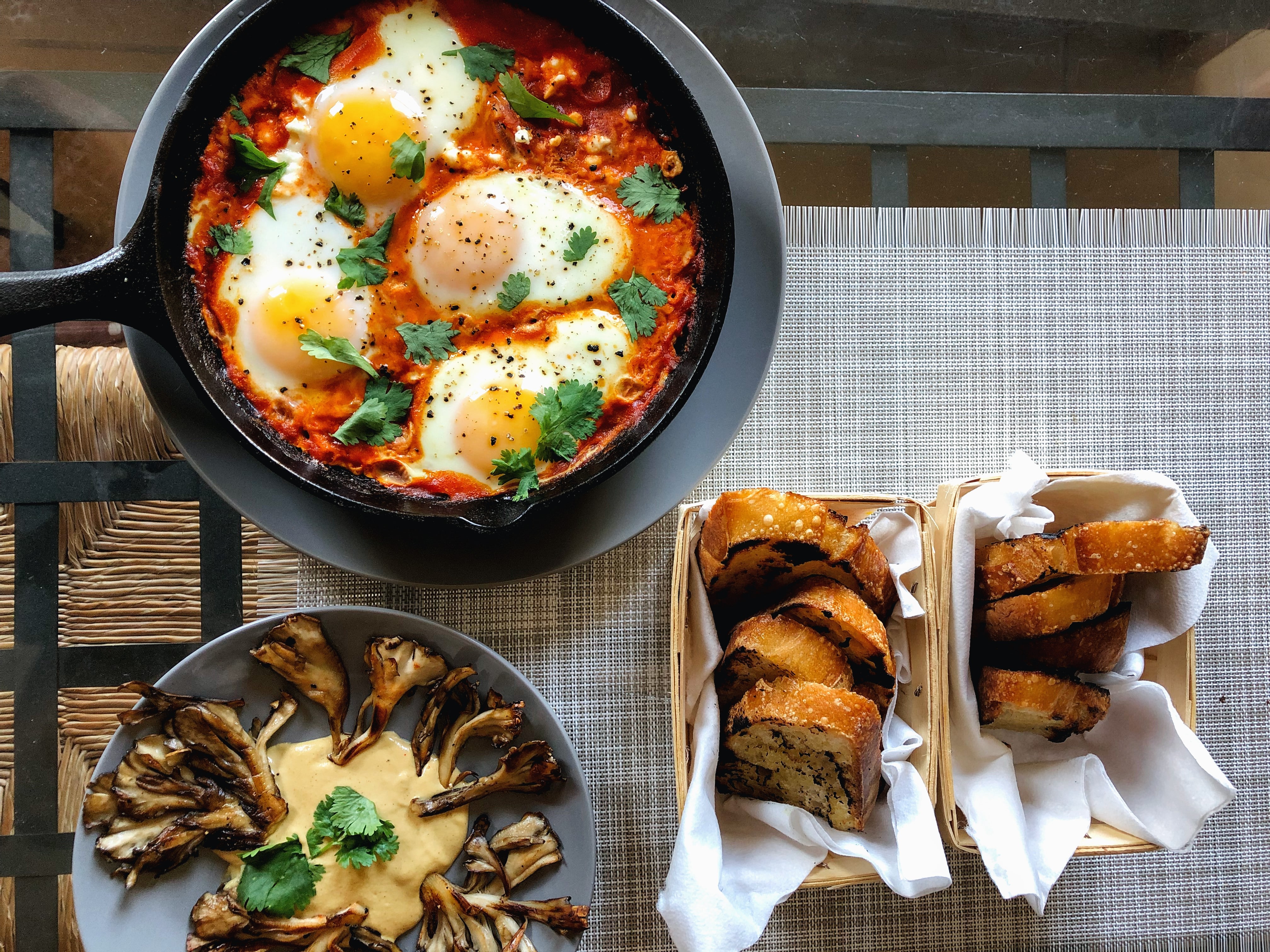 Every bite of this Shakshuka is bursting with flavor and I cannot stress enough how delicious it is with slices of toasted crusty bread. It is definitely an elevated brunch to share with friends, and with a bigger cast iron pan you can modify this recipe to have 6-8 eggs as well 🙂 Happy Shakshuka eating!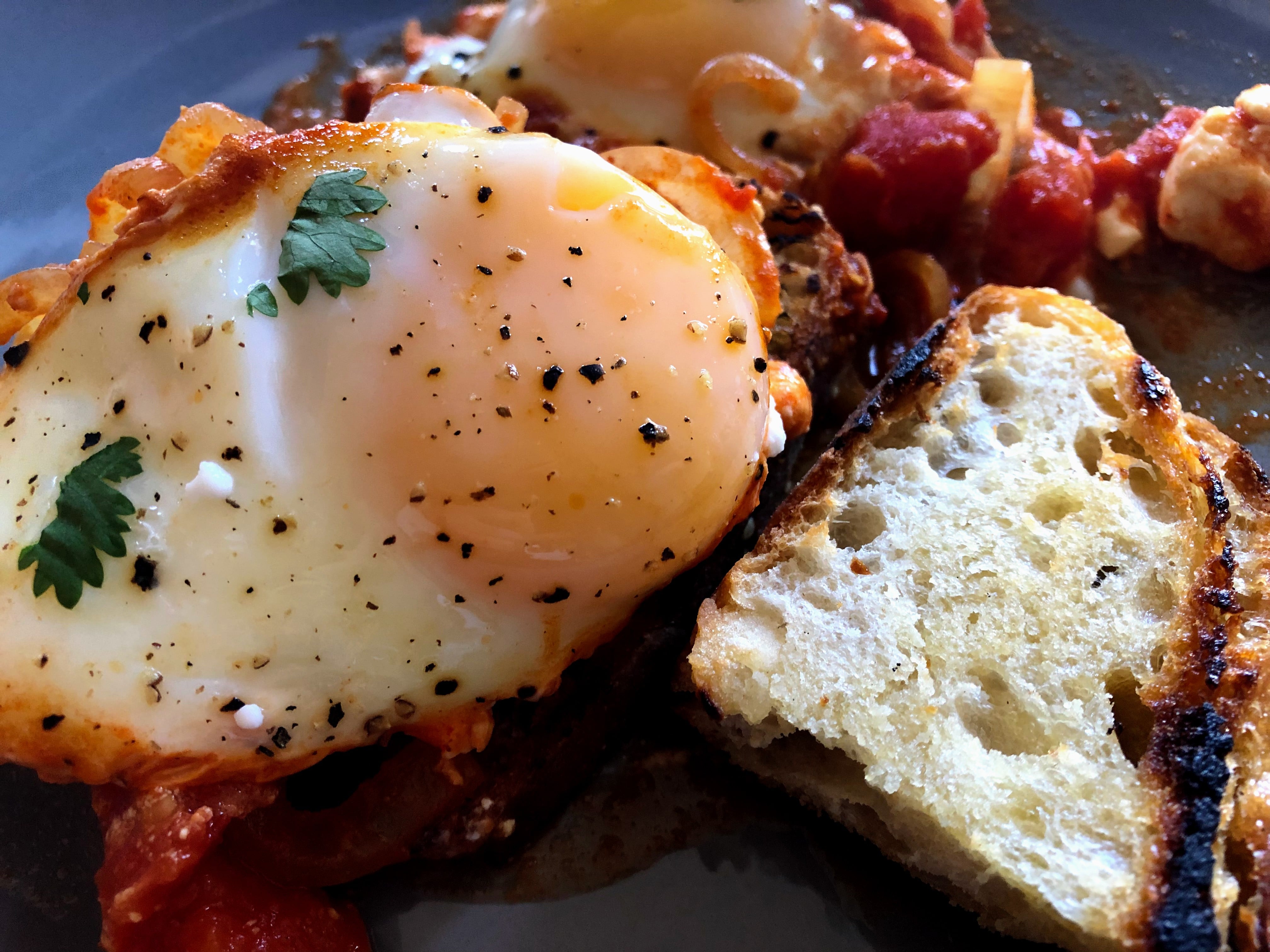 Sharing to Fiesta Friday, co-hosted by Diann @ Of Goats and Greens and Jhuls @ The Not So Creative Cook!