These Chai-infused shortbread cookies have all the earthy spices of Chai tea and buttery richness of shortbread cookies. Tea-infused butter and a sprinkle of cinnamon and all spice create a smooth Chai flavor in every bite.
Fall is just around the corner. Not that San Francisco really has seasons, but you can feel it in the slight nip in the air and briskness in the wind. Plus, Pumpkin Spice Lattes have rolled out in full force, which is probably the most dependable way for a Californian to know that is really and truly Fall.
This time of year makes me think of sipping warm cups of black tea while nibbling on tea cookies. What better way to combine those two than with Chai-infused shortbread cookies? I've made Earl Grey Shortbread Cookies before, where I actually mixed tea leaves into the dry ingredients. The cookies tasted amazing, but I felt that this is not the most effective way to get tea flavor into a baked good. After all, tea is made with hot water, so the flavor needs a hot liquid in order to be released. My solution? Chai-infused butter.
The theory and results behind tea-infused butter
My idea was to warm up some butter on the skillet, steep a large number of tea bags, then bring the butter back to room temperature. I'd keep the temperature low enough that the butter wouldn't brown, but high enough that the tea would be released. Here are my key takeways:
You either need many, many tea bags (I used Tazo Chai), or you need to shell out for high quality loose leaf tea. I used 6 tea bags and just barely got the tea fragrance into my butter.
You will lose butter in the process – it will absorb in to the tea bags and you won't be able to squeeze all of it out.
Stir the butter frequently unless you want burnt tea butter
All in all though, it went better than I thought it would.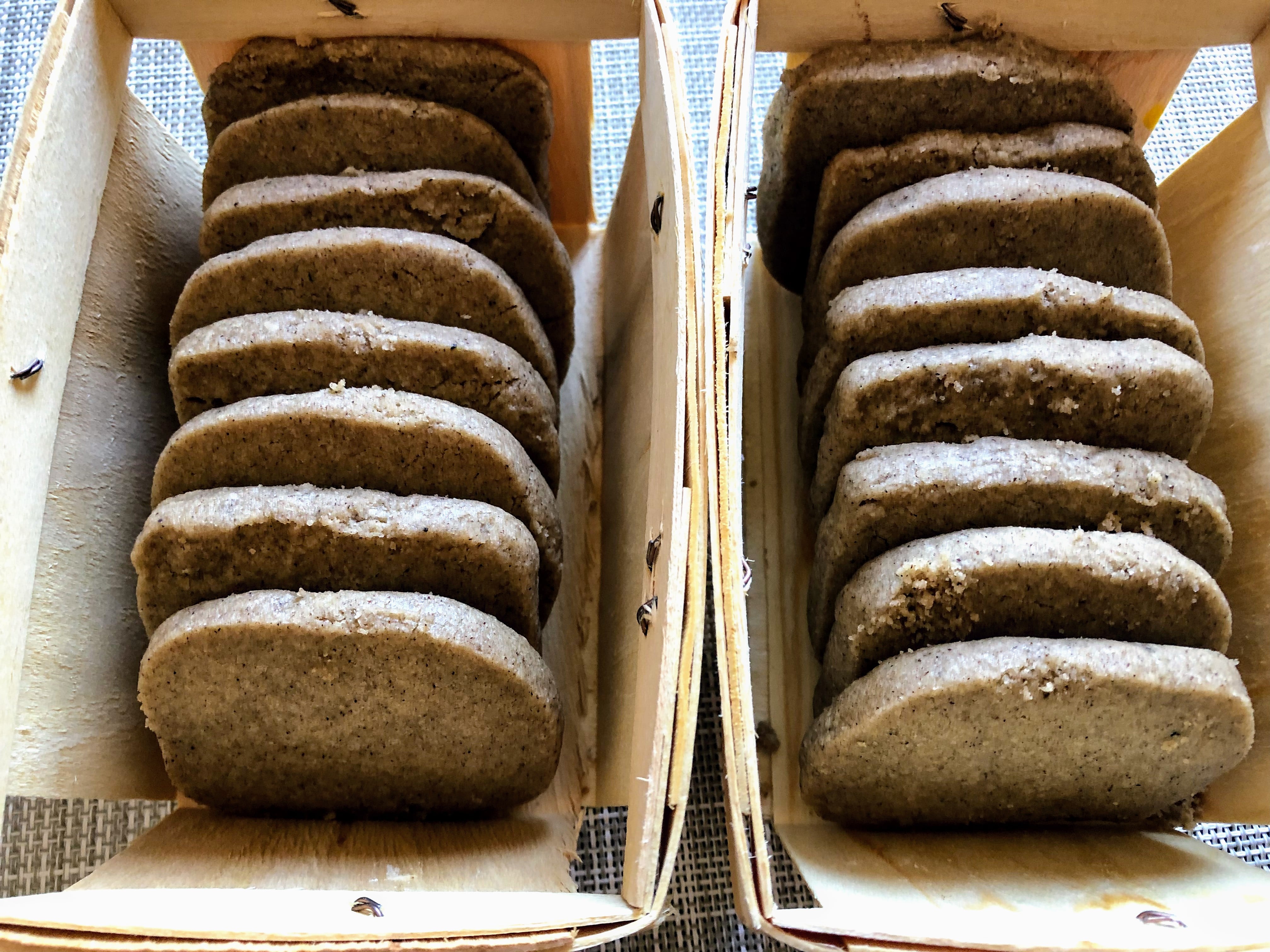 Chai-infused shortbread cookies
Servings: 24 cookies
Prep time: 1.5 hours
Bake time: 15 minutes
Ingredients
2 sticks (1 cup) unsalted butter
6-8 tea bags or 2 tbsp strong loose leaf tea
1/2 cup granulated sugar
1/2 teaspoon vanilla extract
1 3/4 cups all-purpose flour
1/4 teaspoon salt
2 tsp all spice
2 tsp cinnamon
Directions
Slice butter and melt on stove over medium heat. Steep tea bags or leaves for 15 minutes, stirring constantly.
Pour butter and tea through strainer. Squeeze remaining butter from bags or leaves.
Chill butter back down to room temperature in freezer, for about 20 minutes.
Sift together flour, all spice, cinnamon, and salt.
Mix together sugar, room temperature infused butter, and vanilla until fluffy.
Slowly mix in dry ingredient mixture until dough comes together.
Shape dough into a cylinder ~1 in. in diameter and wrap tightly in cling wrap. I chose to flatten out the sides of my cylinder so my cookies are rectangular instead of round. Chill for 30 min – 1 hour minimum.
Preheat oven to 350F. Slice cookies about ~1/4 in. thick and lay on parchment paper. Bake for 12-15 minutes.
Let cool completely and enjoy!
The cookies have a wonderful spiced flavor, and it was so fun to experiment with infused butter. I'm excited to try a recipe using high quality loose leaf tea to see what difference this will make! What Fall-flavored items are you excited to bake this season?