Every bite of this cookie is full of sweet pools of melted chocolate that perfectly balance out crunchy toffee chunks. The toffee is just slightly toasted to brings out smoky flavors reminiscent of a campfire on a cold autumn night. 
This recipe was the result of an unfortunate accident. I'd brought back Alyonka chocolate bars from my trip to Moscow, stacks of them to give out to friends. It happened that my arrival back to San Francisco coincided with a 90+ degree heat wave. The chocolates melted in their wrappers and I was left with a pile of ruined milk chocolate. They were too dusty and powdery to eat, so they only solution was to disguise their ruin in a baked good.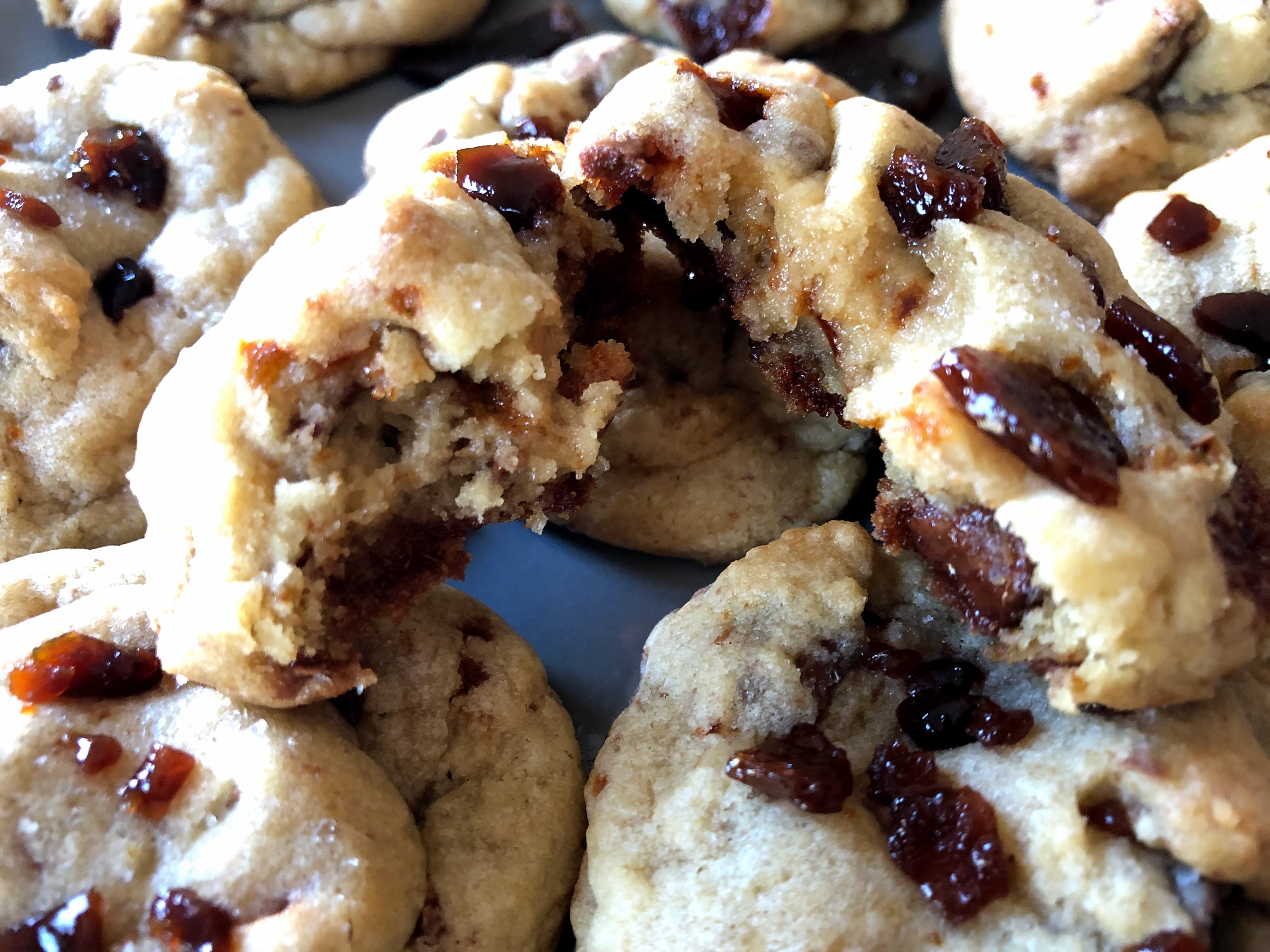 The tricky part of baking with milk chocolate is that it's quite sweet, so putting it in a cookie or cake can make for an overpowering combination. I needed something to balance out the sugar, and I landed on toasted toffee and sea salt. By just slightly burning your toffee, you get a deep, smoky flavor that tastes exactly like a burnt marshmallow. I actually overcooked my first batch and my whole kitchen smoked up – it smelled like a bunch of Girl Scouts making s'mores. Sprinkle the cookies with sea salt, and your sweet milk chocolate cookies will mix beautifully with the savory and smoky flavors of your salt and toffee.
Some tips:
You can use a candy thermometer for the toffee (remove from stove around ~285F), but I eyeball it and let it overcook just a little bit to get the smoky flavor
The toffee recipe makes a generous amount, so feel free to half if you don't want too much toffee in your cookies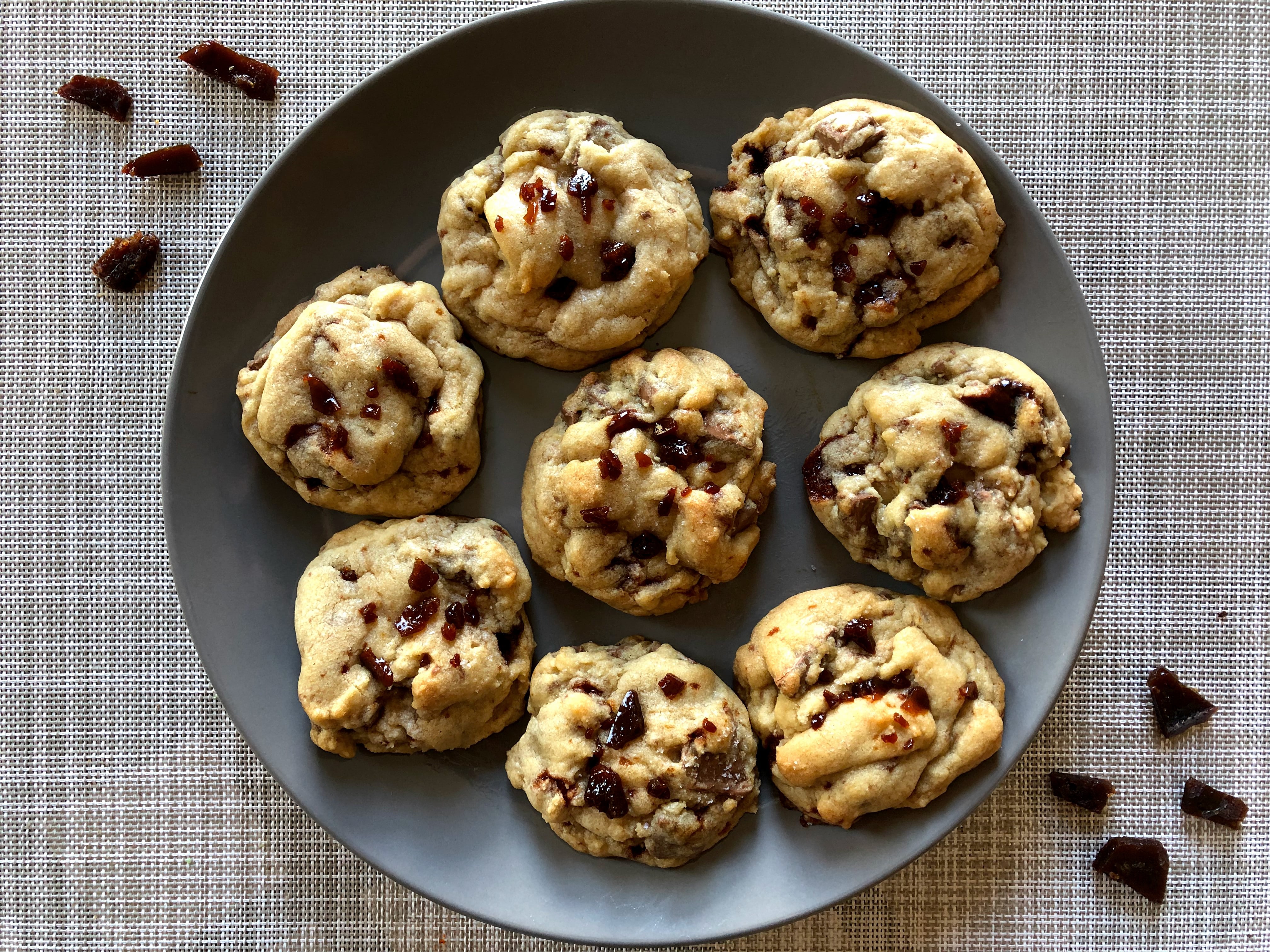 Toasted toffee chocolate sea salt cookies
Prep time: 45 minutes
Bake time: 12 minutes
Servings: ~15 cookies
Ingredients
Toffee
1/2 cup (1 stick) cubed butter
1/2 cup sugar
1/4 tsp salt
Cookies
1/4 cup granulated sugar
3/4 cup brown sugar
1 3/4 cups all-purpose flour
1 egg
1/2 cup (1 stick) room temperature butter
1 tsp vanilla extract
1/2 tsp salt
3/4 tsp baking soda
150g chopped milk chocolate
sea salt for sprinkling
Directions
Toffee
Prepare baking sheet with parchment paper
Combine butter, sugar, and salt into a pan on low-medium heat
Stir frequently until butter and sugar has melted and bring to gentle boil. Remove from stove once the toffee is a dark amber color
Quickly pour mixture onto parchment paper and allow to harden (about 15 minutes)
Tap on toffee with spoon to break into small pieces
Cookies
Preheat oven to 350F and line a baking sheet with greased aluminum foil
Cream butter and sugars together until fluffy
Mix in egg and vanilla extract
Stir in salt and baking power
Add flour in batches, combining well
Fold in chocolate chips and toffee bits – I used 2 bars of milk chocolate and about a ~1/4 – 1/2 cup of toffee. Make sure to leave some toffee to sprinkle on top after baking.
Place 2 tbsp scoops of dough on the baking sheet, about 2 inches apart
Sprinkle with sea salt bake for ~11 minutes or until dough is slightly golden brown
While cookies are still warm, press remaining toffee bits onto the tops of the cookies
Allow to cool and serve with a hot cup of tea!
These cookies turned out so delicious and were wonderful paired with an Earl Grey tea I brought back from London.