These soft sugar cookies are vegan and gluten-free with a bright, lemony flavor. Light and moist with just a bit of chew, these cookies are perfect for dessert, a light snack, or even breakfast, because, why not?
Click here to jump to recipe
The story of these cookies starts with a trip to Costco. I thought I was going for a 25 pound of bread flour, but the Costco gods had a different fate in mind for me. I ended up walking out that day with 3 pounds of almond flour instead. 
And if you have 3 pounds of almond flour, you just have to make some vegan and gluten free sugar cookies. Almond flour makes any bake super tender and SO moist, and these cookies are no exception. Add some olive oil and a sprinkle of lemon zest, and you have a wonderfully fragrant, light cookie that is just begging to be eaten with a cup of Earl Grey tea.
These cookies are more than the triple threat of vegan, gluten free, and delicious – they're also dangerously easy to make. They:
only need 1 mixing bowl
have no need for chilling the dough
takes less than 30 minutes to make
In absolutely no time you'll be sitting down to delicious cookies that are friendly for a range of diets.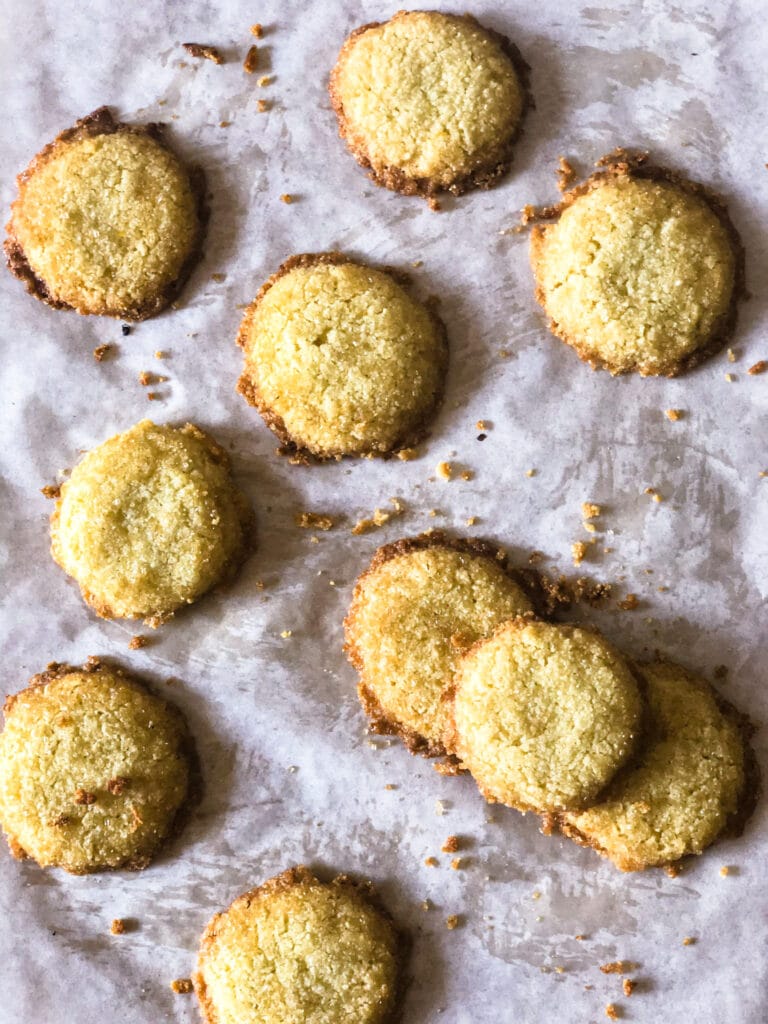 7 ingredients for the softest cookies
Almond flour – almond flour is the star of the show in these cookies. Compared to regular all-purpose wheat flour, almond flour has a higher fat content that adds moistness and creates a soft, tender crumb. Of course, it makes these cookies gluten-free as well!
Sugar – white granulated sugar helps add sweetness.
Salt – salt enhances the flavor of the cookie and keeps them from tasting too flat.
Baking powder – a 1/2 teaspoon of baking powder gives the cookies lift and substance. I tried a version without baking powder, and the cookies came out flatter and more crumbly.
Lemon zest and juice – some fresh lemon zest and a tablespoon of lemon juice help balance out the richer, nuttier flavors of the almond flour. 
Olive oil – olive oil holds the cookie dough together and adds a fragrance that goes well with the lemon. I use extra virgin olive oil for a stronger flavor.
Coarse demerera sugar – rolling the cookie dough in demerera sugar before baking adds a wonderful sugary crunch. The sugar also caramelizes wonderfully in the oven. While not strictly necessary, I find that the sugar greatly enhances the cookies.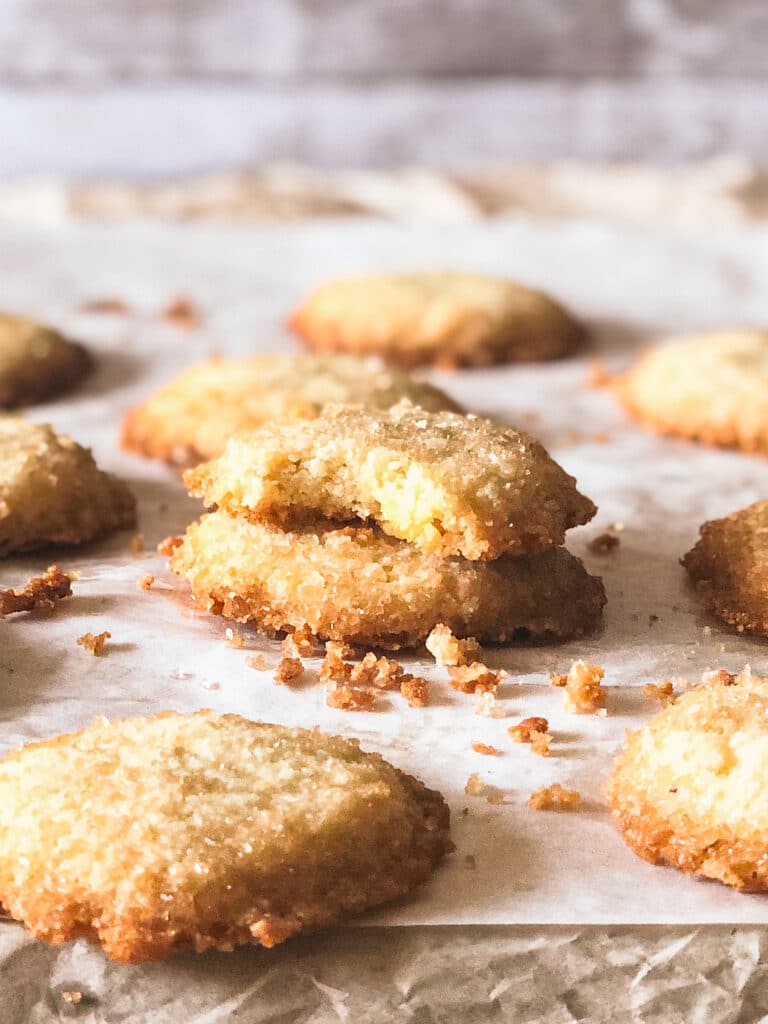 Tips and trick for perfect sugar cookies
The dough is super soft and will spread in the oven. It helps to use a tablespoon to scoop and shape the dough into disks. Press the dough together so that it sticks, and be sure to place them at least 2 inches apart on the baking sheet.
The cookies are very soft when they come out of the oven, and they will crumble if you try to move them too soon. Be sure to let them cool completely.
Other delicious vegan desserts:
If you make this recipe, please let me know! I always love to see what my readers are baking. You can comment below or tag me on Instagram @halicopteraway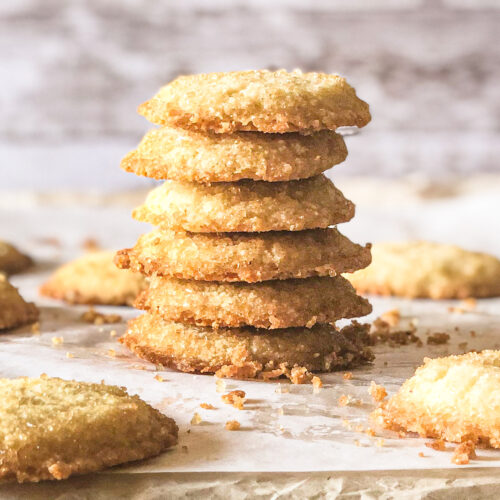 Vegan sugar cookies (gluten free)
These soft sugar cookies are vegan and gluten-free with a bright, lemony flavor. Light and moist with just a bit of chew, these cookies are perfect for dessert, a light snack, or even breakfast, because, why not?
Equipment
1 medium mixing bowl

1 baking tray

Parchment paper or aluminum foil
Ingredients
1 1/2

cup (150g)

almond flour

3/8

cup (75g)

granulated sugar

1/4

tsp

salt

1/2

tsp

baking powder

Zest of 1 medium lemon

1

tbsp

fresh lemon juice

1/2

cup (110g)

olive oil

2

tbsp

demerera sugar
Instructions
Preheat oven to 350°F and line a baking tray with parchment paper or aluminum foil

In a medium bowl, whisk together almond flour, granulated sugar, salt, baking powder, and lemon zest. Stir in fresh lemon juice and olive oil with the dry ingredients until evenly combined. The dough will be very wet and sandy in texture.

Pour the 2 tablespoons of demerera sugar onto a plate or flat surface. Using a tablespoon measuring spoon, scoop 1 tbsp-sized portions of dough, pressing to make sure the dough is compact. Shape into round disks about 1 inch in diameter. Roll each side and edges in the demerera sugar. Place on baking tray with about 2 inches between each cookie. Repeat until all the dough is gone.

Bake on the middle rack for 10 minutes or until golden brown. Remove from oven and let cool completely before picking up or serving.