These mini chocolate waffles are fluffy and packed full of flavor. Top them with some berry compote for the perfect breakfast (or dessert!)
Click here to jump to recipe
When I was a kid, I loved Eggo's waffles. In fact, I didn't know that any other kind of waffle existed because my family exclusively ate Eggo's waffles and never went out to brunch. So really it wasn't until I started hanging out at the local Waffle House (a favorite teen hangout spot in suburban Georgia), that I realized that Eggo's waffles are mini compared to regular waffles, and that also they don't taste as good as a real homemade waffle. Though can you compete with the flavor of nostalgia? That's a different question…
At a recent White Elephant gift exchange I received a mini waffle maker. So cute! I usually have a tradition of weekend pancake breakfasts, but I knew I had to make some waffles the next day. If you are a pancake > waffle kind of person, you can check out my Chocolate milk pancakes. They are just as easy to make and fluffy and delicious as well. But if you are a waffles > pancake person (me!) then keep reading for this recipe.
What makes these waffles extra chocolatey?
These waffles are chocolatey because I add a generous scoop of cocoa powder. They're extra chocolatey and moist because I use chocolate milk instead of regular milk. And they're super chocolatey on top of that because I add some chopped chocolate chunks. Hence the triple chocolate – cocoa powder + chocolate milk + chocolate chunks. It's chocolate heaven but not super overwhelming. In my original recipe I added a tsp of cinnamon, but honestly I couldn't even taste the cinnamon so it's purely optional if you want to add any spices!
I am a big supporter of boxed pancake and waffle mix (just make your life a little easier on the weekends, no one is judging). I used Aunt Jemima's original mix with some adjustments.
Other delicious chocolate recipes:
If you're looking for a quick and healthier syrup alternative, I make a Syrup Alternative: Healthy Berry Compote on the side while my waffles are cooking. It adds a wonderful tartness that goes great with all that yummy chocolate 🙂
If you make these chocolate waffles, let me know! You can comment below or tag me on Instagram @halicopteraway.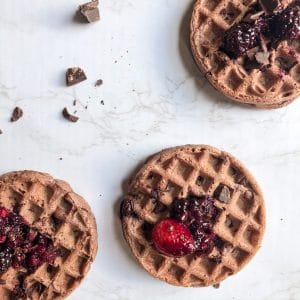 Triple chocolate waffles
These mini chocolate waffles are fluffy and packed full of flavor. Top them with some berry compote for the perfect breakfast (or dessert!)
Equipment
1 medium mixing bowl

waffle maker
Ingredients
1

cup

boxed pancake mix

3/4

cup (180g)

chocolate milk

2

tbsp

oil

1

egg

1

tbsp

granulated sugar

1/4

cup

cocoa powder

1/4

cup

chopped chocolate

Oil or cooking spray for greasing
Instructions
In medium mixing bowl, mix together pancake mix, sugar, and cocoa powder

Whisk in chocolate milk, oil, and egg

Heat up your mini waffle maker and grease well with oil or cooking spray

Pour in 1/4 cup of batter, sprinkle with chocolate chunks, and cook until your preferred level of crispiness (I usually wait about 1 – 2 minutes)

Serve with syrup or fruit