Fragrant and full of cinnamon in every bite, these apple chips satisfy your sweet tooth and make your home smell like a fall candle.
I love apple chips because they are so sweet and crunchy and addicting, and I often find myself eating a whole bag in one go…. oops! In order to exert some self control on myself, I've started baking my own apple chips in the past few years. It's honestly the easiest snack, and it makes my whole apartment smell like apples and cinnamon. Plus, I know it's new year's resolution season, where everyone is trying to eat a little fresher and cleaner. These apple chips will definitely hit that sweet tooth, and they have no extra sugar or oils added – they're just your humble apple, sliced up and sprinkled with cinnamon. My recipe is individually proportioned, but it's easy to double or triple this recipe if you want to mass produce apple chips.
These apple chips are great straight out of the oven, when they'll still be a little warm and soft. Letting them sit a bit will help them firm up, but like I said, these are LAZY apple chips, which means a minimum investment of my time and patience. By the time the apple chips could have reached their hardened, crispy state, I have already devoured them.
The main factor that determines the crispiness of your apple chip is how thickly you slice them. It's important to use a sharp knife, and be very careful that you only slice apples and not your fingers. If you really want crisp chips, then you'll want to slice your apples quite thin. I don't have an apple slicer and don't mind a softer bake, so I slice mine at about 1/8 of an inch.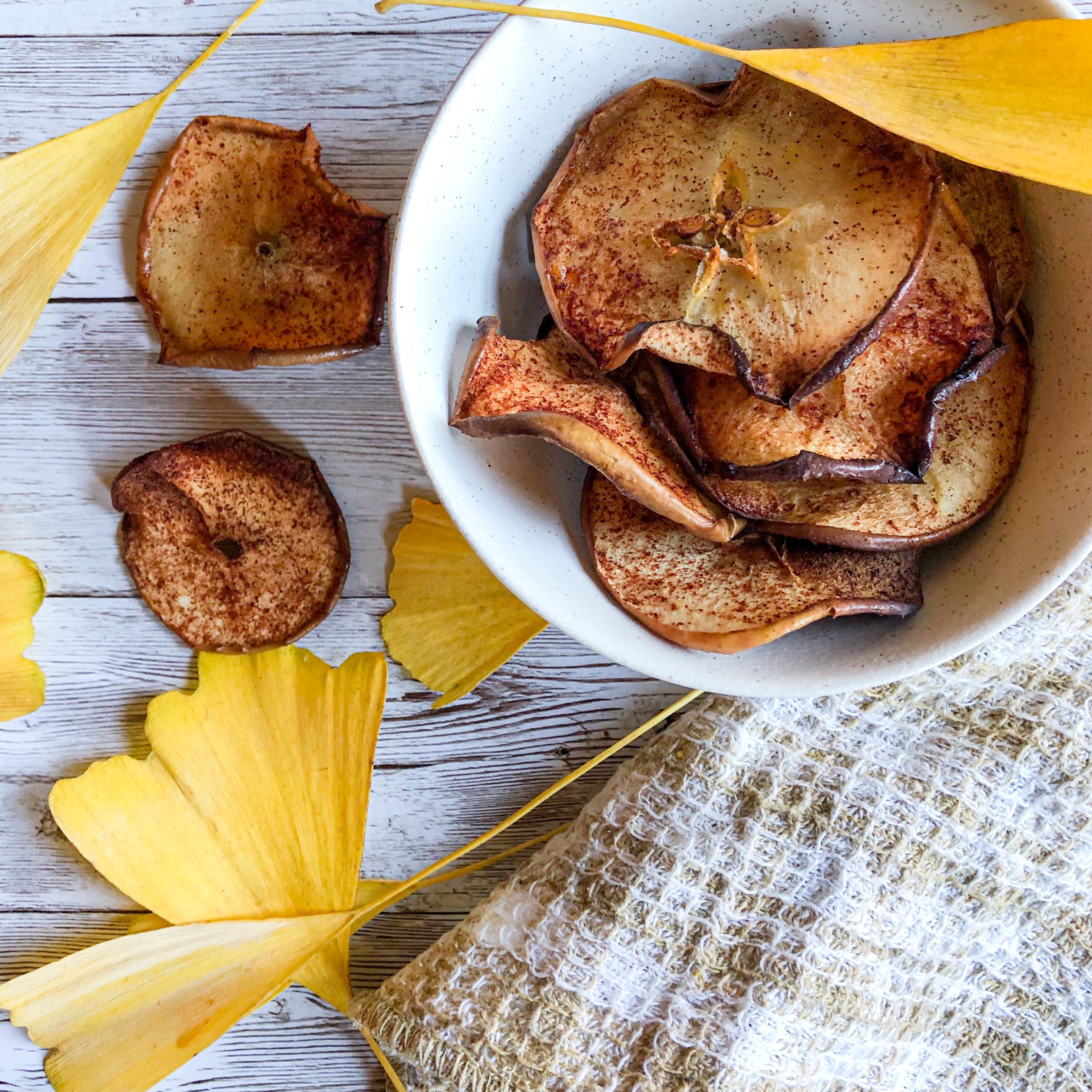 Lazy soft-baked apple chips
Prep time: 5 minutes
Bake time: 40 minutes
Servings: 1
Ingredients
1 fresh apple
1 tbsp cinnamon
Directions
Preheat oven to 400 degrees F and line a baking sheet with aluminum foil
Slice your apples horizontally (so your slice are round) at about 1/8 of an inch thick
Lay flat on the baking sheet so they do not overlap, and sprinkle with cinnamon. Turn over each slice and sprinkle the other side with cinnamon
Bake for 15-20 minutes and when one side is crisped, turn over each slice and bake the other side for another 15-20 minutes
Let cool and then serve
I think these apple chips taste perfectly delicious on their own, but they're also wonderful dipped in some Greek yogurt. Here's to some healthy, homemade snacking!