With autumn and Halloween right around the corner, there's no better way to celebrate than with adorable pumpkin spice sourdough bread. These loaves are made with pumpkin puree and swirled with sweet cinnamon sugar for the perfect fall treat.
Click here to jump to recipe
The air is cooling, the leaves are changing color, and it's time to fire up your oven for some delicious fall bakes. And while I believe Starbucks may have beaten the concept of pumpkin spice to death, I was VERY excited to do some pumpkin sourdough experimentation. Forget buying decorative pumpkins for $5.99 each – make your own miniature decorative pumpkins out of sourdough and enjoy them with a generous smear of cream cheese.
This recipe builds off my favorite no-knead sourdough process which I have been loving for its simplicity and dependably good results. Like other sourdough recipes, there is a lot of waiting involved, but the result is worth it – a soft, chewy bread with just the slightest hint of cinnamon spice sugar.
I absolutely love the shape of these loaves. We'll use butcher's twine to create the pumpkin grooves. By wrapping each loaf in twine, the dough will expand around it to make the little pumpkin section. Cute!

Some helpful tips when baking sourdough
Sourdough can be challenging, and depending on the temperature and humidity levels of your kitchen, you may have varying rise and proofing times. If you've never baked sourdough before, I'd recommend starting with a more basic loaf before tackling this fancier pumpkin one. It'll also help familiarize you with some sourdough terminology.
The recipe I'm providing is a guide, but you'll have to use your own sourdough baking instincts to know when your dough is ready to shape. Here are some things to keep in mind for this recipe:
You need a strong, mature starter that ideally doubles in size in 4 – 8 hours. If you don't have a starter, you can make one following this guide, but take 2 weeks to let it mature before baking.
This is a fairly low hydration (i.e., less water content) dough because the pumpkin puree replaces some of the water. The crumb comes out pretty close packed as a result – perfect for spreading butter and jam on!
I use diastatic malt powder to help with the rise and color, but this is optional. I do find that diastatic malt powder gives a more round and full loaf.
Using cinnamon sugar and shaping into pumpkins makes this recipe a little more complicated. Feel free to skip either step and still have a delicious loaf.
Adding the cinnamon sugar during shaping will make your dough less sticky, so make sure to keep some of the edges uncovered so that your dough can stick together to form a ball.
When shaping, be firm but gentle. The cinnamon sugar can cause the dough to tear if you are too rough.
Make sure you use butcher's twine, otherwise your twine may catch fire in the oven. Don't bind the loaf too tight.
When scoring, make sure you cut into each section at the same depth to encourage even expansion in the oven.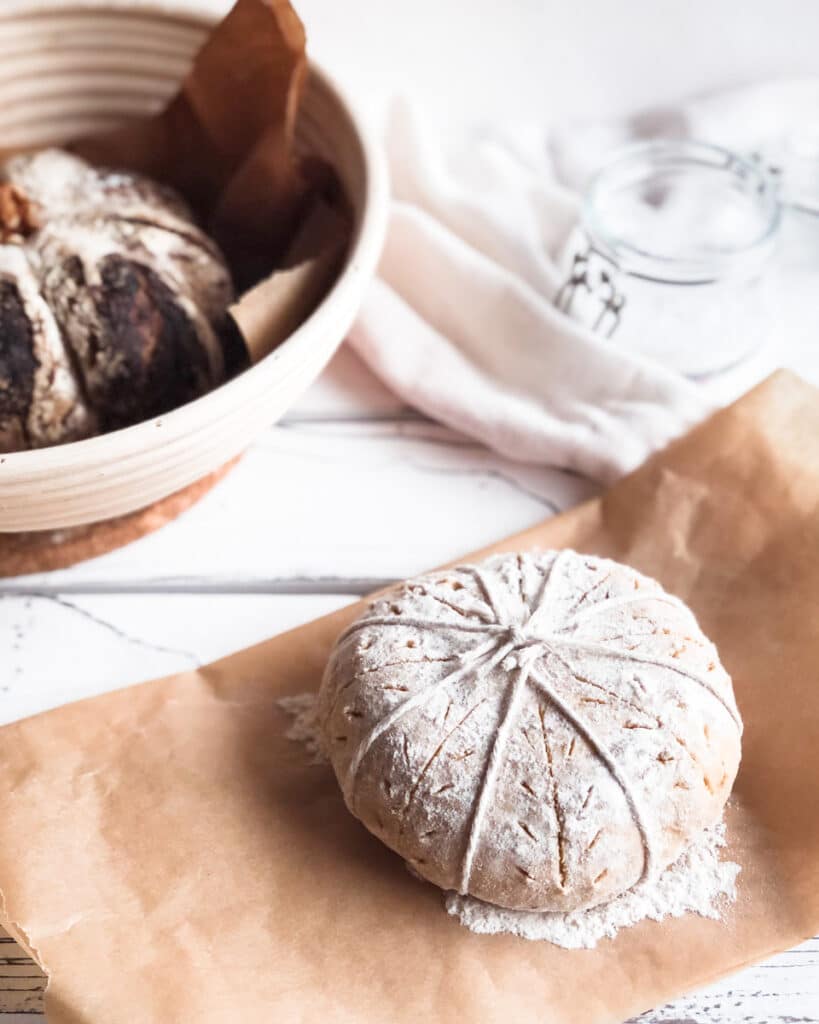 My process
I'm outlining my timeline here to give you an idea of when my sourdough finished each stage. As you can see, I tend to do coil folds every 30 – 45 minutes. You can expect this dough to bulk ferment for longer because of the added pumpkin.
Day 1
9:00am – Remove starter from the fridge and feed with 100g all-purpose flour + 100g lukewarm water. I probably had 50 – 100g of starter before feeding.
3:15pm – Starter has grown about 2.5x in size. I make the dough by mixing all ingredients in a large mixing bowl.
4:00 – 7:30pm – 6 sets of coil folds spaced 30 to 45 minutes apart
(got distracted by dinner and watching the Great British Bake-off)
9:45pm – Freak out, remember that I left the dough on the counter. Perform seventh and final set of coil folds.
10:00pm – Cut dough in half, sprinkle with cinnamon sugar, and shape 2 boules. Immediately place in the fridge.
Day 2
8:45am – Pre-heat oven to 500F with uncovered Dutch oven inside. Bind and score first loaf.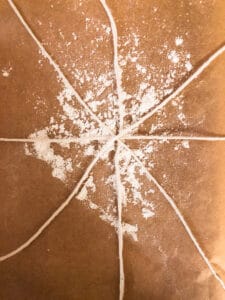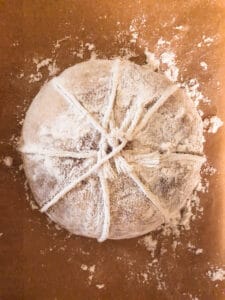 9:15am – Bake for 20 minutes with lid on and then reduce to 450F and bake for 12 – 15 minutes with lid off.
3:00pm – Slice into loaf after it has thoroughly cooled.
Okay that was a lot of writing but hopefully it helps you feel EMPOWERED to tackle this recipe.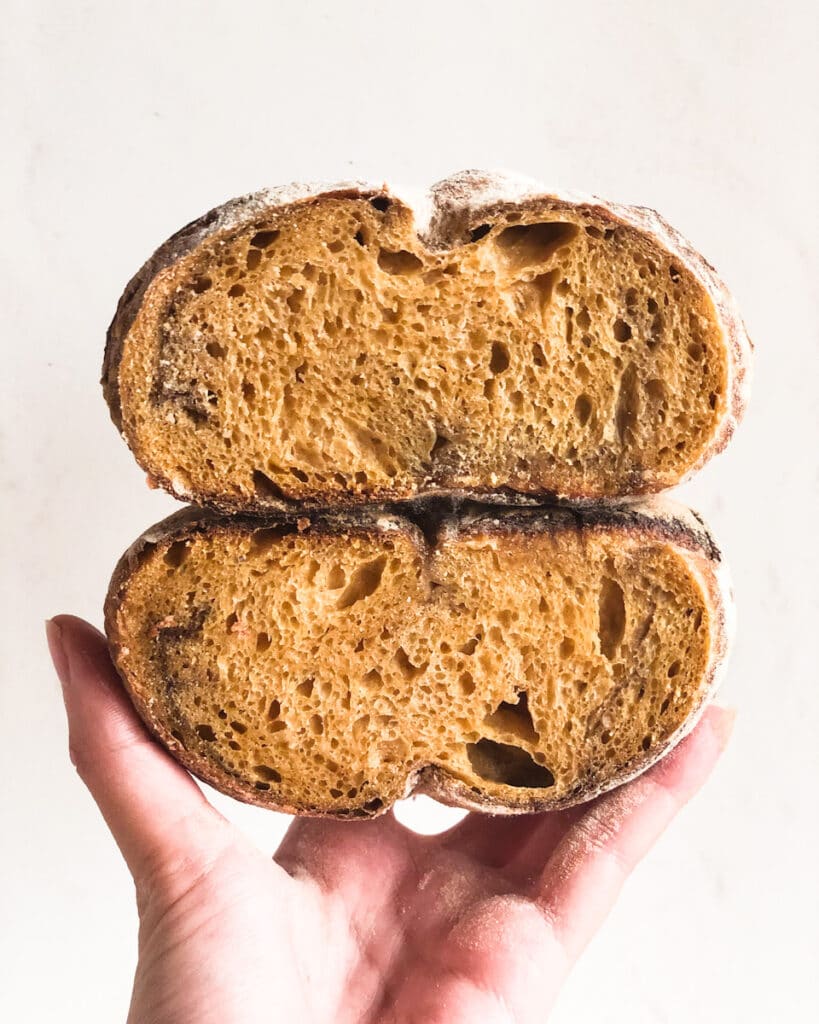 Other bread recipes I love:
If you make this recipe, let me know! You can comment below or tag me on Instagram @halicopteraway or #halicopteraway.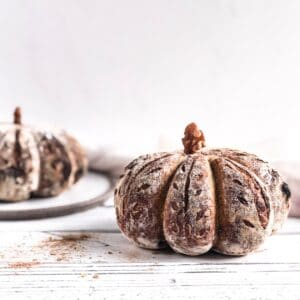 Pumpkin sourdough bread
These sourdough loaves are made with pumpkin puree and swirled with sweet cinnamon sugar for the perfect fall treat.
Equipment
1 large mixing bowl

2 small bowls

Butcher's twine

Dutch oven
Ingredients
For the sourdough
115

g

fed and active sourdough starter

75

g

lukewarm water

300

g

bread flour

150

g

canned pumpkin puree

8

g

salt

8

g

granulated sugar

1

tsp

diastatic malt powder (optional)
For the cinnamon sugar (optional)
50

g

brown sugar

1/2

tsp

cinnamon

1/2

tsp

all spice
Instructions
Combine all ingredients in a large mixing bowl. Mix and stir everything together to create a shaggy dough.

Cover the bowl with plastic wrap and let sit for 45 minutes.

Gently slide your hand under the middle of the dough and fold it over itself twice using the coil fold method. This helps gently develop the gluten.

Over the next 4 to 5 hours, allow the dough to rise. Every 30 to 45 minute, perform another coil fold. Be sure to do at least 3 coil folds.

Combine the brown sugar, cinnamon, and all-spice.

Line your two small bowls with floured kitchen or paper towels.

Turn the dough onto a floured surface. Use a dough scraper to divide into 2 even pieces. Take one piece and gently pull into a flat rectangle. Sprinkle the surface with cinnamon spice sugar, making sure to leave the edges uncovered. Pinch or roll the dough together to form a ball, with the cinnamon sugar on the inside. Repeat with the second ball of dough

Place each ball seam side up in the prepared small bowls. Cover with plastic wrap and place in the fridge for 8 to 12 hours.

When you're ready to bake, preheat the oven to 500°F with your uncovered Dutch oven inside.

Prepare your loaf – Cut 4 pieces of butcher's twine, long enough to wrap around your loaf. Arrange them on a piece of parchment paper so that they cross in the middle and form 8 even sections. Flour the string and parchment paper. Remove one loaf from the fridge and flour the surface of the loaf. Turn out of the ball onto the parchment paper so that where the strings cross is in the middle of the loaf. Tie each string around the loaf, leaving a little wiggle room for the loaf to expand. Gently score each eighth of the loaf with a sharp razor.

Place the loaf in the Dutch oven and cover with the lid. Bake for 20 minutes. Remove the lid and reduce temperature to 450°F and bake for another 12 – 15 minutes until hollow when tapped and the crust is a deep brown. Remove from oven and immediately cut and peel off the butcher's twine.

Preheat oven back to 500°F and repeat with the second loaf.

Press a walnut half in the middle of the loaf for a stem. Let loaves cool completely (at least 2 hours) before cutting into them.