The first time I visited Paris was in April. The gardens were green and lush, the perfectly manicured trees on the Champs d'Elysee waved gently in the breeze, and the skies were sunny and clear. It was an admittedly beautiful time to be in Paris.
But I'm here to argue that winter, though a bit chilly and dreary, may be an even better time to visit the City of Lights. I was worried that the cold weather, lack of day light hours, and constant rainy drizzle would make for a terrible trip. How wrong I was. My week-long trip at the end of January was simply magical, filled with cozy cafes, rich and comforting foods, and romantic walks along the Seine. So if you're contemplating that winter Paris trip… I'm here to tell you: do it. Book that ticket and get ready for a memorable and wonderful trip.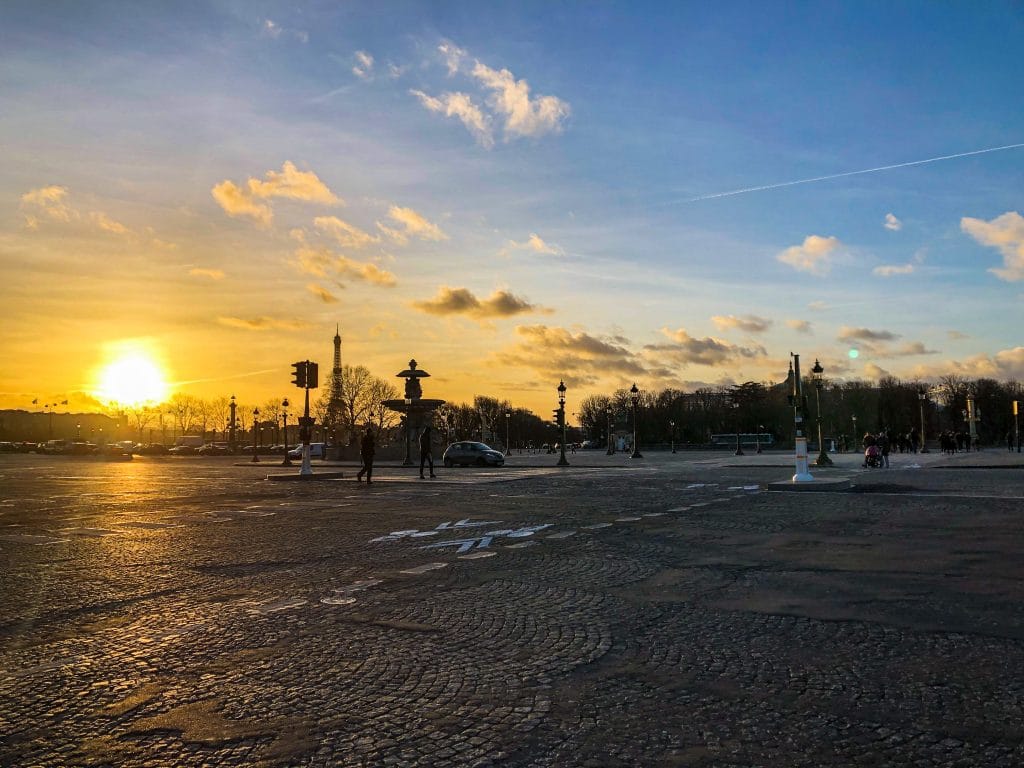 Why you should visit Paris in the winter
Everything is cheaper

I'm going to start with practical matters – Paris is simply more affordable in the winter. I didn't even think of planning a winter Paris trip until I saw how cheap the flights were – $300 for a roundtrip, direct flight from San Francisco to Paris, compared to $800 – $1,000+ tickets in spring and summer. Housing is cheaper as well, with a nice 4 star hotel running $150 per night, compared to $200 – $250 per night in spring and summer.

How to find cheap flights: Subscribe to Scott's Cheap Flights, an email newsletter that alerts you when there are exceptionally good deals to places all over the world. Also keep an eye out on Black Friday or Travel Tuesday for cheap winter flights, especially on the budget airline carriers French Bee and Norwegian Air.

Talking about everything being cheaper… winter sales are happening

Did you know that by law, French stores can only have sales twice per year? And one of those times is in January, a good excuse to go to Paris for a weekend of shopping. Everything from light bulbs to high-end designers such as Hermes and Louis Vuitton are all marked down by up to 70 or 90%. So if you're ready for some fashion savings, keep an eye out for when the government announces the official sale weeks and do your research on which pieces you'd like to add to your closet.

Where to shop: I enjoyed the Galeries Lafayette, a large shopping mall, and the Marais neighborhood, which was full of cute boutiques and trendy brands.

The weather is honestly pretty mild

As a California girl, my big worry was the weather. What if it poured the entire time, and I was freezing cold, and I walked around in wet socks all day and was miserable? Turns out I was worried about nothing. At the end of January, temperatures ranged from the low 40's to the high 50's. It did rain on and off throughout our trip, but it was more of a drizzle than a downpour and really didn't dampen our spirits at all. We also had wonderful sunny days where we were able to walk up and down the Champs d'Elysee, visit the Tuileries Garden, and stroll along the Canal St. Martin.

Where to go on a rainy day: I loved ducking in and out of museums when I felt a little chilly or damp, or stopping by a cafe for a hot cup of tea or hot chocolate. The weather would inevitably clear up and I could set out again.

French winter food will warm you up from the inside out

When we're talking food, I have to say the winter weather is a big plus. When it's cold outside, all you want is butter and carbs, and oh have the French got you covered on this front. French cooking is rich and delicious with lots of cheese, wine, and roasted meats. There is absolutely nothing more satisfying than tucking into a decadent dinner after walking around all day in the chilly weather. Our first night was spent in a packed French bistro, warming up next to a radiator and eating a delicious meal of roast duck breast, baked goat cheese, and a heaping bowl of chocolate mousse.

What to eat in the winter weather: Coq au vin is slow cooked chicken in a rich wine sauce, and is so perfect for a winter night. I also love cassoulet, a slow cooked casserole with meat and beans in a warm stew.

Cafe culture is bustling and extra cozy

The cold weather does not stop Parisians from enjoying drinks outside in the crisp wintry air. You'll find bistro and cafe store fronts full of closely packed tables filled with people sharing a drink or smoke, chatting, and watching the world go by. Outdoor heaters make sure everyone is sufficiently cozy, but if you prefer the indoors it's wonderful to curl up with a hot beverage and watch the rain drip down the windows.

What to drink to stay cozy: Grab a chocolat viennois, a thick, rich hot chocolate made in the Viennese style, not to be confused with a chocolat chaud, a simple hot chocolate. Or have a vin chaud, a hot wine that will give you the bonus of an alcohol blanket.

There are significantly less tourists

I am not saying that tourists are bad – I am a tourist in Paris. You will probably also be a tourist in Paris. However, it is wonderful to just have less people crowding the streets and trying to take pictures in front of every monument or famous pastry shop. I found that there were much fewer tourists and tour groups than when I went in the spring, even up to half as many. Visiting popular places like the Eiffel Tower and the Louvre was far less stressful and I felt like I had the space to explore.

With less tourists, comes shorter lines

On my first trip to Paris, I skipped out on a few attractions because I simply did not want to wait in line. The lines for Saint Chapelle in April wrapped around the block. This time, I simply waltzed right in. Getting into the Louvre took 15 minutes or less. We didn't even bother waiting in the express line for the Pompideau because it was as short as the regular line. We had more time to properly experience each attraction because we weren't waiting in line all the time.

You can get into popular restaurants… without a reservation

It can be quite a challenge to get reservations at popular restaurants, let alone walk in and grab a spot. Places were packed and bustling, but somehow there was always space for the two of us, even when we walked in or made reservations the day of. I am such a foodie, so this took a lot of pressure off of planning. Each day we could decide where to eat and didn't have to worry about being turned away.

Where to it's worth making a reservation anyways: I'd say my two favorite meals in Paris were at Auberge Bressane, where I had the most heavenly souffle of my entire life, and Le Temps des Cerises, where the bacon-wrapped scallops and creamy risotto was a simply magical combination.

Pastries taste better when it's cold outside

A simple fact: when it's cold, you need to eat pastries to stay warm. Your body is burning many calories to keep you at the right temperature – you must fuel your body with pastries, Buttery croissants, flaky pain au chocolat, creamy eclairs all taste better and sit easier on the stomach when the weather is a bit nippy. I can confirm this fact – I had approximately 10 pastries over 5 days.

Where to get pastries that will warm your soul: I love all French pastries, but my favorites were the frangipane pain au chocolat from La Maison D'Isabelle and the praline, rose and pistachio escargot from Boulangerie Bo (which also has the cutest vintage storefront).
My trip to Paris is such a travel highlight, and I can only hope that more people will discover how beautiful this city is in winter. But not too many…. cause I kind of want to keep it a little secret!
What Paris guides would you be interested in? Pastries? Where to eat near popular attractions? Vegetarian friendly restaurants in the city? Let me know in the comments!