Earthy, buttery hojicha shortbread is topped with fragrant lavender cooked cream sweetened with honey. This unique dessert is a beautiful combination of earthy and floral flavors!
I set out with a goal of making a unique spring dessert and came out the other end with these hojicha lavender cream bars. Inspired by a hojicha lavender latte, they're buttery, creamy, light, and floral. I promise you'll never had a dessert quite like it!
I know floral flavors aren't for everyone, so if you're looking for a dessert with similar textures but different flavors, I recommend my matcha strawberry cream bars.

What is hojicha?
Hojicha is a Japanese green tea, like matcha. However unlike matcha, the tea leaves are roasted, creating a distinct reddish brown color and earthy, smoky flavor. It has less caffeine than matcha and is also less bitter due to the roasting process.
While matcha is becoming more common in mainstream American grocery stores, hojicha is still a little harder to find. I got my hojicha powder off of Amazon.
How to make hojicha honey lavender cream bars
This treat is simple to pull together, with minimal hands-on time. The majority of the time will be spent waiting for the cream layer to set in the fridge.
There are 3 overall steps to making this dessert:
Make the hojicha shortbread using butter, sugar, vanilla extract, all purpose flour, and hojicha
Make the honey lavender cream using heavy whipping cream, gelatin, honey, dried lavender, vanilla, and salt. This will be done on the stove.
Combine the cream and shortbread and let set in the fridge for 4 hours.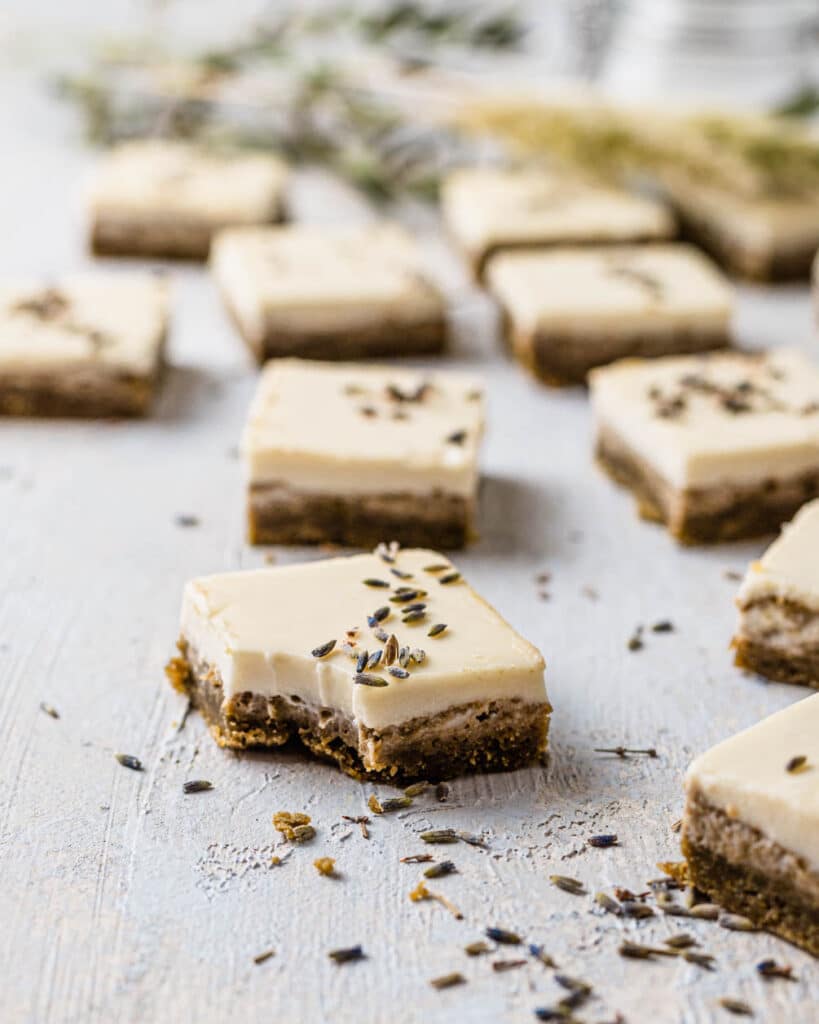 Tips for perfect hojicha shortbread
The hojicha shortbread is a classic shortbread recipe with vanilla added for extra flavor.
Make sure your butter is at room temperature, so the ingredients combine smoothly
I use salted butter, but you can use unsalted butter plus 1/2 tsp of salt if you prefer.
Make sure to spread the dough firmly and evenly across the baking tin.
How to use lavender in baking
Like hojicha, lavender is a more unique flavor in baking. It's beautiful floral notes certainly make you think of spring, but if you use too much your dessert will taste like a bar of soap!
My general rule with lavender is that a little goes a long way. In this recipe, we'll be steeping dried lavender buds in cream for a few minutes. I used this dried lavender in the recipe.
Tips for lavender cream
We'll be cooking all of the cream ingredients over the stove. We want the heavy cream to be warm enough to release the lavender flavors, but we don't want it to come to a boil. When we combine the bars, we'll use a strainer to remove the lavender buds.
When combining the cream and the shortbread, you want to make sure that both of them are not too hot. Otherwise, the hot cream can dissolve the shortbread and you won't get clearly defined layers.
I recommend putting the shortbread layer in the fridge to quickly cool down while you cook the cream. I also recommend letting the cream cool for 2 – 3 minutes before pouring it onto the shortbread. As soon as you've poured the cream, you want to quickly transfer the pan into the fridge to cool down and set.
These bars are perfect if you like new and different flavors, and each bite is full of sweet cream and buttery shortbread. It's a lovely spring dessert as the weather warms up!
Other spring baking recipes to try:
If you make this recipe, please let me know! I always love to see what my readers are baking. You can comment below or tag me on Instagram @halicopteraway.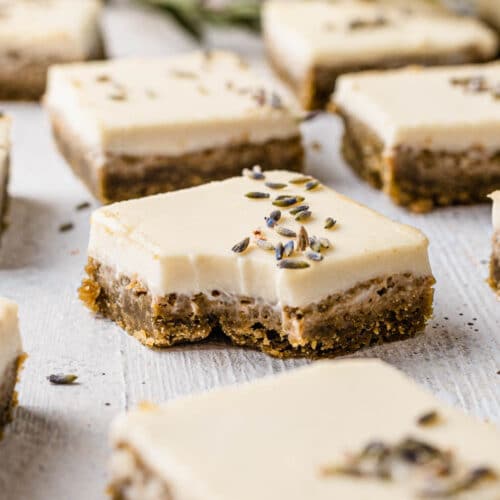 Hojicha honey lavender cream bars
Earthy, buttery hojicha shortbread is topped with fragrant lavender cooked cream sweetened with honey. This unique dessert is a beautiful combination of earthy and floral flavors!
Equipment
9 x 9 inch baking pan

Hand or stand mixer

Skillet

Parchment paper
Ingredients
Hojicha shortbread
3/4

cup (170g)

salted butter, room temperature

1/4

cup (50g)

granulated sugar

1

tsp

vanilla extract

1 1/2

cups (180g)

all purpose flour

1

tbsp

hojicha powder
Honey lavender cream
1/4

cup (60g)

cold water

2 1/4

tsp

powdered gelatin (one standard packet)

2

cups (480g)

heavy cream

1

tsp

vanilla extract

3

tbsp (60g)

honey

1/4

tsp

salt

3

tbsp

dried lavender buds
Instructions
Hojicha shortbread
Preheat oven to 325°F and line a 9 x 9 inch baking tin with parchment paper, making sure it's pressed closely against the sides of the tin. The parchment paper should extend at least 1 inch up the sides of the tin.

In a medium bowl, use a hand mixer or stand mixer fitted with a paddle attachment to cream together the butter and sugar until light and fluffy. Add the vanilla and mix until incorporated. Add the flour and hojicha powder and mix on medium speed until a cohesive dough forms.

Press the dough evenly onto the bottom of the tin, making sure to press against the sides of the tin so that there is no space between the parchment paper and the dough. I like to use a metal measuring cup to flatten the dough evenly. Use a fork to poke holes across the surface of the dough.

Bake for 18 – 20 minutes. It'll be soft and puffy when you take it from the oven and will solidify as it cools. Remove from the oven and place in the fridge to cool while you make the lavender cream.
Honey lavender cream
Place 1/4 cup of water in a bowl. Sprinkle the surface of the water with gelatin powder and leave to bloom.

In a medium skillet, add heavy cream, honey, vanilla, salt, and lavender buds. Place on the stove over medium heat, stirring constantly until the sugar and the honey have dissolved. This should take about 5 minutes. Reduce heat to low and continue stirring for 5 minutes to let the cream absorb the lavender flavor. Do not let the cream come to a boil.

Remove the skillet from the heat and stir in the gelatin until it dissolves. Let cool for 2 – 3 minutes.

Remove the hojicha shortbread from the fridge. It should be firm to the touch. Gently and slowly pour the lavender cream through a strainer onto the shortbread. Carefully transfer the tin to the fridge and let set for at least 4 hours.
Cut and serve
Once the bars are set, cut into 16 equal pieces.

Store any leftover bars in airtight containers in the fridge.
Notes
You can replaced salted butter with unsalted butter and 1/2 tsp of salt
Please make sure your dried lavender is food grade before using.
You want the shortbread to be relatively cooled and firm before you pour on the cream. Putting it in the fridge helps get it to the right temperature. 
It's important to be gentle when pouring the cream onto the shortbread. If you pour too forcefully, the cream can create a hole in the shortbread, which will lead to messy layers.