Soft, fluffy enriched bread is interlaced with the subtle sweetness of honey and the satisfying crunch of walnuts. This easy challah recipe is great for beginners and is sure to please with its stunning presentation.
Click here to jump to recipe
For everyone who has ever feared making enriched bread, and for those who has quailed beneath the thought of braiding dough – this recipe is for you. It is so simple and incredibly forgiving. Plus it's 100+ levels of impressive to look at and 100000+ levels of delicious to eat. Eat isn't even the right word. More like rip off big fluffy chunks and pack your cheeks full like a chipmunk.
Simply put, this loaf is delicious and very beginner-friendly. Plus, the addition of honey and walnuts really brings it to the next level.
Challah is a traditional Jewish bread. I am not Jewish, so my first impression of Challah was in college, when my roommate would bring back fresh loaves from Challah for Hunger. All I remember was how wonderful it was to take a study break at 11pm and eat that fresh baked bread, often loaded with fragrant rosemary or chocolate chips. I actually made this loaf a while ago, but wanted to wait until after Passover to share the recipe.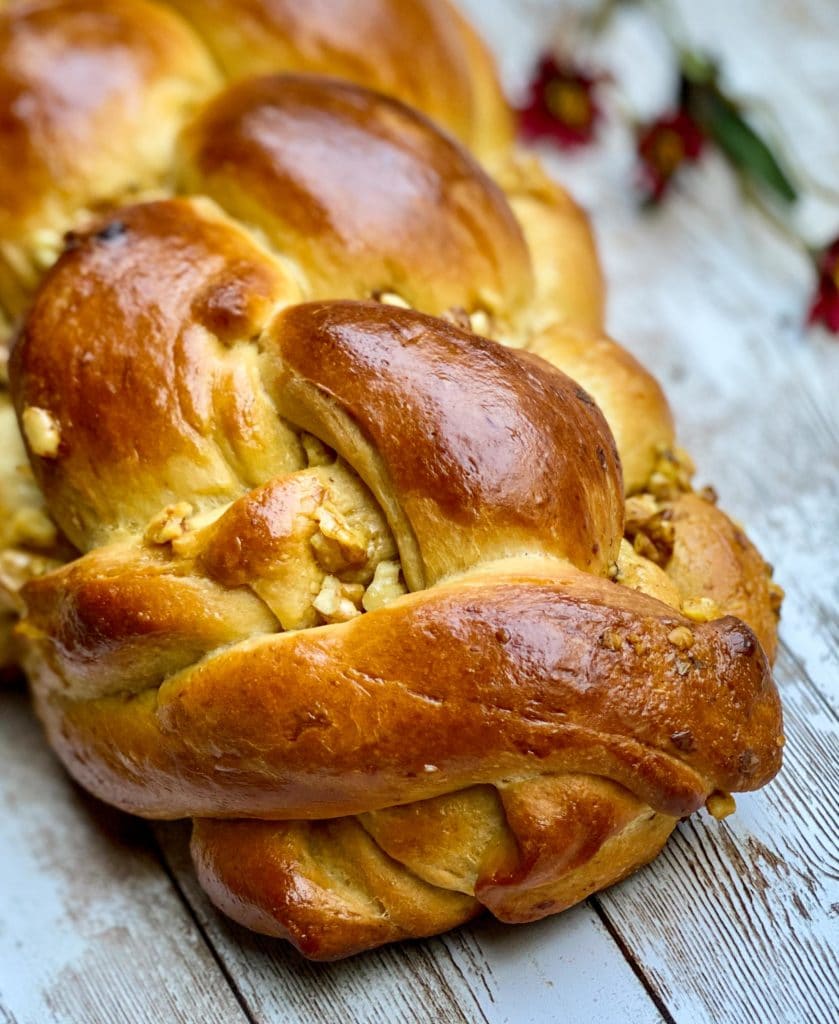 To make this challah recipe, we're simply going to mix the ingredients together until we have a soft and sticky dough. We'll knead until smooth and let rise for about 2 hours. We'll then divide the dough into strands for braiding and coat one side of each strand in a honey and crushed walnut mix. We'll then shape into a gorgeous 3 or 6 strand braid (don't worry, it's not as hard as it looks), let proof for another 1.5 – 2 hours, brush with egg wash and then bake. Before you know it you'll have a beautiful, fresh loaf full of flavor!
Can I make the dough in advance?
Yes, you can make this dough up to 2 days in advance. Instead of letting it rise for the first time on the countertop, put it in a covered bowl in the fridge for at least ~12 hours and up to 2 days. The colder temperatures will slow down the rise. You can then remove from the fridge to shape, prove, and bake.
How do I shape the dough into a beautiful braid?
You can opt for a more simple but still beautiful 3-strand braid, or you can go for an intricate 6-strand braid. These videos are very helpful:
3-strand braid: https://www.kingarthurflour.com/videos/baking-skills/how-to-braid-a-three-strand-loaf
6-strand braid: https://www.kingarthurflour.com/videos/baking-skills/how-to-braid-a-six-strand-loaf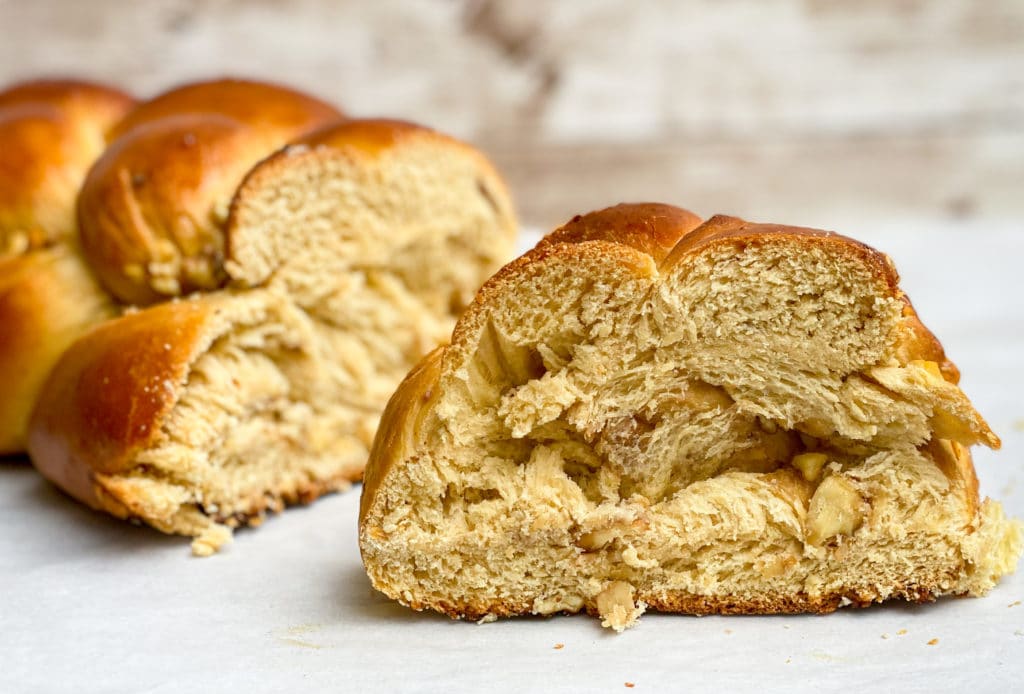 Tips and tricks for this challah recipe
If you're new to making bread, you can check out my Guide to Making Enriched Bread, where I outline the basic steps and common pitfalls. This includes tips on kneading, proving, and shaping.
Use a food scale if you have one – precision is key for making bread. It'll make your life SO much easier, and they are not too expensive. I bought one for about ~$12 off Amazon.
Place the loaf on the bottom 1/3 of the oven, but not at the absolute bottom. Otherwise you run the risk of burning the bottom.
When coating with honey be generous with the amount. You'll be surprised by how the flavor disappears after baking.
As you braid, turn the honey side of the dough towards the inside of the loaf to prevent the sugars from burning in the oven. A little bit of leakage is okay, but you don't want filling gushing out.
You can substitute any vegetable oil for the olive oil, but I enjoy the flavor that olive oil brings when paired with the honey and walnuts.
Other enriched bread recipes:
If you make these brown sugar latte rolls, please let me know! You can leave a comment below or tag me on Instagram @halicopteraway. I always love to see what everyone is baking.
Recipe adapted from King Arthur Flour.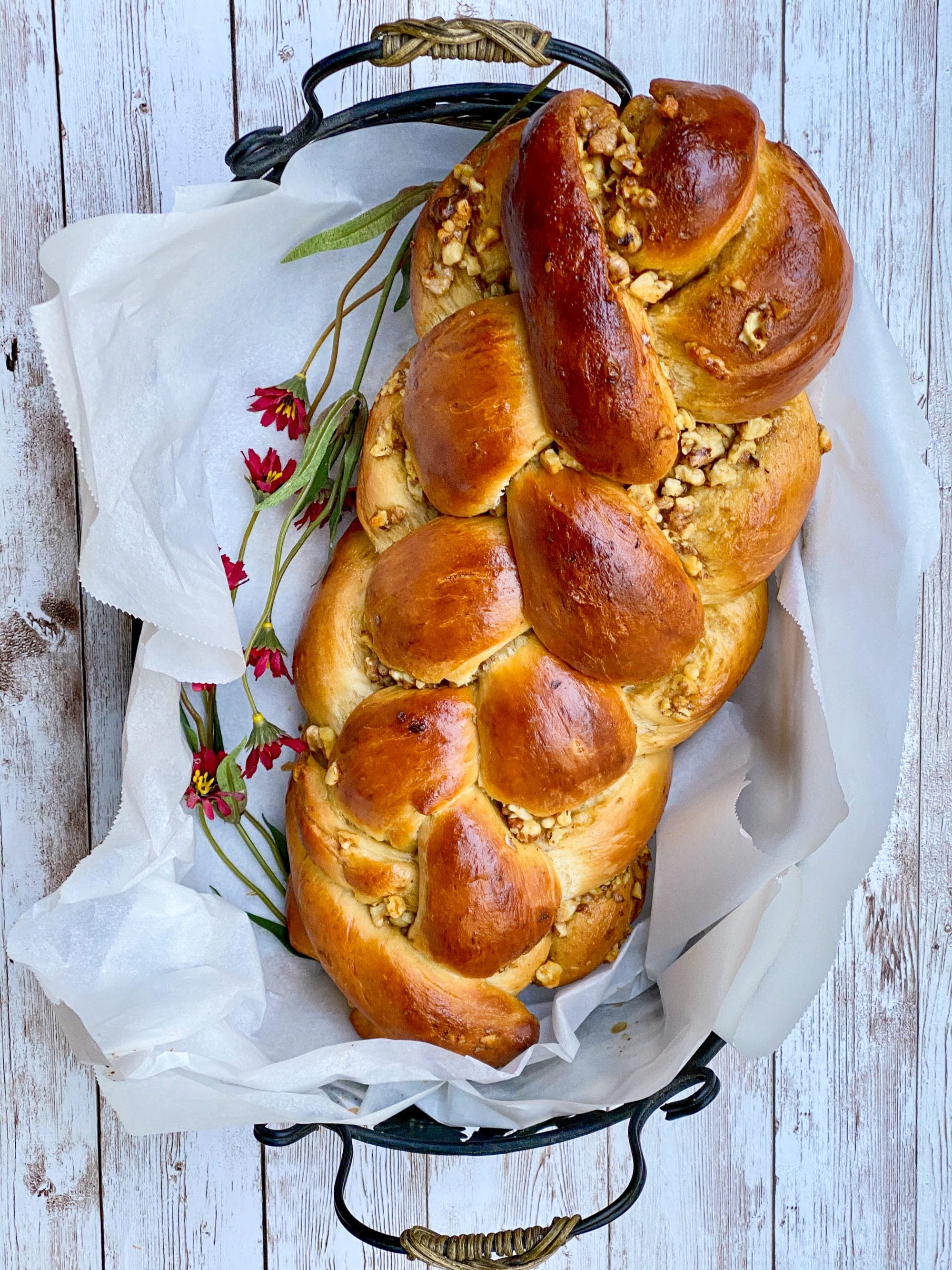 Honey walnut Challah
Soft, fluffy enriched bread is interlaced with the subtle sweetness of honey and the satisfying crunch of walnuts. This easy bread recipe is great for beginners and is sure to please with its stunning presentation.
Equipment
1 medium mixing bowl

1 baking sheet

Parchment paper

Aluminum foil
Ingredients
Challah dough
1/2

cup (113g)

lukewarm water

6

tbsp (74g)

olive oil

1/4

cup (85g)

honey

2

large eggs

4

cups (482g)

all-purpose flour

1 and 1/2

tsp

salt

1

tbsp

instant or active dry yeast
Honey walnut mix
1/4

cup (85g)

honey

1/4

cup

crushed walnuts
Egg wash
1

large egg

1

tbsp

milk or water
Instructions
Mix the half cup of lukewarm water with yeast and 1 tbsp of the honey and set aside for 5 minutes. The water should be warm to the touch but not hot.

Combine flour, salt, eggs, oil, and remaining honey in a medium mixing bowl. Add water, honey, and yeast mixture. Gently mix together ingredients by hand until a soft, sticky dough forms.

Turn out dough onto a lightly floured surface. Knead the dough until smooth and passes the window pane test. Lightly grease the bowl with oil and place the dough back in.

Cover the bowl with plastic wrap and set aside. Let the dough rise for about 2 hours until roughly doubled in bulk.

Gently deflate the dough and turn out onto a lightly floured surface. Divide into 3 or 6 even pieces depending on your preferred style of braid. Roll each piece into 15'' to 20'' long strands.

Mix together your honey and crushed walnuts. Generously cover one side of each dough strand with the mixture, using a spatula or clean hands.

Braid the loaf. See videos linked above for the technique. Make sure to turn the honey-covered side inwards so the outside of the loaf is smooth. A little bit of honey and walnut leaking out is okay.

Gently place the braided loaf on a parchment paper or aluminum foil-lined baking sheet.

Cover the loaf with lightly greased plastic wrap and let rise for 90 minutes to 2 hours until puffy. When you poke with a finger, the indent should slowly fill back in to about halfway. Towards the end of the rise, preheat the oven to 375 degrees Fahrenheit.

Make the egg wash by whisking together the egg and water or milk. Brush the top of the loaf with the egg wash. You can use either a pastry brush or clean hands.

Insulate the bottom of the loaf by stacking your baking sheet on another baking sheet, or double-lining with parchment paper. Place the loaf in the bottom 1/3 of the oven and bake for 20 minutes. If it's a deep golden brown, tent with aluminum foil. Otherwise bake for another 5-10 minutes until desired color is achieved.

After tenting with foil, bake for another 10-15 minutes.

Remove from oven and place on wire cooling rack.