These are the richest, fudgiest brownies, and they're swirled with creamy hojicha-flavored cheesecake for a subtle roasted tea flavor.
Are you a cakey brownie person or a fudgy brownie person? I am definitely team fudgy brownie and I can promise you – these are the richest, fudgiest, most decadent brownies you will ever have the joy of eating.
And if chocolatey decadence isn't enough, each bite is swirled through with creamy hojicha cheesecake. Like matcha, hojicha is a type of powdered green tea. The leaves are slow roasted for a beautiful earthy flavor that complements the chocolate flavors perfectly!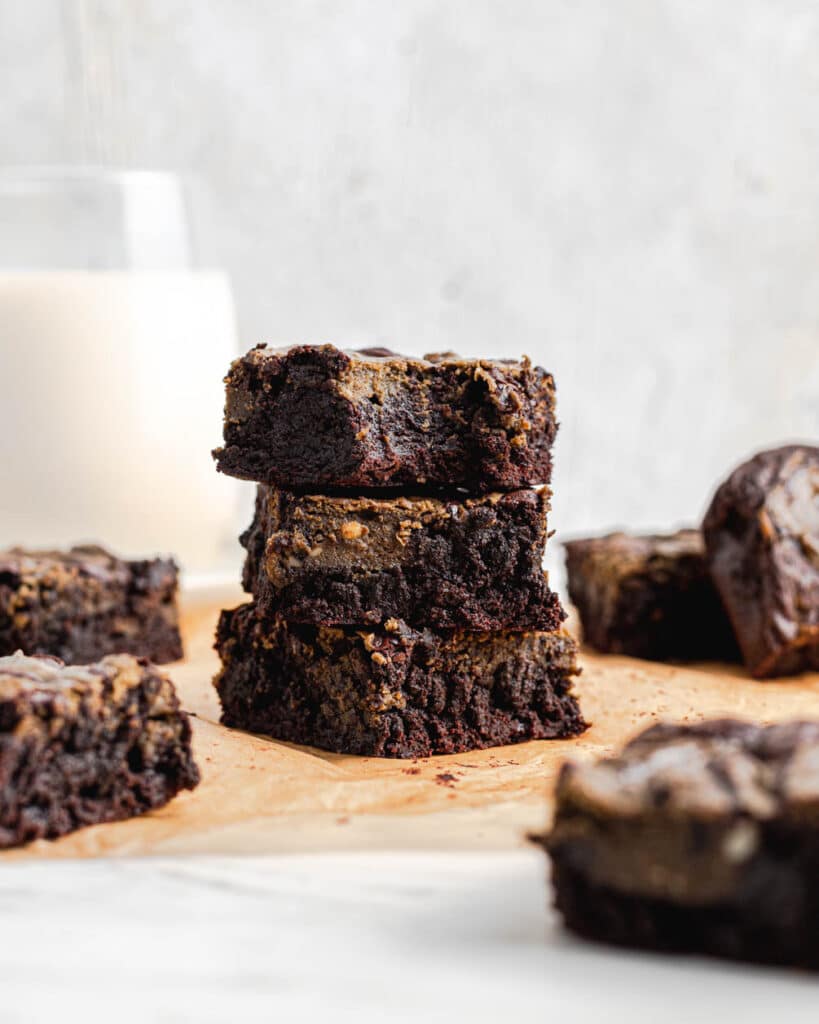 How to make cheesecake brownies
To take a regular brownie to a cheesecake brownie, we're going to make a super creamy cheesecake topping using cream cheese, sugar, egg yolk, hojicha powder, and flour.
It's important for your cream cheese to be room temperature, so that your ingredients combine easily and you have a silky smooth filling. Trust me, I've made this using cream cheese straight from the fridge and it just isn't the same.
We'll add spoonfuls of the cheesecake batter into the brownie batter and swirl with a knife to create a beautiful marbled effect!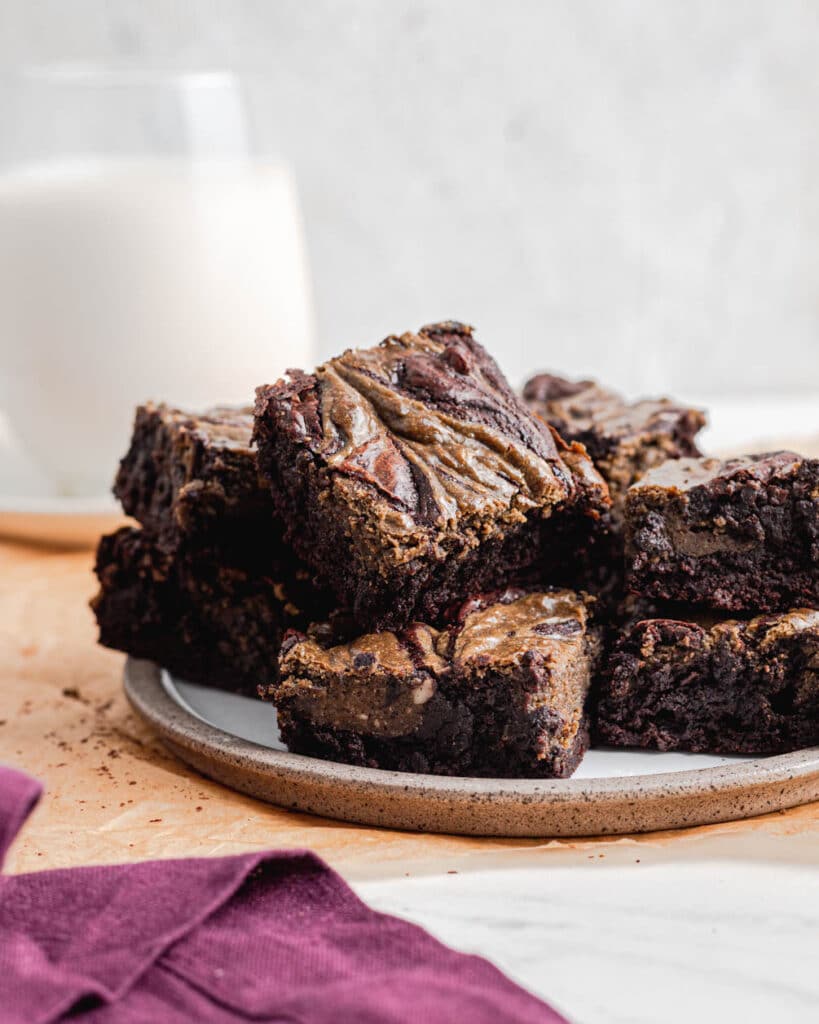 How to make super fudgy brownies
There are a couple of tricks to help make these super rich, moist brownies full of chocolate flavor.
Use melted chocolate AND cocoa powder. The melted chocolate adds extra fat and the cocoa powder adds a super concentrated chocolate flavor. I love to use Dutch cocoa powder for a more intense flavor, but regular cocoa powder works as well.
Use a mix of brown sugar and white sugar. Brown sugar adds moisture and a melt-in-your-mouth texture.
Leave out the leavening agents – this recipe doesn't use baking powder or baking soda because we actually don't want a light and fluffy texture here! We want dense and oh so rich.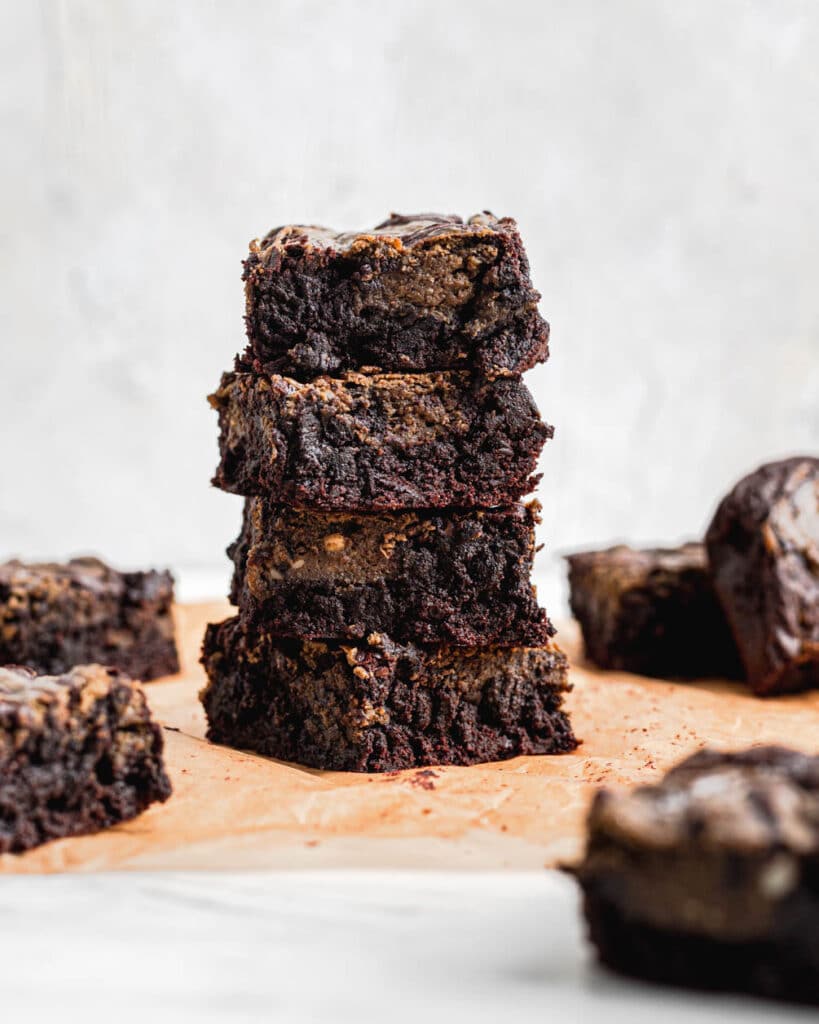 How to get crackly brownie tops
Okay so I tested this recipe many times before I finally nailed that beautiful cracky brownie top.
Time for a bit of baking science – the crackly top is created when sugar in the brownie batter migrates to the top while the brownie bakes and creates a meringue-like top. So the trick is in how much sugar you use and when you add the sugar to the batter. Here are some tips to help you achieve the perfect texture:
Don't reduce the amount of sugar in the recipe. Sugar plays an important role in texture, creating a soft, moist interior as well as that perfect crackly top. When I reduced the amount of sugar, I ended up with a cakier, duller brownie.
Add the sugar directly into the hot melted chocolate and butter. This dissolves the sugar crystals and helps them migrate to the top of the batter during baking.
Prep all your ingredients ahead of time. Because timing is important in this recipe, you want to have all your ingredients prepped and ready to go.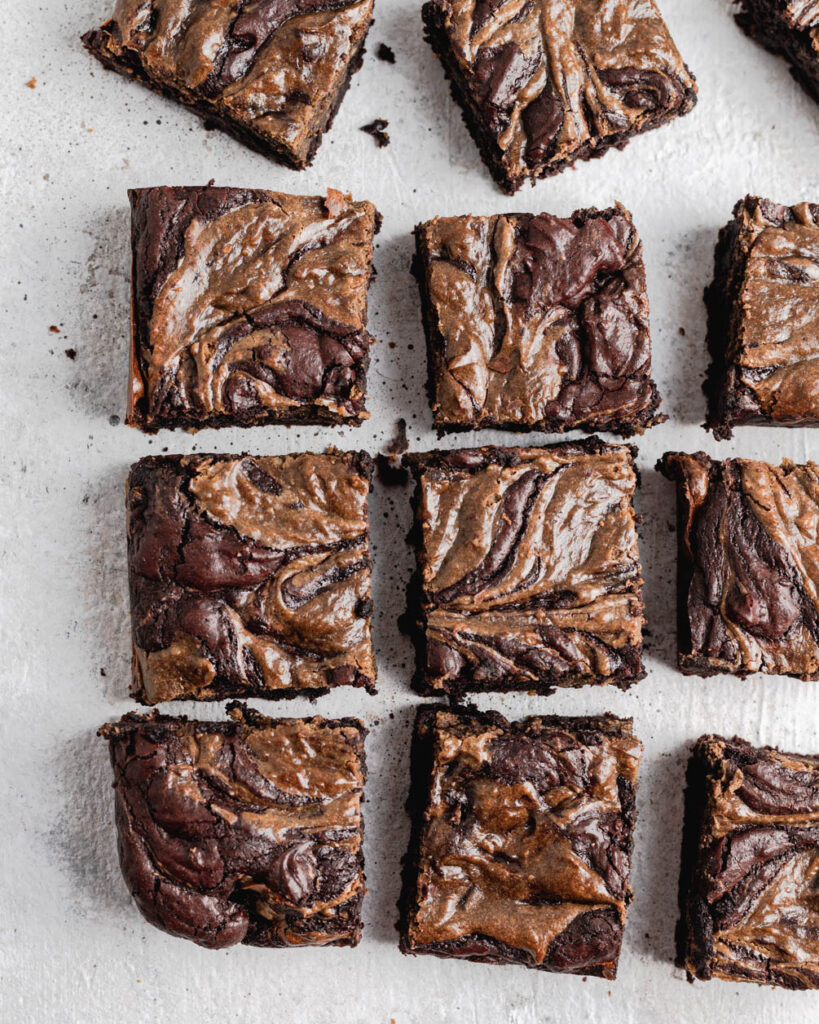 What if I don't have hojicha?
Hojicha powder is a little more of a specialty ingredient. I get my hojicha powder from Amazon, but you can also sub for other flavors as well. Here are some ideas that I think would be delicious:
Matcha powder, for a sharper green tea flavor
Dried raspberry or strawberry powder, for a fruity twist
Cocoa powder, for a doubley chocolate cheesecake brownie
Of course, you could also leave the hojicha powder out, but do I love the very subtle yet distinct flavor that it brings!
I hope you love these brownies as much as I do – I couldn't stop eating them! These brownies are SO decadent and perfect with a glass of cold milk.
If you make this recipe, please let me know! I always love to see what my readers are baking. You can comment below or tag me on Instagram @halicopteraway.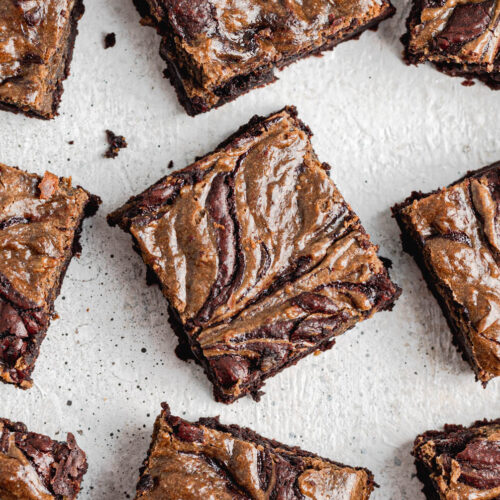 Hojicha cheesecake brownies
These are the richest, fudgiest brownies, and they're swirled with creamy hojicha-flavored cheesecake for a subtle roasted tea flavor.
Equipment
9 x 9 inch baking tin

Hand or stand mixer

Medium pot

Parchment paper
Ingredients
For the brownie batter
3

oz (85g)

dark chocolate, broken into pieces

1/2

cup (113g)

unsalted butter, cut into 8 pieces

1 cup + 2 tbsp

(225g)

granulated sugar

1/4 cup + 2 tbsp

(75g)

brown sugar

2

eggs

1 1/2

tsp

vanilla extract

3/4

tsp

salt

1/2

cup (60g)

cocoa powder, Dutch processed or natural

3/4

cup (90g)

all purpose flour
For the hojicha cheesecake topping
6

oz (170g)

cream cheese, room temperature

3

tbsp

granulated sugar

1/2

tsp

vanilla extract

1

egg yolk

1

tbsp

all purpose flour

1

tbsp

hojicha powder
Instructions
Preheat oven to 350°F and line a 9×9 baking tin with parchment paper
Make the cheesecake topping
In a medium mixing bowl, add the cream cheese and granulated sugar. Use a hand mixer or stand mixer fitted with a paddle attachment to beat on medium speed until smooth and well-incorporated. Beat in the vanilla extract and egg yolk, scraping down the sides of the bowl as needed. Beat in the flour and hojicha powder until well-incorporated. Set aside.
Make the brownie batter
In a pot over low-medium heat, add the dark chocolate and butter. Stir frequently until melted.

Remove from heat and immediately add the granulated sugar and brown sugar and mix until dissolved. Whisk in the eggs and vanilla extract. Use a spatula or wooden spoon to fold in the salt, cocoa powder, and flour. The batter should be quite thick.

Pour about 2/3 of the batter into the prepared baking tin and use a spatula to spread evenly along the bottom of the tin. Alternate adding spoonfuls of the hojicha cream cheese filling and the remaining brownie batter. Use a butter knife to draw lines through the batter to swirl in the cream cheese filling and create a marbled pattern.

Place in the middle rack of the oven and bake for 30 – 35 minutes until a toothpick comes out clean.

Remove from the oven and let cool completely in the tin before slicing. Once the brownies have cooled, slice into 16 pieces. Store leftover brownies in airtight containers at room temperature for up to a week.
Notes
I highly recommend using at least 60% dark chocolate, otherwise these brownies will be quite sweet.
I prefer to use Dutch processed cocoa powder in this recipe for a more intense chocolate flavor
To make a matcha version, replace the hojicha with 1.5 tbsp of matcha powder