This fluffy brioche is made using the tangzhong method to give it a beautiful, light texture that stays soft for days. This recipe uses all purpose flour for a versatile and delicious loaf of bread!
This tangzhong brioche bread combines two of my favorite breads – buttery, traditional French brioche and soft Japanese milk bread. It takes the gorgeous, golden, buttery texture of brioche and combines it with that perfect fluffiness achieved through the tangzhong method. 
The texture of this bread is absolutely gorgeous – a cloud-like, cottony crumb that's perfect for spreading with lemon curd or hazelnut cream. It takes some time to make, but I promise the result is worth it!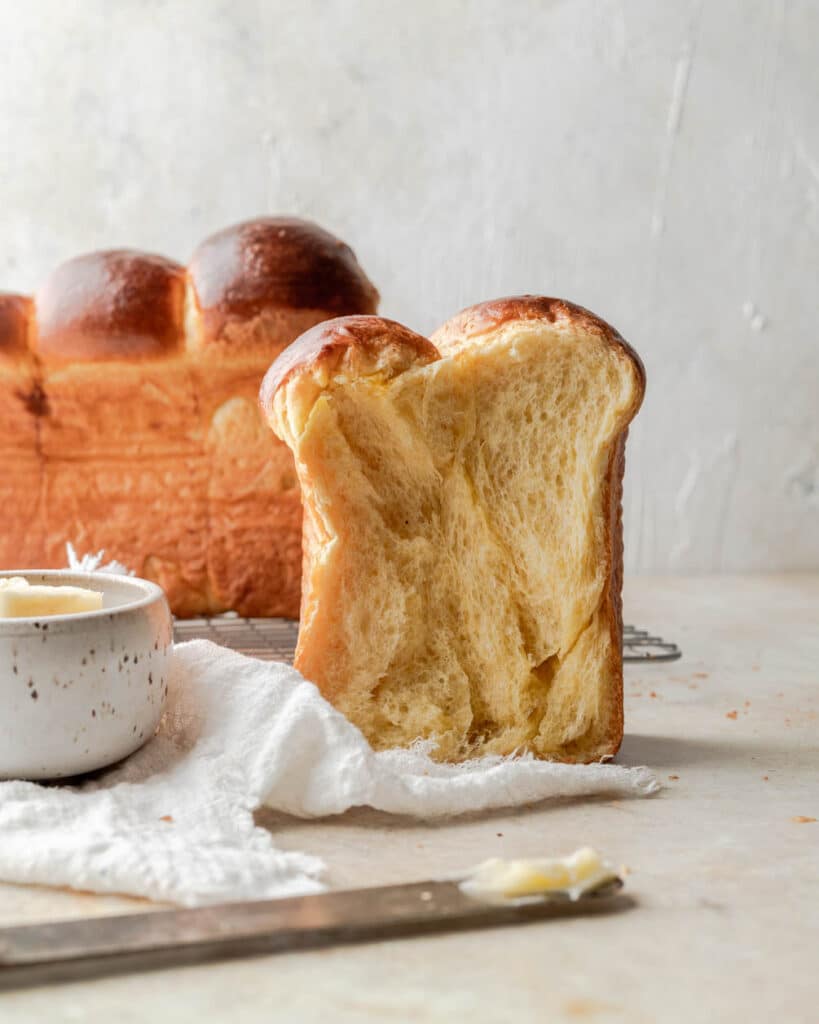 What is brioche?
Brioche is a very rich, buttery French bread that has a high fat content. It's known for it's beautiful golden yellow color and can be used in sweet or savory recipes. 
Because it has added fats, brioche is an enriched bread. I recommend reading my guide to baking enriched breads if this is your first time baking brioche!
Do I need to use bread flour for brioche?
No! This brioche recipe uses all purpose flour. No need to use bread flour here.
Using the tangzhong method in brioche
Traditional brioche does not use the tangzhong method, but to be honest I've always found traditional brioche to be a little dry. All that extra butter can lead to the bread easily drying up after just a day or two. By adding tangzhong, we help create and sustain that perfect cloud-like texture.
What is tangzhong?
Tangzhong is a method often used in Chinese baking where liquid and flour are cooked together on the stove and then added to the dough. This gelatinizes the gluten strands, which helps create a softer and more delicious bread. 
How do you make tangzhong?
Making tangzhong is very easy – you simply whisk together flour and milk on the stove over medium heat until it forms a thick paste. Set it aside to cool slightly before adding it to your dough! 
The tangzhong will be the only liquid that is used in this recipe!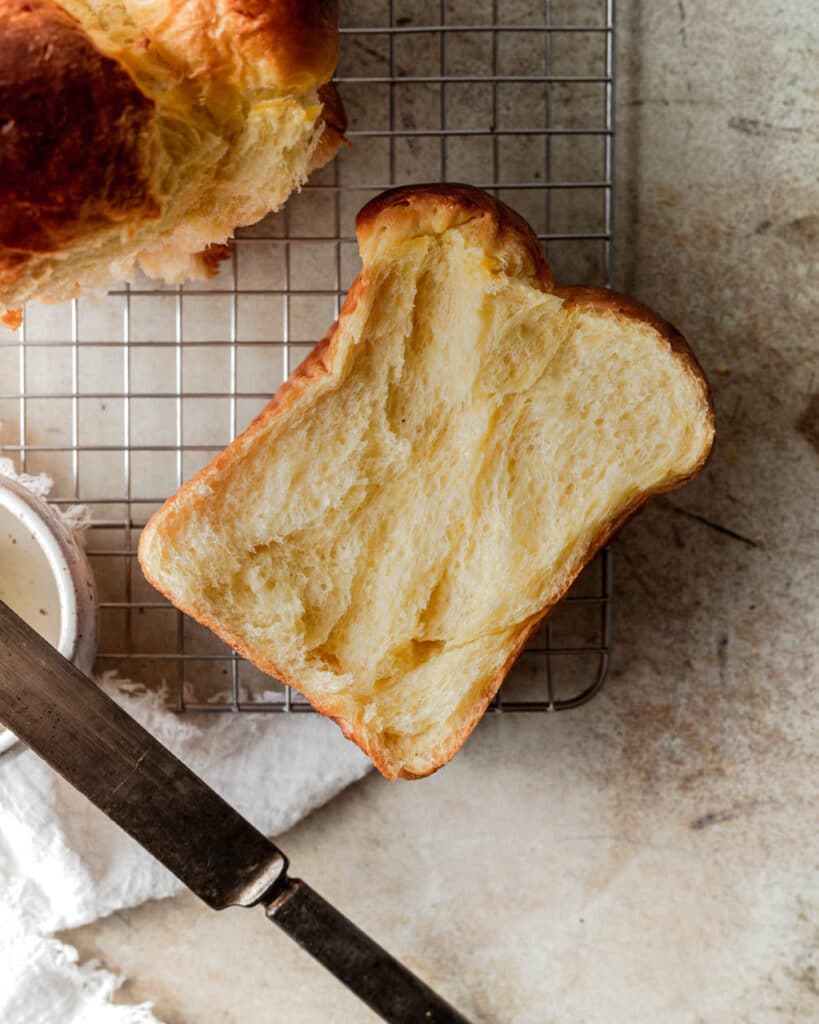 Tips for rich and buttery tangzhong brioche
Along with a super soft texture, we want our brioche to be full of delicious buttery flavor. We'll achieve this in two ways:
Using lots of fat in the dough with butter and egg yolks. Make sure that your butter is truly at room temperature so that it easily incorporates into the dough. 
Placing the dough in the fridge for a slow second rise. Slowing down the second rise helps the flavor develop so that you get a richer and more complex loaf. If you're pressed for time, you can skip the second rise and go straight to shaping, but the final result won't be as flavorful.
Tips for kneading brioche
Brioche is a very soft and supple dough, so it can be difficult to knead by hand. If you have a stand mixer, I recommend using it to spare your arms a workout. When using a stand mixer, I always use the paddle attachment instead of the dough hook attachment to avoid ripping the gluten strands. When kneading using my machine, it takes me about 15 – 20 minutes on medium-high speed. 
If you're kneading by hand, I recommend checking out my Japanese milk bread recipe for tips on how to manage very wet and sticky doughs by hand.
You want the dough to have very developed gluten to help create the final fluffy crumb. Use the window pane test to determine if you have kneaded long enough. The dough should easily be able to create a very thin and see-through sheet when you stretch it between your fingers. 
Tips for baking brioche
I've tested this recipe with both an 8×4 inch pan and a 9 x 5 inch pan. Both work well, but you will get a slightly taller loaf using the 8×4 inch pan. 
To help give the brioche a beautiful golden brown color, we will brush with egg wash twice – once right after shaping and then again right before putting the loaf in the oven. 
We want to get a beautiful oven spring, so first we will bake for 10 minutes and 400°F, then reduce the temperature to 350°F and bake for another 20 minutes. The higher initial temperature encourages yeast activity to create a beautiful final rise.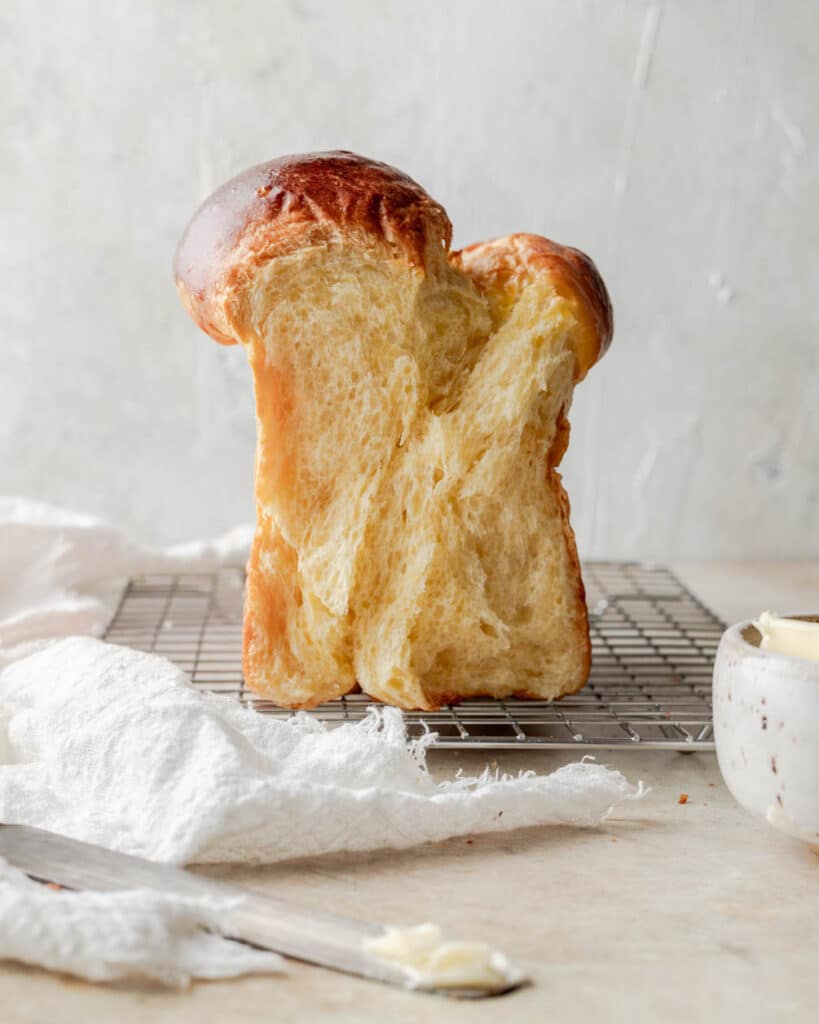 How do you know when the brioche is done baking?
The brioche will be a beautiful deep golden brown and will make a hollow sound when tapped with a back of the spoon. If you have an oven thermometer, I also recommend taking the internal temperature of the bread which should be 190°F.
Brioche can seem intimidating, but the most important ingredient here is time! Just let your dough sit, and time will do most of the work for you. 
Other bread recipes to try
If you make this recipe, please let me know! I always love to see what my readers are baking. You can comment below or tag me on Instagram @halicopteraway.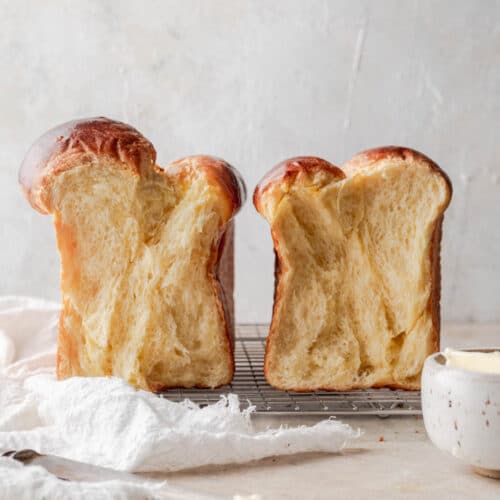 Super soft tangzhong brioche
This fluffy brioche is made using the tangzhong method to give it a beautiful, light texture that stays soft for days. It's perfect for making savory sandwiches or toasting with butter and jam!
Equipment
8×4 inch or 9×5 inch baking tin

stand mixer with paddle attachment

small pan
Ingredients
Tangzhong
1/2

cup (120g)

milk

3

tbsp (23g)

all purpose flour
Dough
1 1/2

tsp

instant yeast

3

tbsp (36g)

granulated sugar

2

1/2 (300g)

all purpose flour

2

eggs

1

egg yolk

1

tsp

salt

6

tbsp (90g)

unsalted butter, room temperature
Egg wash
1

egg white (leftover from the yolk used in the dough)

1

tbsp

milk or water
Instructions
Make tangzhong
In small skillet or pot, whisk together flour and milk until smooth. Bring to simmer over medium-low heat, whisking frequently, until mixture has thickened but is still pourable. It should take 5 – 10 minutes. Your whisk should leave a mark when dragged along the bottom of the pan.

Pour into a bowl and cover surface with plastic wrap to prevent a film from forming, and allow to cool slightly until lukewarm.
Make the dough
Add the tangzhong to your mixing bowl while still warm, but not hot to the touch. Add the sugar and yeast. Let sit for 5 – 10 minutes until bubbles form on the surface. It won't get as frothy as when you activate your yeast using warm water or milk.

Add the flour, eggs, egg yolk, and salt to the bowl. Make sure to set aside the egg white in the fridge to use later in the egg wash. Mix using a stand mixer fitted with a paddle attachment until the dough just comes together. While the stand mixer is running, slowly add the butter into pieces until completely incorporated.

On medium high speed, knead the dough for 15 – 20 minutes until the dough is smooth and passes the window pane test. You'll notice the dough is forming a ball in the middle of the bowl instead of sticking to the sides.

Form into a ball and place into a lightly greased bowl. Cover and let rise for 2 hours until doubled in size. After the dough has completed it's first rise, gently punch it down and reshape into a ball. Place in the fridge and let rise for a minimum of 8 hours and up to 48 hours.

When you're ready to bake, remove the dough from the fridge and punch down to release the air. It should have risen, but not as much as the first rise. Grease or line a baking tin with parchment paper.

Divide the dough into 8 equal pieces and gently form into round balls. Place the balls into the tin, slightly offsetting them to form a zigzag pattern.

Mix together your egg white and milk to make an egg wash. Brush the top of the loaf with the egg wash. Cover and set aside the remainder in the fridge to do a second brush right before baking.

Cover the tin and let rise for another 2 hours, until the loaf has risen above the rim of the pan. When you press your finger into the loaf, it should slowly come back about halfway. If it comes back too quickly, it needs more time. If it doesn't come back at all, then you need to bake immediately.

Towards the end of the rise, preheat your oven to 400°F. Brush the top of the loaf again with egg wash.

Place in the middle rack of the oven and bake for 10 minutes. After 10 minutes, reduce the temperature to 350°F. if the top is browning too quickly at this point, tent with aluminum foil. Bake for another 20 minutes until the loaf is a deep golden brown and makes a hollow noise when tapped. The internal temperature should read 190°F.

Remove from the oven and let cool in the pan for 10 minutes. Remove from the pan and let the loaf finish cooling for another 20 – 30 minutes on a wire cooling rack.