These thin and chewy double chocolate cookies have a creamy center made from caramelized white rabbit candies. Crispy and chewy at the same time, they have the perfect texture!
Have you ever had a white rabbit candy? They're a creamy milk candy that is super popular in China, and I always loved eating them as a kid. 
Turns out when you put them in chocolate cookies, they melt into delicious, caramelized, chewy centers. Trust me, the combination is absolutely irresistible! 
And if you don't have white rabbit candies, you can make these double chocolate cookies without them and they will still be delicious. Or, you can replace with white chocolate!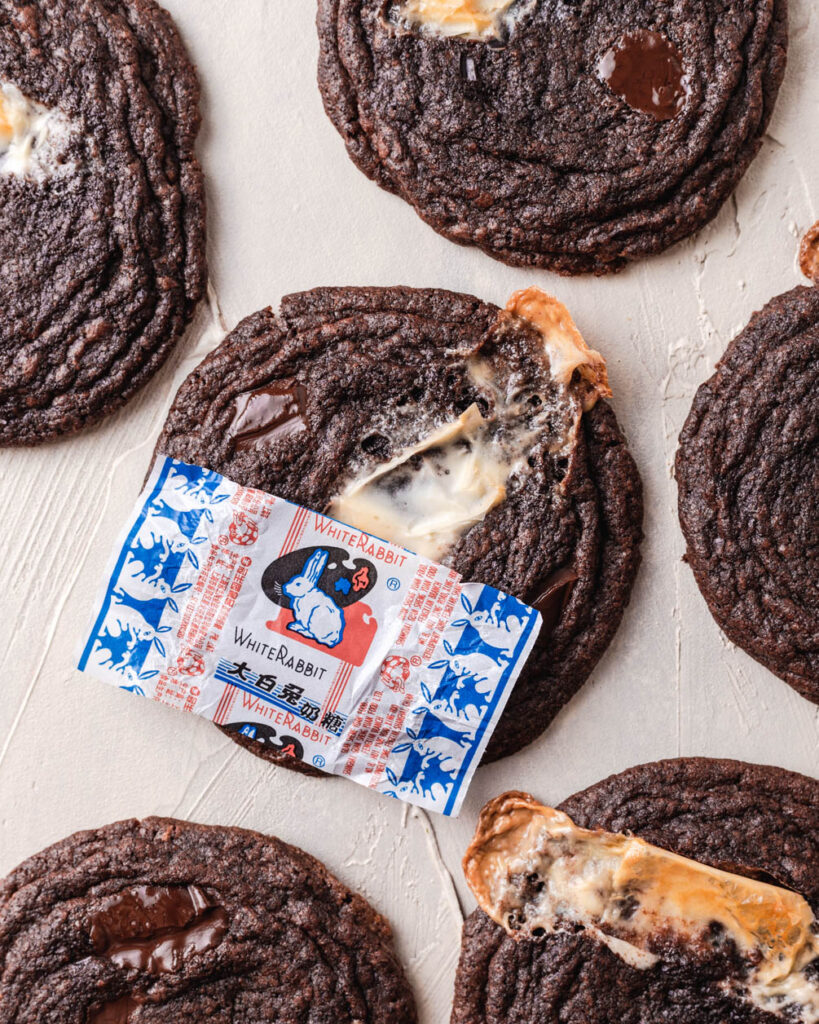 How to make thin cookies
Don't skimp on the sugar!
These cookies have a lot of butter and sugar, which helps the cookies spread in the oven. If you love thin cookies, don't skimp on either of these ingredients! I know it can be tempting to cut down on fats and sugar, but you risk losing the cookies thin and chewy texture as a result. 
Use more white sugar than brown sugar
White sugar spreads more in the oven. These cookies have 3 times as much white sugar as brown
Use less leavening agents
These cookies only use a 1/2 tsp of baking soda, which means they will rise less in the oven and remain nice and thin!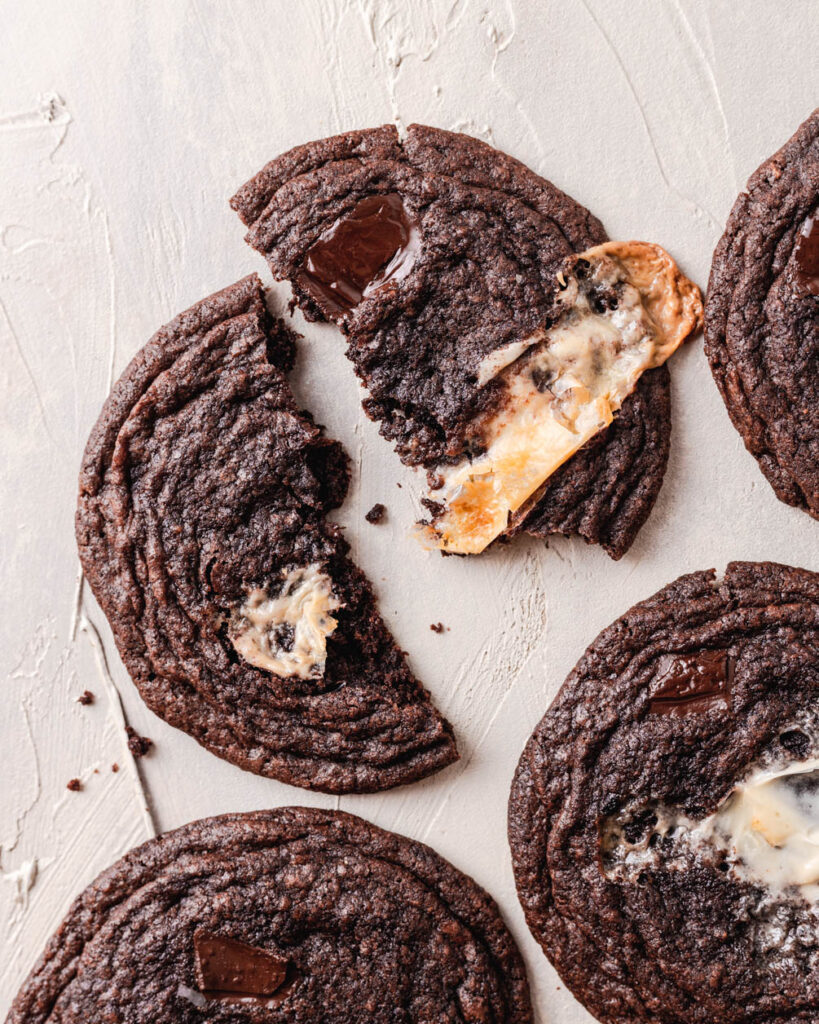 What to love about these thin and chewy double chocolate cookies
You don't need room temperature butter!
I've tested these cookies using both room temperature butter and cold butter from the fridge. The end results were super similar, so you can go ahead and skip putting your butter out ahead of time. 
They have crispy edges and soft centers
I use the pan-banging method popularized by Sarah Keffer to create crisp cookie edges and a gooey soft center. If pan banging is too much of a hassle for you, these cookies are also great without it. 
They use milk powder for a rich & creamy flavor
The recipe calls for 2 tablespoons of dried milk powder to give the cookies a super rich flavor throughout to perfectly complement the white rabbit candies. If you don't have milk powder, no worries! The cookies will still turn out absolutely great, just a little less "creamy" in flavor.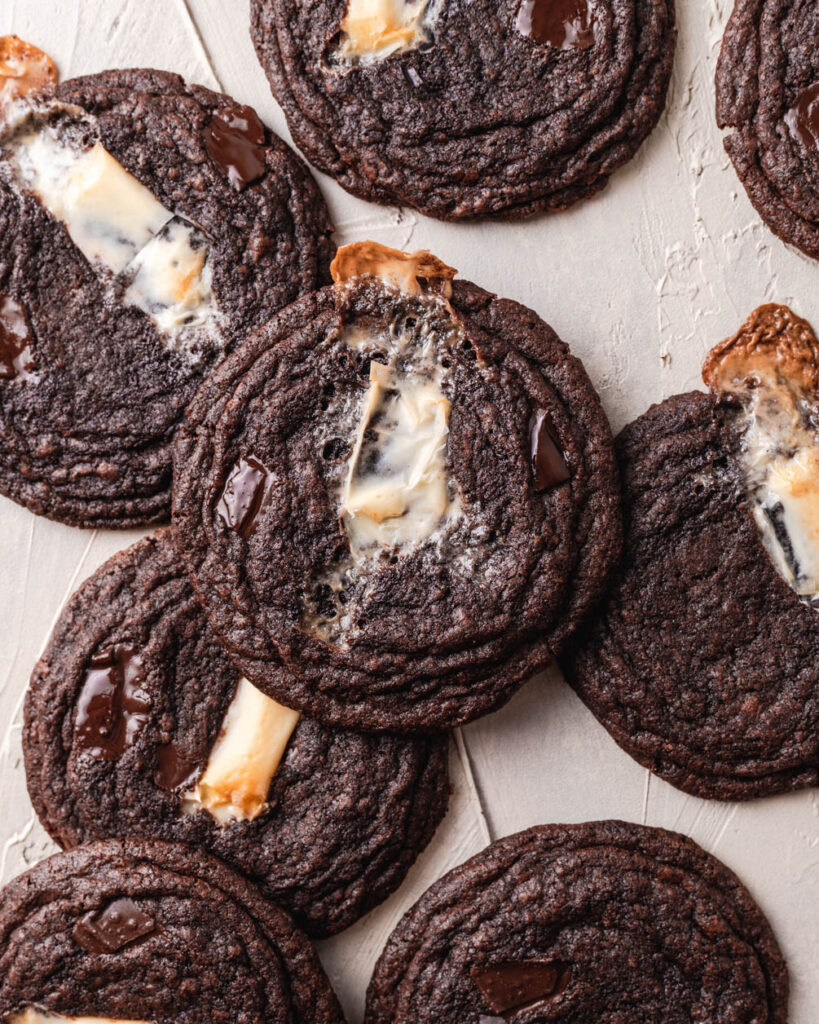 Other cookie recipes to love
These cookies have become a favorite in my household, and I hope you love them as much as I do!
If you make this recipe, please let me know! I always love to see what my readers are baking. You can comment below or tag me on Instagram @halicopteraway.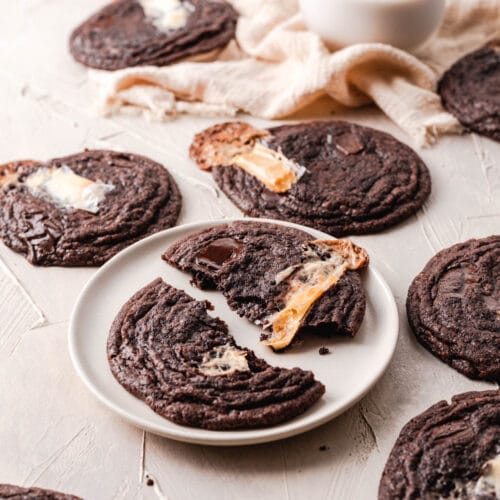 White rabbit chocolate cookies
These thin and chewy double chocolate cookies have a creamy center made from caramelized white rabbit candies. Crispy and chewy at the same time, they have the perfect texture!
Equipment
Mixing bowl

Hand or stand mixer

Baking trays

Aluminum foil
Ingredients
2

cups (250g)

all purpose flour

1/3

cup (33g)

Dutch-processed cocoa powder

1

tsp

salt

2

tbsp

milk powder (optional)

1/2

tsp

baking soda

1

cup (230g)

unsalted butter

1 1/2

cups (300g)

granulated sugar

1/4

cup (50g)

brown sugar

1

egg

1 1/2

tsp

vanilla extract

2

tbsp

milk

5

oz (140g)

semi-sweet chocolate, chopped

15

white rabbit candies (or milk candy / white chocolate of your choice)
Instructions
Preheat oven to 350°F and line a baking tray with aluminum foil

In a small bowl, add all purpose flour, cocoa powder, salt, baking soda, and milk powder. Whisk together until evenly combined

In a medium bowl, use a hand mixer or stand mixer fitted with paddle attachment to cream together butter, granulated sugar, and brown sugar until well-incorporated. Add the egg, vanilla, and milk. Mix until well-incorporated, scraping down the sides of the bowl as needed.

Add 1/2 of the dry ingredients to the wet, and mix on low speed until incorporated. Then, add the remainder of the dry ingredients and mix on low speed until a cohesive dough forms. It should be quite thick.

Fold in the chopped semi-sweet chocolate. Save a few pieces to press onto the top of the cookies

Use a cookie or ice cream scoop to form balls of cookie dough about 2 inches wide (70g in weight). You should be able to make about 15 cookie dough balls. Press a white rabbit candy into the top of each ball, along with 1 – 2 pieces of chopped chocolate.

Place the cookie dough balls 2 inches apart on the baking sheet, as they will spread in the oven. Place in the middle rack and bake for 9 minutes.

After 9 minutes, open the oven door and lift the edge of the baking tray a few inches up and let it drop. Repeat a few times. The edges of the cookies will crinkle up and create a crispy edge.

Every 2 minutes, check the cookies and bang the pan. You should do this in total 2 – 3 times, until the cookies have been in the oven for a total of 14 – 15 minutes. They'll be done when the edges are crisp but the center is still soft and puffed up.

Remove from the oven and let cool on the baking tray for 5 minutes until they have firmed up. Place on a wire tray to finish cooling.
Notes
Milk powder is optional, but provides a richer flavor
If you don't have white rabbit candies, you can use any milk candy of your choice, or replace with white chocolate
You can freeze cookie dough balls and bake later. Simply place them on a tray in the freezer until hardened. Then, store in plastic ziplock bags. Bake for slightly longer than 15 minutes.