These chewy matcha cookies are chocolate chip cookies with a twist. They're studded with pretty pink ruby chocolate and sweet white chocolate chunks for the perfect flavor combination.
You know I love baked goods that are full of interesting and unique flavor combos, and these pretty ruby and white chocolate matcha cookies certainly deliver.
You have the earthiness of the matcha that pairs perfectly with the fruity tones of ruby chocolate and sweet creaminess of white chocolate. Plus, the pastel green, pink, and white just look so stunning together!
Best of all, these cookies are so quick and easy to pull together but are sure to impress with their beautiful color combination. These are no chill cookies that come together in less than half an hour – which makes them the perfect bake when you're craving something special.
What is ruby chocolate?
Ruby chocolate is a naturally pink chocolate made from ruby cocoa beans. Unlike dark, milk, and white chocolate, it tastes a little fruity and tart. The flavor goes perfectly with matcha, and so does that lovely pink color!
Ruby chocolate is a little less common than other types of chocolate, but it's becoming easier to find as it becomes more popular. I get my ruby chocolate from Whole Foods, which carries the Chocolove brand.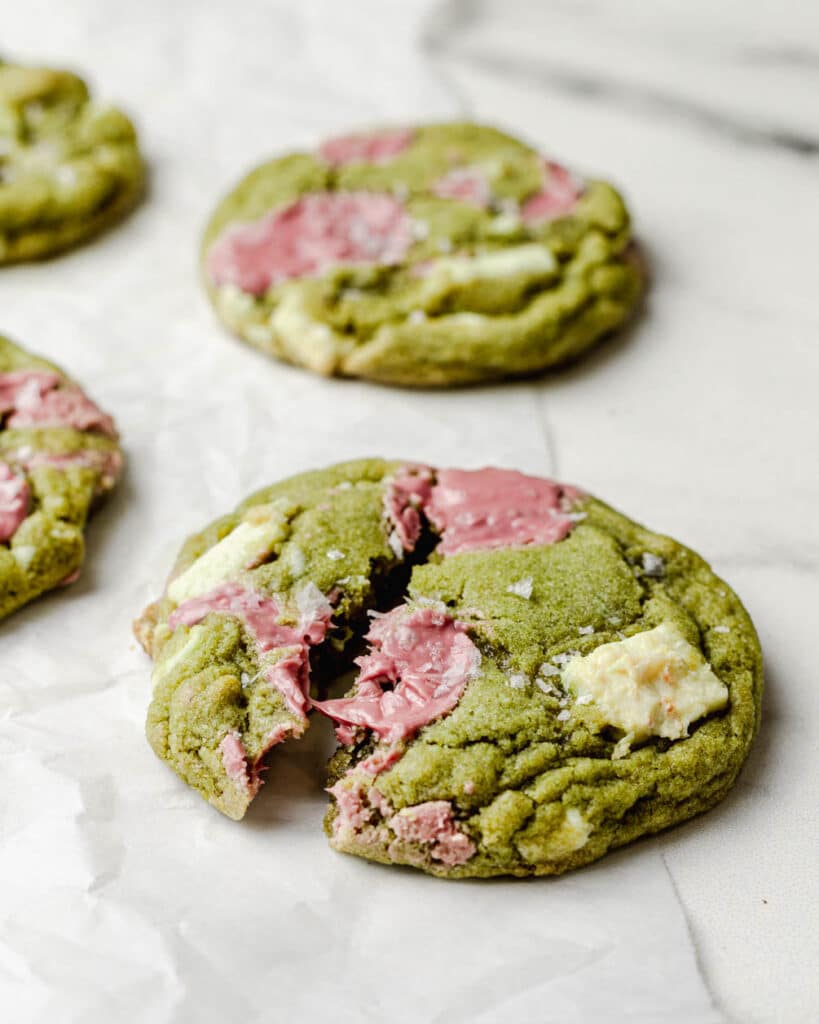 How to get perfect crinkly chocolate chip cookies
Because a very important part of baking cookies is that ~aesthetic~, I'm going to share a little trick I learn to get flat and crinkly cookies (instead of round and poofy). I learned this trick from Constellation Inspiration, who has to be the master for all things pretty cookies.
Here's how to get those perfect crinkles in your cookies: right when you take the cookies from the oven, drop them a few times against the counter. This will cause the centers of the cookies to fall and create crinkles. It's important to do this while the cookies are still warm and soft in the center.
How to get melted pools of chocolate on your cookies
The second very important part of getting that right cookie aesthetic is beautiful, melted pools of warm chocolate. UGh, pure heaven! 
To get melted pools of chocolate, you need to use chopped chocolate bars, rather than baking chips. Chocolate chips are coated in a substance that prevents spreading, and are better for bakes where you want very round and distinct pieces of chocolate that hold their shape. To get those puddles though, take the extra few minutes to chop that chocolate.
You'll also want to save a few pieces of chopped chocolate on the side. After you roll the balls of cookie dough, press the chocolate onto the top. This will also help create distinct chocolate puddles.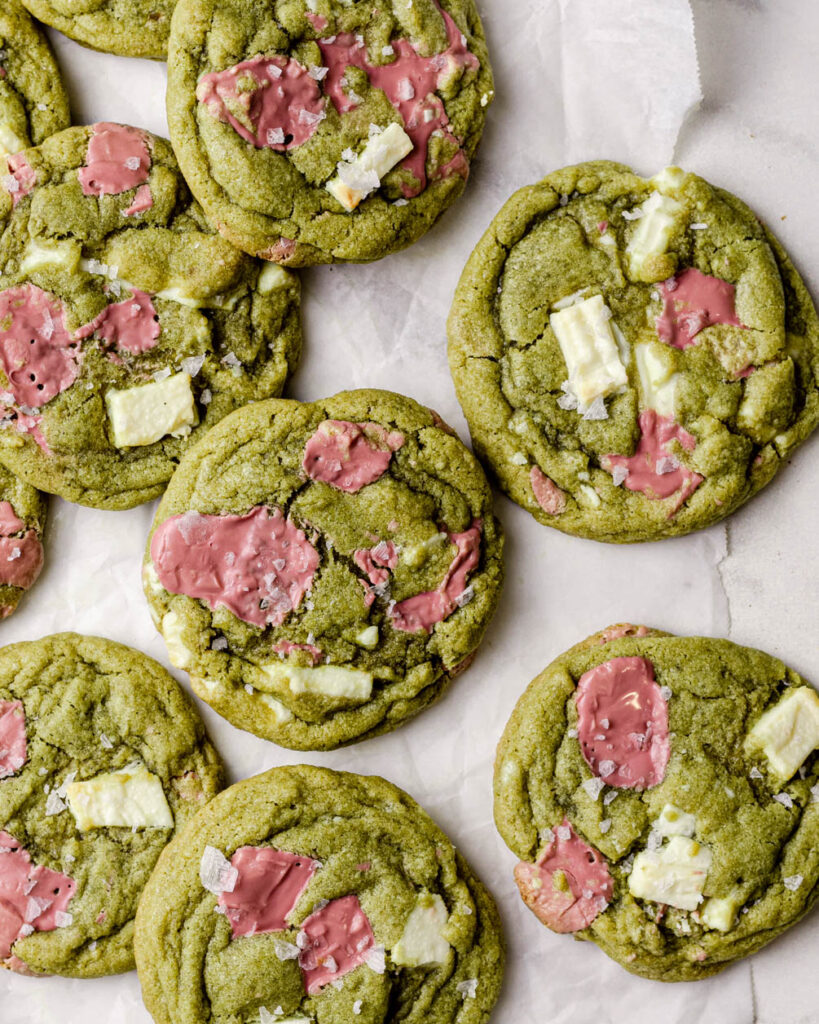 What happens if I decrease the amount of sugar in these cookies?
I know, I know, we're all trying to eat less sugar these days. However, the sugar in these cookies plays an important role outside of just providing sweetness. It helps create the perfect texture that balances between chewy and crispy. If you reduce the amount of sugar, the cookies won't spread as much in the oven and you'll get little cookie balls instead.
Can I swap brown for white sugar or vice versa?
Sorry, no swaps here! Brown and white sugar play different roles in this cookie. Brown sugar helps create a chewy texture while white sugar helps create a crispy, spread out texture. 
However, you can swap dark brown sugar for light brown sugar. You can read about my little dark vs. light experiment here. 
Ready to make these beautiful cookies? I know you'll absolutely love them!
Other matcha recipes to love:
If you make this recipe, please let me know! I always love to see what my readers are baking. You can comment below or tag me on Instagram @halicopteraway.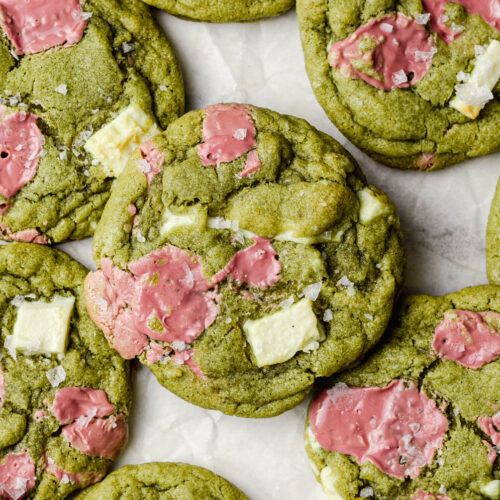 Ruby and white chocolate chewy matcha cookies
These chewy matcha cookies are chocolate chip cookies with a twist. They're studded with pretty pink ruby chocolate and sweet white chocolate chunks for the perfect flavor combination.
Equipment
Hand or stand mixer

2 Mixing bowls

Baking tray

Parchment paper
Ingredients
1 3/4

cup (215g)

all purpose flour (spooned & leveled)

1

tbsp

matcha

1

tsp

salt

3/4

tsp

baking powder

1/2

tsp

baking soda

8

tbsp (140g)

unsalted butter, room temperature (1 stick + 2 tbsp)

1/2

cup (100g)

light brown sugar

1/2

cup (100g)

granulated sugar

2

tsp

vanilla extract

1

egg

3

oz (85g)

ruby chocolate, chopped into chunks

4

oz (115g)

white chocolate, chopped into chunks

flaky sea salt for topping
Instructions
Preheat oven to 350°F and line a baking sheet with parchment paper

In a medium mixing bowl, add your flour, matcha, salt, baking powder, and baking soda. Whisk to combine and set aside.

In a separate medium mixing bowl, add the butter, brown sugar, and white sugar. Use a hand mixer or stand mixer fitted with a paddle attachment to cream together on medium speed until light and fluffy. Add the vanilla extract and egg and mix to combine. Scrape down the sides of the bowl as needed.

Add the dry ingredients and mix on low until a cohesive dough forms. Be careful not to overmix. Fold in the ruby and white chocolate chunks, setting some aside to press into the top of the cookies later.

Shape 2 tbsp-sized balls of dough and place on the baking sheet about 2 inches apart. Take the chunks of chocolate you set aside and press a few chunks onto the top of each dough ball.

Place the cookies in the middle rack of the oven and bake for 10 – 12 minutes until the edges just start to brown. The center should still be puffy and soft.

Remove from the oven and immediately bang the tray a few times against the counter to create crinkled edges. Sprinkle with flaky sea salt and let cool for 5 minutes on the tray before moving to a wire cooling rack.
Notes
What is the best way to measure flour? Too much flour will make these cookies cakey instead of chewy. If you have a food scale, I recommend using it. If you don't, I recommend fluffing up the flour in the bag and spooning it into your measuring cup. Level off the excess flour with a butter knife. Do not scoop straight from the bag – you can end up packing in the flour and putting in 30% more than intended!
For best results, do not put multiple cookie sheets on separate racks of the oven. It will lead to uneven browning and bake times. Instead, bake one sheet at a time.