This raspberry pisatchio pound cake is moist and buttery with just the right amount of sweetness. It's filled with crushed pistachios for a rich, nutty flavor and topped with fresh raspberry sauce for just a hint of tartness.
This page may contain affiliate links. This means I may get a small commission if you purchase through these links, at no additional cost to you.
Pistachio and raspberry is my favorite flavor combination for spring. Rich and nutty pistachio with that bright hit of raspberry – there's nothing better for a spring brunch!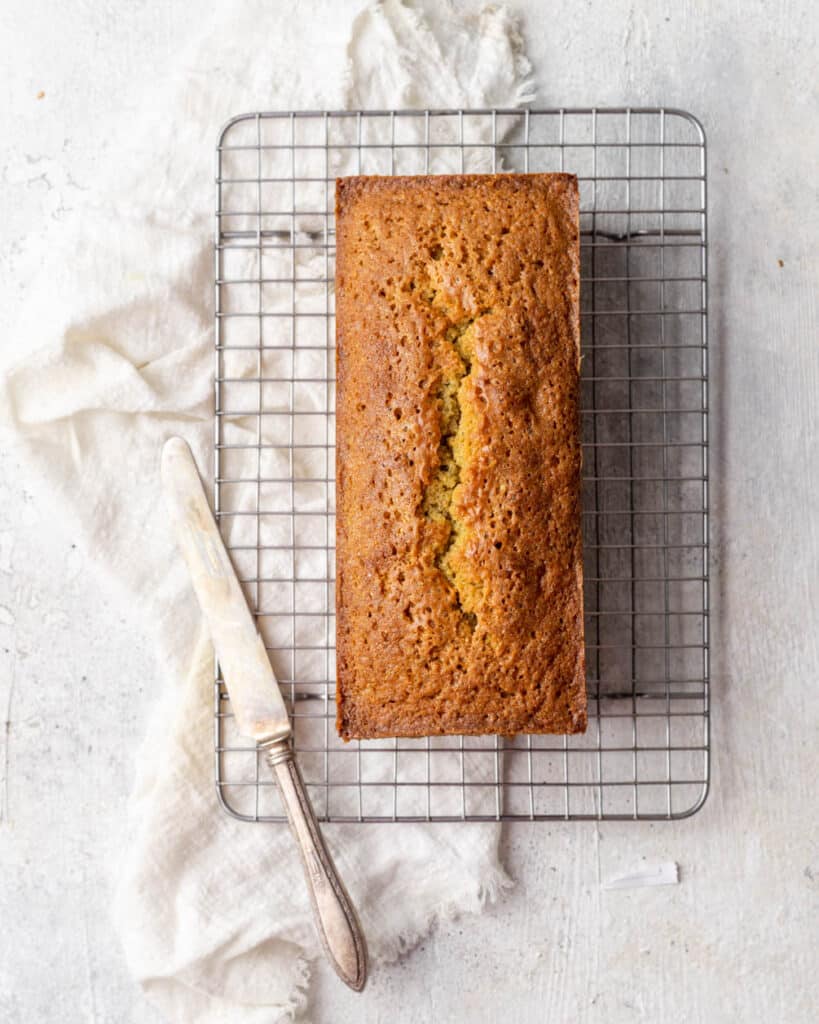 How to make a soft & moist pound cake
When making pound cake, you definitely want every bite to be soft, delicate, and moist rather than dense and stodgy. To achieve that, we'll use the reverse creaming method. Rather than creaming together the butter and sugar and then add the wet ingredients, we'll directly mix together the butter, sugar, and all of the dry ingredients. At the very end, we'll add the wet ingredients.
This pistachio pound cake also uses ground pistachios in lieu of extra flour. While this gives a great pistachio flavor, it also helps make a moister, softer pound cake. Finely crushed pistachios add extra oil, which gives the pound cake lots of moistness and a delicate crumb.
Why does the reverse creaming method make a soft pound cake?
To keep our pound cake soft and delicate, we want to avoid gluten development. Gluten begins developing when protein in the flour is exposed to liquids. By first mixing together the flour and butter, we coat the flour in fat and prevent the protein from being exposed to liquid. By adding the liquid last, we also prevent over-mixing.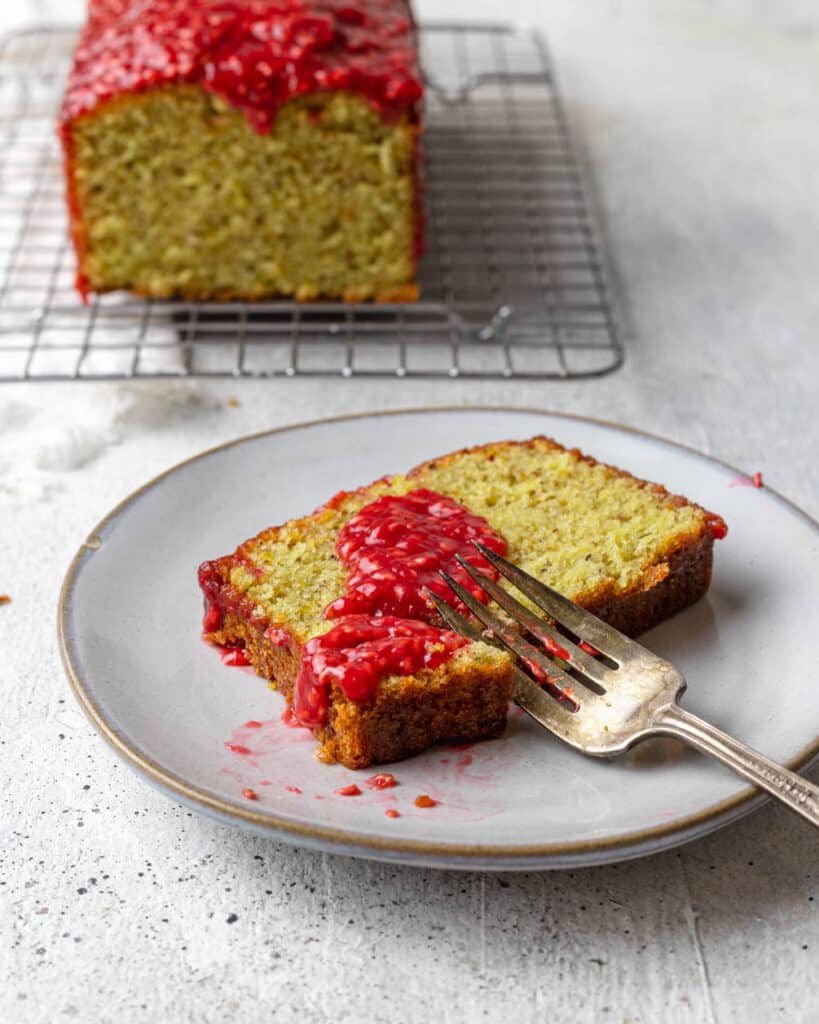 How can I make ground pistachios at home?
I buy whole, shelled pistachios in bulk and then grind them at home using my food processor on high speed. If you don't have a food processor, you can place the pistachios in a zip top bag and then crush them with a rolling pin. Try and get the texture as fine possible, similar to almond flour.
Tips for a perfect pistachio pound cake
I've made this pound cake 3 times over the past 2 weeks! Here's some tips for how I get it perfect every time:
Make sure your butter and eggs are at room temperature. You want the batter to combine smoothly, so set out your butter and eggs about 30 min to an hour in advance. Make sure that your butter isn't too warm either – it should feel soft when you press your finger into it, but not melty.
Don't over-mix – mix in the eggs one at a time, and mix on low speed until just combined.
Don't over-bake the pound cake – this can create a dry texture
Use an 9 x 4 pan instead of a 9 x 5 pan to get a taller rise. This is optional, but I love using my pullman pan to get a nice, tall rise. I use this one from USA pan.
How to know when your pound cake is done
You definitely don't want to over-bake your pound cake, since that will create a dry texture. This pound cake bakes in about 60 – 75 minutes. I use two methods to determine if my pound cake is done:
I gently press the top of the pound cake with my finger. It should feel light and spongy and spring back slightly when the pound cake is done.
I insert a toothpick into the middle of the pound cake. It should come out clean with a few moist crumbs.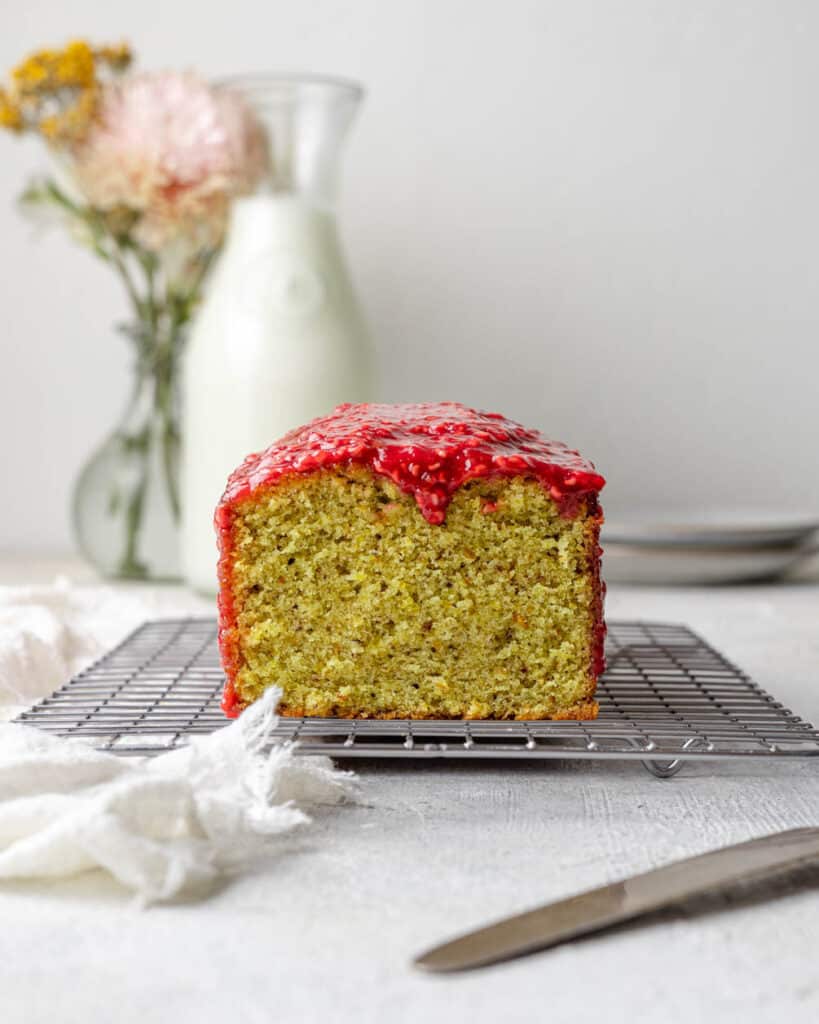 How to make raspberry sauce
It wouldn't be a raspberry pistachio pound cake without a delicious raspberry topping! This sauce has 4 simple ingredients – raspberries, sugar, corn starch, and butter.
You start by combining the crushed raspberries and sugar on the stove and heating to a simmer. You'll add a corn starch slurry to help thicken the mixture, and cook until thickened. The last step is to mix in some butter for a smooth, silky texture.
This raspberry pistachio pound cake has been an absolute hit, and I hope you'll give it a try!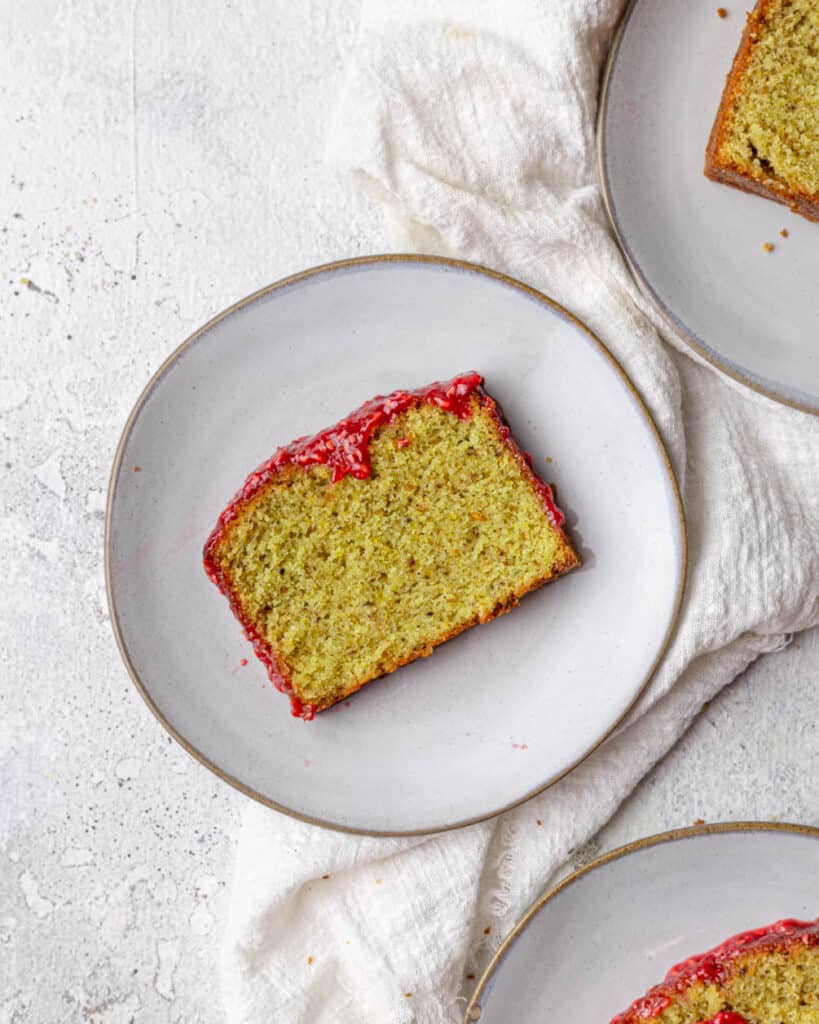 Other pistachio desserts to try
If you make this recipe, please let me know! I always love to see what my readers are baking. You can comment below or tag me on Instagram @halicopteraway.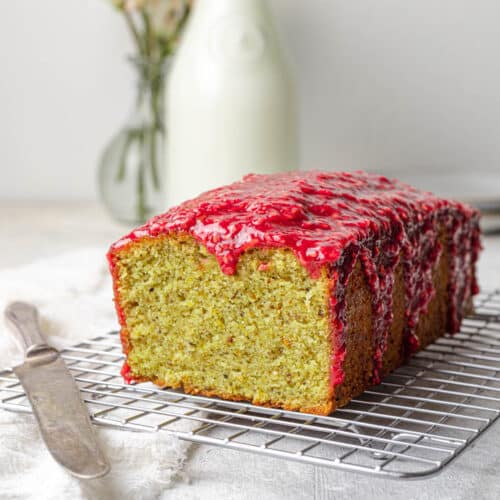 Raspberry pistachio pound cake
This raspberry pisatchio pound cake is moist and buttery with just the right amount of sweetness. It's filled with crushed pistachios for a rich, nutty flavor and topped with fresh raspberry sauce for just a hint of tartness.
Equipment
Hand or stand mixer

loaf pan – I use a 9×4 inch pan but a 9×5 inch pan will work as well

small skillet or sauce pan
Ingredients
For the pistachio pound cake
1

cup (120g)

whole, salted pistachios (see notes for unsalted pistachios)

14

tbsp (198g)

unsalted butter, room temperature

1/2

tsp

salt

1 1/4

cup (250g)

granulated sugar

1

cup (125g)

all purpose flour, spooned and leveled

1

tsp

baking powder

2

tsp

vanilla extract

5

eggs, room temperature
Raspberry sauce
1

pint

raspberries

1/4

cup (50g)

granulated sugar

3/4

tsp

corn starch

1

tsp

water

2

tbsp

unsalted butter
Instructions
Make the pound cake
Preheat the oven to 325°F and grease a loaf pan

Add the pistachios to a food processor and mix on high speed until very fine. If you don't have a food processor, you can place the pistachios in a zip top bag and crushed with a rolling pin. The final result should have the same texture as almond flour.

Add your room temperature butter to a large bowl, and beat with a hand mixer or stand mixer fitted with a paddle attachment until light and fluffy

Add the salt, sugar, flour, ground pistachios, and baking powder to the mixing bowl. Mix on low speed until well combined. The texture will look similar to shortbread cookie dough.

Add the vanilla extract and one egg. Mix on low speed until just combined. Add the remaining eggs one at a time, mixing after each egg is added. Be sure not to over mix. The final batter should be thick and smooth.

Pour the batter into the greased baking tin and smooth out the top. Place in the middle rack of the oven and bake for 60 – 75 minutes until a toothpick comes out clean. A few moist crumbs are okay – raw batter is not.

Remove from the oven and let cool in the tin for 5 minutes. Then turn out onto a wire cooling rack. The pound cake can be served warm or at room temperature.
Make the raspberry sauce
Crush the raspberries with a fork and add to a small sauce pan. Add the sugar and mix until combined.

Bring to a simmer over medium heat. Mix the corn starch and water to create a slurry, and mix into the raspberry sauce.

Continue to heat until the sauce thickens. When you drag a spoon through the sauce, it should leave a dent that takes a few second to fill back in. Turn off the heat and stir in the butter.

While the sauce is still warm, pour over the pound cake
Notes
I use salted pistachios because they are cheaper to buy in bulk in my area. If you are using unsalted pistachios, add an extra 1/4 tsp of salt.
It's very important to use room temperature butter and eggs in this recipe, so that the ingredients mix smoothly.
Make sure to measure out your flour accurately if you are not using a food sale. I like to use the spoon & level method.