As you might have noticed from my posts on shortbread and gingerbread, I have a soft spot for sweets and cookies. I will happily eat dessert at any time of the day – but when I'm not munching on brownies for breakfast, I love making a chocolate berry oatmeal that takes about 5 minutes and smells suspiciously like Cocoa Puffs. The cocoa powder provides that rich chocolate flavor and the berries give a hint of fresh sweetness. It's perfect for when I'm trying to eat a little cleaner or just want something warm and comforting to start my day. The best part for me? It's made of only 3 affordable, non-perishable items that I can keep in the pantry even when I'm traveling for work!
With the new year, I know more people are thinking carefully about what they eat. I find that no matter what I'm eating – whether it's healthy or less healthy, it's valuable for me to start off the day by taking a few minutes to cook and eat my breakfast without any distractions. It helps me be a little more mindful and appreciate another start to the day, no matter how busy that day will be.
I'm not a huge fan of large breakfasts (unless it's brunch!), so this is the perfect size for me. If I'm feeling especially hungry I'll simply double the recipe. I'm including calorie and macro counts below in case that's helpful for your eating needs 🙂
Healthy Chocolate Berry Oatmeal Recipe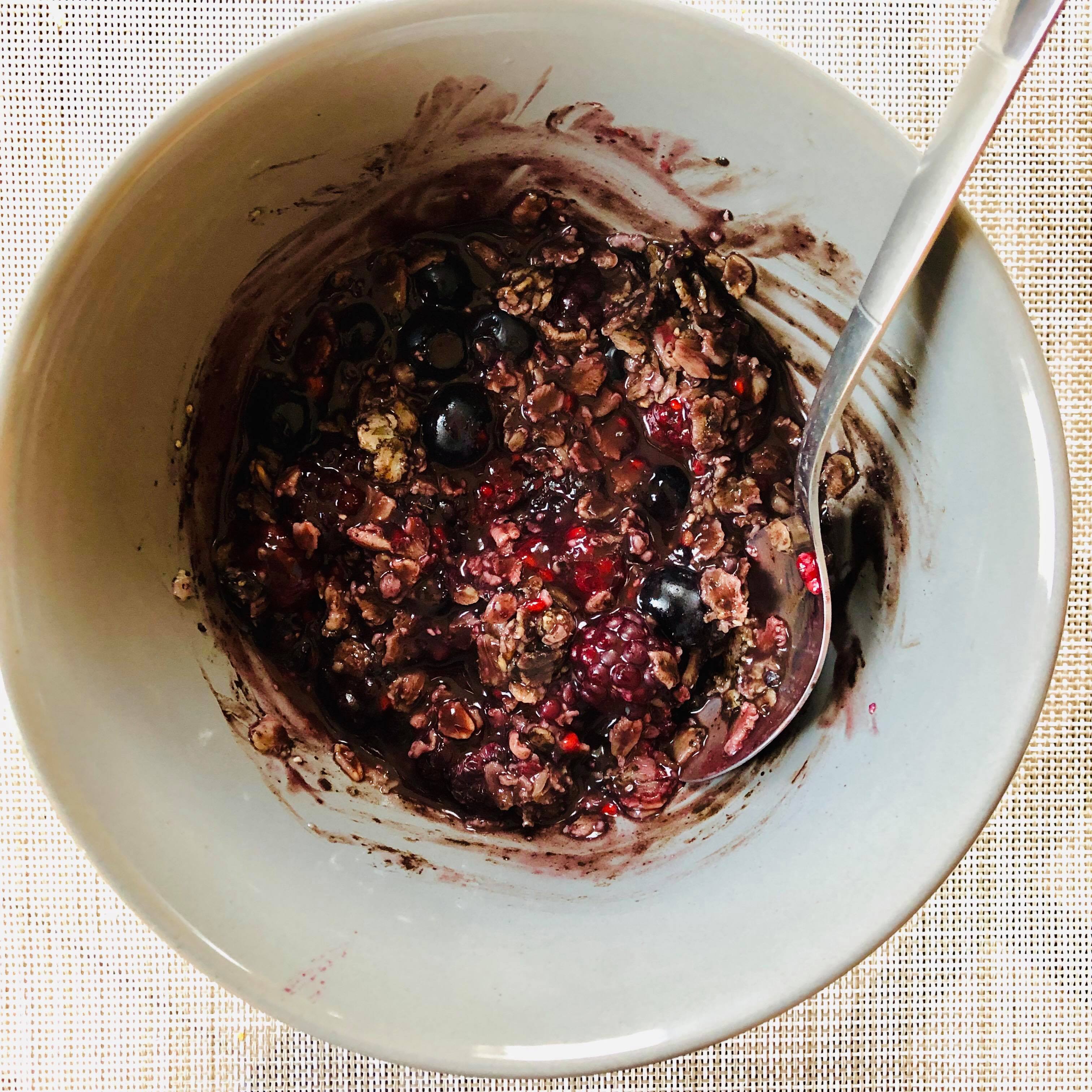 Ingredients:
1/4 cup dry oatmeal
1/2 cup frozen mixed berries
1 tbsp cocoa powder
Directions:
Cook the oatmeal as per instructions on the packaging or your preference. I use Quaker Old Fashioned Oats, nice and traditional.
While oatmeal is cooking, microwave berries for 1 minute or until thawed out.
Pour oatmeal over berries and add cocoa powder. Mix until combined.
Nutrition facts:
(estimated based off packaging of ingredients I own are meant to be used as a loose guide. Clearly I am not a nutritionist.)
Calories: 135
Fat: 2.5g
Protein: 3g
Carbohydrate: 28.5g