Spam is kind of a scary, questionable mystery meat – like what is it made out of really? I normally try not to eat heavily processed foods, but Spam has the big plus that it is canned and thus can last through the apocalypse and still be good when I want to eat it. It is also a delicious addition to fried rice and can act as a flavor anchor for the entire dish. The crispy bits of savory and salty meat go so well with the fresh white rice, fluffy egg, and crisp veggies. If you're particularly Spam averse, hot dog or sausage work as a great substitute.
Fried rice is also the first thing I ever learned how to make and remains my go to comfort food. Asian-inspired dishes like my Dad's sweet and sour ribs and tofu stir fry always remind me of home. The best part is that spam fried rice is so easy to whip up and can be made with ingredients that have a long shelf life.
Spam Fried Rice Recipe
Serving size: 3
Cook time: 30 minutes
Ingredients
1.5 cups uncooked rice
1 can Spam
5 eggs
Pinch of salt
1 tbsp olive oil (optional)
1 cup frozen peas
Directions
Prepare rice according to package directions or use left over rice you might have in the fridge
Thaw peas in a bowl of tap water
Slice Spam into roughly 1/2 in. cubes
Beat eggs and add salt to taste
Cook Spam on medium – high heat until beginning to brown and crisp
Soft scramble eggs in leftover Spam oil for extra flavor – feel free to replace Spam oil with olive oil.
Add olive oil if pan is dry and begin frying rice. Add Spam and stir fry for 2 minutes on medium – high heat.
Add eggs and peas, cutting up eggs into smaller chunks with your spatula.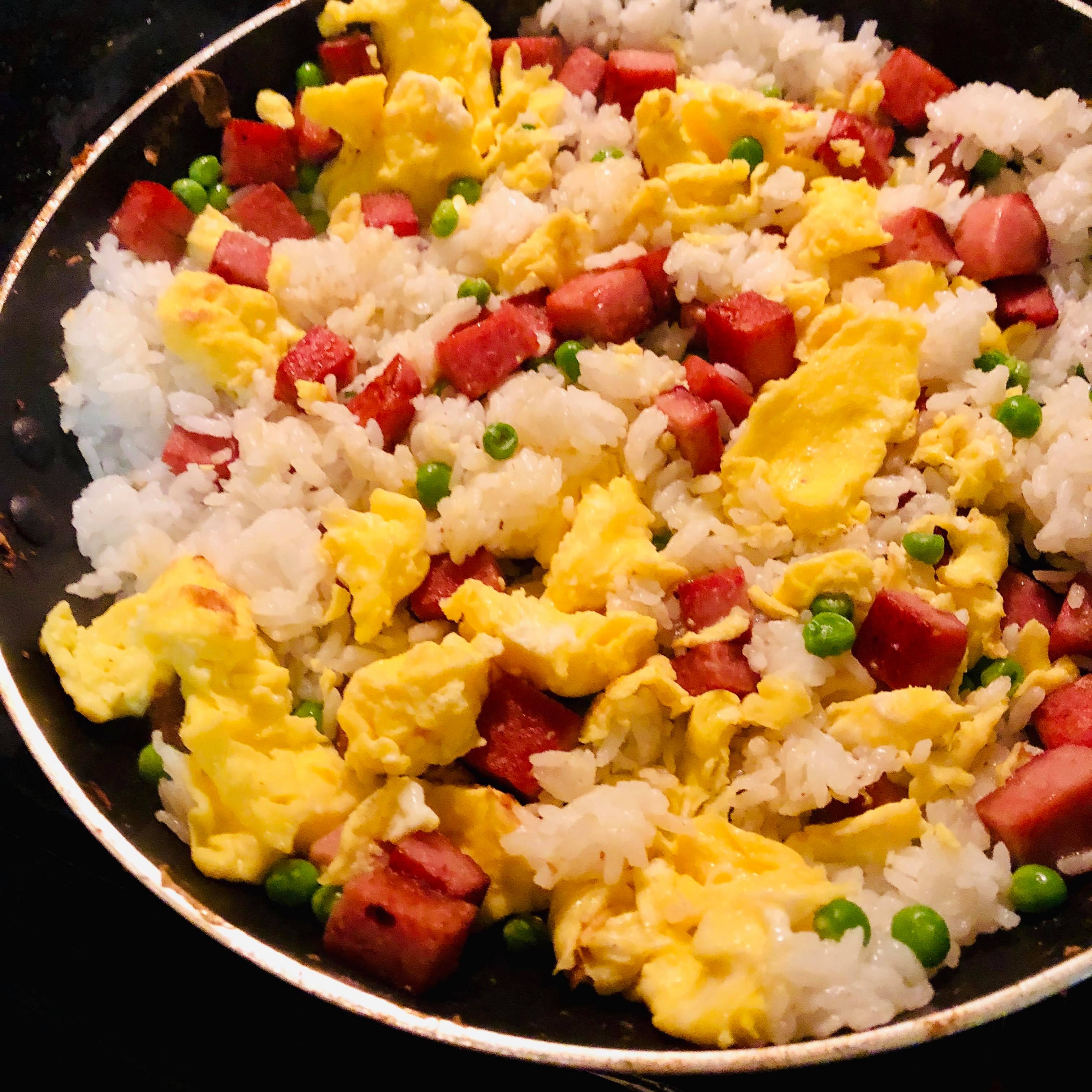 Spam fried rice maybe isn't the healthiest option but I find it so tasty and satisfying. How do you guys feel about Spam – are you a fan or would you strongly avoid this mystery meat? 🙂
Sharing to Fiesta Friday, co-hosted by Ai Made It For You and The Not So Creative Cook!