So you've decided – you're ready to walk the famed Camino de Santiago. But though there is only one Way, there are many paths that lead to Santiago, and you'll need to choose which path is the right path for you.
I walked the Camino de Santiago last June on the Camino Frances, from Burgos to Santiago and then beyond to Finisterre. While the Camino Frances is by far the most popular and most frequently traveled, there are a number of Camino routes that criss-cross throughout Europe. There is really no "one starting place" for the Camino – the most traditional start is when you walk out your front door to begin your pilgrimage. Of course, this is much easier if you live in Europe and don't have to swim across the Pacific or Atlantic to get to Spain, so I have some advice for how you can choose the best Camino route for you.
You can read an overview of my Camino tips here: A Guide to the Camino de Santiago.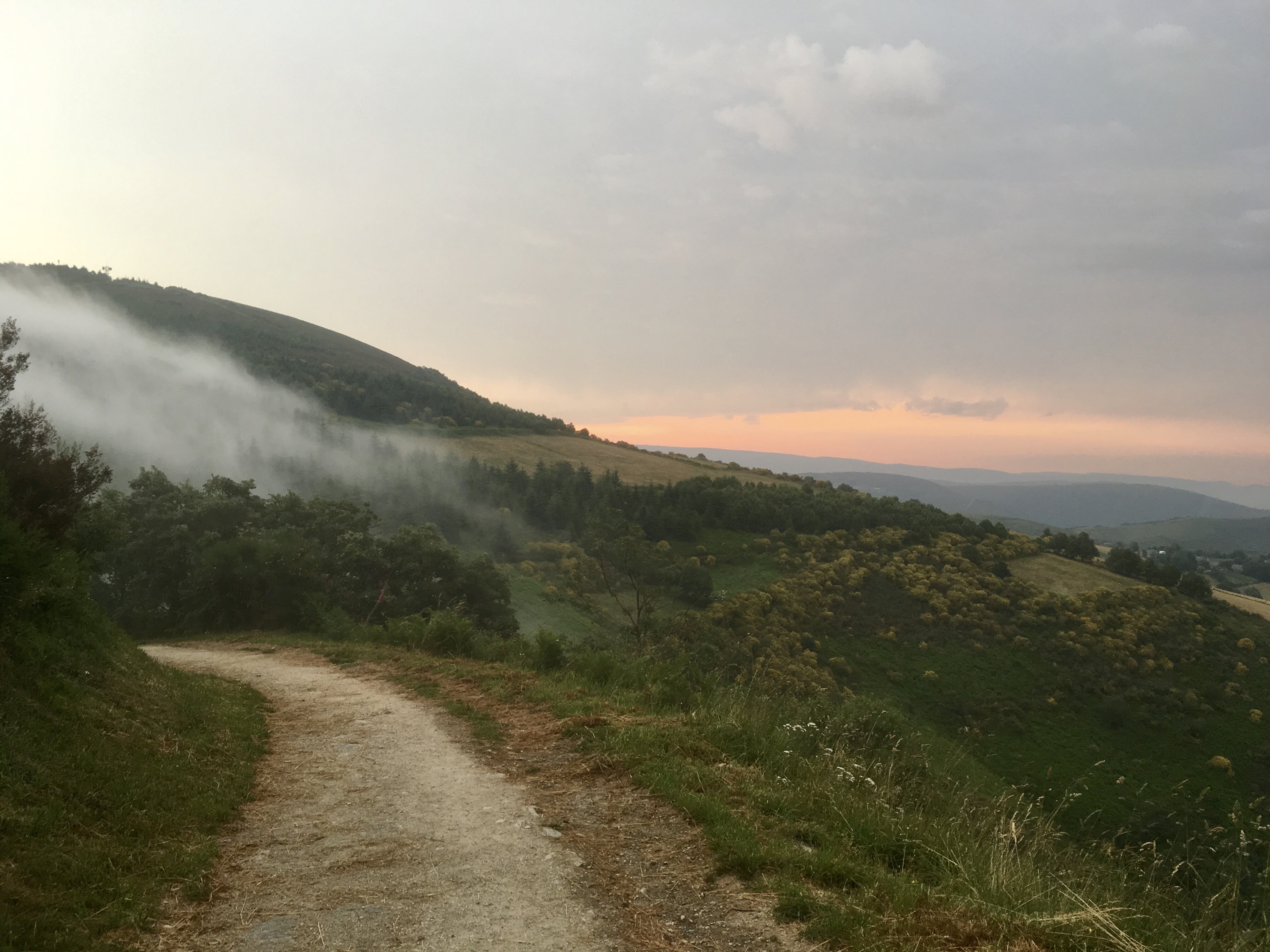 No matter what route you choose to take, you will have a Camino that is uniquely your own. So while it's important to plan, it's also important not to stress about the details – no matter when you go, what route you walk, or how many days you're able to devote, you'll have a Camino that is perfect for you.
Know how many days you want to walk
Before choosing which route to take, it's best to roughly think about how much time you have to devote to the Camino. Some routes are shorter than others, and everyone has their own walking pace. It's also best to buffer in a few rest days where you can explore cities you particularly like or give your tired legs a break. Yes, there will be some days you will knock out 35km, no problem, and there will be other days you want to just lie and bed and do nothing other than eat pizza.
I took 25 days to walk from Burgos to Finisterre, which is roughly 600km. I walked anywhere from 20km-35km a day and took 2 rest days.
Decide which season you will walk
Different seasons will have different temperatures, weather conditions, and levels of traffic on the route. I decided to walk in late June/early July because it would avoid the hottest part of the summer and peak crowds while still working with my personal schedule.
Learn about the different routes
There are numerous routes, and each will give you a unique Camino experience. When deciding, I thought about the Camino Frances and Camino Portugues. Other popular routes include the Camino del Norte, Camino Primitivo, Via de la Plata, and Camino Ingles.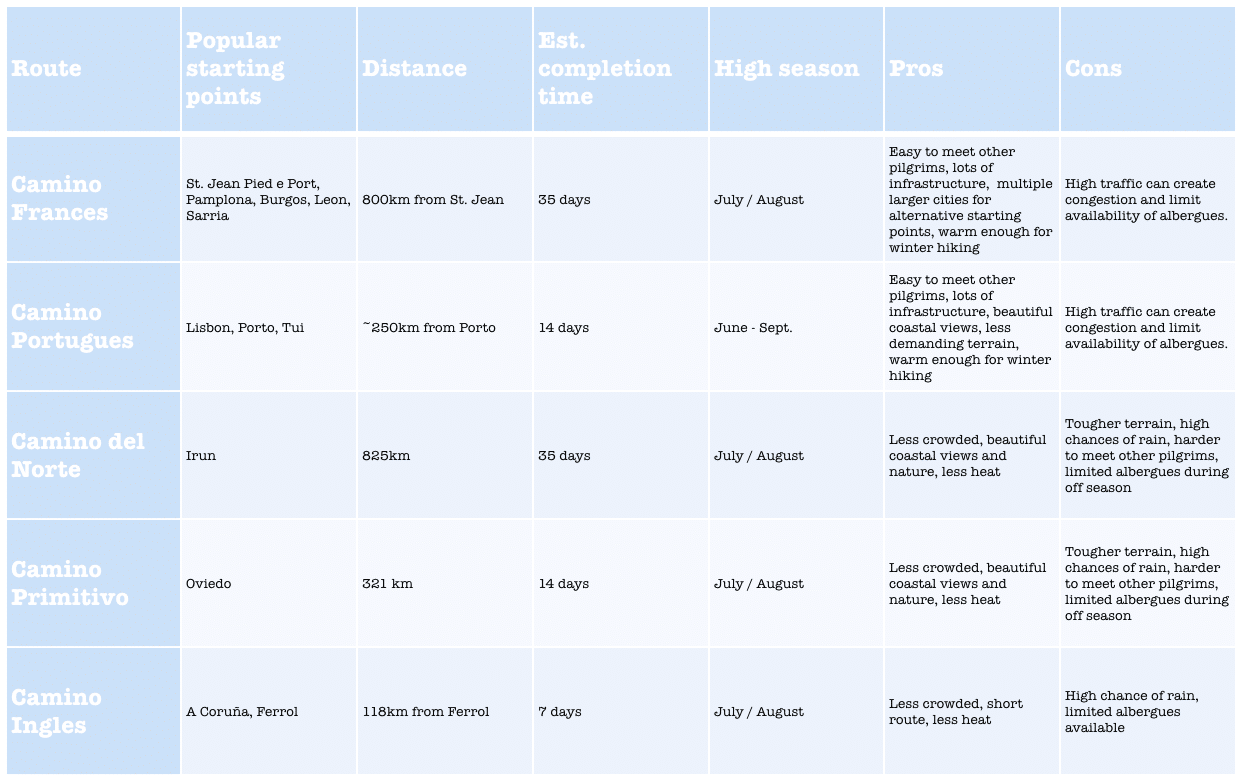 Camino Frances
Popular starting points: St. Jean Pied de Port, Pamplona, Burgos, Leon, Sarria
Average walk time from St. Jean Pied de Port: 35 days
The vast majority of pilgrims start their Way at St. Jean Pied de Port, about 800km from Santiago. This is a very popular, high-traffic route, so there will usually always be another pilgrim in sight. In Sarria, you can expect a flood of pilgrims to join since this is the 100km mark to be eligible for a Compostela.
Pros:
easy to meet other pilgrims
a lot of infrastructure in place (e.g., cafes, albergues)
many resources to help plan your trip
many larger cities other than St. Jean where you can start your Camino
Cons
can become crowded during the high season, leading to packed roads and limited availability at albergues
Camino Portugues
Popular starting points: Lisbon, Porto, Tui
Average walk time from Porto: 2 weeks
The Camino Portugues is the second-most popular Camino route. It officially starts in Lisbon, but Porto is a very popular starting point. There are two options from Porto – the Central Way (240km), and the Coastal Way (260km). The Coastal Way is known for gorgeous sea side views and wildflowers if you go during the right season.
Camino del Norte
Popular starting points: Irun
Average walk time: 35 days from Irun
The Camino del Norte is a quieter, less-traversed  route and is 825km. It is known for having beautiful natural scenery and space for peaceful, quiet contemplation. Because it is less popular than the Portugues or Frances, many albergues will be closed during certain seasons.
Camino Primitivo
Popular starting points: Oviedo
Average walk time: 2 weeks
The Camino Primitivo is the Original Way, known for being the first established pilgrimage route. It is less-traversed and has a more difficult terrain and weather conditions, and there is also less infrastructure along the path. However, the challenge of taking the road less traveled can make the Camino Primitivo an appealing option.
Camino Ingles
Popular starting points: A Coruña, Ferrol
Average walk time: 1 week
The Camino Ingles is a shorter route that gets its name from the many British and Nordic pilgrims who would start their walk after arriving to Spain by sea. The distance from A Coruña is only 75km, so it is too short for a Compostela.
Resources
https://santiago.forwalk.org/en/