I love lazy Sundays that start by lying sleepily in your warm bed and then continue with a big stack of fluffy pancakes. And of course, there's nothing better with pancakes than a warm drizzle of sugary syrup – except this warm berry compote made with frozen berries and a bit of honey 🙂
It's a bit bold to say that I've found a better match than pancakes + syrup, but to me, the combination of sweet berries with just a bit of tartness is the perfect topping for my homemade pancakes.  And if you're not a huge pancake person, you can pile it on crepes, French toast, biscuits, omelettes, whatever makes your heart sing.  While still quite sweet, the berry compote will have less processed sugar and more nutrients to be a healthier part of your lazy weekend morning. It's also quick and easy to throw together using ingredients you can easily store. Frozen berries are some of my favorite ingredients because they add great flavor and never go bad – they're also featured in my Healthy Chocolate Berry Oatmeal!
Because this recipe doesn't require a lot of attention, I usually will make this in parallel while cooking pancakes. This is my current favorite homemade pancake recipe: https://www.allrecipes.com/recipe/21014/good-old-fashioned-pancakes/. It needs only basic ingredients, is super quick to throw together, and the pancakes come out quite fluffy and thick.
Healthy Berry Compote Recipe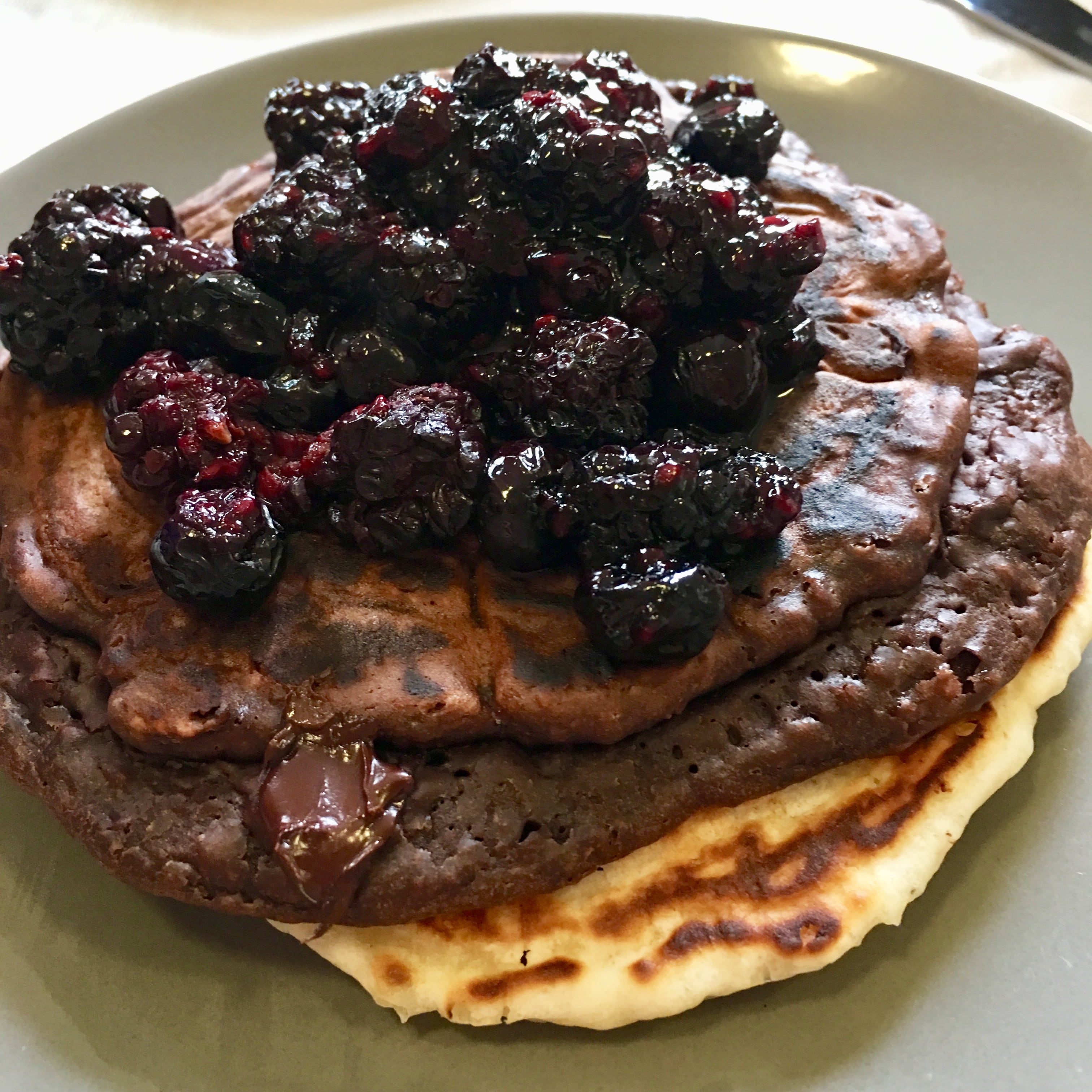 Size: 4 Servings
Calories: 86 calories per serving
Ingredients
2.5 cups frozen mixed berries
2 tbsp honey
Directions
Place frozen berries in a pot and simmer on medium-high heat until liquid begins to form in the pot, stirring occasionally. This usually takes about 5 minutes.
Add honey and stir in well. Simmer on low-medium heat until liquid thickens, stirring occasionally. This usually takes about 7-10 minutes
Remove from heat and serve warm.
I hope this recipe adds some flavor and sweetness to everybody's morning! <3