Shortbread is such a simple and delicious cookie. You mix some sugar, flour, and a whole bunch of butter to get a perfectly decadent and rich treat. But the first few times I've made it, like for these Earl grey shortbread cookies, the dough would never come together and it would just keep crumbling over and over! It was a discouraging process and a sad waste of butter. Luckily my roommates aren't too picky about eating cookie crumbles 🙂
Now, I finally feel like I've mastered the recipe for making perfect shortbread that is buttery and light but doesn't crumble. And for a cookie that's a little fancier, this recipe is so easy to dress up with a few drizzles of dark chocolate
For the shortbread base, I modified this recipe: https://www.foodnetwork.com/recipes/ina-garten/shortbread-cookies-recipe-1945855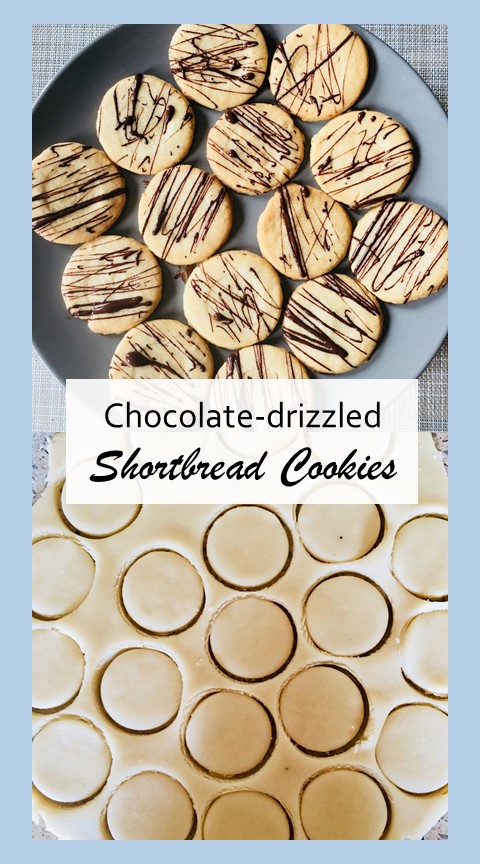 Chocolate Drizzled Shortbread Cookies Recipe
Makes ~25 cookies
Ingredients
1 1/2 stick unsalted butter, room temperature
1/2 cup granulated sugar
1/2 teaspoon vanilla extract
1 3/4 cups all-purpose flour
1/4 teaspoon salt
10 grams semisweet chocolate
Instructions
Preheat oven to 350 degrees F
Make sure the butter is at room temperature and quite soft – otherwise your dough will not combine correctly. Mix the butter and sugar until combined. Add vanilla.
Sift together flour and salt and add to butter, sugar, and vanilla mixture.
Mix on low speed until dough comes together
Place on surface dusted with flour and shape into flat rectangle
Wrap in plastic warp and chill for 30 minutes – 1 hour
Flour surface and rolling pin. Roll dough 1/2-inch thick. Cut with a round cutter that is 1-2 inches in diameter – I used a standard sized shot glass.
Place on ungreased baking sheet and bake for 7-9 minutes until edges begin to brown
Remove from oven and place on wire rack to cool
Melt chocolate by placing a heat-safe bowl over a pot of steaming water, and placing the chocolate in the bowl. The steam will warm the bowl and melt the chocolate without burning it.
Place cookies on a surface you can clean or dispose of (e.g., plate or aluminum foil). Dip a fork into the melted chocolate and quickly flick it back and forth over a cookie to create a drizzled pattern. Repeat for remainder of cookies.
I've found high quality dark chocolate can be quite expensive, so this is one way to dress up your cookies without using an excessive amount of chocolate. If you love shortbread and chocolate, check out my other peanut butter chocolate shortbread cookies recipe!