With Pi day right around the corner, I was eager to bake a pie this weekend and share my favorite apple pie recipe. I'd had a long, tiring week of work and I just wanted to unwind with a good book, hot tea, and a fresh slice of fragrant pie. Baking this pie became the One Big Thing I was looking forward to over the weekend. The fact that I wanted to smash my face into my laptop for most of the week made it seem even more exciting. I couldn't wait for my weekend and my pie!
But on Saturday I got into one of those big, sobbing, cataclysmic, emotional, messy fights with my SO. And instead of baking my pie, we spent the evening in that sad, grey state where it seems nothing will ever be right. It seemed my relaxed, pie-baking Saturday disappeared in a poof of stress and tears, and I couldn't help but be resentful of my SO for seemingly ruining the little bit of non-work time I have each week. Stress, as many of you know, is a mean little creature that will eat away at you and torture your loved ones as well.
I went to bed resentful and woke up heart sick… until my SO suggested that we spend our Sunday morning baking a pie. It showed that he cared and it lightened my heart. We baked this beautiful apple pie, and we each had a quarter of a pie each with ice cream for breakfast. Because sometimes your adult life just requires you to have pie and ice cream first thing in the morning 🙂
This recipe is from my best friend and is a little more complicated than your average apple pie recipe because you cook the apples in syrup before putting them in the crust. This extra step is totally worth it though – you'll get a flavorful filling with a crisp, non-soggy crust.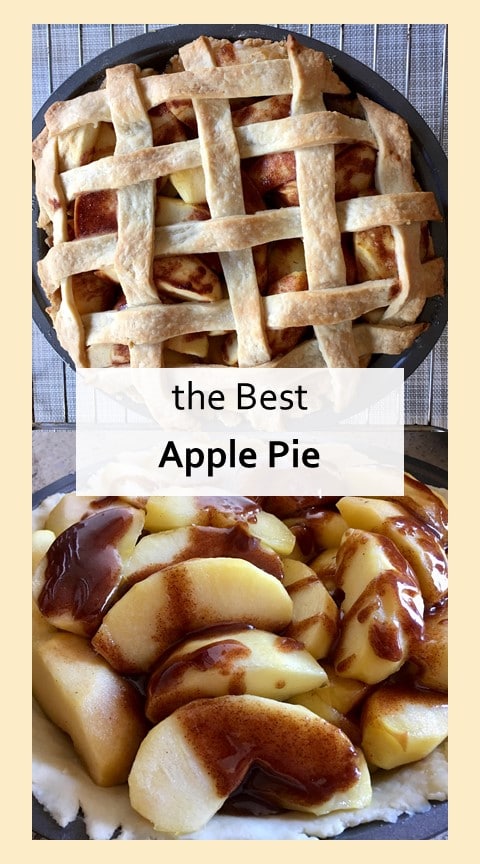 Best Apple Pie Recipe
Ingredients
3/4 cup granulated sugar (the original recipe calls for 1 and 1/4 cups, but I found that to be way too sweet)
1/4 cup water
Pinch of salt
3 pounds apples (about 5 medium apples)
Juice of 1/2 lemon (optional)
1 tablespoon all-purpose flour
Pastry for 2-crust 9-inch pie, unbaked
1 tablespoon butter
1/2 tablespoon ground cinnamon
Directions
Prepare pastry crust and line 9 inch pan – I use Betty Crocker's pie crust mix and it's super simple to bring together
Preheat oven to 450 degrees F
Peel and core apples and cut into eighths. Mix with lemon juice if your apples are not tart.
Put sugar, water, and salt in large pan and cover on low-medium heat until sugar dissolves
Drop apple pieces into sugar syrup to cover the bottom of the pan and cook until tender. Leave the cover of the pan on while the apples cook.
Remove apples onto flat tray and continue until all apples are cooked.
Thicken syrup with flour (you should have about 1/3 cup remaining)
Place apples onto pastry-lined pan
Add butter and cinnamon to the syrup and mix well over low heat
Pour syrup over apples and cover with top pastry or lattice
Bake for 15 minutes and then reduce oven to 400 degrees F and bake for 25 more minutes
Serve with a delicious scoop of vanilla ice cream!
Some helpful tips
Use ice cold water when preparing your pie crust, and mix well to ensure that the dough comes together. Flour surfaces to prevent sticking.
Lemon juice will give a tart fla
vor if you only h
ave sweet apples. Otherwise, green apples will suffice.
This pie tasted especially delicious because I was able to share it with someone I truly care about who also cares about me! Who are your favorite people to bake for? 🙂