Moist, rich, with melting pools of chocolate chips – chocolate muffins are a favorite treat. But what if they're made with meal powder instead of flour? Today we're testing Huel muffins vs. regular muffins.
After living in Silicon Valley for most of my adult life, I've gotten used to the quirks. One of thing I've never fully embraced is powdered meal drinks like Soylent and Huel. If you haven't heard of these, they're essentially nutritionally balanced drinks that you can live off of, and they're quite popular with the fast-moving techies of the Bay. To be honest, I love cooking and properly eating my food too much to switch to the convenience of these drinks. There's something quite unappealing about living off of bottled mix when there's such a vibrant culture and community centered around food.
My roommates however, are Huel lovers, and they convinced me to try a Huel x baking hybrid. Maybe Huel on its own wouldn't cut if or me, but what if I baked it into a decadent dessert? My experiment would run in 2 parts:
Make an experimental chocolate banana Huel muffin and a control group of regular chocolate banana muffins
Run a blind taste test with a group of 6 – 1 Huel lover, 1 Huel hater, and 4 Huel neutrals
I decided on chocolate banana muffins to stay in the spirit of a semi-healthy snack. Bananas add sweetness and nutrition without any refined sugars, and the chocolate flavor would come naturally from the chocolate Huel.  So how did the muffins turn out?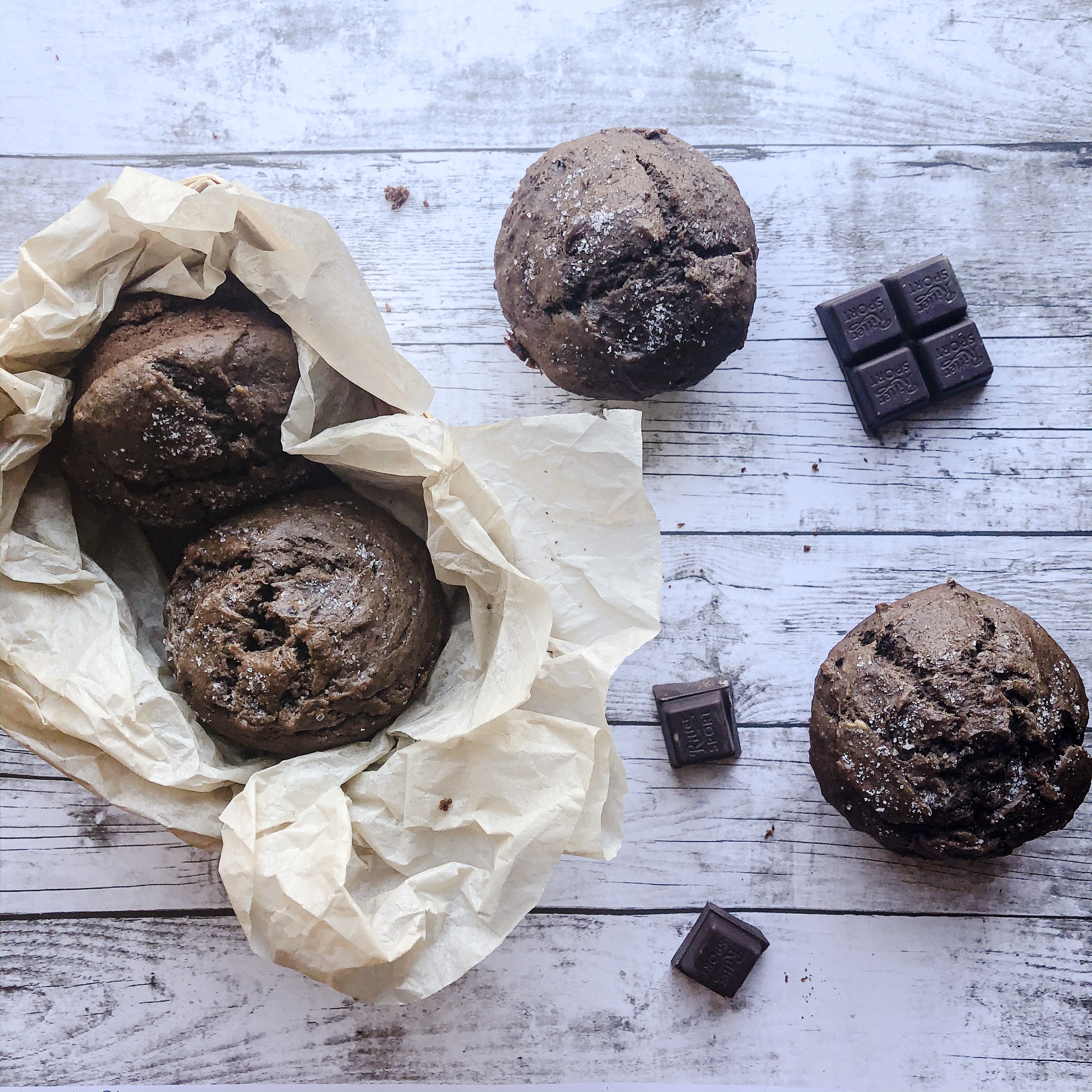 Regular chocolate muffins vs. Huel chocolate muffins
Huel chocolate banana muffins
Texture: denser and fudgier, probably because of the powdered plant-based oils in the mix. Nice crisp muffin tops and crumblier body.
Taste: Chocolatey, with a very sweet sugary taste that masks the flavor of the banana
Quotes:
"It's very rich, I think I could only eat one of these"
"I like this, it's much sweeter and I can't taste the banana"
Regular chocolate banana muffins
Texture: lighter and fluffier with puffy tops. Shiny and crunchy on top.
Taste: Mild chocolate taste with light sweetness, distinct banana flavor.
Quotes:
"This one tastes less fake, I like it a lot"
"It doesn't taste very good, too much banana"
Out of our 6 taste testers, 3 preferred the Huel muffins and 3 preferred the regular muffins. I'd say the big win for the Huel muffins was that the roommate who hates Huel actually preferred the muffins made from Huel, much to his dismay.
The nutritional breakdown
* please note I am not a nutritionist, I'm just reading nutrition labels and doing math
Huel chocolate banana muffins
350 calories
15g fat
16g protein
36g carbohydrates
Regular chocolate banana muffins
205 calories
9g fat
3g protein
29g carbohydrates
So you can see that the regular chocolate banana muffins will run you lower in calorie count, but the Huel banana muffins give you a more balanced macro profile.
Personally, I liked the regular banana muffins better, but was surprised by the delightful fudgey texture of the Huel muffins. I'm not a huge fan of synthetic sweetener, so if it weren't for that overly sweet taste, I think I would've enjoyed the Huel muffins quite a bit. And the Huel muffins are better if you're trying to get in some proteins and fats into your muffin. It was definitely fun to run the baking experiment! Would you add meal powder to your baked goods?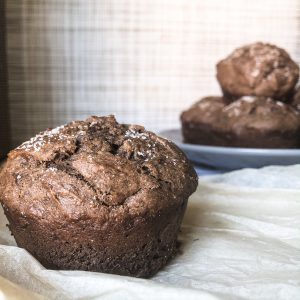 Banana chocolate Huel muffins
These chocolate muffins strive to be nutritionally complete by using Huel along with regular flour.
Equipment
2 medium mixing bowls

Standard 12 cup muffin tin
Ingredients
3

ripe bananas

1

tsp

cinnamon

1/2

cup (113g)

unsalted butter, room temperature

1/4

cup (50g)

granulated sugar

1

tsp

vanilla extract

2

eggs

1

tsp

salt

1

tsp

baking soda

1

tsp

baking powder

1

tsp

cocoa powder

1/2

cup (60g)

all purpose flour

1 1/2

cup (200g)

Huel

1/2

cup

chopped semisweet chocolate or chocolate chips
Instructions
Preheat oven to 325°F and grease a 12 cup muffin tin.

In a small bowl, peel and mash bananas together well with fork. Mix in cinnamon and set aside.

In a medium bowl, cream together butter and sugar until light and fluffy. Add eggs one at a time, mixing well between each one. Mix in vanilla.

Add banana and cinnamon mixture to the butter, sugar, eggs, and vanilla mixture and combine well.

Combine your dry ingredients (Huel, flour, cocoa powder, baking powder, baking soda, and salt) in a separate medium bowl.

Add your dry ingredients to your wet mixture, and combine evenly. Fold in chocolate chips.

Divide mixture among 12 muffin tins and bake for 30 minutes or until toothpick comes out clean.

Remove from oven and let cool before serving.
Notes
If you would like to make a non-Huel version, sub the all purpose flour, Huel, granulated sugar, and cocoa powder in the written recipe with the following:
2 cups all purpose flour
3/4 cup granulated sugar
1 tbsp cocoa powder