Bright drops of lemon curd and creamy vanilla ricotta are nestled in buttery tart shells to create the taste of summer in every bite. Top with fresh sliced strawberries and miniature meringues for a truly decadent dessert.
Click here to skip to recipe
Summer makes me think of sitting by the pool drinking strawberry lemonade and munching on ice cream sandwiches. Fruity and creamy flavors all at once under the hot, hot sun. 
These strawberry lemon ricotta tartlets are the grownup version of those summer poolside flavors. They taste as if strawberry lemonade and a ricotta cheesecake had a love child – there's all sorts of sweet, tart, and rich flavors in every bite. 
These tartlets are great for beginning pastry makers. You'll learn how to make a simple tart base and meringue, two components that you can use again and again for other creations. You do not need a tart mold or piping bag – we're going to freeform pipe with a ziptop bag, and I promise it will still turn out perfect. You can also buy your lemon curd and ricotta at the store to cut down on time and complexity.
Overview of the baking process
First, we'll separate out our egg yolks and whites. The whites we'll use for meringue drops, which we'll use as decorative toppings. We'll make this first since meringue needs to dry out in the oven for about 2 hours. While they are drying, we'll use the yolks to make a Sable Breton tart crust, which is a simple combination of butter, sugar, egg yolks, and flour. We'll pipe into our desired shapes and let chill for 2 hours. We'll use this resting time to prep our lemon curd, ricotta, and strawberry slices. After the meringues are finished baking, we'll bake the crusts. Finally we'll pipe on the lemon curd and ricotta and top with the strawberry slices and meringue. Delicious!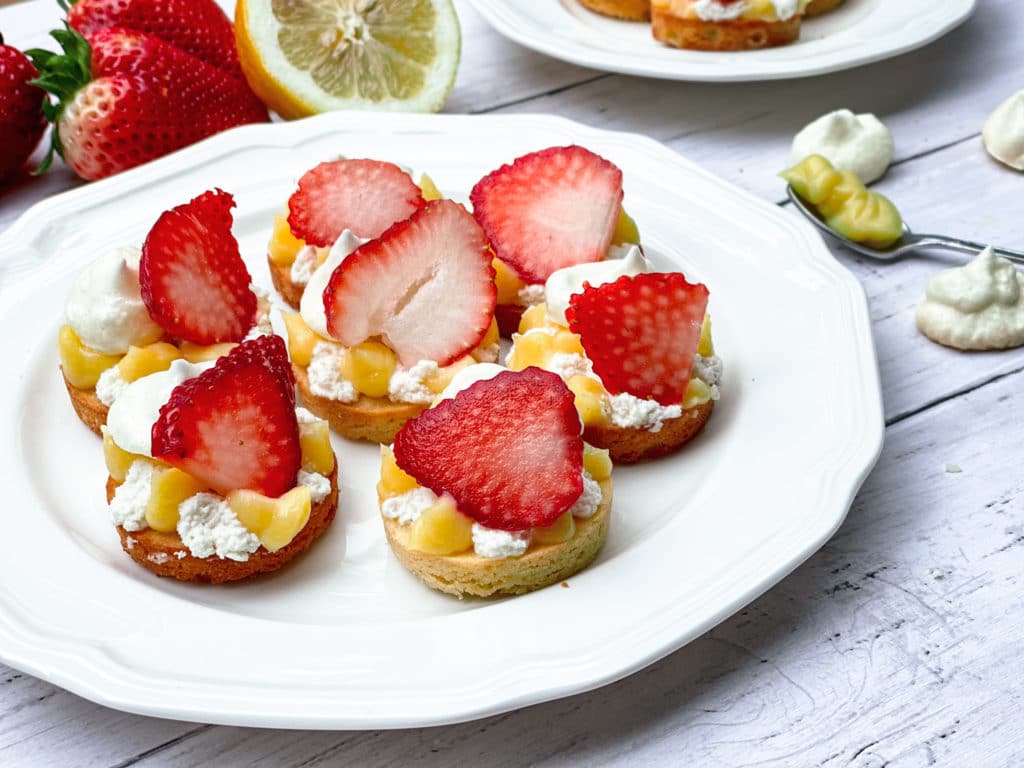 Helpful tips for perfect tartlets
The crust definitely needs chilling in order to hold its shape in the oven, so do not rush this step
You can pipe the crust freeform onto a cookie sheet, but the edges will spread a little. You can also pipe them into the bottom of a mini muffin tin.
Meringue can be tricky. 1) Make sure that your bowl is clean and there is no egg yolk in your whites. Fats and impurities will inhibit the rise 2) use cream of tartar to stabilize your meringue 3) Add sugar and salt after soft peaks have formed, but before stiff peaks have formed. This makes sure your meringue reaches its maximum fluffiness without being grainy. If making meringue intimidates you, you can simply skip this step, but I think it's a nice way to use up the egg whites from the Sable Breton
If you do not have a piping bag and tip, you can use a ziptop bag, which is what I do. I just cut off a corner about 1/4 in. wide. You can check out my Instagram for a helpful video with tips.
I like to make my own lemon curd with a variation on this recipe, but you can use store-bought lemon curd to save time. It will still taste delicious!
  Sable Breton recipe is from my friends. You can check out their blog right here: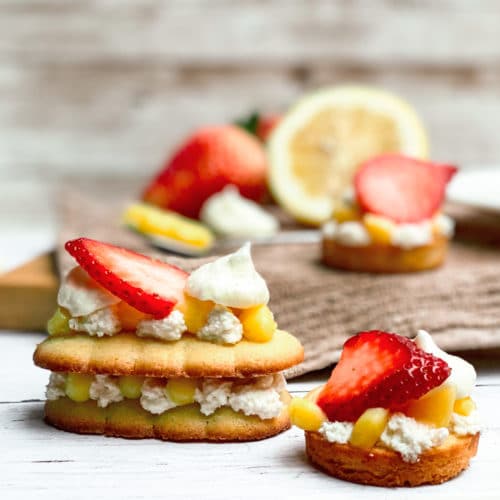 Strawberry lemon ricotta tartlets (with meringue)
Bright drops of lemon curd and creamy vanilla ricotta are nestled in buttery tart shells to create the taste of summer in every bite. Top with fresh sliced strawberries and miniature meringues for a truly decadent dessert.
Equipment
1 medium mixing bowl

Hand or stand mixer

1 rubber spatula

1 baking tray

Parchment paper

Ziptop bags
Ingredients
Meringue drops
2

egg whites

1/8

tsp

salt

1/8

tsp

cream of tartar

1/4

cup (50g)

granulated sugar
Sable Breton tart crust
5/8

cup (75g)

flour

5/8

tbsp

baking powder

1/4

tsp

salt

4

tbsp (60g)

butter, room temperature

2

egg yolks

1/2

cup (60g)

powdered sugar
Topping
1/2

cup

lemon curd

1/2

cup

ricotta

1

tsp

powdered sugar

1

tsp

vanilla

5

strawberries, sliced
Instructions
Make your meringue drops
Preheat oven to 200 degrees F and line baking tray with parchment paper

Using a hand or stand mixer with a whisk attachment, beat egg whites and cream of tartar together on low speed for about 1 minute. Switch speed to high and beat until soft peaks form, about 4 more minutes. Slowly add sugar and salt in batches. Continuing beating until stiff peaks form, about 2 more minutes.

Transfer meringue to piping bag and pipe small drops about 1 in. wide onto the parchment paper

Bake for about 2 hours until meringues are dry
Make your Sable Breton tart crust
Using your hand mixer or stand mixer fitted with paddle attachment, cream the butter and powdered sugar together until light and fluffy

Add egg yolks one at a time, mixing constantly

Sift together flour, salt, and baking powder. Add in batches to the butter mixture until fully incorporated

Transfer dough into a piping bag and pipe circles about 1 and 1/2 in. in diameter onto baking sheet or mini muffin tin in a spiral fashion. Your crusts should be about 1/4 in. thick

Freeze for at least two hours to set the dough

When your meringues are finished, change over temperature to 350 degrees Fahrenheit. Remove tart crusts from freezer and bake for 8-10 minutes.

Remove tart crusts from oven and allow to cool on a wire cooling rack before decorating.
Make your toppings
Mix together ricotta, vanilla, and powder sugar. Transfer to piping bag.

Thinly slice strawberries and transfer lemon curd to piping bag.
Decorate
Pipe alternating drops of lemon curd and ricotta onto a tart shell. Top with a meringue and strawberry slice

Serve immediately, otherwise the meringue may soften up.