This soft, moist coffee cake is studded with chunks of chocolate and walnuts. A walnut brown sugar crumble adds a sweet and crunchy finish.
I never really have a hankering for coffee cake in the summer. But as soon as the cooler weather hits, I'm looking for that perfect slice of coffee cake to go with a hot cup of tea. There's something about that rich, vanilla-scented base and sweet brown sugar cinnamon crumble that screams "fall baking."
I also love coffee cake because it's a perfect "eat cake for breakfast" kind of treat. Or, "eat cake as an afternoon snack" as well as "eat cake for dessert." Coffee cake is basically an excuse to eat cake at every single meal.
And what really makes this coffee cake a little special is thick chunks of chopped chocolate and crunchy walnuts. The bitterness of the chocolate perfectly balances out all that sweetness on top. It's simple, and divine.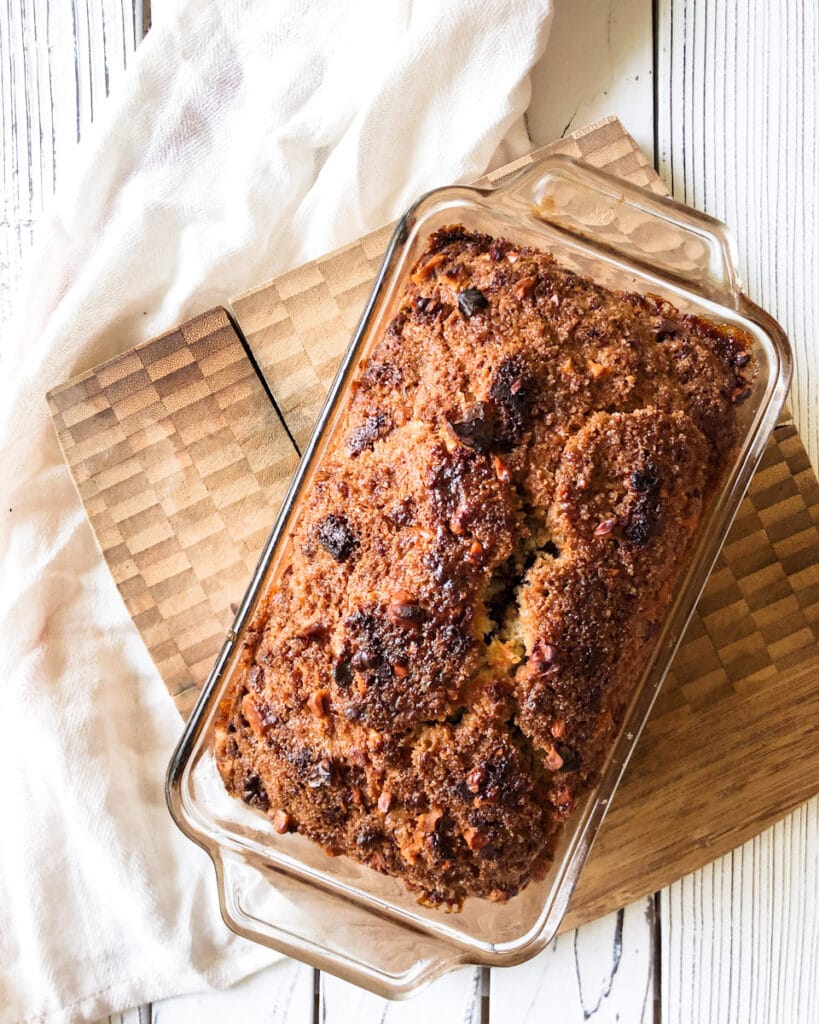 The coffee cake process
Coffee cake is one of those delightfully simple recipes that is easy to pull together. The hardest part is waiting for it to finish in the oven.
Traditionally, coffee cake has a swirl of brown sugar in the middle. We're going to skip that in this recipe and go for that chocolatey, nutty combo instead.
First, we'll chop the chocolate and walnuts. You can use chocolate chips instead of chopped chocolate.
Next, we'll prepare our brown sugar walnut cinnamon crumble which is just a whole lot of butter and brown sugar with a bit of cinnamon and walnuts. Don't think too much about calories and sugar content and just think how DELICIOUS the cake will taste.
Then, we'll mix together all our wet ingredients in one bowl. Then, all of our dry ingredients in a separate bowl. We'll combine our wet and dry ingredients to make a batter, fold in our chocolate and walnut, top with crumble, and then bake at 350F.
The one tip I have is to avoid overmixing your batter. This will lead to a stiffer, less tender coffee cake.
Other delicious quick bread recipes:
If you make these muffins, let me know! You can comment below or tag me on Instagram @halicopteraway.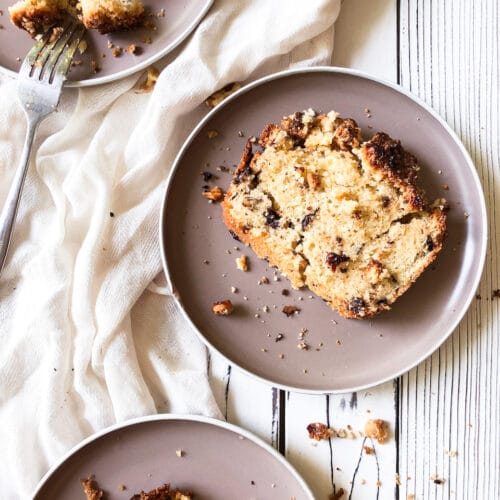 Chocolate walnut coffee cake
This soft, moist coffee cake is studded with chunks of chocolate and walnuts. A walnut brown sugar crumble adds a sweet and crunchy finish.
Equipment
1 medium mixing bowl

1 large mixing bowl

9in. x 5 in. loaf tin
Ingredients
Wet ingredients
1

cup (220g)

vegetable oil

2

eggs

1

tsp

vanilla extract

1

cup (240g)

milk
Dry Ingredients
3/4

cup (150g)

granulated sugar

3

cups (375g)

all purpose flour

1

tbsp

baking powder

1/2

tsp

salt
Crumble
1/2

cup (100g)

brown sugar

1/2

tsp

ground cinnamon

2

tbsp (30g)

unsalted butter

1/4

cup (30g)

chopped walnuts
Fillings
1/4

cup (30g)

chopped walnuts

3.5

oz (100g)

chopped semi sweet chocolate
Instructions
Preheat oven to 350°F and grease the baking tin

Combine brown sugar, cinnamon, butter, and walnuts in a small bowl to create crumble.

Mix wet ingredients – oil, milk, eggs, vanilla – in a medium mixing bowl

Mix dry ingredients – all purpose flour, sugar, salt, baking powder – in a large mixing bowl

Pour wet ingredients into dry ingredients and whisk until just combined. The batter should be quite sticky. Fold in chocolate and walnuts with a spatula.

Pour batter into greased baking tin. Cover the top evenly with crumble.

Bake for 50 – 55 minutes until a toothpick inserted in the center comes out clean. Let cool for 15 minutes before slicing and serving.
Notes
You can use any kind of milk or milk substitute
If you want to make muffins, use a 12 inch. muffin tray and bake for 25 – 30 minutes.