These double-custard heart donuts are filled with lemon curd cream and topped with raspberry custard. They're the perfect treat to tell someone you love them!
Is there a cuter and tastier Valentine's Day present than heart-shaped donuts? I'm thinking no, especially when these donuts are filled with raspberry lemon curd cream and topped with raspberry vanilla custard. The lemon cud gives a tart tang in the middle that goes perfectly with the soft and creamy custard topping.
The heart shape is simple – all you need is a heart-shaped cookie cutter, and the shape will stay throughout the proofing and frying process. It's the easiest way to impress your special someone!
How to make heart shaped donuts
This recipe is made of a couple of steps:
Make a basic donut
Make a raspberry custard
Make lemon curd cream
Assemble all the components
While you wait for the donuts to rise, you can multi-task with making your custard. Let's walk through each one so you'll feel ready and confident to tackle the donuts!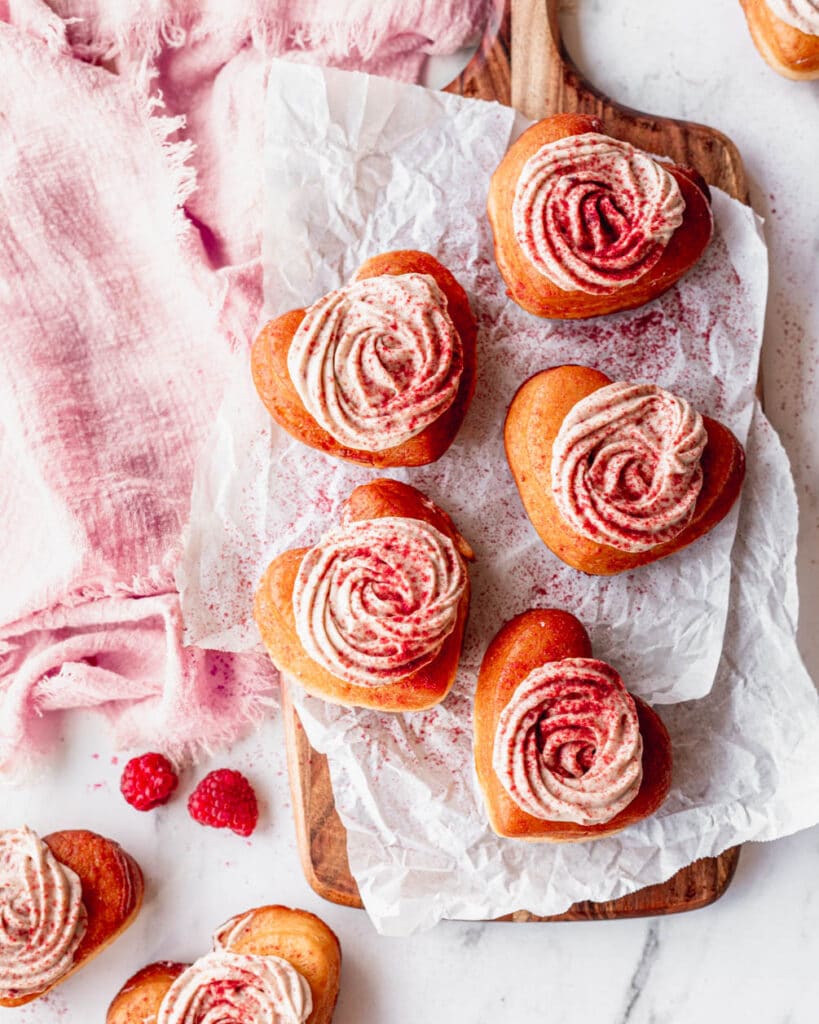 Tips for making yeasted donuts
These donuts are made from a yeasted dough that is deep fried until they're a beautiful golden brown. If you're just getting started working with yeast, I recommend you read my bread baking guide. The fundamentals will apply to making donuts as well. Here are some tips for this recipe:
Make sure the milk is warm to the touch but not hot. Hot milk could kill your yeast and your dough won't rise.
The temperature of your kitchen matters. Cooler temperatures (especially in winter!) can slow down the rise. If your dough is struggling to rise, check out my guide to proof dough more quickly.
If the dough is shrinking when you roll it out, let it rest for 10 minutes. This helps the gluten relax so the dough will be stretchier.
I recommend using a food thermometer for deep frying. If your oil is too hot, the donuts will brown very quickly. But if it's too cool, the donuts won't expand as much in the fryer. I have this thermometer from Amazon. If you don't have a thermometer, test the oil with a small piece of leftover dough. It should start bubbling and expanding when it hits the oil.
Don't pack your fryer. Too many donuts in the fryer will drop the temperature of the oil. I fry 3 donuts at a time.
Tips for making raspberry custard
The raspberry custard is made from vanilla pastry cream folded with raspberry whipped cream for a light and airy texture. While the donuts are rising, we'll make the pastry cream on the stove and let it cool completely. Right before we start piping on the custard, we'll make fresh whipped cream and fold it in. Some tips to keep in mind:
It's very important to temper your eggs. If you add the eggs directly to the hot liquid on the stove, they will scramble and leave you with chunky cream. Pouring the liquid slowly into the eggs while whisking helps bring the eggs up to temperature without scrambling them.
If you find your cream to be a little lumpy, you can use a sieve to strain out any chunks.
When you cover the cream before chilling, make sure that the plastic wrap touches the surface of the cream. This prevents a film from forming.
Be careful not to overbeat your whipped cream. Stop when it's at the stiff peak stage. Using cold cream straight from the fridge can help you achieve that stage.
Use a gentle folding motion to combine the pastry cream and whipped cream to avoid pressing out any air.
You can use either store-bought or homemade raspberry jam for flavoring the whipped cream. I use store-bought to save myself some time.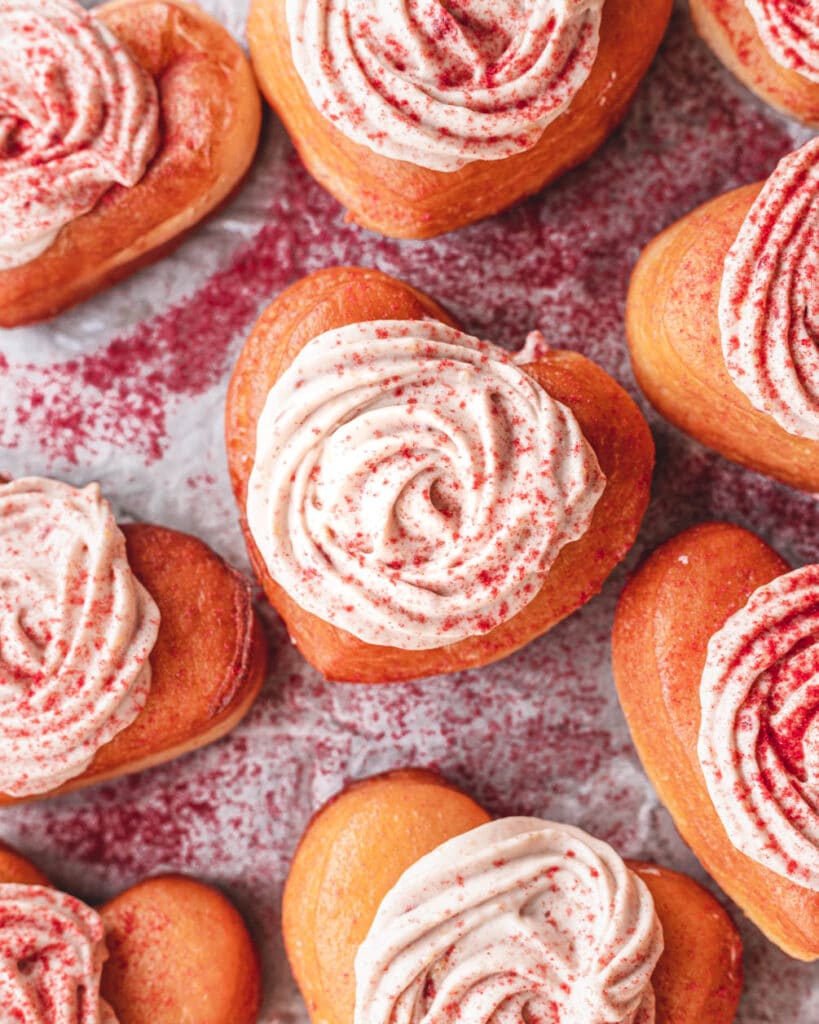 Tips for making lemon curd cream
The lemon curd cream is made from lemon curd folded with the same raspberry whipped cream that we use in the custard. You can choose to make your own lemon curd or use store-bought. I opted for store-bought and it tasted great!
Similar to making raspberry custard, make sure to use a gentle folding motion when you combine the curd and the whipped cream to avoid squeezing out air.
Tips for assembling
You'll need some piping bags and pipings tips for assembling. First, you'll fill your donuts with the lemon curd cream. Then, you'll pipe on a swirl of raspberry custard on top.
Make sure your donuts are completely cooled before filling or topping with cream
For injecting the cream, it's ideal if you have a pastry syringe. I don't have one, so a piping bag fitted with a round 5mm piping tip works just as well.
For the swirl, I used a 1/2 inch star piping tip.
These donuts are filled with bright bursts of lemon and raspberry that go so wonderfully with the smooth cream. I hope you enjoy these Valentine's Day treats!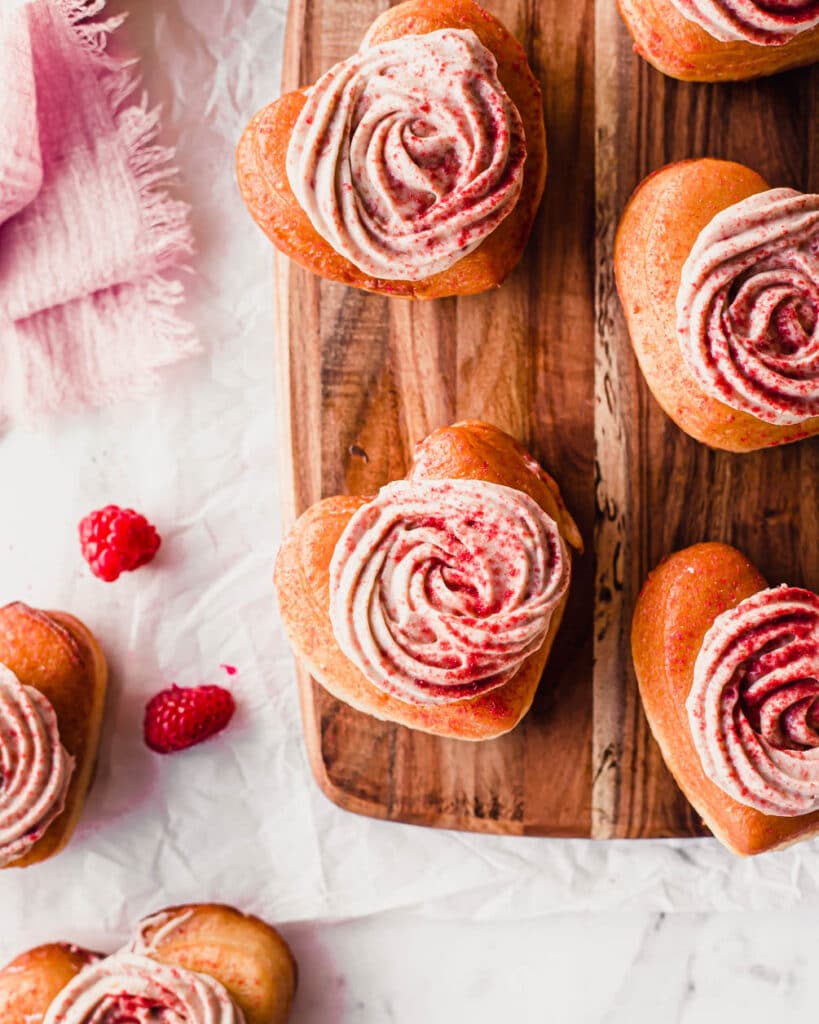 Other romantic recipes to try:
If you make this recipe, please let me know! I would love to see your beautiful donuts. You can comment below or tag me on Instagram @halicopteraway.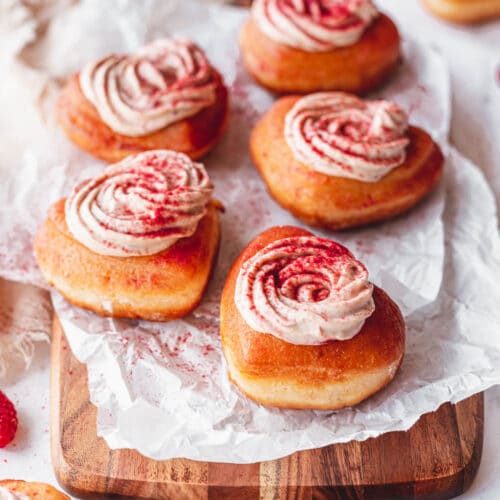 Raspberry custard heart donuts
These double-custard heart donuts are filled with lemon curd cream and topped with raspberry custard. They're the perfect treat to tell someone you love them!
Equipment
Medium saucepan

Hand or stand mixer

3 – 4 inch heart shaped cookie cutter

Piping bags

Pastry syringe or 5mm round piping tip

1/2 inch star piping tip

Parchment paper

Heavy bottom pot or deep fryer

Food thermometer
Ingredients
Donut dough
1

cup (240g)

milk

1/4

cup (50g)

granulated sugar

1

tbsp

instant or active dry yeast

2

eggs

6

tbsp (86g)

unsalted butter, melted

4

cups (490g)

all purpose flour

1

tsp

vanilla extract

1/2

tsp

salt

1

quart

vegetable oil, for frying
Raspberry custard
2/3

cup (160g)

milk

2

tsp

vanilla extract

1/4

tsp

salt

2

egg yolks

4

tbsp (35g)

granulated sugar
For both raspberry custard and lemon curd cream
5/6

cup (200g)

heavy whipping cream

2

tbsp

raspberry jam
Instructions
Make the donut dough
In a medium mixing bowl, mix together the warm milk, sugar, and yeast. Wait 5 – 10 minutes until the yeast is frothy. If the yeast does not bubble up, it may be dead. Throw it out and try with a new batch.

Add the eggs, melted butter, flour, vanilla extract, and salt. If using a stand mixer, fit with a dough hook attachment and knead on low-medium speed for 10 minutes until the dough is smooth and passes the window pane test. You can also mix and knead by hand.

Place the dough in a lightly greased bowl and place in a warm area to rise for 1 – 2 hours until doubled in size.
While the dough is rising, make the pastry cream for the raspberry custard
Whisk egg yolks and sugar in a medium bowl until pale, light, and fluffy, about 3 minutes. Whisk in corn starch until fully incorporated.

Mix milk, salt, and vanilla extract in a medium saucepan over medium heat. Bring to a simmer.

Slowly pour the milk mixture into the egg mixture, whisking constantly. Pour the mixture back into the saucepan and cook on medium heat, whisking constantly until the mixture is thick and the whisk marks hold. This should take about 2 minutes.

Remove from heat and pour into a bowl. Cover with plastic wrap, making sure the surface of the custard touches the wrap. Place in the refrigerator to chill.
Shape and fry the donuts
When the dough has doubled in size, turn it onto a lightly floured surface. Knead a few times to release the air bubbles. Roll out until it is 1/2 inch (1 cm) thick. Using your heart cookie cutter, cut donuts out and place on a sheet of parchment paper. Reroll the scraps to cut out more donuts. If the dough is shrinking as you reroll, let it sit for 5 – 10 minutes to relax.

Cover donuts lightly and let rest for 30 minutes as you heat up the oil.

Pour the oil into a heavy bottomed pan on medium heat. Heat to 375°F. Add 2 – 3 donuts at a time and fry for 1 minute on each side. Carefully remove with a metal or wooden spatula. Place donuts back on the parchment paper or on a wire cooling rack. Periodically recheck the temperature of the oil and try to maintain the temperature.

Let donuts cool before filling and topping.
While donuts cool, finish preparing the raspberry custard and lemon curd cream.
Pour cold heavy whipping cream into a medium mixing bowl. Using a hand mixer or stand mixer fitted with a whisk attachment, beat on medium high speed until stiff peaks form. On low speed, stir in raspberry jam.

Take half the raspberry whipped cream and fold it in with your pastry cream.

Take the remaining half of the raspberry whipped cream and fold it in with lemon curd.
Assemble the donuts
Use a butter knife to poke a hole in the side of each donut and gently wiggle the knife around to make space for the cream.

Place the lemon curd cream in a piping bag fitted with a 5mm round tip. Fill the donuts using the holes prepared in the previous step. Repeat for remaining donuts.

Place the raspberry custard in a piping bag fitted with a 1/2 inch tar tip. Pipe a rosette on top of each donut.

Donuts are best enjoyed fresh!