These sourdough scallion pancakes are made from sourdough discard and just 4 other ingredients to create a simple and tasty way to use up extra discard!
Okay sourdough lovers, this recipe is for all of you looking for a quick, tasty, and easy way of using up sourdough discard.
I grew up eating traditional Chinese scallion pancakes (葱油饼). Hot and fresh, they were a savory, flaky, and oh so delicious. The sourdough version is just as good, with a hint of sourdough tang and flavor.
It is absolutely the best recipe for using up discard, especially if you love a savory snack!
Why these scallion pancakes are the best sourdough discard recipe
There are a couple of things I look for in a good sourdough discard recipe:
Uses up a lot of discard without adding a bunch of ingredients – this is a BIG one for me. I usually have cups of discard I need to use up, and I hate having to use 3 extra cups of flour and a stick of butter just to get rid of one cup of discard. I love that this scallion pancake recipe only uses a bit of flour, scallions, salt, and vegetable shortening to transform the discard into something delicious,
Affordable – Flour, salt, and vegetable shortening / oil are fairly common household ingredients. And scallions are only about a $1 a bunch at my local grocery store! (fun fact: did you know you can stick the bulbs of scallions in water to regrow the whole bunch in just a few days?)
Super tasty – I've raved about them already but these pancakes are flaky, buttery little pieces of joy
What makes these scallion pancakes super flaky?
Scallion pancakes are known for their beautiful layers. The first trick is to let the dough rest for at least 30 minutes. This helps the gluten relax so you can roll it out nice and thin.
We then roll out the dough and spread with vegetable shortening. I like to use shortening because it's super easy to spread. However, brushing with vegetable oil will work just as well.
After sprinkling with salt and scallions, we roll up the dough like a scroll and then coil it like a snail shell. This creates the layers!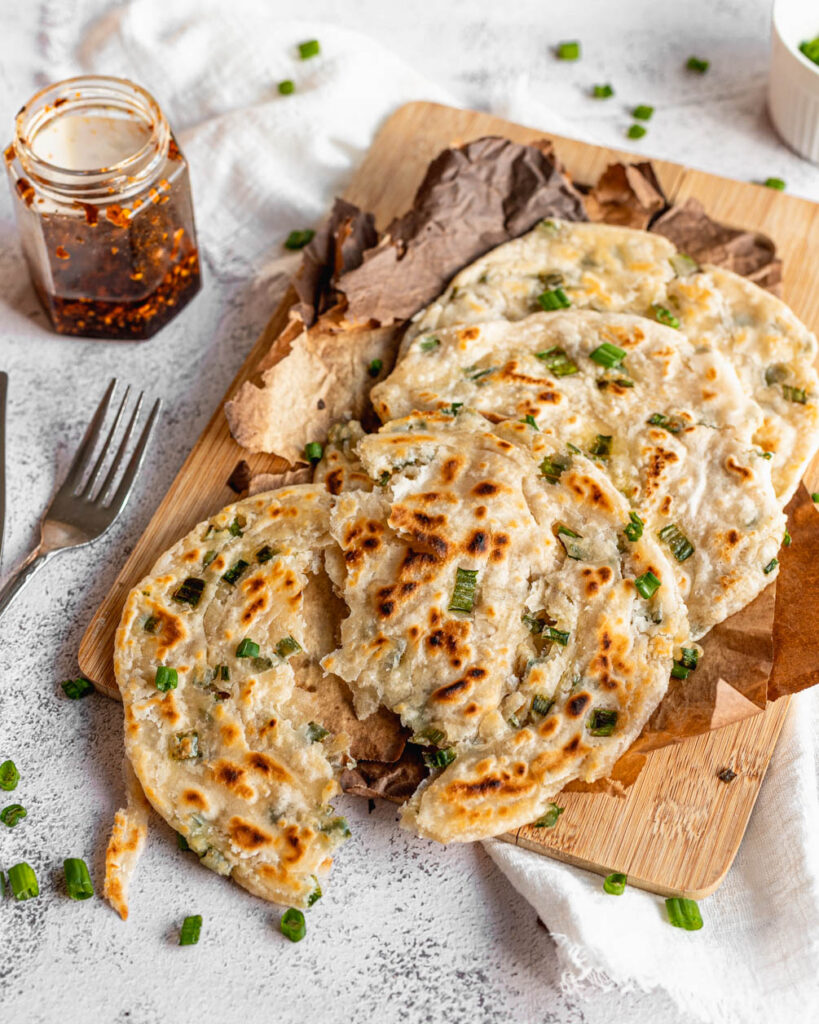 Can I scale the recipe up or down?
Scaling the recipe is super easy! The dough is simply a 2:1 ratio of sourdough discard to flour by weight, so it's easy to use up scale depending on how much starter you have. If you find that the dough is too dry, you can always add 2 – 3 tsp of water. And if it's too sticky, you can add some extra flour.
Other sourdough recipes to try:
If you make this recipe, please let me know! I always love to see what my readers are baking. You can comment below or tag me on Instagram @halicopteraway.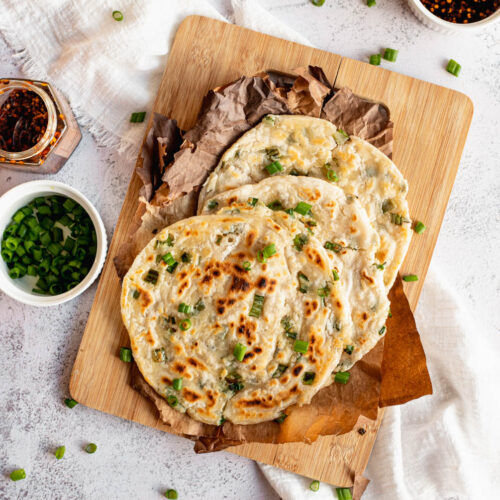 Sourdough scallion pancakes
These sourdough scallion pancakes are made from sourdough discard and just 4 other ingredients to create a simple and tasty way to use up extra discard!
Equipment
Small mixing bowl

Rolling Pin

Frying pan
Ingredients
Scallion pancakes
1/2 cup

(100g)

sourdough discard (100% hydration)

1/2 cup

(50g)

all purpose flour

4

tbsp

vegetable shortening or oil

1/2

tsp

salt

1/2

cup

scallions, chopped thin
Dipping sauce (optional)
3

tbsp

soy sauce

1

tbsp

rice vinegar

1

tsp

chili oil

1

tsp

granulated sugar
Instructions
In a small mixing bowl, use your hands or a spatula to mix together your sourdough discard and all purpose flour. It should form a clump of dough that is soft but not too tacky or sticky. If it's too dry, feel free to add 2 – 3 tsp of water.

Knead the dough for 2 – 3 minutes until smooth. Cover with a damp paper or kitchen towel and let rest for 30 minutes.

Divide the dough in half and shape each half into a ball. Take the first ball and roll out thinly until about 8 inches wide. Spread 1 tbsp of vegetable shortening or oil across the surface. Sprinkle with a 1/4 tsp of salt and half of the chopped scallions. Take the bottom edge of the dough and roll up so you have a long scroll of dough. Then, take one end of the scroll and roll up until you have a round coil resembling a snail shell. Roll out again into a circle and set aside.

Repeat the process with the second ball of dough.

Heat up 1 tbsp of vegetable oil in a frying pan over medium heat. Place one pancake in the pan and fry until the side is golden brown, about 3 – 5 minutes. Flip and fry the other side. Remove and place on a plate. Add more oil to the pan and repeat with the second pancake.

Mix together the soy sauce, vinegar, chili oil, and sugar to create the dipping sauce. Serve while hot.