This chocolate sourdough bread is packed full of cranberries and nuts for a rich and delicious treat. The no-knead method is a perfect way to make this chocolate sourdough with minimal fuss!
If you're anything like me, you love a good piece of sourdough toast covered in chocolate spread. And probably the only thing I like more than that combo is a piece of chocolate sourdough toast filled with nuts and cranberries and covered in chocolate spread.
I would say that's a 10/10 breakfast (or dessert!)
To enhance the chocolate and cranberry flavor, this loaf also has fresh orange zest.  And because I love a good hands-off sourdough, this a no-knead method that builds gluten with coil folds and a long, slow ferment. There is a bit of waiting involved, but your patience will be well-rewarded by a rich, chocolatey flavor with just a hint of sweetness.
Helpful tips when baking sourdough
Unliked breads using commercial yeast, the sourdough process is less predictable with rise times varying depending on the strength of your starter, kitchen temperature, and humidity. If you've never baked sourdough before, I'd recommend going with a plain white loaf first before tackling this one. You'll get familiar with the process and build confidence to tackle this loaf!
The recipe I'm providing is a guide, but you'll have to use your own sourdough baking instincts to know when your dough is ready to shape. Here are some things to keep in mind for this recipe:
You need a strong, mature starter that ideally doubles in size in 4 – 8 hours. If you don't have a starter, you can make one following this guide, but take 2 weeks to let it mature before baking. 
I like to use dark cocoa powder for an extra chocolatey punch, but regular will work as well. Your bread won't be quite as dark. 
Unlike my other recipes, I have this recipe only in grams because sourdough requires precision. A food scale is immensely helpful to baking great sourdough!
Putting in additions such as cranberries and nuts can be tricky. We're going to prep the add-ins and then add them in partway through the bulk ferment:

We add in after the second set of coil folds so that the dough has some time to rise, but you won't knock out all the air.
We'll let the cranberries soak in water for 20 – 30 minutes so they won't soak up water from the dough itself
To add the cranberries and nuts, we'll laminate the dough. After the second coil and fold, we'll gently stretch out the dough into a thin sheet. We'll sprinkle in the add-ins and then roll back up into a ball. As a bonus, the lamination process helps build gluten too!

When shaping, be firm but gentle. Some of the add-ins will poke through and that's okay!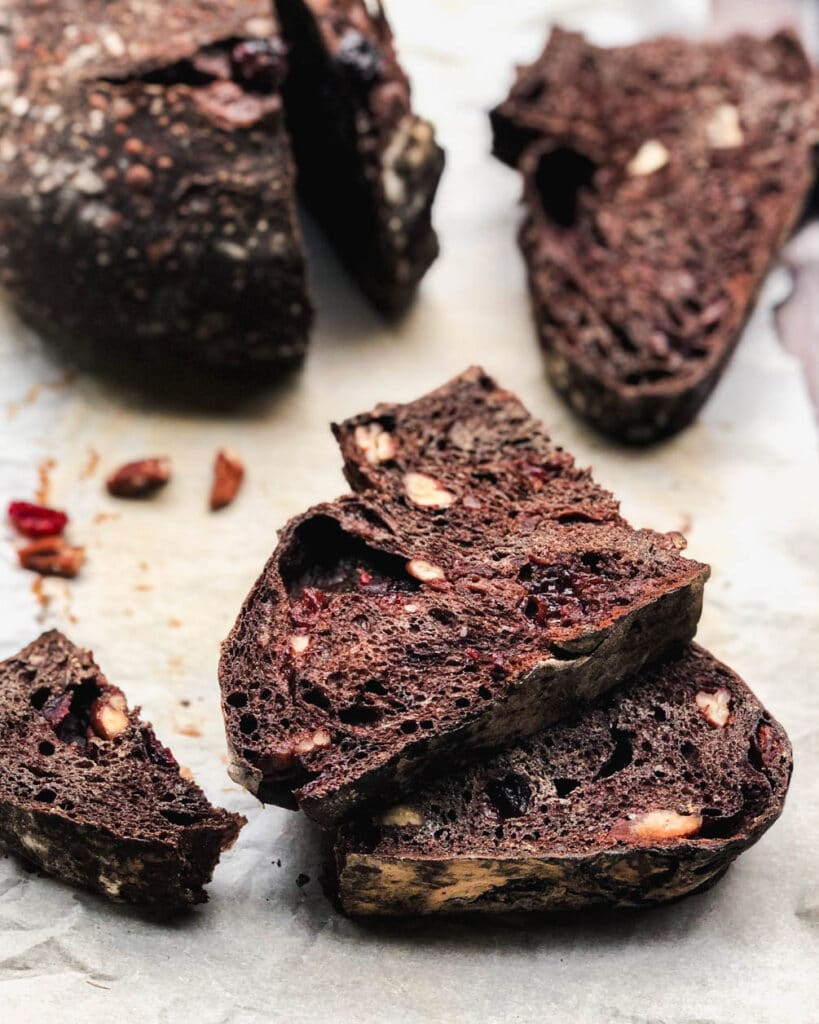 My process
I'm outlining my typical schedule to give an idea of when my sourdough has finished each stage. Of course, your schedule will vary a bit depending on your environmental conditions.
Day 1
10:00 am – Remove starter from the fridge and feed with 100g all-purpose flour + 100g lukewarm water. I probably had 50 – 100g of starter before feeding.
1:00pm – Starter has grown about 2x in size. I make the dough by mixing all ingredients except cranberries and nuts in a large mixing bowl.
1:45pm – 2:45pm – 2 sets of coil folds spaced 30 to 45 minutes apart
2:45pm – After the second set of coil folds, soak cranberries in water
3:15pm – Laminate dough and add cranberries and nuts
4:00pm – Perform last set of coil folds
6:00pm – Shape into a boule and place in the fridge for overnight cold retard
Day 2
10:00am – Pre-heat oven to 500F with uncovered Dutch oven inside. Take the dough out of the fridge at let it sit for 30 minutes  – 1 hour at room temperature.
10:45am – Bake for 25 minutes with lid on and then reduce to 450F and bake for 20 – 22 minutes with lid off.
2:00pm – Slice into loaf after it has thoroughly cooled.
Okay, ready to get baking? I know you're going to love this loaf!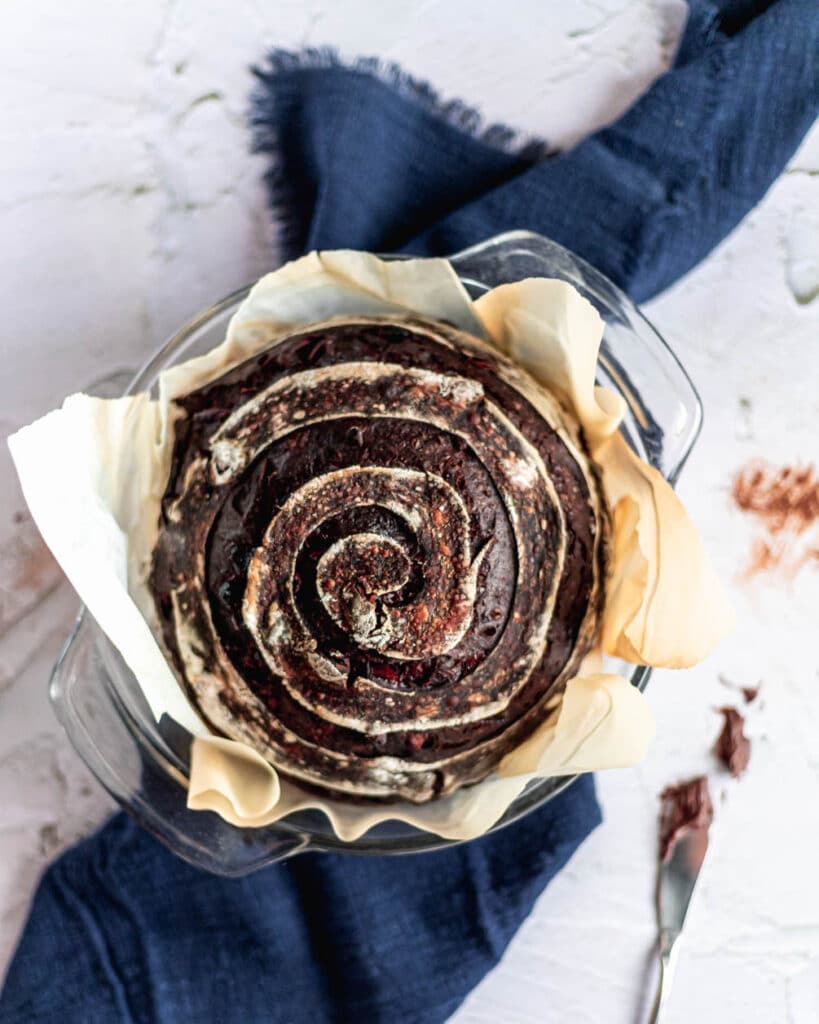 Other sourdough recipes I love
And if you love holiday baking, this loaf is day 4 of my holiday bread week. Check out the other recipes below:
If you make this recipe, let me know! You can comment below or tag me on Instagram @halicopteraway or #halicopteraway.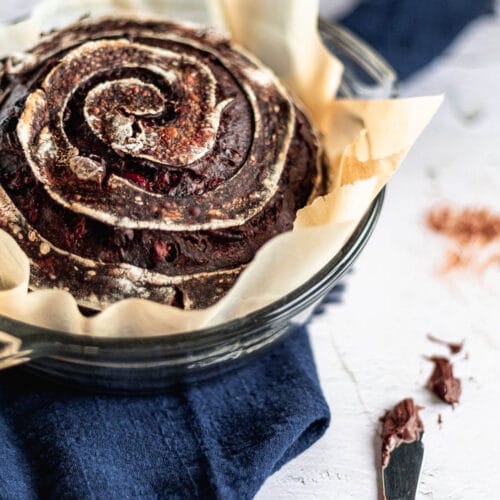 Chocolate sourdough bread
This chocolate sourdough bread is packed full of cranberries and nuts for a rich and delicious treat. The no-knead method is a perfect way to make this chocolate sourdough with minimal fuss!
Equipment
Large mixing bowl

Medium bowl or Proofing basket

Food scale

Dutch oven (or you can use my no Dutch oven method, linked in notes)
Ingredients
Dough
115

g

fed and active starter, 100% hydration

300

g

bread flour

30

g

cocoa powder

230

g

water, lukewarm

7

g

salt

30

g

granulated sugar

Zest of 1 medium orange
Filling
90

g

dried cranberries

90

g

water

60

g

nuts of your choice (I like pecans or walnuts)
Instructions
Combine all dough ingredients in a large mixing bowl (do not add cranberries or nuts). Mix and stir everything together to create a shaggy dough.

Cover the bowl with plastic wrap and let sit for 45 minutes.

Gently slide your hand under the middle of the dough and fold it over itself twice using the coil fold method. This helps gently develop the gluten.

Wait another 30 minutes and perform another set of coil folds. In a separate bowl, add the cranberries to water and let them soak.

Wait another 30 minutes. Drain the cranberries. Then, sprinkle a working surface with water to prevent sticking. Turn your dough onto the surface and very gently stretch until thin, without breaking the dough. It should be about 8 – 10 inches long on each side. Sprinkle the surface with most of the cranberries and nuts. Bring the bottom edge of the dough up towards the middle. Sprinkle the exposed surface with the remaining cranberries and nuts. Take the left edge of the dough and bring it to the middle. Then, take the right edge and bring it over to the left so you have a roll. Fold down the dough from the top to create a rough dough ball. Place the ball back in the bowl.

Wait 1 hour and perform last set of coil folds. Let rise for another 2 – 3 hours.

Line a medium bowl with a floured kitchen or paper towel. Lightly flour a working surface and turn the dough onto the surface. Gently shape into a boule and place it seam side up in the bowl. Cover with plastic wrap and place in the fridge for at least 8 hours and up to 48 hours.

When you're ready to bake, preheat the oven to 500°F with your uncovered Dutch oven inside. As the oven is preheating, take the dough from the fridge and let rest for 30 minutes – 1 hour at room temperature. Turn the dough onto floured parchment paper and score.

Place the scored loaf in the Dutch oven and cover with the lid. Bake for 25 minutes. Remove the lid and reduce temperature to 450°F and bake for another 20 – 22 minutes until hollow when tapped.

Remove from oven and let cool completely (about 2 hours) before slicing