Inspired by a French Fraisier cake, this delicious dessert features two layers of fluffy sponge cake, sandwiched with a luscious basil mousseline cream, tangy strawberry basil compote, and fresh strawberries. It's the perfect cake for summer!
With the weather warming up and fresh strawberries in season, I knew I had to create recipe to celebrate summer strawberries. This strawberry basil sponge cake draws inspiration from the French Fraisier cake to create a light and fluffy dessert that is full of strawberry flavor and a refreshing hint of basil.
What is a Fraisier cake?
The Fraisier cake is a classic French dessert known for its elegant appearance and delicate flavors. Traditionally, it consists of layers of sponge cake, crème mousseline (pastry cream lightened with butter), and fresh strawberries. This strawberry basil sponge cake draws inspiration from this timeless dessert, infusing it with a unique twist of basil for an unforgettable taste. Typically Fraisier cakes will use a genoise sponge, which doesn't have any leavening agents outside of whipped eggs. In this recipe, we'll add some baking powder to help with the rise and create a more forgiving cake.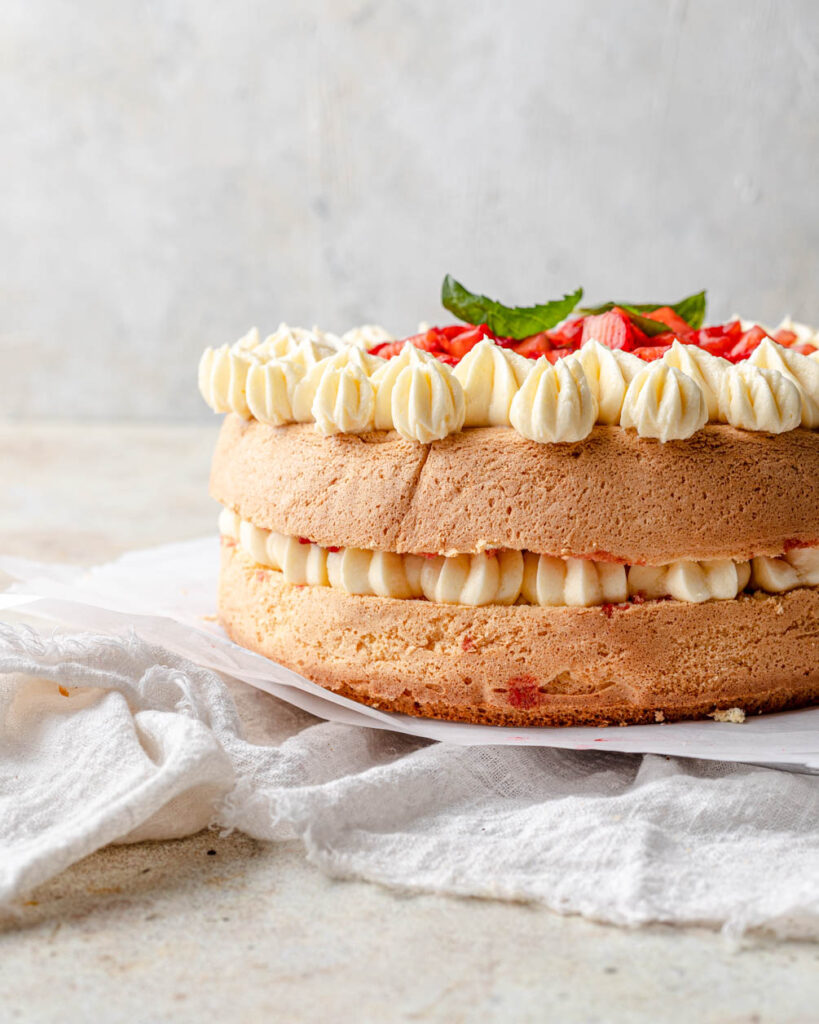 What makes this strawberry sandwich cake unique?
The combination of fresh strawberries and aromatic basil make for the perfect flavor combo. The cake uses a traditional fat-less sponge cake that is extra light and airy – a perfect complement to the rich and buttery basil mousseline cream. To pack home the flavor and keep the sponge from drying out, we add a layer of strawberry basil compote.
How to make a soft and fluffy sponge
The sponge is the base for this cake, so you'll want it to be thick and fluffy! The sponge is leavened by whipping egg whites and folding back into the batter, and we add some baking powder as well to help the rise.
Tips for perfect sponge cake
This sponge cake is made by whisking egg yolks and whites separately, then folding them together with the dry ingredients. The key to a great sponge cake lies in a well-whipped meringue and a great folding technique
Separate the eggs carefully: Start with fresh eggs at room temperature. Separate the yolks from the whites, ensuring no traces of yolk mix with the whites. Even a small amount of yolk can hinder the egg whites from reaching their full volume.
Use a clean bowl and utensils: Any grease or residue in your mixing bowl or utensils can prevent the egg whites from whipping properly. Make sure they are thoroughly cleaned and dried before you begin.
Gradually add sugar: With the mixer still running, gradually add sugar to the whipped egg whites. Adding the sugar gradually allows it to dissolve and incorporate evenly, resulting in a stable foam.
Whip until stiff peaks form: Continue beating the egg whites and sugar until they reach stiff peaks. Stiff peaks hold their shape firmly when the beaters are lifted. No need to over-whip – once they hold their shape, they're ready to be folded in. It's okay if the tip of the meringue droops a little.
Gently fold in the ingredients: Start by folding the egg whites into the yolks. I do this in 3 parts. Then, sift the dry ingredients into the batter and fold in, again in 3 parts. Be careful not to overmix, as this can deflate the air you've incorporated. Doing it in separate parts helps get a more even distribution.
Bake immediately: Once the batter is mixed, transfer it to prepared baking pans and place them in the preheated oven right away. Delaying the baking process can cause the air bubbles to collapse, resulting in a denser cake.
By following these tips, you'll achieve a soft and fluffy sponge cake with a tender crumb and a light texture. Whip those egg whites to perfection and enjoy the heavenly taste and delightful aroma of your strawberry basil sponge cake!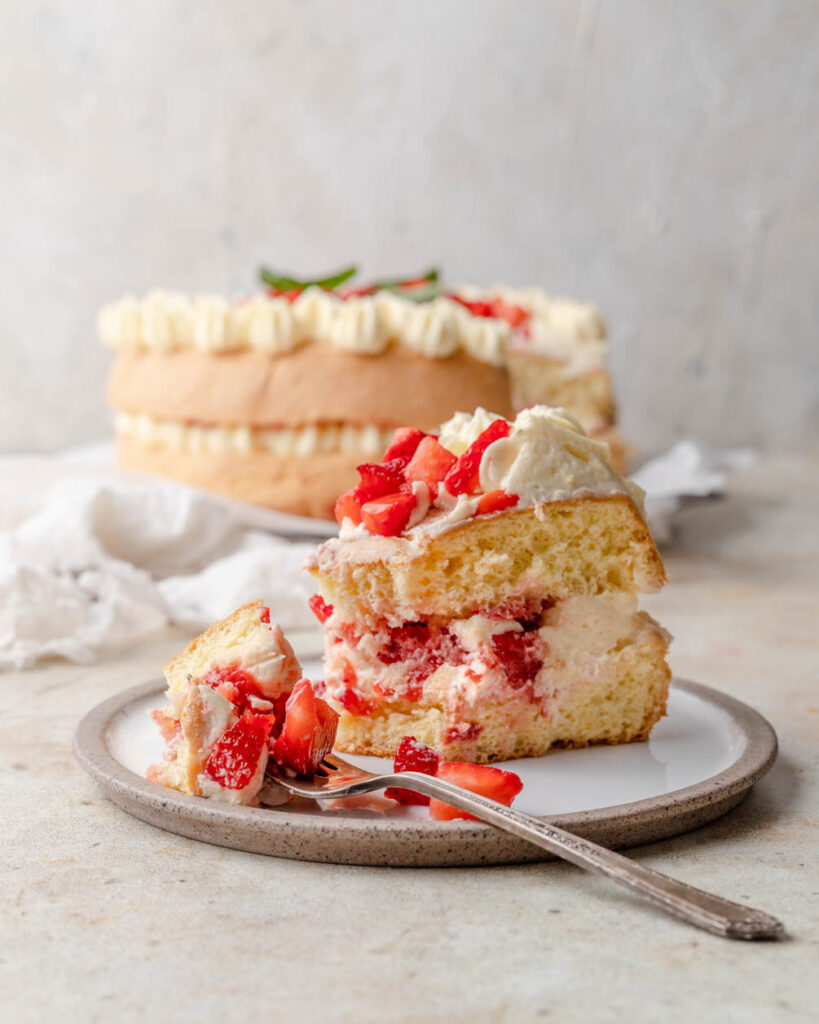 How to make a smooth mousseline cream
Mousseline cream is a variation of pastry cream enriched with butter, resulting in a lighter and silkier texture. I love using it as a cake filling because it tastes rich and flavorful without being too sweet. When testing the recipe, I made one variation where the mousseline cream was made with Italian meringue buttercream rather than straight butter. The texture was lighter, but as soon as the cake was chilled there wasn't a big difference – as a result, I went with the butter-only variation since it's significantly less work.
Tips for a flavorful basil pastry cream
Making pastry cream can feel intimidating, but with a few tips and tricks, you can achieve a smooth and luscious result. Here are some tips for making pastry cream:
Infuse the milk with basil for at least 30 min: We'll start by heating the milk to a simmer and adding fresh basil leaves. Make sure it sits for at least 30 minutes so that the cream is full of basil flavor.
Temper the eggs: To prevent the eggs from curdling when combined with hot milk, temper them first. Gradually whisk a small amount of the hot milk into the beaten eggs and sugar mixture before returning it to the saucepan. This gradual process helps bring the eggs up to temperature without scrambling them.
Strain the mixture: To ensure a silky smooth consistency, strain the cooked pastry cream through a fine-mesh sieve. This step helps remove any lumps, basil chunks, and bits of cooked egg
Prevent a skin from forming: Pastry cream tends to develop a skin when it cools. To prevent this, place a layer of plastic wrap directly on the surface of the pastry cream before refrigerating. The plastic wrap prevents air from coming into contact with the cream, helping to maintain its smoothness.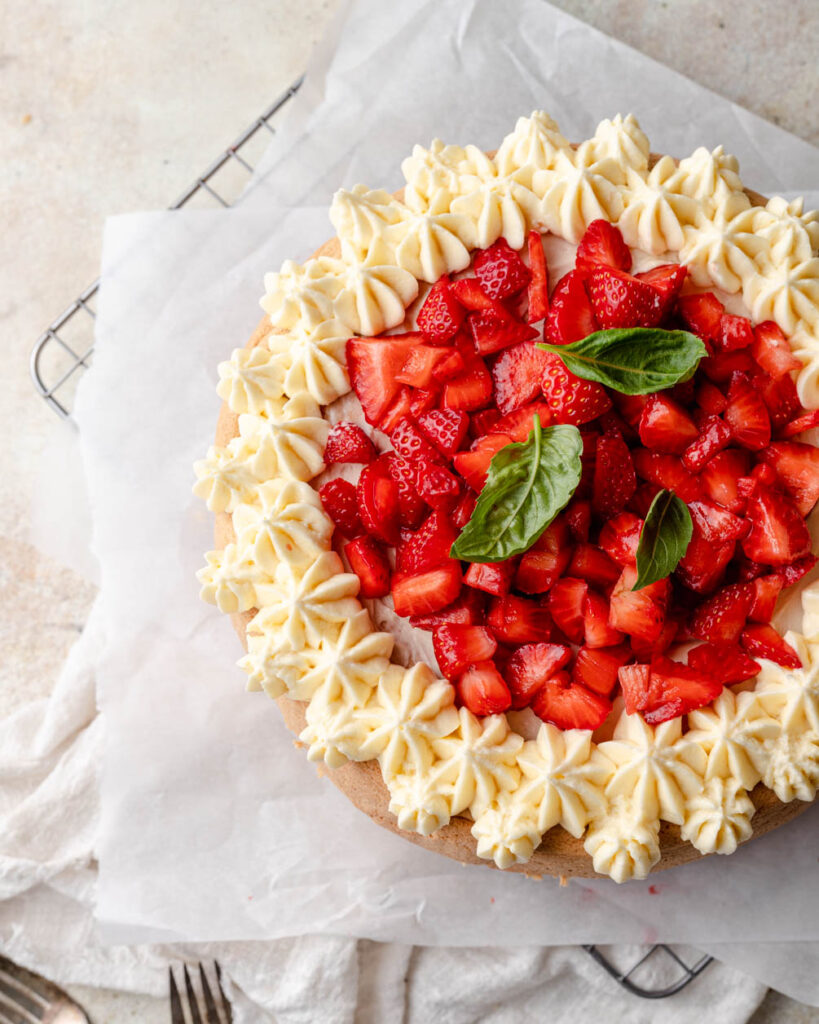 Tips for incorporating the pastry cream and butter
Chill the pastry cream thoroughly: Make sure that the pastry cream chills to room temperature at least before adding to the butter. Otherwise, the butter may melt and you'll be left with a slack mousseline cream
Ensure that the butter is softened but not melting: The butter should be soft enough to incorporate smoothly into the pastry cream, but it should not be melty. When you press a finger into it, it should leave an indent and be pliable.
Assembling the strawberry basil cake
Now it's time to bring all the components together for a show-stopping presentation! Because the edges of this cake are unfrosted, it makes assembling more straightforward.
Evenly divide your sponge cake into 2 even layers. Brush both layers with the strawberry basil syrup.
Place one sponge cake layer on a serving plate.
Spread a thin layer of basil mousseline cream and pipe larger dollops around the edge of the cake
Spread a thin layer of strawberry basil compote and fill the center with diced fresh strawberries
Top with the second sponge cake
Decorate the top with the remaining mousseline cream and diced strawberries
I think the cake tastes best if you chill for a few hours to help the flavors meld together, but you can also serve immediately.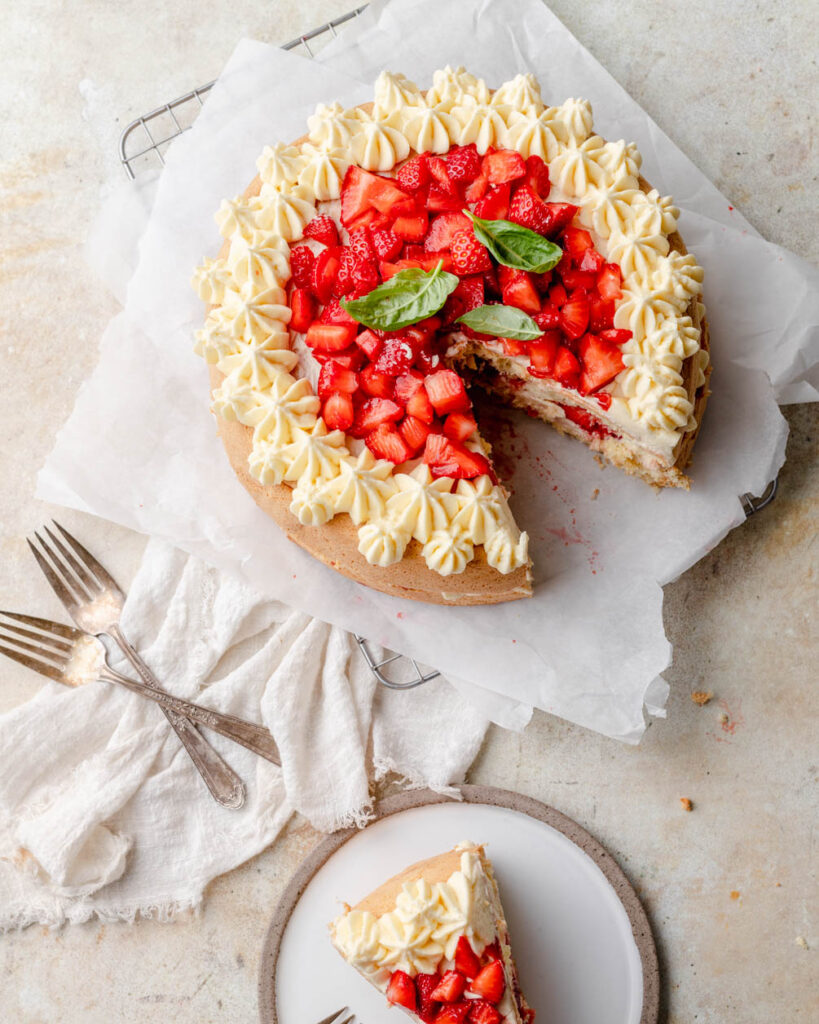 Other strawberry desserts to try
Ready to make this summer dessert cake? If you make this recipe, please let me know! I always love to see what my readers are baking. You can comment below or tag me on Instagram @halicopteraway.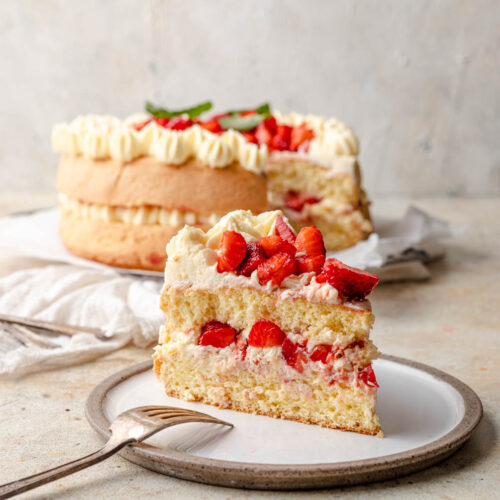 Strawberry basil sponge cake
Inspired by a French Fraisier cake, this delicious dessert features two layers of fluffy sponge cake, sandwiched with a luscious basil mousseline cream, tangy strawberry basil compote, and fresh strawberries. It's the perfect cake for summer!
Equipment
Nine inch pan – I use a spring form pan

Mixing bowls

Skillet or sauce pan

Hand or stand mixer

Piping bag and star tip (optional)
Ingredients
Sponge cake
1

cup (120g)

all purpose flour

2

tbsp (30g)

corn starch

1 1/4

tsp (5g)

baking powder

5

eggs, separated

3/4

cup (150g)

granulated sugar
Basil mousseline cream
2

cups (240g)

whole or 2% milk

3/4

tsp

vanilla extract

pinch of salt

5

basil leaves, chopped, or more to taste

2

egg yolks

1

tbsp (15g)

corn strach

1/4

cup (50g)

granulated sugar

1

tbsp

unsalted butter (for the pastry cream)

1

cup (236g)

unsalted butter, room temperature
Strawberry basil syrup + strawberry topping
1

pint

strawberries, diced

5 – 6

basil leaves, chopped, or more to taste

1/4

cup (50g)

granulated sugar

1/4

cup (50g)

water
Instructions
Make the sponge
Preheat your oven to 350°F and line a nine inch baking tin with parchment paper. Make sure the sides of the parchment paper are at least 3 inches wide in case he batter rises above the pan

In a bowl, mix together the flour, corn starch, and baking powder

Using a stand mixer fitted with a whisk attachment, whip the egg whites at medium speed until small bubbles form and they hold a soft peak. While continuing to whip, add 1/2 cup (100g) of the sugar a little at a time. Continue whipping until stiff peak forms

In a large bowl, whisk the egg yolks with the remaining 1/4 cup (50g) of sugar until thick and pale and the mixture falls off the whisk in ribbons

Fold the meringue into the egg yolks using a spatula. Do this in 3 parts and don't over-mix

Sift and fold in the dry ingredients into the egg mixture, again in 3 parts. Be careful not to over-mix and deflate the batter

Spread the batter in the baking pan. Place in the middle rack of the oven and bake for 20 – 22 minutes until lightly browned and a toothpick comes out clean

Remove from the oven and immediately take out of the pan. Place on a wire rack to cool
Make the basil mousseline cream (pastry cream)
In a skillet or sauce pan, heat the milk, vanilla extract, basil leaves, and salt to a low simmer. Remove from heat and let sit for 30 minutes to steep

In a medium bowl, whisk together the egg yolks, corn starch, and sugar until the mixture is pale and thick and falls of the whisk in ribbons

Slowly pour the hot milk into the egg yolks while whisking. Then transfer the whole mixture back into the pan. Heat on medium, whisking constantly, until the mixture thickens. Remove from heat and stir in the butter

Strain to remove the basil leaves and cover with cling wrap, making sure the wrap touches the surface of the cream to prevent a film from forming. Let cool completely
Make the strawberry basil syrup
In a small sauce pan, combine 1 cup of the diced strawberries, sugar, water, and basil leaves

Bring to a simmer on low-medium heat and heat until slightly thickened

Use a strainer to separate the strawberry basil compote and the syrup. Set aside and let both cool
Make the basil mousseline cream (combine pastry cream and butter)
Using a hand mixer or stand mixer fitted with a paddle attachment, beat the softened butter on medium speed until smooth.

While the mixer is running, slowly add the cooled pastry cream. Beat on medium speed until the cream is smooth
Assemble the cake
Cut the cooled sponge cake into 2 equal layers. Brush each layer with the strawberry basil syrup

Place one layer on a plate with the side with syrup facing up. Spread with a thin layer of mousseline cream. Pipe a thicker layer around the circumference

Spread the strawberry basil compote in the center and fill with half of the remaining diced strawberries. Cover with another thin layer of mousseline cream

Place the second layer of cake on top, with the side with syrup facing down. Decorate the top with the remaining mousseline cream and diced strawberries

Serve immediately or place in the fridge to chill for a few hours or overnight