Buttery homemade brioche buns are filled with a sweet lemon basil cheesecake center and topped with fresh strawberries. These mini pastries are perfect for summer.
Lemon, basil, and strawberry brioche buns, each filled with a luscious cream cheese filling – these are the pastry treats you need to celebrate summer.
We'll use a muffin tin to make these individually sized and oh so cute. But they're so delicious, you'll have trouble just eating one!
What make brioche different from most breads?
Brioche is a super enriched bread, meaning that it has fats added to the dough. Even among enriched breads, brioche is especially rich, full of butter, milk, and eggs that give it a distinct golden yellow color and buttery flavor.
All that extra fat can make brioche trickier to make than your average loaf for a number of reasons:
The fat inhibits gluten development. Gluten development provides texture and structure so bread can rise nice and tall. Fat prevents gluten strands from developing.
The fat makes the dough rise more slowly. Patience is key, especially during the first rise.
The fat makes the dough stickier and harder to handle. As a result, kneading and shaping the dough can be tricky.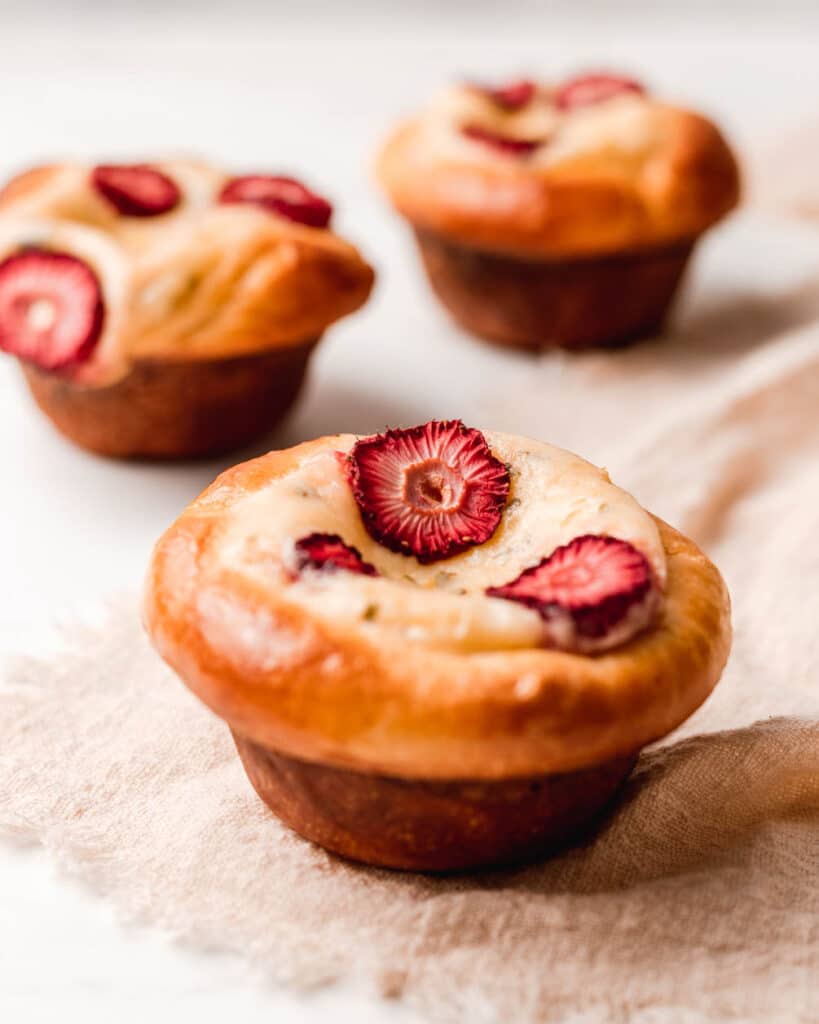 Tips for perfect brioche
While brioche requires some work, it's well worth the effort. This recipe will provide tips to help you make the best brioche with ease. If you are new to bread baking, I recommend reading my guide to enriched breads, which will walk you through the process end to end.
Here are some things to keep in mind overall:
Use the paddle attachment on your electric mixer rather than the dough hook. The paddle attachment is gentler and prevents gluten strands from ripping.
Knead until the dough passes the window pane test. The dough should be very silky and smooth. It's much easier to use a stand mixer, but it's also possible to knead by hand. It will just require patience, and you can expect the dough to be sticky.
Add the butter to the dough in pieces, after the other ingredients have been mixed for a few minutes. This allows the gluten to develop a bit before the fats are added in.
Place the dough in the fridge overnight. A slow rise helps build gluten and develops a richer flavor. The dough will also be easier to handle when it's chilled.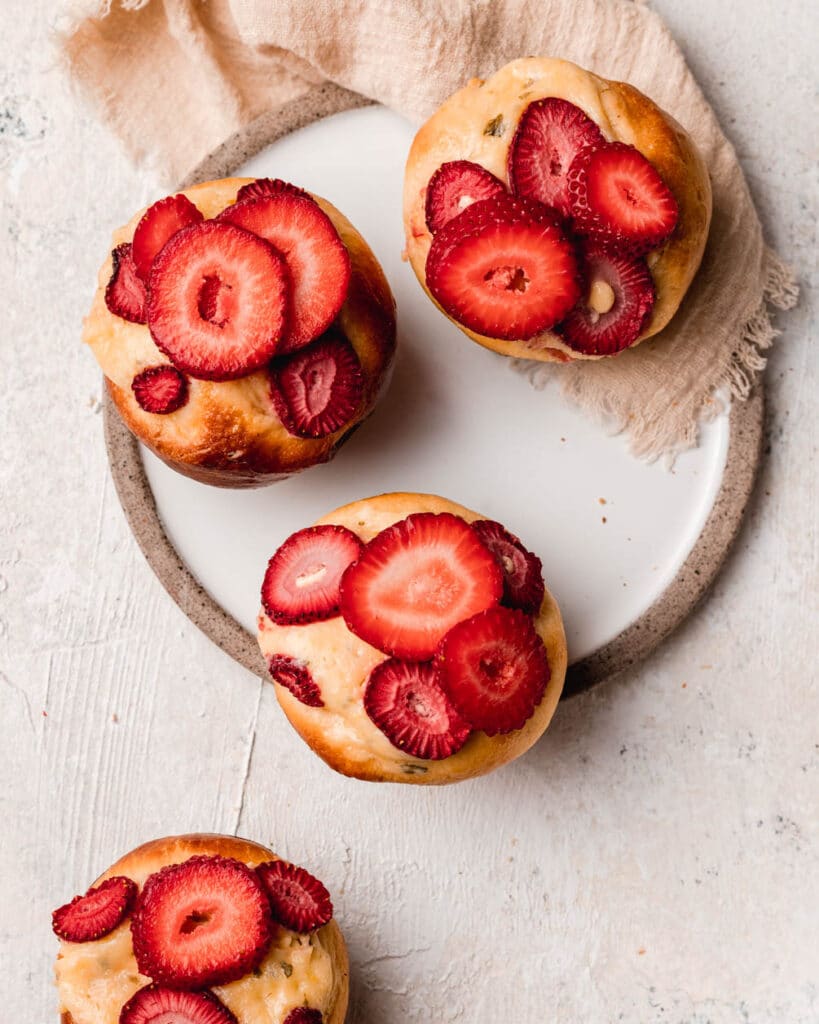 How to make a smooth cheesecake filling
What makes this brioche a creamy and delightful treat is the smooth cheesecake filling. I add lemon zest and chopped fresh basil for an extra burst of flavor.
The key to a silky smooth filling is to make sure your cream cheese is at room temperature and to scrape down the sides of the bowl frequently. 
Other sweet bread recipes to try:
If you make this recipe, please let me know! I always love to see what my readers are baking. You can comment below or tag me on Instagram @halicopteraway.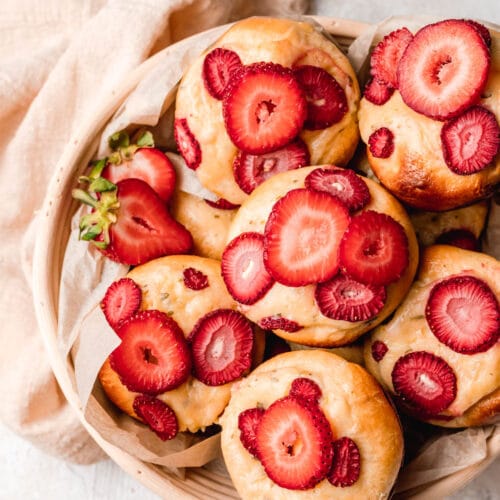 Strawberry cheesecake brioche buns
Buttery homemade brioche buns are filled with a sweet lemon basil cheesecake center and topped with fresh strawberries. These mini pastries are perfect for summer.
Equipment
Stand mixer

12 cup muffin tin
Ingredients
Brioche dough
1/3

cup (80g)

2% or whole milk, lukewarm

1 1/2

tsp

instant or active dry yeast

2 1/2

cups (300g)

all purpose flour

2

eggs + 1 egg yolk

2 1/2

tbsp (36g)

granulated sugar

1

tsp

salt

6 1/2

tbsp (90g)

unsalted butter, softened
Cream cheese filling
8

oz

cream cheese, softened

1

tsp

vanilla extract

1/2

tbsp

lemon juice

zest of 1 medium lemon

1/2

tbsp

fresh basil, chopped very fine

1

egg yolk

1/3

cup (67g)

granulated sugar
Topping
8

strawberries, sliced thin

1

egg white (you can use one from the yolks used earlier in the recipe)

1

tbsp

milk
Instructions
In the bowl of a stand mixer, add the lukewarm milk and yeast. Let sit for 5 – 10 min until frothy. If you don't see any signs of yeast activity, your yeast may be dead. Throw out and try again with fresh yeast.

Add the flour, eggs, egg yolk, sugar, and salt. Fit the stand mixer with a paddle attachment and mix on low speed for a few minutes until the dough has come together. While the stand mixer is running, add the softened butter in pieces, waiting in between each piece. Continue mixing the dough on low speed for 15 – 20 minutes until smooth and passes the window pane test.

Place in a lightly greased bowl and let rise for about 2 hours, until just doubled in size. The dough will rise very slowly.

Once the dough has risen, gently punch it down to release the air. Shape into a ball and place back in the bowl. Cover and place in the fridge to rise for at least 8 hours and up to 48 hours.

When you are ready to shape the dough, prepare the cheesecake filling. In a medium bowl, use a hand mixer or stand mixer fitted with paddle attachment to beat the softened cream cheese on medium speed. Add the vanilla, lemon juice, lemon zest, chopped basil, and egg yolk. Beat until incorporated, scraping down the sides of the bowl as needed. Add the sugar and beat until incorporated. Set aside.

Grease a 12 cup muffin tin. Remove the dough from the fridge. It should have risen slightly in the fridge. Place on a floured surface and gently knead a few times to release the air. The dough should feel very firm now. Divide into 12 equal pieces (about 51g each, if you want to be very precise). Roll each piece into a ball and use your hands to gently stretch each piece into a circle about 4 inches in diameter. Place each piece of dough into a muffin tin so that it forms a cup.

Divide the cheesecake filling evenly among the 12 pastries. There should be 1 – 2 tbsp of filling for each.

Let rise for another 30 minutes until the dough is puffy. When you press a finger in, it should gently rise back about halfway. If it comes back all the way, it needs more time. Towards the end of the rise, preheat the oven to 400°F.

Whisk together the egg white and milk to create an egg wash. Brush the edges of the pastries with the egg wash. Top the middle with sliced strawberries, pressing each slice firmly into the center. As the pastries bake, they will expand, and the strawberries will take up less room then you think they will.

Place the buns in the middle rack and bake for 18 – 20 minutes until light golden brown and they make a hollow noise when tapped. Be careful not to overbake, as this will dry out the pastries.

Remove from the oven and let cool for 10 minutes. Then, gently release from the tin.

Store leftover pastries at room temperature in an airtight container. Over time, the basil and lemon flavor will become more pronounced.