A sugared, crisped muffin top studded with sweet and crunchy nuts sits on a fluffy coffee cake base. Take a bite and be surprised by a warm burst of berries and melted cinnamon sugar.
As the days get shorter and the mornings get that chilly snap, it's hot beverage weather every day. I love starting my day with a hot cup of coffee and then nursing a steamy cup of tea in the afternoon. It warms me from the inside out and calms me down as we enter the crazy and wonderful holiday season. I also love that hot beverage weather = baked goods to nibble on with hot beverages. And what is more perfect that a coffee cake muffin? The purpose is in the name! It's a wonderful, moist muffin with a sweetness that perfectly balances out a mug of coffee or tea.
If you want a more summery bake, you can check out my Coffee cake blueberry muffins, which uses the same base batter but is filled with double layers of fresh blueberries. Sadly, I think you'll be hard-pressed to find tasty fresh blueberries in store this time of year, which led to the creation of this new version. The key behind these Nuts & berries coffee cake muffins is that it uses ingredients that store well in your kitchen – namely, frozen berries. It uses ingredients that are kitchen staples. While buttermilk and sour cream can really take your coffee cake to the next level, I opt to keep things simple for this recipe. Ideally, you don't have to run to the store to pull together these muffins!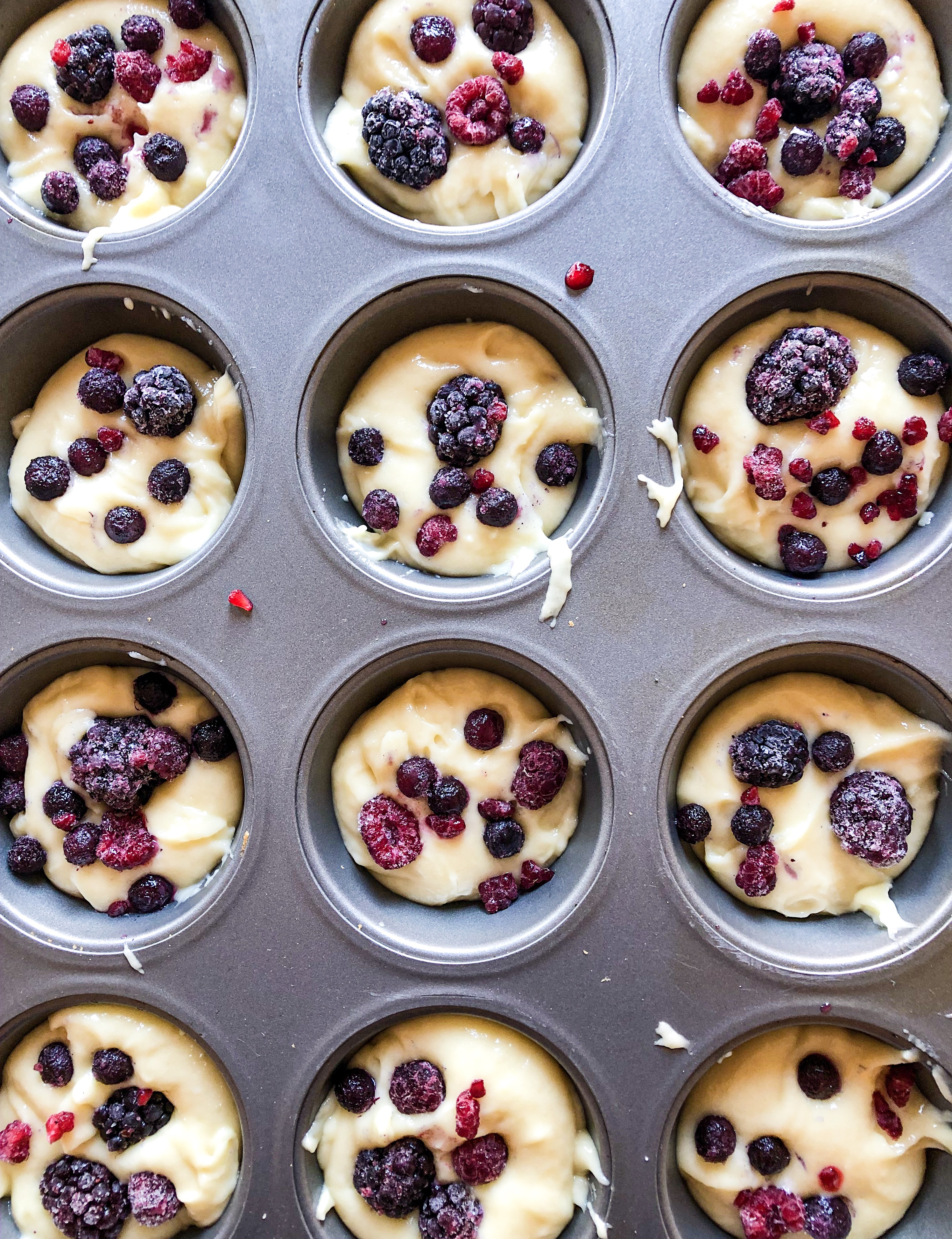 Some tips to get wonderfully puffy and moist muffins:
Don't overmix your batter – this will make your muffins dense and tight
Don't let the batter sit – the baking powder will start reacting as soon as it gets wet. If you let the batter sit too long, it won't react as much in the oven, and your muffins will not rise properly.
Be generous with the cinnamon sugar – the batter itself is not very sweet, so the cinnamon sugar needs to carry its weight in flavor. I'd err on sprinkling more cinnamon sugar than you think you need! You can even double the amount I suggest in the recipe if you want an extra level of sweetness.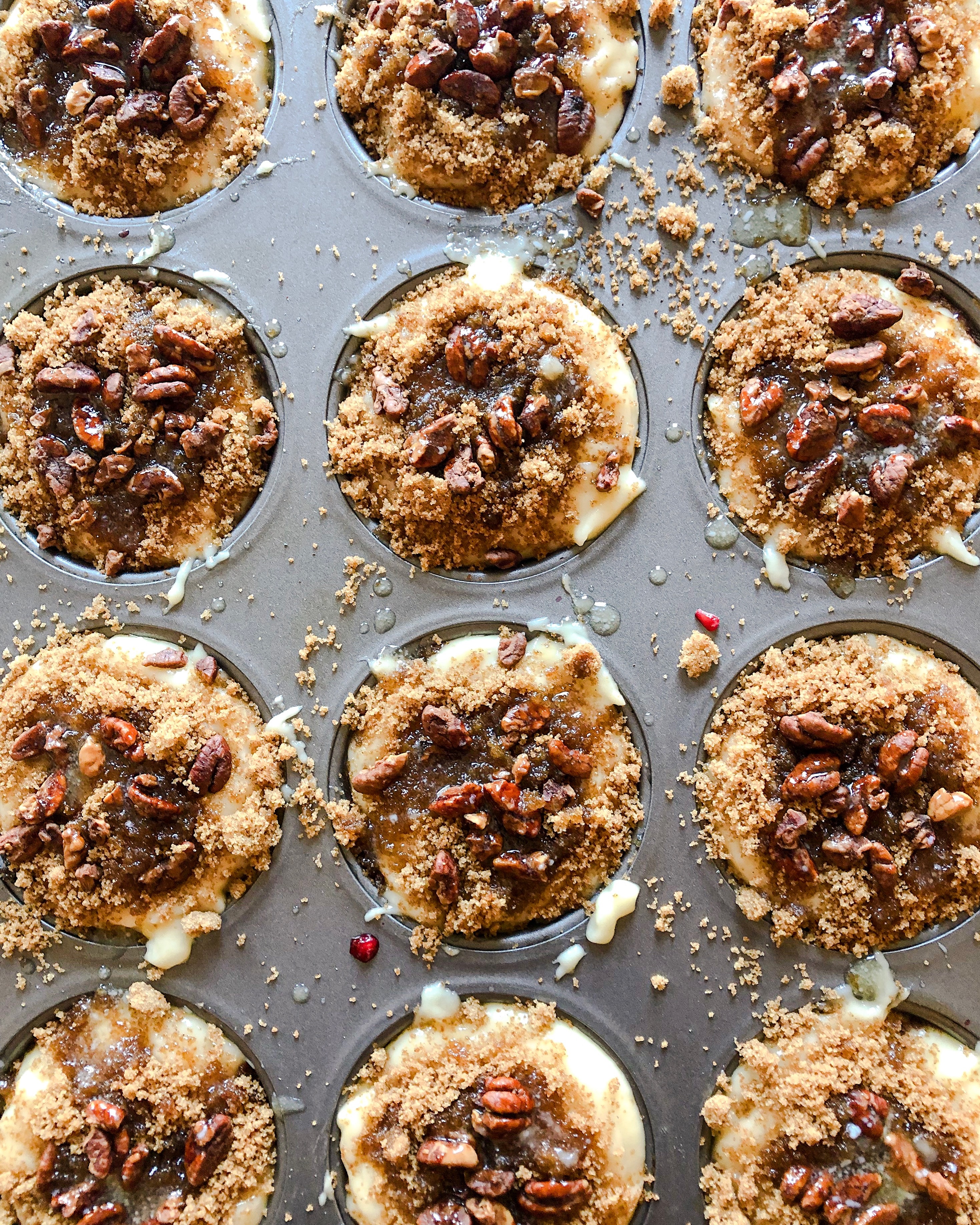 Nuts & berries coffee cake muffins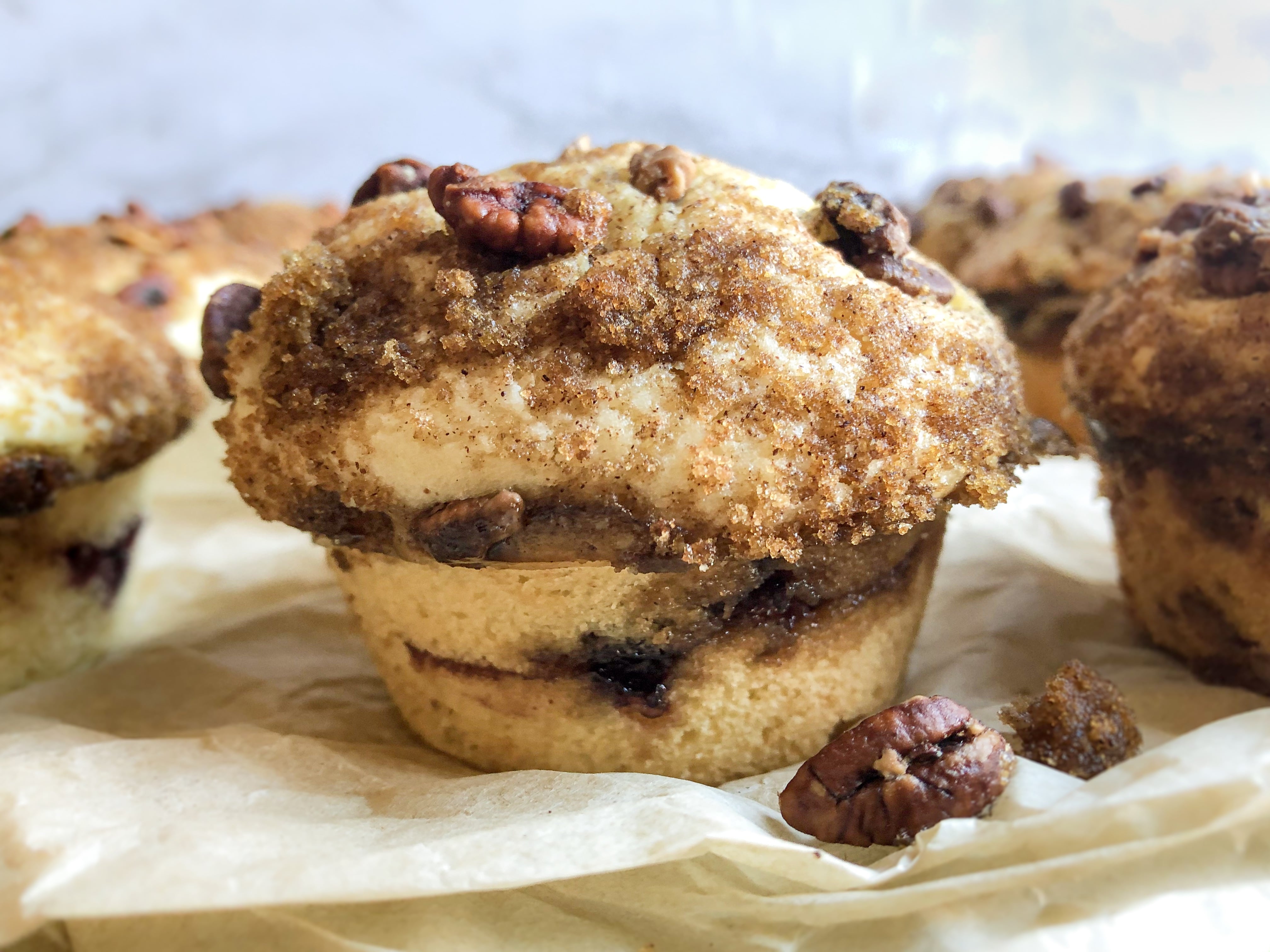 Prep time: 20 minutes
Cook time: 25-30 minutes
Servings: 12 muffins
Ingredients
For batter:
1 cup oil
2 eggs, beaten
1 tsp vanilla (optional)
1 cup milk or milk substitute
3/4 cup granulated sugar
3 cups flour
1 tbsp baking powder
1/2 tsp salt
For crumble and toppings:
1 cup brown sugar
1 tsp cinnamon
1/4 cup melted margarine or butter
1 cup frozen mixed berries (raspberries, blueberries, blackberries)
1/2 cup chopped nuts (I recommend pecans or walnuts!)
Directions
Preheat oven to 350 degrees Fahrenheit and grease or line a standard muffin tin
Combine brown sugar and cinnamon in a small bowl to create crumble
Mix wet ingredients – oil, milk, eggs, vanilla – in a medium mixing bowl
Mix dry ingredients – flour, sugar, salt, baking powder – in a large mixing bowl
Pour wet ingredients into dry ingredients and whisk until combined. The batter should be quite sticky
Fill each muffin cup halfway, then place 3-5 frozen berries on top. Push the berries into the batter.
Sprinkle a very generous layer of cinnamon sugar crumble
Fill muffin cup up to the top, then press a small spoonful of chopped nuts on top.
Sprinkle another generous layer of cinnamon sugar crumble. Drizzle melted margarine on top of each muffin until cinnamon sugar is saturated.
Bake for 25-30 minutes until light golden and toothpick comes out clean (there may be some berry juice), then remove from oven and let cool
I love how fantastically puffy these muffins are when they come out of the oven! And the berries inside are such a wonderful hidden surprise – a bit of summer saved up in a fall muffin.