Tagalongs (known as Peanut Butter Patties in some parts of the US), are my absolute favorite type of Girl Scout cookie. Buttery shortbread cookie, cream peanut butter, and rich chocolate is a combination that is hard to resist. Often overshadowed by Samoas or Thin Mints, Tagalongs are a highly underrated cookie. So around this time of year, when I see a Girl Scout with outside a grocery store selling their delicious cookies, I simply have to grab a box of Tagalongs. After all, there was a time when I was a Girl Scout whose life mission was to sell as many cookies as possible (my record was 189 boxes).
But eventually Girl Scout cookie season will end, and there will be no more Tagalongs to be had – unless, you learn how to make your own! My homemade Tagalongs start with a crisp butter cookie base that is topped with a swirl of peanut butter and then dipped in warm, melty dark chocolate. They are a little time-consuming to make, but I'm proud to say that they taste like the delicious, less hydrogenated older sister to the Girl Scout Tagalong.
For the shortbread base, I modified this recipe: https://www.foodnetwork.com/recipes/ina-garten/shortbread-cookies-recipe-1945855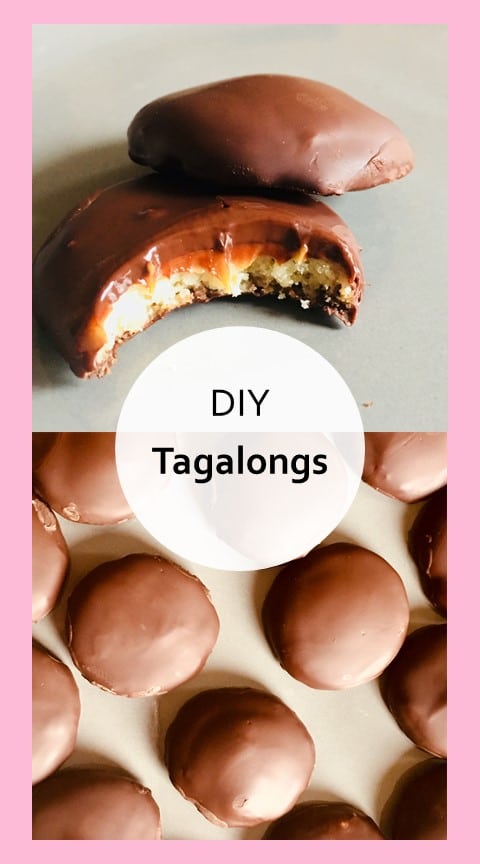 Homemade Girl Scout Tagalongs
Makes 50 cookies. The cookies are a little smaller than a normal Tagalong. A larger cookie cutter (1.5-2in diameter) will yield approximately 25 cookies.
Ingredients
1 1/2 stick unsalted butter, room temperature
1/2 cup granulated sugar
1/2 teaspoon vanilla extract
1 3/4 cups all-purpose flour
1/4 teaspoon salt
1/2 cup creamy peanut butter
200 grams semisweet chocolate
Shortbread base
Preheat oven to 350 degrees F
Make sure the butter is at room temperature and quite soft – otherwise your dough will not combine correctly. Mix the butter and sugar until combined. Add vanilla.
Sift together flour and salt and add to butter, sugar, and vanilla mixture.
Mix on low speed until dough comes together
Place on surface dusted with flour and shape into flat rectangle
Wrap in plastic warp and chill for 30 minutes – 1 hour
Flour surface and rolling pin. Roll dough 1/2-inch thick. Cut with a round cutter that is 1 inch in diameter – I found that an olive oil cap worked perfectly.
Place on ungreased baking sheet and bake for 7-9 minutes until edges begin to brown.
While cookies are warm, gently press your thumb into the center to form a shallow indent. Allow cookies to completely cool.
Peanut butter and chocolate topping
Melt chocolate by placing a heat-safe bowl over a pot of steaming water, and placing the chocolate in the bowl. The steam will warm the bowl and melt the chocolate without burning it.
After the cookies are completely cool, place a thumb-size scoop of peanut butter in the indent, and smooth over into a small dome. I used a good old-fashioned butter knife, but you can also pipe in the peanut butter.
Dip each cookie in the melted chocolate. Use a fork to move the cookie onto a parchment sheet to harden.
Chill cookies for 20 minute until chocolate has hardened.
Helpful tips
Make sure the butter is soft and at room temperature, otherwise the cookie dough will not come together
Make sure to chill the dough for a sufficient amount of time, or it will be difficult to work with
The cookies will spread a little bit in the oven
Feel free to adjust how much peanut butter you add depending on your preference
These cookies came out absolutely delicious and were a huge hit with my house mates. I can't wait to make the again!