Homemade vanilla whipped cream mixed with fresh strawberry slices top off a light, crisp pancake. This breakfast delight is infused with a subtle sweetness and is perfect for a Mother's Day brunch or to start off a sunny spring morning.
There are two ways to make a Dutch baby – one involves finding a consenting adult from the Netherlands. The other just needs flour, sugar, butter, and a cast iron skillet.
Dutch babies, or German pancakes, are something of a kitchen miracle. You throw together some everyday pancake ingredients, stick the very unassuming mixture in the oven and then poof! By some kitchen miracle, the batter puffs up into a gorgeous, impressive pancake with high rising, crispy edges. Unlike regular pancakes, Dutch babies do not need any supervision. While the oven magic is happening, you can read a book, do some Pilates, clean your apartment…. or whip up some fresh cream and strawberries to top of your creation!
This recipe is so simple to make and tastes like a fresh spring morning – each bite will make you think of grassy green fields dotted with daises, clear blue skies arching overhead, and cow bells gently ringing in the distance. Yup, that good.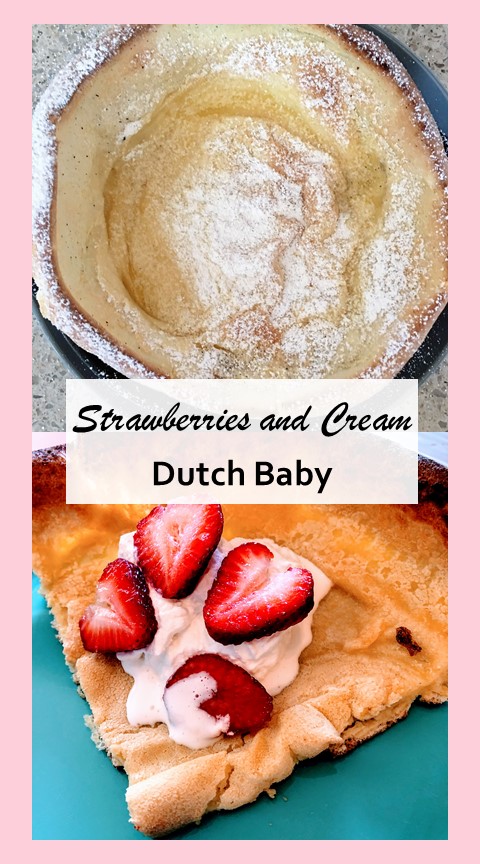 Strawberries and Cream Dutch Baby
Servings: 2-3
Time: 40 minutes
Ingredients
Dutch Baby
3 large eggs
1 1/2 tbsp granulated sugar
Pinch of salt
3/4 cup milk
2 tsp vanilla extract
3/4 cup all purpose flour
1 tbsp butter (for melting)
2 tbsp butter
Topping
1 cup heavy whipping cream
1 tsp vanilla
2 tsp granulated sugar
1/2 lb strawberries
Powdered sugar (optional)
Directions
Dutch Baby
Preheat oven to 400F
Gently warm milk and melt butter together in a skillet or in microwave. The milk should be warm but not hot, and cool enough to comfortably dip your finger in.
Combine eggs, sugar, salt, milk, butter, vanilla, and flour together in a medium mixing bowl. Whisk thoroughly until batter is smooth and free of lumps.
Heat remaining butter in a 12 – 15 inch cast iron skillet over the stove.
Quickly pour batter into hot skillet and place in oven.
Bake for 25-30 min. The pancake will be ready when the sides have puffed up, melted butter has been absorbed, and the whole pancake is a soft golden brown.
Topping
Wash and slice strawberries
Combine heaving whipping cream, vanilla, and sugar in a medium mixing bowl. Using an electronic hand mixer or a whisk, beat the cream until it thickens and has a stiff consistency.
Serving
Dust pancake with powdered sugar after removing from the oven
Serve warm with the whipped cream and strawberries on the side. If you serve directly with the cream on top, it will melt.
The Dutch baby also tastes great with a warm Healthy Berry Compote, which is a dairy-free alternative to strawberries and cream. So go forth and make your Dutch baby – and enjoy a magical start to your morning 🙂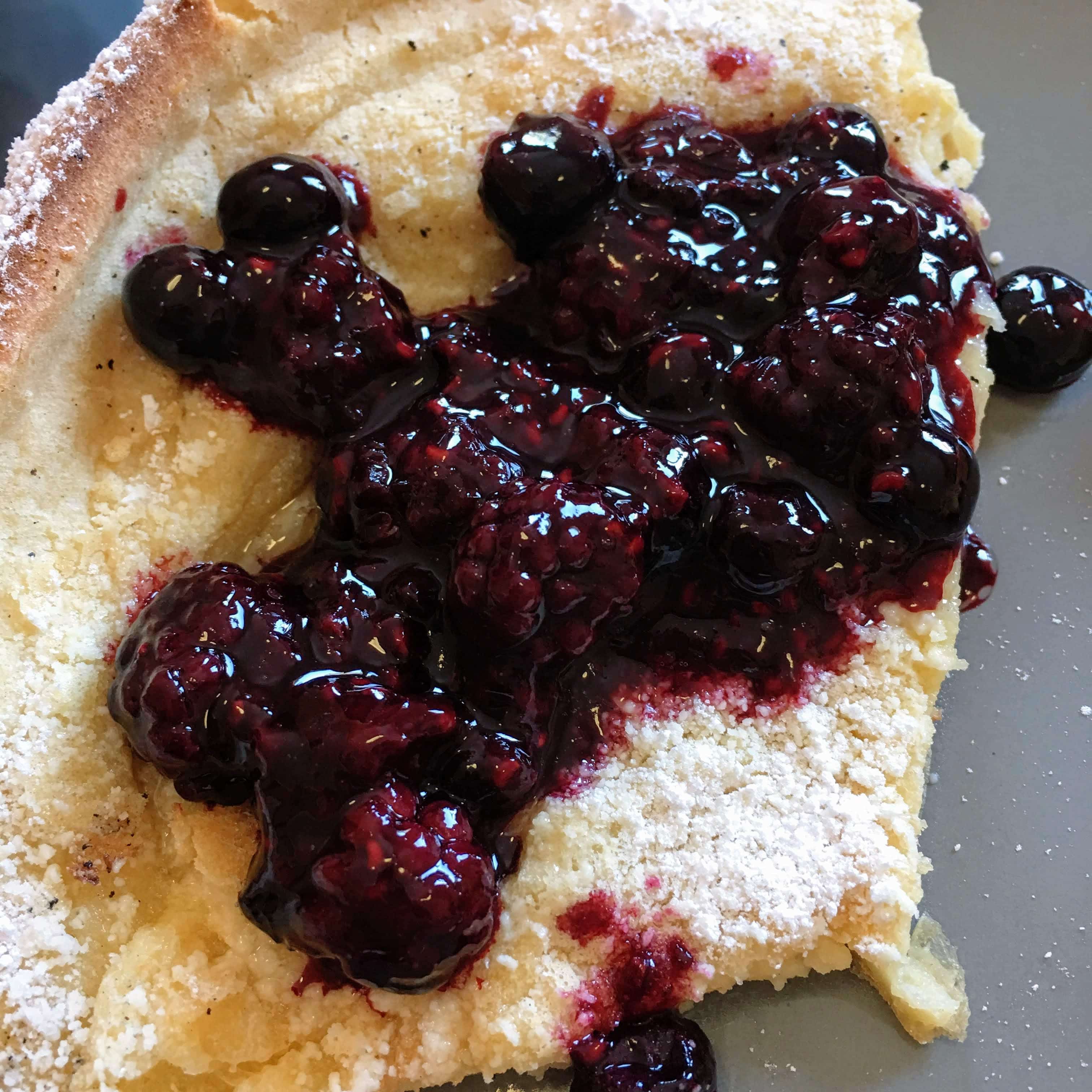 Sharing this to Fiesta Friday, co-hosted this week by The Not So Creative Cook and Life Diet Health!