Juicy, sweetened tomatoes blend seamlessly with fluffy scrambled eggs to create a colorful and flavorful dish. This healthy and satisfying stir fry brings out the tang of fresh tomatoes with just a dash of sugar.
Working a full day and cooking for yourself is hard work, but working a full day and cooking for an entire family is superhero level work. Tomato and egg stir fry will always hold a place in my heart as my dad's superhero recipe. It's a traditional Chinese dish that he would pull together quickly after a long day at the office, and I would gobble it down with big spoonfuls of fluffy white rice. I would love to pick out the tasty bits of eggs, and you'll see this penchant reflected in the generous helping of eggs in my recipe.
Now that I'm older, working crazy hours, and trying to feed myself a balanced diet, this stir fry dish is my savior recipe. It's crazy cheap (eggs… the most affordable protein of them all), takes less than 15 minutes to prep and cook, and is nutritionally balanced. Most importantly – every bite tastes like home.
The key is to cook the tomatoes until the juice flows out – this will create the tangy and flavorful sauce for the eggs.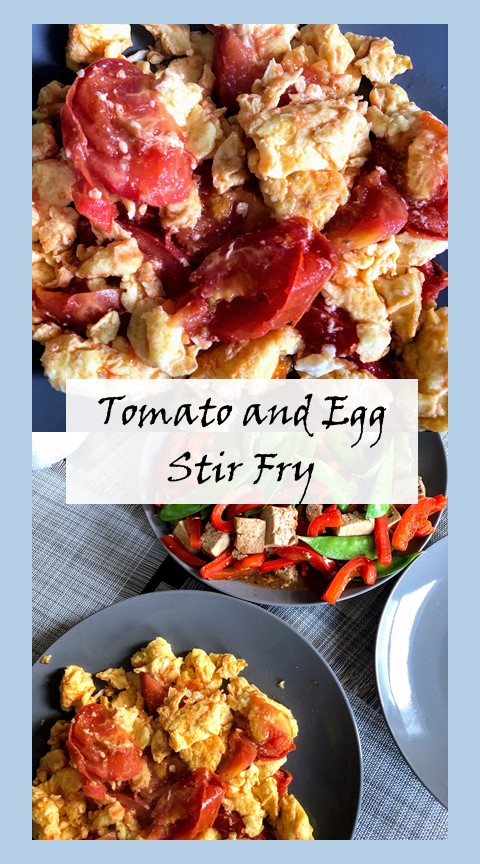 Tomato and Egg Stir Fry
Servings: 2
Prep time: 15 minutes
Ingredients
1 medium tomato
4 large eggs
2 tsp sugar
Salt to taste
1 tbsp vegetable oil
2 tbsp water
Directions
Slice tomato into 8-10 slices depending on the size.
Beat the eggs and flavor with salt. Set aside.
Lightly grease a frying pan with vegetable oil and heat over high until the pan is hot. Scramble the eggs on high heat and remove from stove just as the eggs begin to set. They should still be a little runny.
Grease a frying pan with remaining vegetable oil and heat over high until the pan is hot. Place tomato slices into pan and cook on high for 1-2 minutes.
Salt tomatoes to taste and add sugar and water. Continue stir frying tomatoes on high until they soften and juice seeps into the pan. If the juice is not releasing, lightly press on the tomato slices. This should take another 2-3 minutes.
Add the soft scrambled eggs and mix vigorously with the tomatoes, using the edge of your spatula to cut the eggs into smaller pieces. Mix for 1 minute until eggs are coated in the sauce.
I highly recommend that you prepare this stir fry along side a cup of rice for the perfect well-rounded meal. I also matched this with my Colorful Tofu and Vegetable Stir Fry to create a complete meal for two. What kind of foods do you guys like to make that remind you of home?