Over the past few years, the matcha trend has taken the world by storm. But if you love matcha treats, there's no place like Japan to indulge yourself in soft serve, pastries, and sweets of all kinds.
If you've been following along for the past few weeks, you'll know that I've been hopping around the world, with an extended 2 week stay in Japan. As a girl who loves to eat, travel, and travel to eat, Japan is a dream where I can visit beautiful places and fuel my exploring with delicious food. One of my favorite obsessions is matcha-flavored sweets. The slightly bitter tea flavor perfectly balances a wide variety of sweet and creamy desserts that you just can't find outside of Japan.
Other must-do activities in Japan:
While there are countless places to try matcha desserts, in my opinion these are some of the best matcha desserts to try in Japan. If you visit any of these places, let me know in the comments below or tag me on Instagram @halicopteraway!
Best matcha desserts to try in Japan
1. Matcha soft serve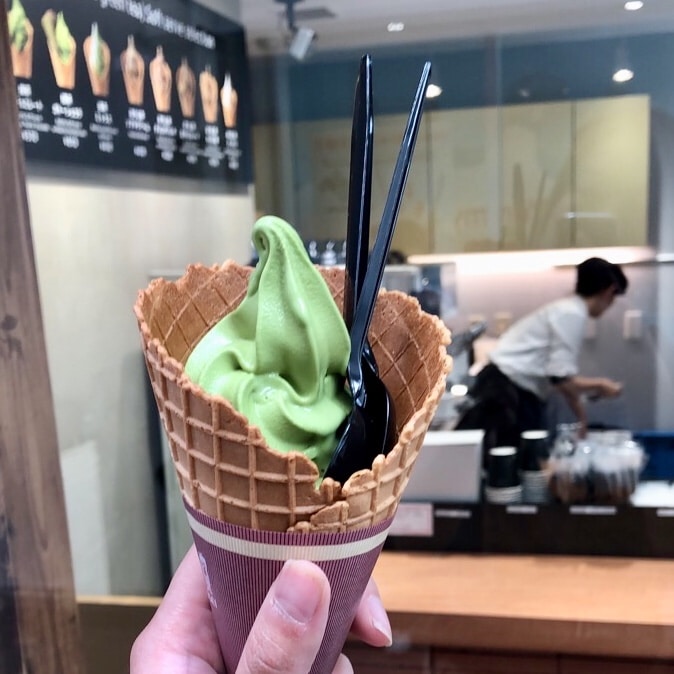 The original, the queen, the must-try matcha dessert that luckily can be found on every street corner. A good matcha soft serve is rich and creamy with a full-bodied, slightly bitter matcha flavor. It's iconic swirl is beautiful and highly picturesque as well.
Where to find: My favorite places for soft serve are Nana's and Maccha House, brands that can be found in major cities throughout Japan.
2. Matcha parfait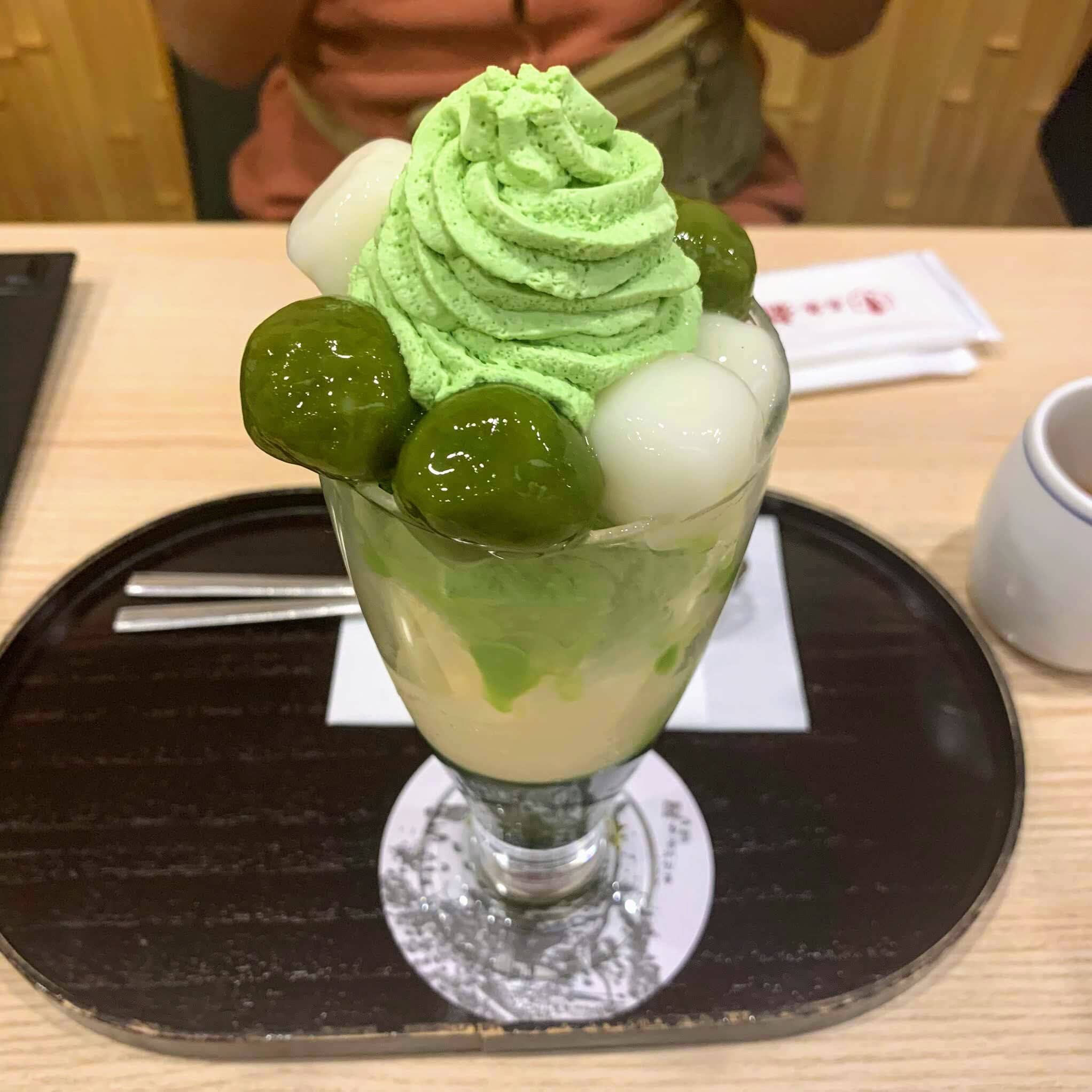 Do you like matcha soft serve but just wish you could have even MORE matcha? Then you'll love a matcha parfait, which overloads soft serve with matcha chiffon cake, matcha jelly, and matcha whipped cream. In case that's not enough, they often come with red bean and mocha as well.
Where to find: Maccha House and Tsujiri Tea House make excellent parfaits!
3. Matcha float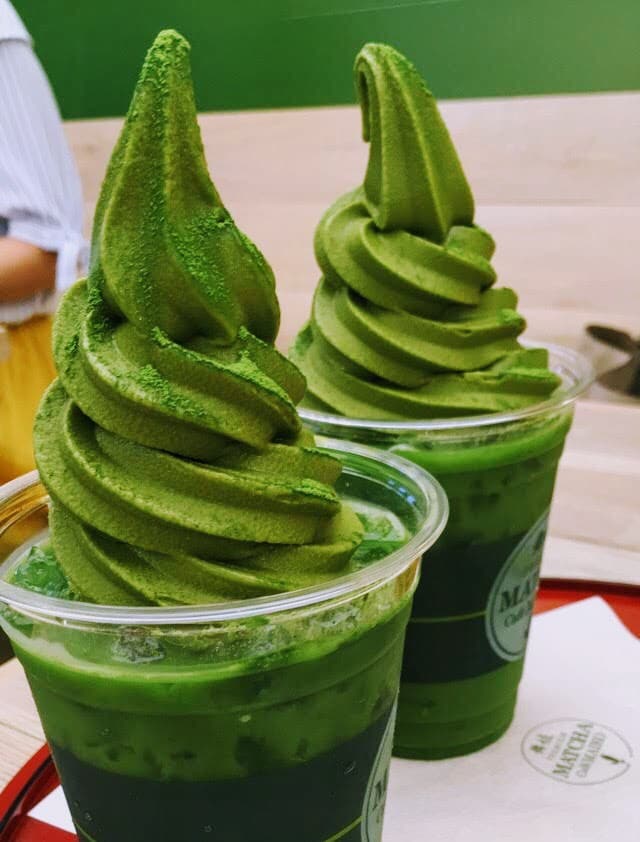 What if you want your matcha soft serve… to be floating in more matcha? That's where the matcha float comes in. Get a swirl of beautiful, creamy matcha in an iced matcha beverage. The soft serve slowly melts and adds a creamy touch to the tea.
Where to find: Nana's and Matcha Cafe Maiko plus any other matcha shop will have this
4. Matcha gelato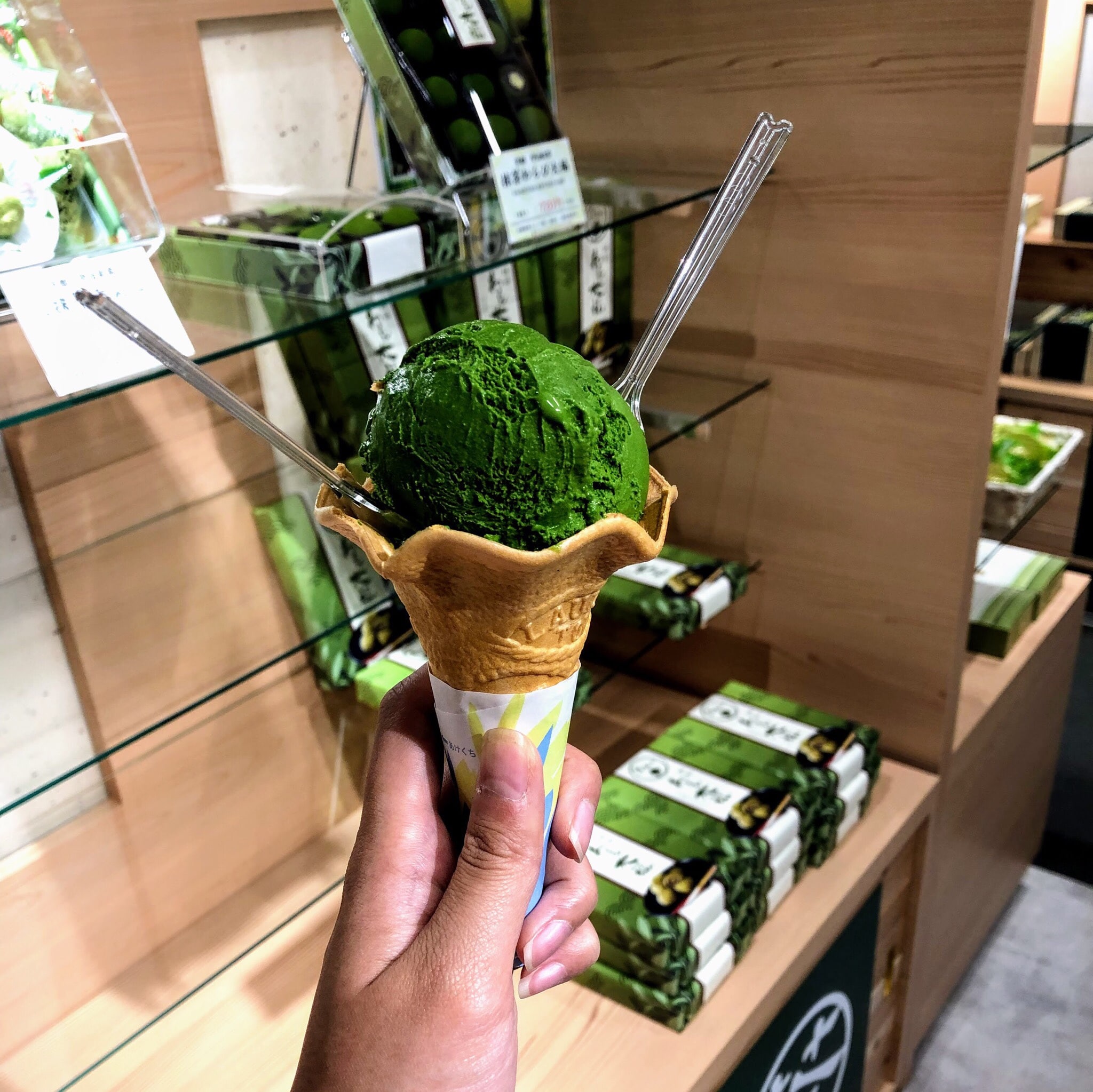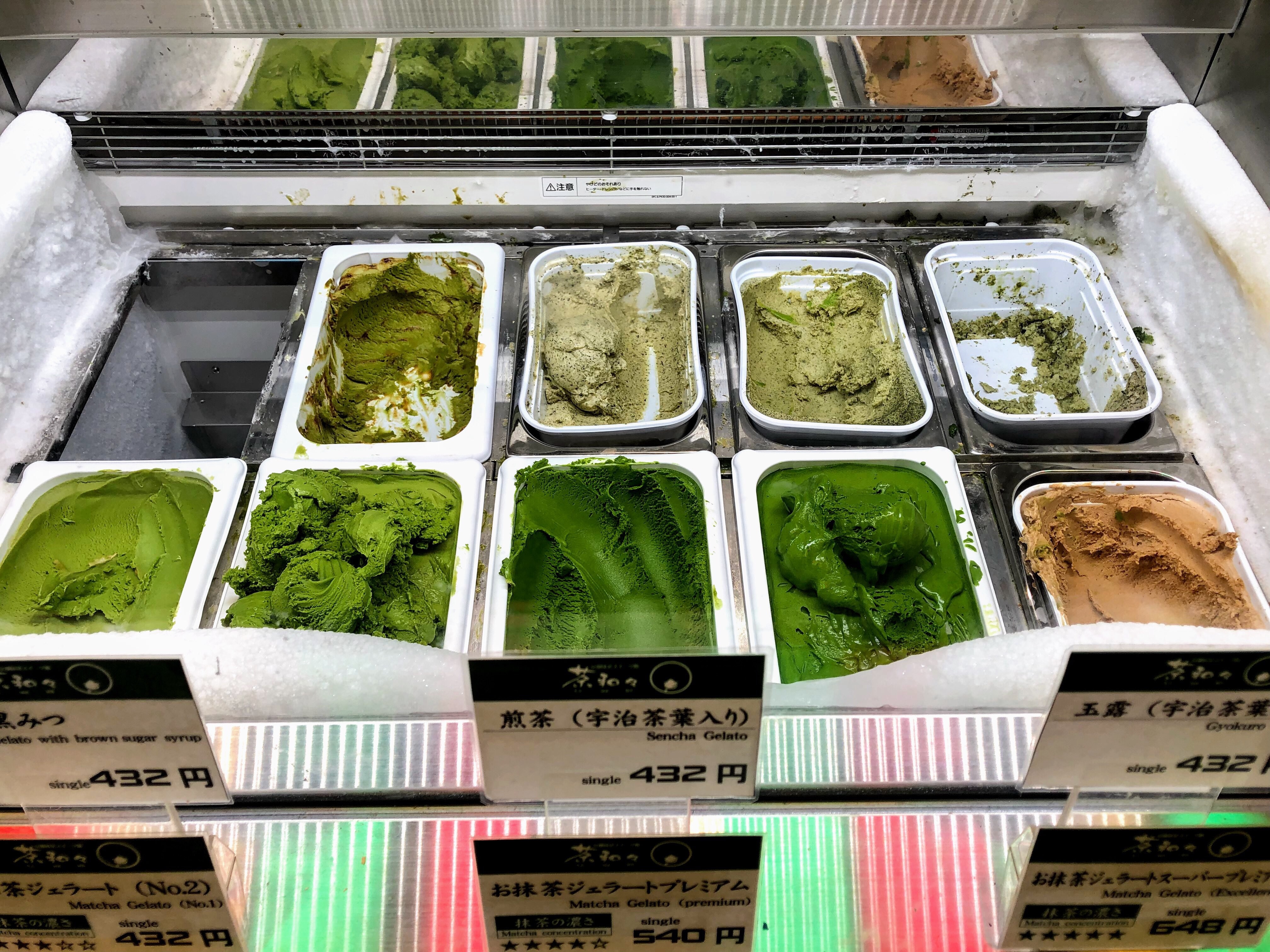 If you're tired of eating creamy soft serve, level up with matcha gelato. The thick, rich flavor of matcha is far more prominent. Find a shop which has levelsof gelato, from mild to very strong. The mild is sweet and creamy with just a hint of matcha, while the very strong is so bitter some people can't even handle it!
Where to find: Suzukien Asakusa is famous for 7 levels of matcha gelato
5. Matcha jelly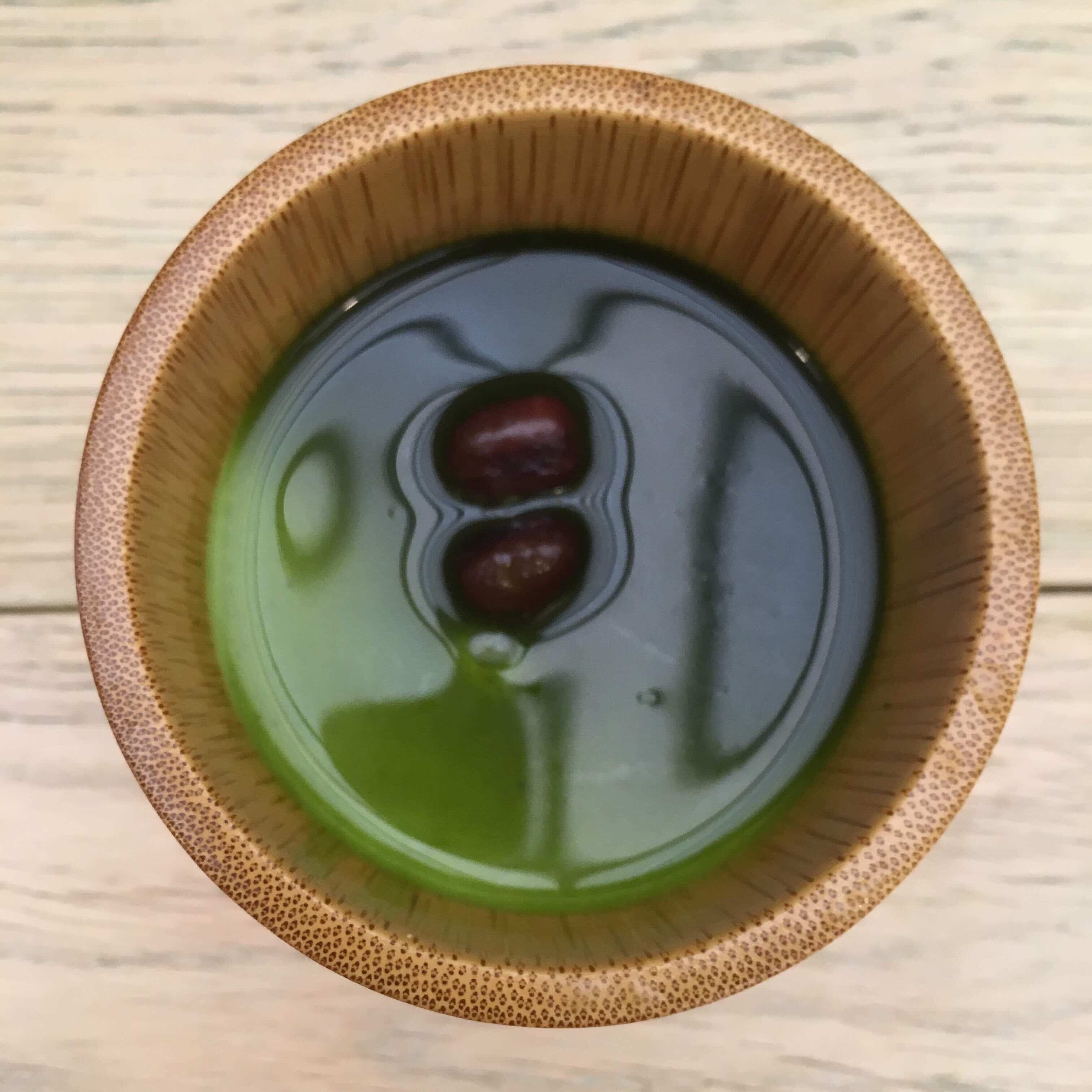 Say goodbye to dairy and enjoy matcha jelly, a soft, cool treat that is perfect for a hot day in Japan. A smooth and reflective surface dotted with sweet azuki beans makes this a beautiful as well as delicious dessert.
Where to find: Matcha Cafe Maiko has a matcha tea and jelly set
6. Matcha cheese tart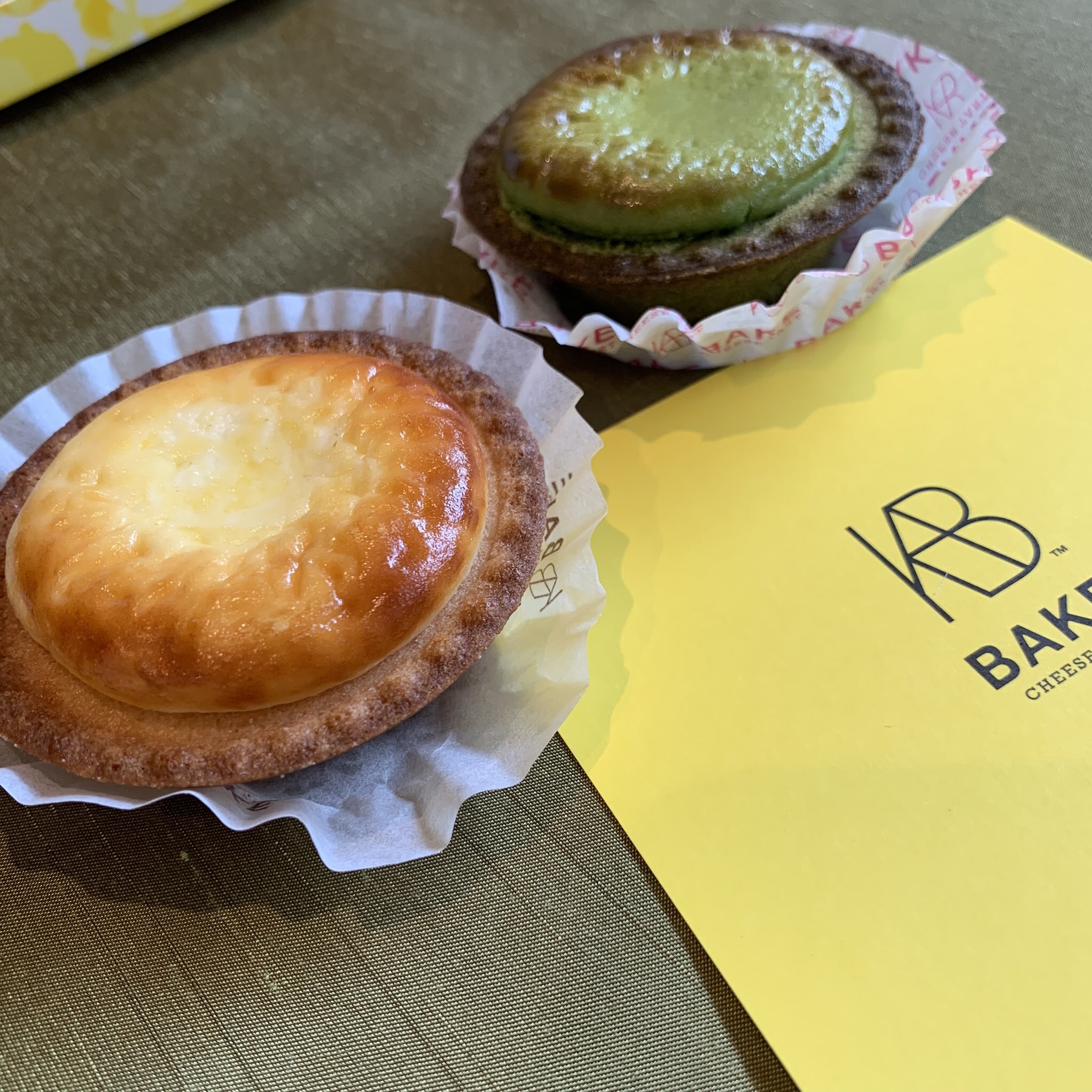 First, if you haven't had just a normal Japanese cheese tart, you must try one of these heavenly tarts. They have a cheesecake-like filling that is soft and a little runny with a crisp, buttery shell. It's hard to describe just how good these are. Then add a pinch of matcha for that classic slightly bitter flavor, and you'll never forget your first bite.
Where to find: BAKE Cheese Tart or Pablo's
7. Matcha donut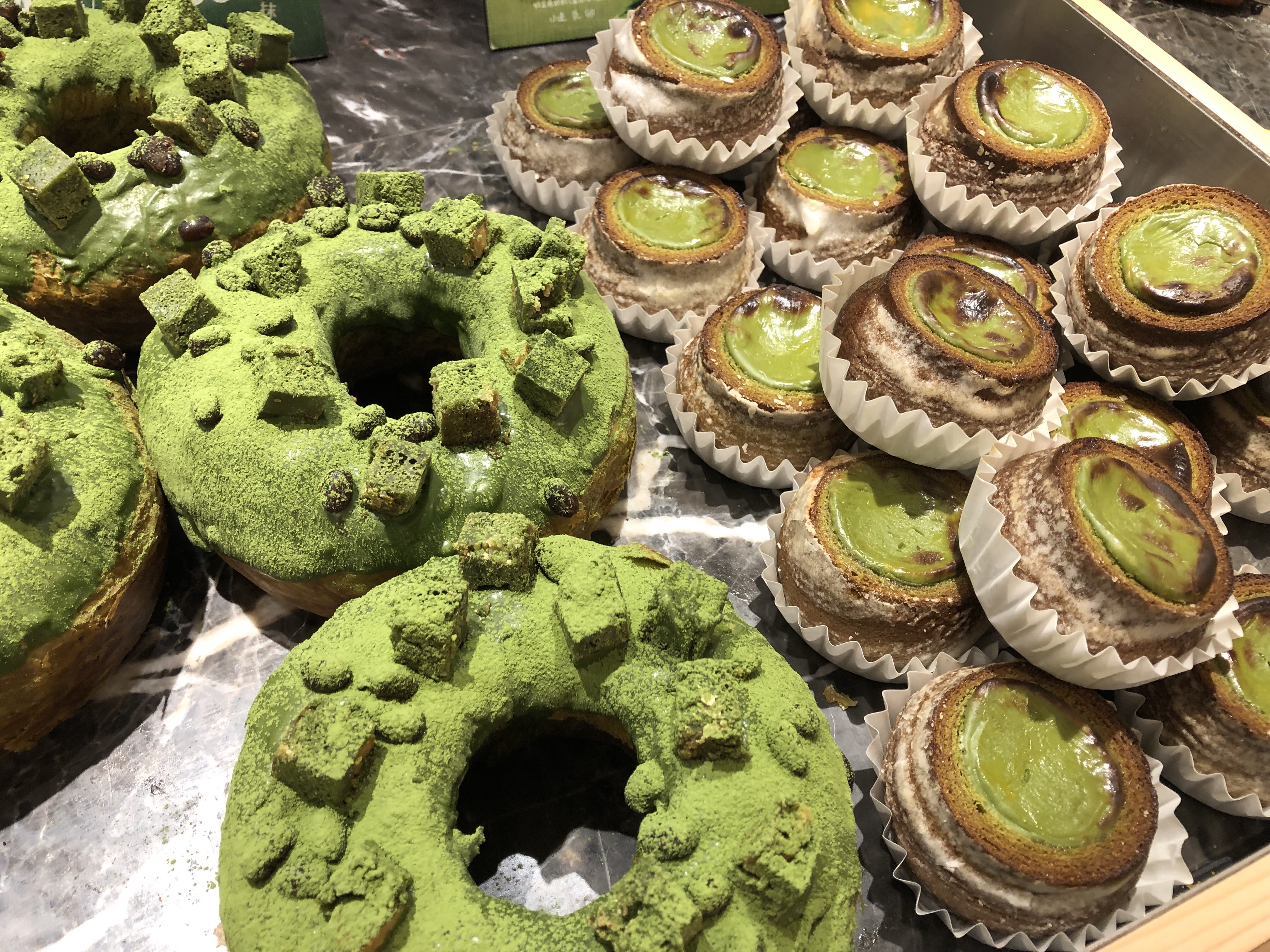 Take a classic American treat and top it off with some sweet matcha, and you can't go wrong.
Where to find: Mister Donut
8. Matcha tiramisu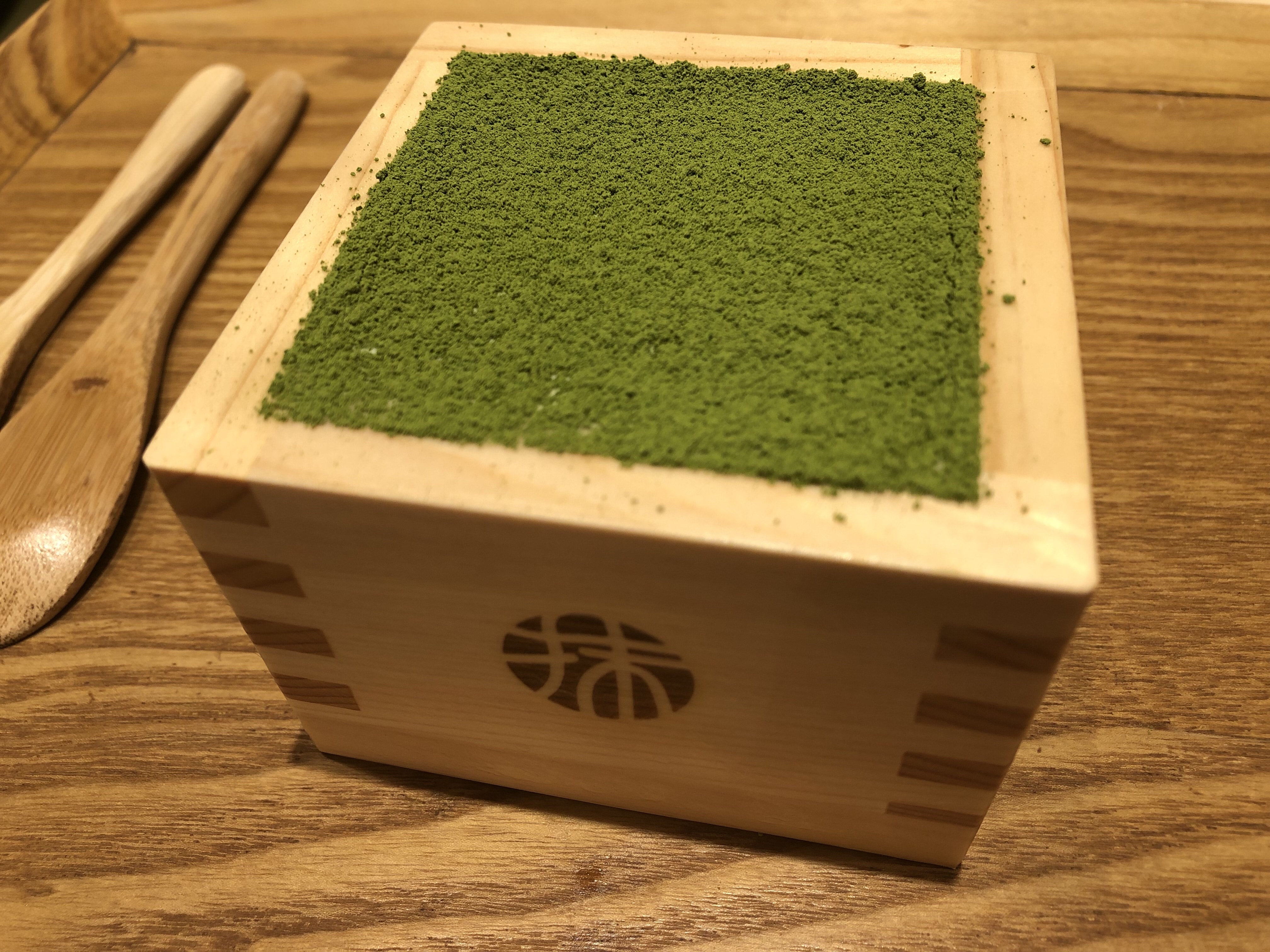 Enjoy a Japanese twist on an Italian dessert. The lady fingers in this dessert are soaked in sake instead of rum, and the espresso powder is replaced with bitter matcha power. The whole treat is packed in a beautiful wooden box. Because of the box, these little cakes can only be eaten in the restaurant.
Where to find: Maccha House
9. Matcha Kit Kat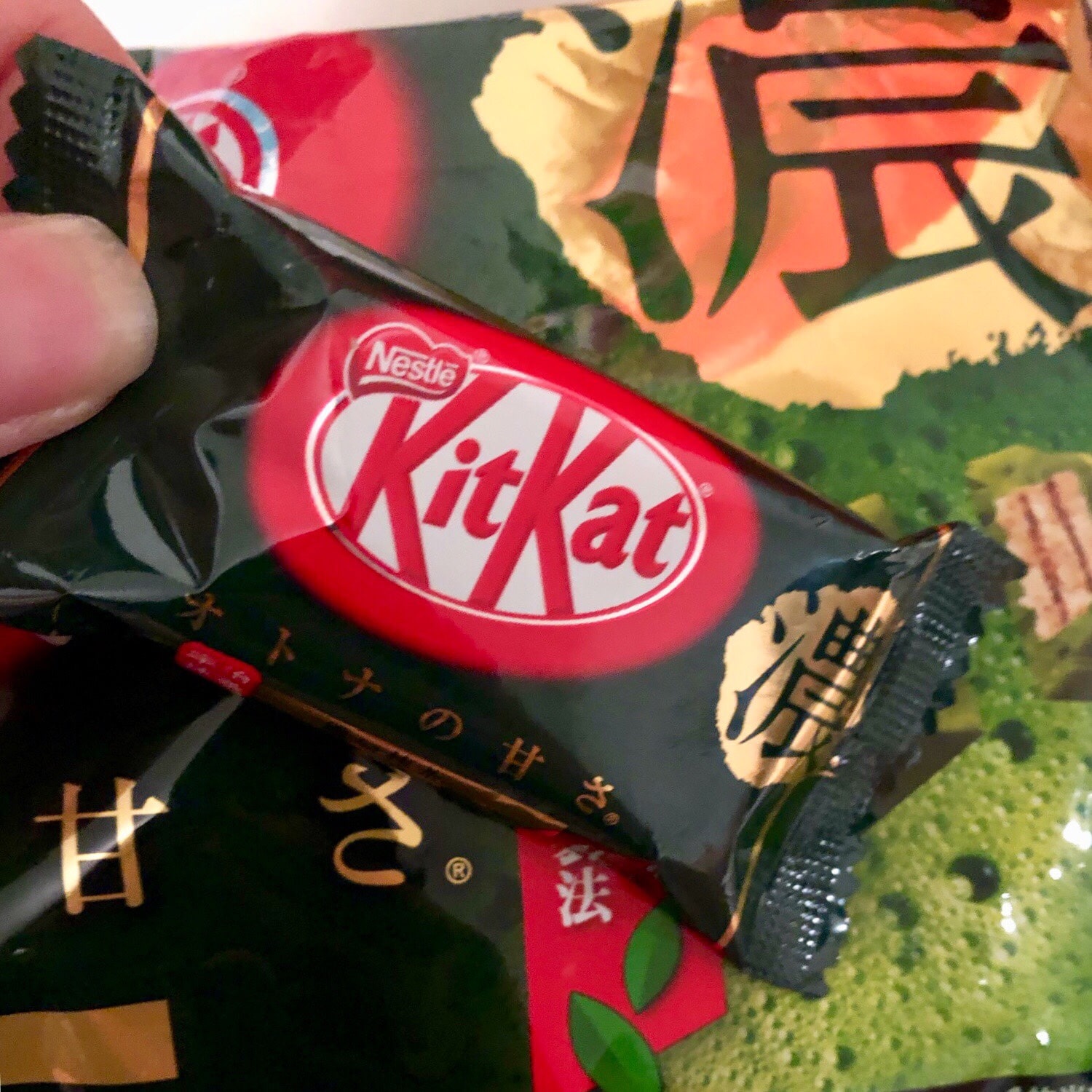 Japan takes Kit Kats to the next level, with flavors ranging from banana to sake. There are two types of matcha Kit Kats: light matcha, and dark matcha. You can exclusively find the dark Uji Matcha Kit Kats in Japan, and they are the best souvenir to bring back. At 300 yen a bag, they're a true bargain.
Where to find: literally any convenience store, or drop by a flagship Kit Kat store in Tokyo or Osaka
10. Melon pan matcha soft serve sandwich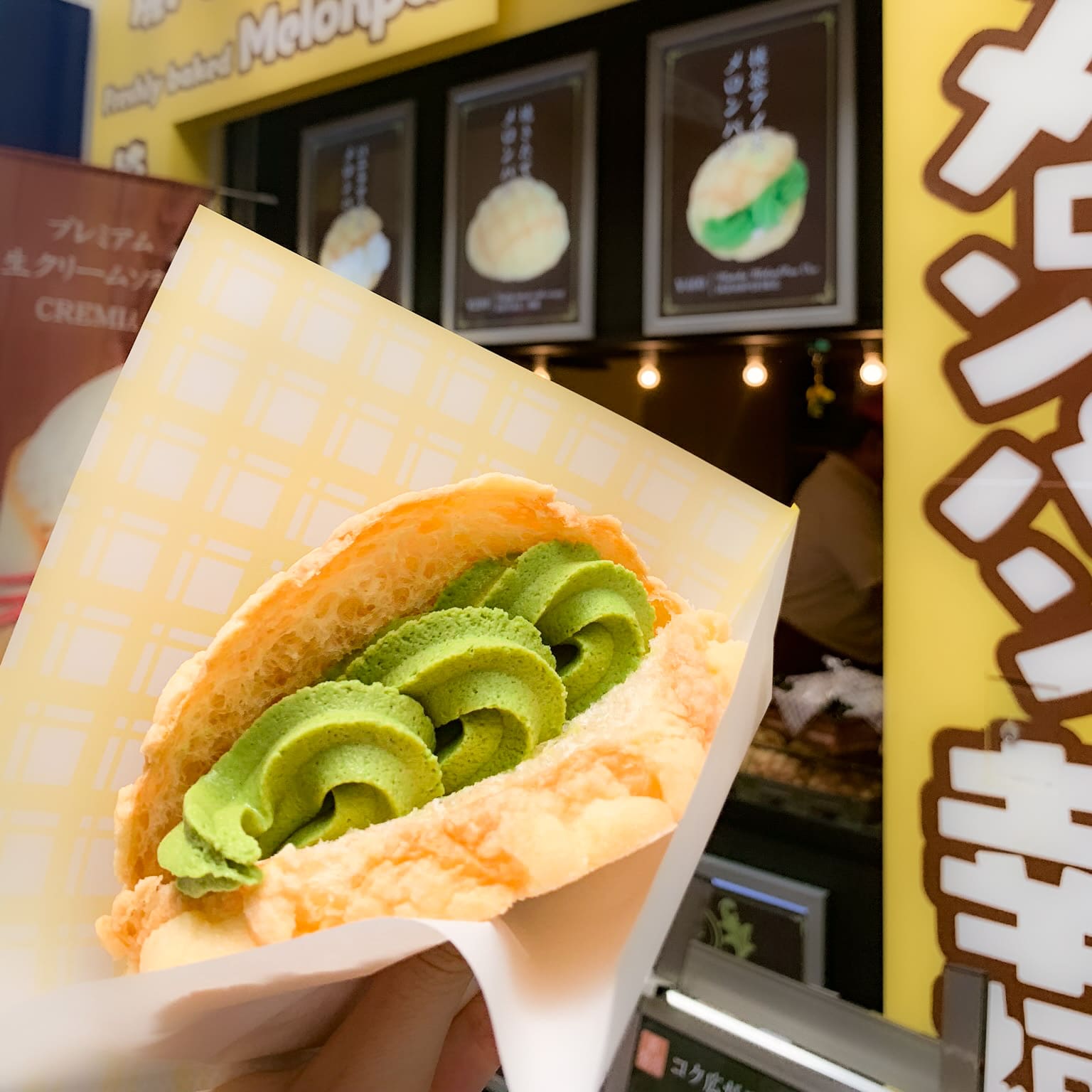 A true ice cream sandwich, this treat sandwiches creamy matcha soft serve between a fresh baked melon pan. Melon pan is a sweet bread with a sugary crust, and it goes perfectly with the cold matcha soft serve. I think out of everything on this list, this was the treat that blew me away with the first bite!
Where to find: Osaka
There are so many more matcha treats outside of what's on this list. And remember when you take a bite that matcha is a tea full of Japanese history and culture. When you have your fill of desserts, take the time to sit down for just a cup of traditionally brewed matcha tea.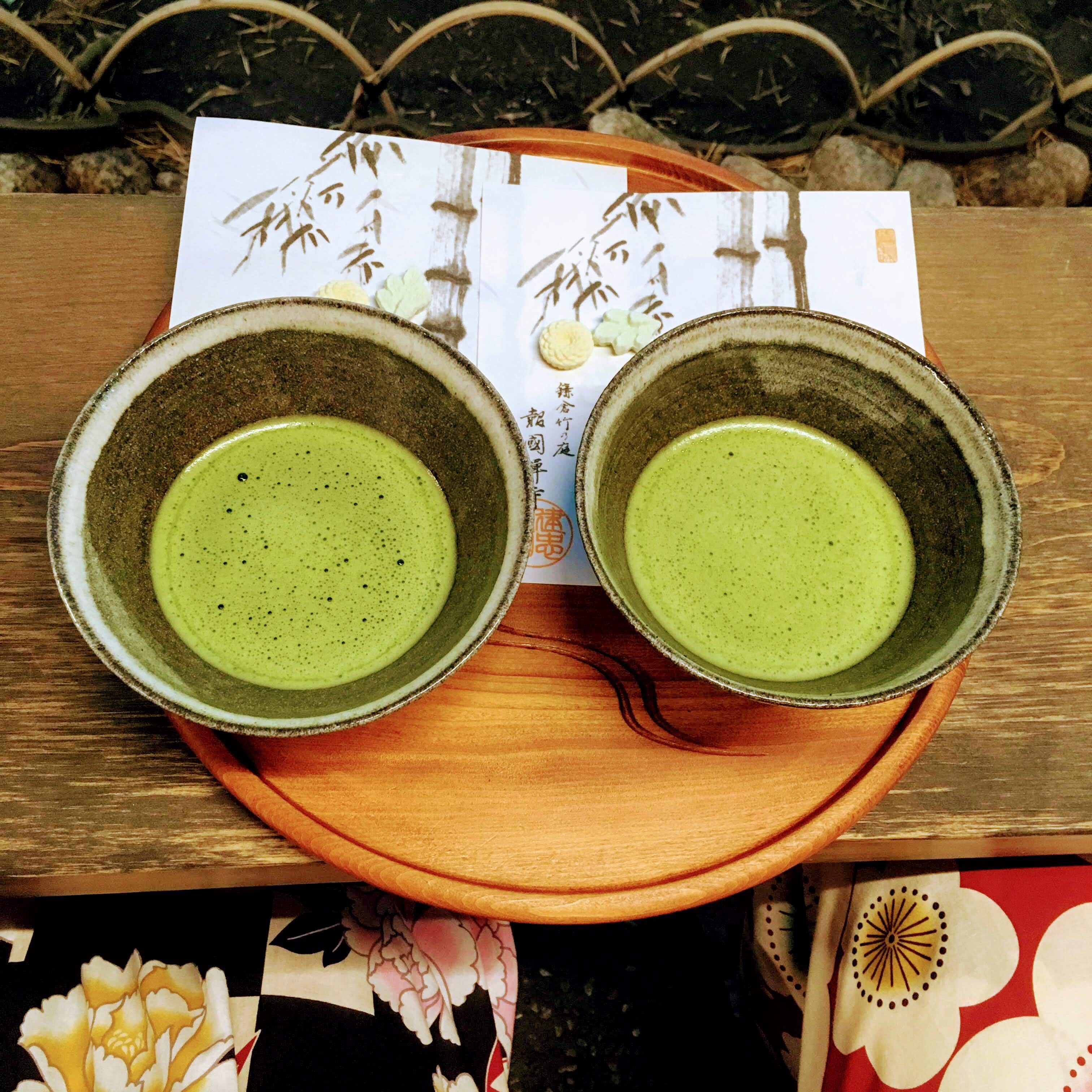 Which of these are you most excited to try? If you've visited Japan, what do you think are the best matcha desserts in Japan?