Roasted vegetables, hot out of the oven, baked in a honey balsamic glaze with just a hint of pepper. This makes the perfect easy side for a Thanksgiving potluck!
Last week I hosted a wonderful Friendsgiving, where I was proud to discover that all my college friends were now fully fledged adults with cooking skills. I had been planning to bring a gorgeous praline pumpkin pie. It was all mapped out in my mind – I'd leave work early, run to the grocery store, make the pie, and let it cool before my guests walked in the door. Cue 5:30pm on Friday, and I'm frantically typing away on my laptop, knowing the pie was supposed to be in the oven an hour ago. Yikes!
These honey balsamic roasted vegetables were my backup plan. They're quick, easy, and a wonderful complement to many traditional Thanksgiving dishes. I also love that they only require a cooking sheet and quietly roast in the oven for 30 minutes so I can take care of cleaning my house while they cook. Life is hard – sometimes you just need an easy recipe!
To make things even easier, I buy my veggies pre-cut from the grocery. Yes, you can save money prepping your own veggies… but sometimes you just gotta pay for those extra 30 minutes!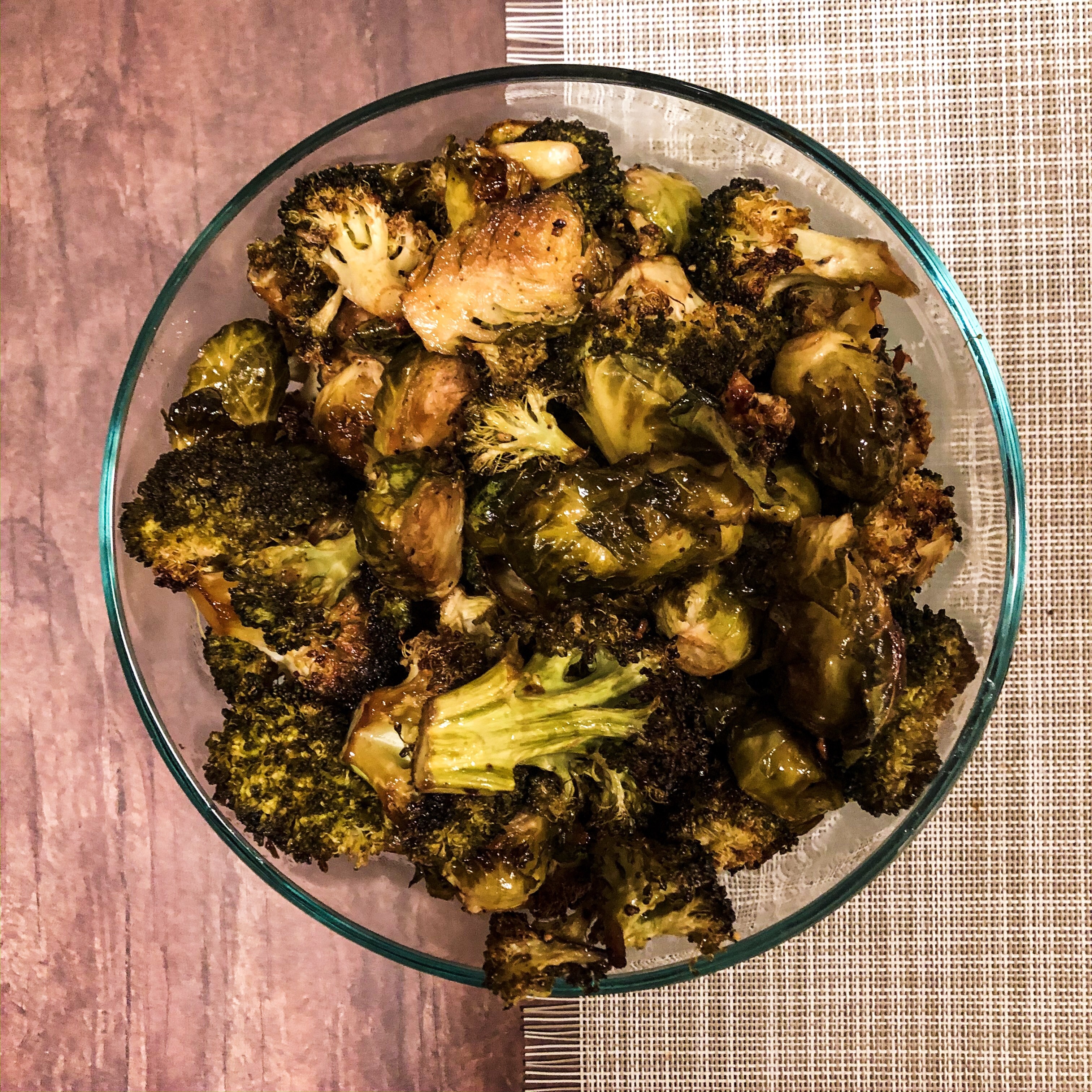 Honey balsamic roasted vegetables
Servings: 6-8
Prep time: 5 minutes
Cook time: 30 minutes
Ingredients
16 oz washed and halved Brussels sprouts
16 oz washed broccoli florets
1/2 cup olive oil
1/2 cup balsamic vinegar
1 tbsp salt
2 tsp fresh ground pepper
2 tbsp honey
Directions
Preheat oven to 425F and line 2 baking sheets with aluminum foil.
Toss Brussels sprouts and broccoli in a large bowl with oil, balsamic vinegar, salt, pepper, and honey until well coated. Add more olive oil if needed.
Divide evenly between two baking sheets and spread out so that veggies do not overlap.
Roast for 30-35 minutes until crisp.
This is one of my all-time favorite recipes just because it's so easy! It's great for Thanksgiving but also great for when you need veggies but are soo pressed for time.