Smooth, rich cream with a bright burst of orange is wrapped inside perfectly puffed choux pastry. These cream puffs are topped with rich dark chocolate ganache for the ultimate indulgent dessert. Swap out the creme patisserie filling with Greek yogurt for a lighter option.
Click here to jump to recipe
With everyone staying at home nowadays, there really is no better time than to be perfecting French patisserie. Seriously, when else are you going to have the time to make dozens of fiddly and delicate little desserts?
I mean, on a normal Saturday I would be eating bakery-made cream puffs while sipping a freshly foamed almond milk latte. But quarantine Saturday's are for making your own cream puffs while wearing the pajamas that you only change out of when you have a Zoom conference call. Then after you've managed to coat your entire kitchen in flour and cream, you can sit down on the floor and eat your way through 18 beautiful cream puffs filled with orange creme patisserie and dipped in dark chocolate ganache.
Actually that makes quarantine life sound pretty good.
I'm also including a lighter filling version that uses Greek yogurt instead of creme patisserie. As an added bonus, it's much simpler to make than the creme patisserie. If you're a fan of the sour tang of Greek yogurt, this is the filling for you!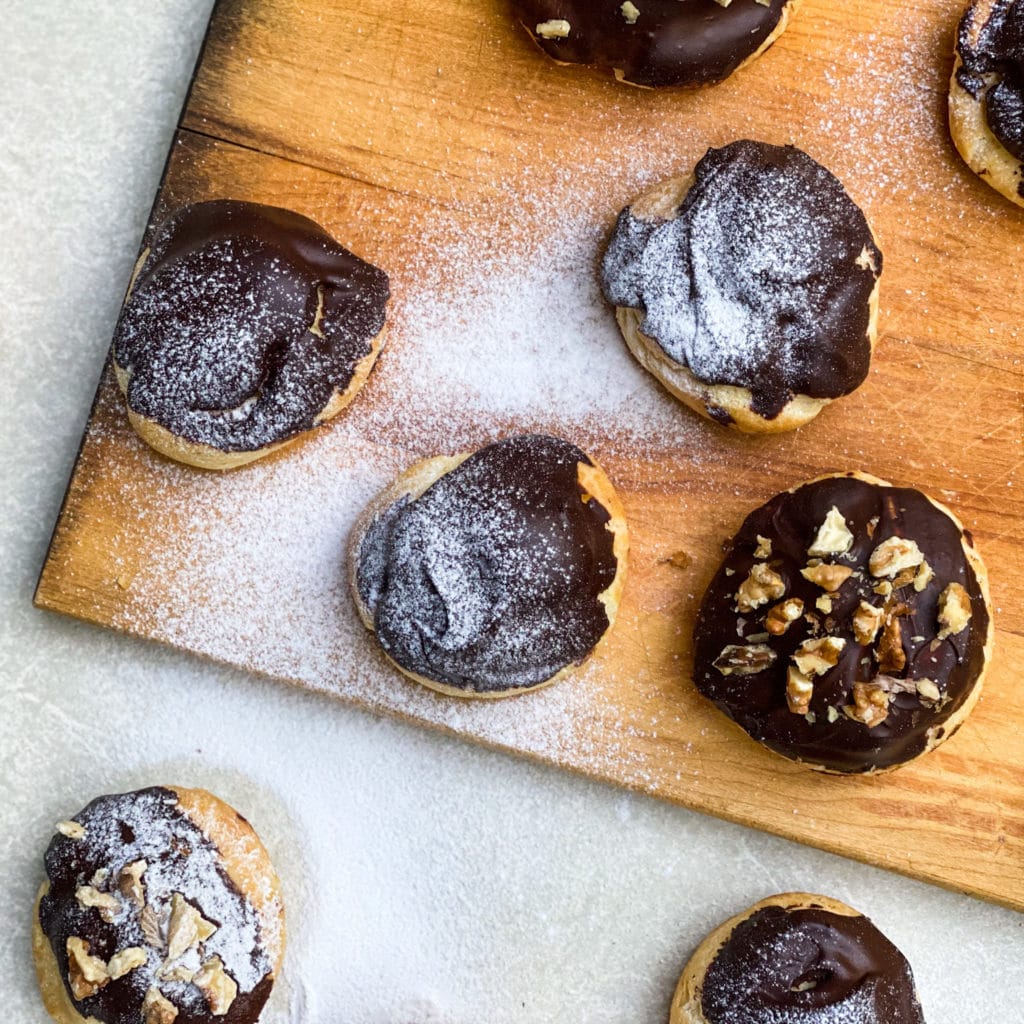 The process
There are many components to these cream puffs, but never fear, it is actually quite straightforward. To make these cream puffs, we're going to follow the choux pastry recipe from Sally's Baking Addiction. If I thought I had a better recipe I would share it, but she does a great job explaining each step for beginners. As the pastry puffs are baking, we're going to make our citrus creme patisserie (aka pastry cream) on the stove, or our honey Greek yogurt in a mixing bowl. You'll let your pastry cream cool in the fridge and remove the choux puffs from the oven. Once the pastry and cream are cooled, we'll pipe each little choux bun til it's full to bursting. For a final touch, we'll quickly mix whipping cream and chopped chocolate to create a chocolate ganache, then dip in each cream puff for a glossy finish. They will be simply divine!

Some tips
Choux pastry
Don't open the oven door when the puffs are baking. The cool air will cause the puffs to deflate. Choux pastry achieves it's puff when the moisture in the wet dough becomes steam in the oven, essentially blowing up the pastry like a balloon.
Make sure your eggs are at room temperature and your pastry mixture has cooled a bit off the stove before you add. Otherwise you'll get scrambled eggs.
When adding the eggs, add a little at a time until the pastry achieves the right glossy consistency. You may not need all 4 eggs in the recipe. You can check out 1:30 in this video if you need an idea of what the right consistency looks like.
Creme patisserie
Whisk constantly to avoid burning
Because you'll be adding eggs to a hot mixture, make sure you temper your eggs before adding in. To do this, slowly add about a 1/4 cup of the hot mixture to your eggs, whisk, and then pour the eggs into the main mixture. Again, this will help you avoid scrambled eggs.
If the pastry cream seems a little runny, that's okay. It will firm up as it cools.
Ganache
Ganache is a simple 1:1 mixture of heavy cream and chocolate. If you only have milk, you can sub a 1/2 cup of heavy cream for a 3/8 cup of whole milk + 3 tbsp butter. Make sure you use whole milk though, because there needs to be enough fat content to achieve the right texture.
Chop your chocolate nice and fine so it will melt easily.
Piping
If you don't have a piping bag, you can use a Ziploc bag with the corner cut off. I cut off a corner with a base about 1/4 in to 1/2 in wide.
When filling choux buns, you want to make sure they are all the way filled. Otherwise you will bite into a half-empty puff. As you fill, you will feel the pastry grow heavier in your hand and then expand slightly. Once you feel that slight expansion, you will know that your pastry is filled to the brim.
Okay, I know that was a lot of tips, but I want to make sure you feel ready before diving in! It's not too complicated and the end result is simply delicious.
Chestnut chocolate eclairs
Learn how to make these light and delicious chestnut chocolate eclairs. Smooth chestnut chocolate cream is wrapped in fluffy puffed choux pastry. A layer of dark chocolate ganache makes it the perfect fancy dessert.
Equipment
1 medium saucepan

1 spatula

1 hand or stand mixer

1 large mixing bowl

2 baking sheets

Blender or food processor

Parchment paper

2 piping bags or quart-sized Ziploc bags
Ingredients
Choux pastry (for 15 eclairs)
1/2

cup (113g)

unsalted butter, cut into 8 pieces

1/2

cup (120g)

water

1/2

cup (120g)

2% or whole milk

1/4

tsp

salt

2

tsp

granulated sugar

1

cup (125g)

all purpose flour

4

eggs
Chestnut chocolate cream filling (for 15 eclairs)
10

oz

roasted chestnuts

1/2

cup

Nutella

3

tbsp

milk

1 1/2

cup (360g)

heavy whipping cream
Chocolate ganache
1/2

cup (120g)

heavy cream

4

oz

semi-sweet chocolate, finely chopped
Instructions
Combine butter, water, milk, salt, and granulated sugar in a medium saucepan over medium heat, stirring until the butter has melted. Bring the mixture to a simmer and then reduce heat to low. Add all of the flour and stir until completely incorporated. The dough should be a thick ball. Press against bottom of sides of the pan for 1 minute and remove from heat.

Place ball of dough into a large mixing bowl and allow to cool before adding eggs.

With hand or stand mixer on low speed, slowly add the beaten eggs in 3 or 4 batches with 30 seconds between each. Pour in very slowly and observe the texture of the dough. At first it won't look like it's coming together, but will eventually become thick and glossy. Stop when you have a thick and pipeable texture. You may have a bit of beaten egg left over.

Preheat oven to 400 degrees F. Line two baking sheet with parchment and lightly brush each sheet with water.

Fill your piping bag with 1/2 in. tip or Ziploc bag with the choux pastry dough. Pipe 3 in. strips about 3 inches apart. Moisten your finger with water and smooth down any points.

Bake for 20 minutes and then, making sure not to open the oven door, reduce oven temperature to 350 degrees F and bake for 10-15 more minutes until golden brown. Remove from oven and transfer to a cooling rack. Cool completely before filling.
Make your chestnut chocolate cream
In a blender or food processor, blend your chestnuts, Nutella, and milk into a smooth, thick paste

In a large mixing bowl, pour the heavy whipping cream. Using a hand mixer or stand mixer with a whisk attachment, beat on medium-high speed until stiff peaks form. Mix half the whipped cream with the chestnut and Nutella paste until evenly distributed. Then fold in the rest of the whipped cream.
Fill your eclairs
Fill a piping bag or Ziplog bag with the chestnut chocolate cream

After pastry is completely cooled, turn each one upside and poke a hole in the bottom with your finger.

Place the tip of the piping bag inside of the hole and slowly apply pressure to the bag. Stop filling when you feel the pastry grow heavy and full.
Make your chocolate ganache
Place your finely chopped chocolate in a heat-proof bowl.

In a medium sauce pan, heat your heavy cream over medium heat until simmering. Remove from heat and pour over your chocolate. Let sit for a minute or two, then mix to combine until smooth and glossy.
Dip your eclairs
Holding firmly to the base of the eclair, submerge the top into the bowl of chocolate ganache, twisting a few time until evenly covered