Learn how to make these light and delicious chestnut chocolate eclairs. Smooth chestnut chocolate cream is wrapped in fluffy puffed choux pastry. A layer of dark chocolate ganache makes it the perfect fancy dessert.
Click here to jump to recipe
If you've ever had an eclair before, you know that they're delicious pastries made of a beautiful, light outer shell filled with sweet, rich cream. I love eclairs because they seem so deliciously fancy but are actually super straightforward to make. And once you learn how to make the pastry shell, it's so easy to fill them with all sorts of different flavors.
These chestnut chocolate eclairs are filled with pureed roasted sweet chestnuts and creamy Nutella. Combine this with buttery, light choux pastry and a thick topping of dark chocolate ganache to create the perfect combination of flavors.

What is choux pastry?
Choux pastry is a light, eggy pastry made of flour, water, sugar, milk, butter, and eggs – simple ingredients you probably have lying around in your fridge. What makes this pastry magical is what happens when the meet the heat of the oven. As the pastry bakes, steam is created which magically puffs the pastry up so they become hollow in the middle.
How do you make fail-safe choux pastry?
There are 4 main steps to making choux pastry:
Mix water, milk, sugar, butter, and flour on the stove to create a thick paste
Slowly add beaten eggs until the mixture becomes thick and glossy
Pipe pastry dough into strips onto parchment paper
Bake until golden brown
And there are 3 main things to watch out for:
Let your mixture cool for 5 minutes before adding eggs, otherwise they could scramble
Add your eggs in batches, whisking constantly as you add. The recipe calls for 4 eggs, but how much you add will differ a little each time.
No matter what DO NOT open the oven door while baking. This will let the steam escape, and your choux pastry will collapse.
How do you make perfect cream filling?
Traditionally eclairs are filled with custard cream, which is made on the stove. This recipe uses a much easier filling, made by blending roasted chestnuts and Nutella and then folding in whipped cream. To fill the choux pastry shells, poke a hole in the bottom and pipe in the cream. When the pastry feels heavy in your hand and expands slightly, you'll know it is full to the brim with delicious cream.
If you love these eclairs, you'll also love my chocolate orange cream puffs, which uses the same choux pastry recipe.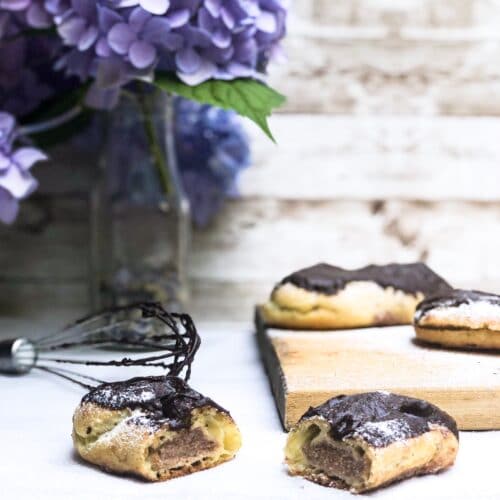 Chestnut chocolate eclairs
Learn how to make these light and delicious chestnut chocolate eclairs. Smooth chestnut chocolate cream is wrapped in fluffy puffed choux pastry. A layer of dark chocolate ganache makes it the perfect fancy dessert.
Equipment
1 medium saucepan

1 spatula

1 hand or stand mixer

1 large mixing bowl

2 baking sheets

Blender or food processor

Parchment paper

2 piping bags or quart-sized Ziploc bags
Ingredients
Choux pastry (for 15 eclairs)
1/2

cup (113g)

unsalted butter, cut into 8 pieces

1/2

cup (120g)

water

1/2

cup (120g)

2% or whole milk

1/4

tsp

salt

2

tsp

granulated sugar

1

cup (125g)

all purpose flour

4

eggs
Chestnut chocolate cream filling (for 15 eclairs)
10

oz

roasted chestnuts

1/2

cup

Nutella

3

tbsp

milk

1 1/2

cup (360g)

heavy whipping cream
Chocolate ganache
1/2

cup (120g)

heavy cream

4

oz

semi-sweet chocolate, finely chopped
Instructions
Combine butter, water, milk, salt, and granulated sugar in a medium saucepan over medium heat, stirring until the butter has melted. Bring the mixture to a simmer and then reduce heat to low. Add all of the flour and stir until completely incorporated. The dough should be a thick ball. Press against bottom of sides of the pan for 1 minute and remove from heat.

Place ball of dough into a large mixing bowl and allow to cool before adding eggs.

With hand or stand mixer on low speed, slowly add the beaten eggs in 3 or 4 batches with 30 seconds between each. Pour in very slowly and observe the texture of the dough. At first it won't look like it's coming together, but will eventually become thick and glossy. Stop when you have a thick and pipeable texture. You may have a bit of beaten egg left over.

Preheat oven to 400 degrees F. Line two baking sheet with parchment and lightly brush each sheet with water.

Fill your piping bag with 1/2 in. tip or Ziploc bag with the choux pastry dough. Pipe 3 in. strips about 3 inches apart. Moisten your finger with water and smooth down any points.

Bake for 20 minutes and then, making sure not to open the oven door, reduce oven temperature to 350 degrees F and bake for 10-15 more minutes until golden brown. Remove from oven and transfer to a cooling rack. Cool completely before filling.
Make your chestnut chocolate cream
In a blender or food processor, blend your chestnuts, Nutella, and milk into a smooth, thick paste

In a large mixing bowl, pour the heavy whipping cream. Using a hand mixer or stand mixer with a whisk attachment, beat on medium-high speed until stiff peaks form. Mix half the whipped cream with the chestnut and Nutella paste until evenly distributed. Then fold in the rest of the whipped cream.
Fill your eclairs
Fill a piping bag or Ziplog bag with the chestnut chocolate cream

After pastry is completely cooled, turn each one upside and poke a hole in the bottom with your finger.

Place the tip of the piping bag inside of the hole and slowly apply pressure to the bag. Stop filling when you feel the pastry grow heavy and full.
Make your chocolate ganache
Place your finely chopped chocolate in a heat-proof bowl.

In a medium sauce pan, heat your heavy cream over medium heat until simmering. Remove from heat and pour over your chocolate. Let sit for a minute or two, then mix to combine until smooth and glossy.
Dip your eclairs
Holding firmly to the base of the eclair, submerge the top into the bowl of chocolate ganache, twisting a few time until evenly covered