This stunning matcha bread wreath is filled with white chocolate, cinnamon, and brown sugar for a delightful holiday treat. It's a perfect sweet bread to serve for Christmas breakfast!
With Christmas right around the corner, I'm hoping to decorate my holiday table with a gorgeous bread wreath. And is there a better way to add both a vibrant green coloring and fragrant flavor than a heaping tablespoon of matcha powder? For those of you who aren't familiar, matcha is a strong green tea from Japan that has an earthy, rich taste. It's one of favorite flavors to use in baking!
To go with the matcha-infused dough, the bread is swirled with sweet white chocolate chunks and a sprinkling of brown sugar and cinnamon. It's an absolutely beautiful twist on the classic cinnamon roll, and the intricate shape is sure to impress. Bonus – the shape is deceptively simple to make. All you'll need is a pair of scissors!
As this loaf bakes, your house will smell wonderfully, irresistibly festive. And when you bite into it, you'll get soft, fluffy warm bread with a sweet, gooey center that perfectly balances out the earthy matcha flavors.
How to shape a wreath bread
Shaping the bread is quite straightforward! By rolling the dough with the filling, you'll get intricate layers with minimal effort. By joining the ends of the roll together, it creates a natural wreath shape. We'll then use scissors to cut the dough to create the wreath rolls. 
Steps for shaping wreath bread
Roll out the dough into a 15 x 8 inch rectangle.
Sprinkle the surface of the dough with white chocolate, brown sugar, and cinnamon.
Roll up the dough tightly so that you have a 15 inch long coil. 
Gently stretch out the coil and pinch the end together so you have a donut shape. 
Use a pair of scissors to cut "petals" in the wreath. Your scissors should be held at a 45 degree angle to the wreath. I make about 10 cuts around the outside.
Spread the petals out so you can see the spiral of the dough and filling.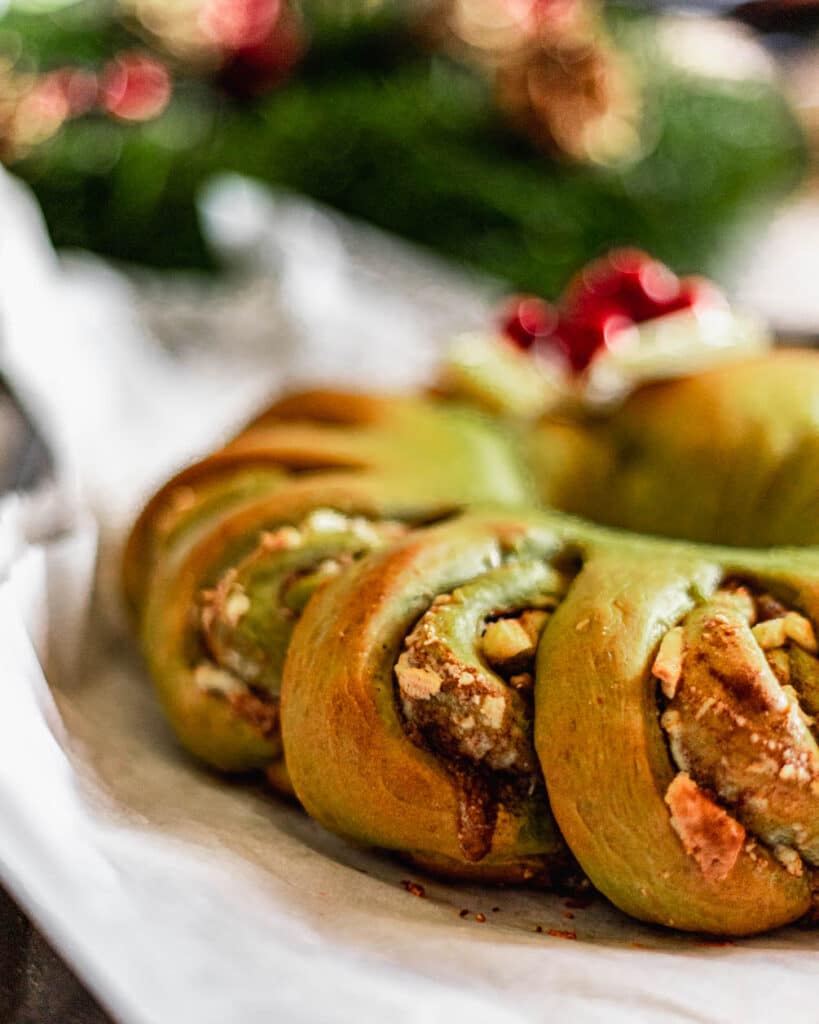 Bread making tips
If you're new to baking bread, I suggest reading my bread baking guide. It will walk you through the 6 steps of bread baking so you feel comfortable with the process! I'm listing some general tips below as well.
Make sure your milk, water, and butter mixture is lukewarm to the touch, as hot liquids can kill your yeast. 
Cooler temperatures will slow down the rise. A good rule of thumb for when the first rise is done is when the dough has doubled in size. A good rule of thumb for the second rise is the poke test – press your finger into the dough. The dough should come back halfway. If it comes back all the way, it needs more time.
The dough is a little sticky at first, but it's manageable by hand if you don't have a stand mixer. 
To avoid excessive browning and to preserve the green matcha color, I tent the wreath with aluminum foil halfway through baking.
Ready to get started? With a little bit of patience you'll soon have this stunning, delicious bread wreath!
This bread recipe is part of my holiday bread baking week. If you missed days 1 and 2, you can check out the chocolate peppermint star bread and fluffy cream cheese rolls.
Other recipes to get in the holiday spirit:
If you make this recipe, please let me know! I love seeing what you're baking and creating. You can comment below or tag me on Instagram @halicopteraway.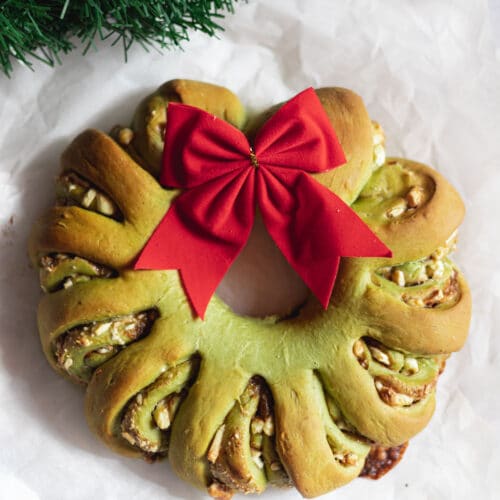 Matcha white chocolate bread wreath
This stunning matcha bread wreath is filled with white chocolate, cinnamon, and brown sugar for a delightful holiday treat. It's a perfect sweet bread to serve for Christmas breakfast!
Equipment
medium mixing bowl

Baking sheet

Rolling Pin

Scissors

Parchment paper or aluminum foil
Ingredients
Dough
1/2

cup (120g)

milk, lukewarm

1/4

cup (60g)

water, lukewarm

3

tbsp (45g)

unsalted butter, melted

1/4

cup (50g)

granulated sugar

2

1/4 tsp

instant or active dry yeast (one standard packet)

2 3/4

cup (345g)

all purpose flour

1

tbsp

matcha powder

1

egg

1/2

tsp

salt
Filling
3.5

oz (100g)

white chocolate, chopped

1/4

tsp

cinnamon

2

tbsp

brown sugar
Instructions
In medium mixing bowl, mix together lukewarm milk, water, melted butter, sugar, and yeast. Let sit for 5 – 10 minutes until the yeast is foamy. If the yeast does not foam, it may be inactive. Try again with new yeast.

Add all purpose flour, matcha, egg, and salt. If using a stand mixer, fit with a paddle attachment and knead on medium-low speed for 15 – 20 minutes until dough passes the window pane test. Otherwise, you can knead by hand.

Shape the dough into a ball and placed into a lightly greased bowl. Cover with plastic wrap and let proof for 60 – 90 minutes until doubled in size.

Lightly flour a working surface. Turn the dough onto the surface and knead a few times to get rid of air bubbles. Use a rolling pin to roll into an 8 x 15 inch rectangle.

Sprinkle the rectangle with chopped white chocolate, cinnamon, and brown sugar, making sure to distribute evenly. Roll up tightly so you have a 15 inch long coil. Gently stretch the coil to lengthen slightly and join the ends together to create a donut shape. Place on a piece of parchment paper.

Use scissors to cut "petals" around the wreath. The scissors should be held at about a 45 degree angle and should cut fairly deeply into the dough. I stop about an inch from the center. Make 9 – 10 cuts about 1.5 inches apart. Fan the petals outwards so that the spiraled inside pattern shows.

Preheat the oven to 350°F. While the oven preheats, let the wreath proof for another 20 – 30 minutes.

Place in center rack of oven and bake for 25 – 28 minutes. About halfway through, tent with aluminum foil if browning too quickly. The loaf should make a hollow sound when tapped.

Remove from oven and enjoy warm!
Notes
If you're eating this bread after it has cooled, I recommend gently heating up in the microwave or toaster oven to recreate the warm and gooey center.