These honey oat sourdough bread rolls have crusty, chewy outsides and soft, fluffy insides. Cooked oatmeal and cinnamon make these rolls fragrant and warming, and honey adds a deep, rich sweetness.
With Thanksgiving right around the corner, I've got bread rolls on my mind. Sure, the star of the show is the turkey – but a good bread roll is the vehicle that allows you to shovel all the turkey, cranberry sauce, and mashed potato into your mouth.
And thus, a good bread roll must strike a fine balance. It must be sturdy, yet soft – full bodied, but fluffy. It must be flavorful enough to stand alone, but not so overpowering that it can't act as accompaniment to all the other dishes in play.
These honey oat sourdough rolls tick all the boxes. They're sweetened with honey and filled with a oatmeal cinnamon swirl. The oats are cooked to add extra flavor and moistness and boy do they do amazing things for this bread. I mean, what could be cozier than putting carbs INSIDE more carbs? Nothing (except maybe a cat lying on your feet under a blanket. That's pretty cozy too).
And unlike more traditional rolls, these bread boys are CRUSTY. Because something about that honey-sourdough combo creates the most amazing, fragrant, chewy crust. My first time testing this recipe, I found myself peeling off the crust and eating it by itself.
I love eating these rolls just by themselves. I also love them slathered with butter and honey. They're strangely good with avocado as well. Now that I'm done espousing the benefits of these rolls, let's dive in and learn how to make them.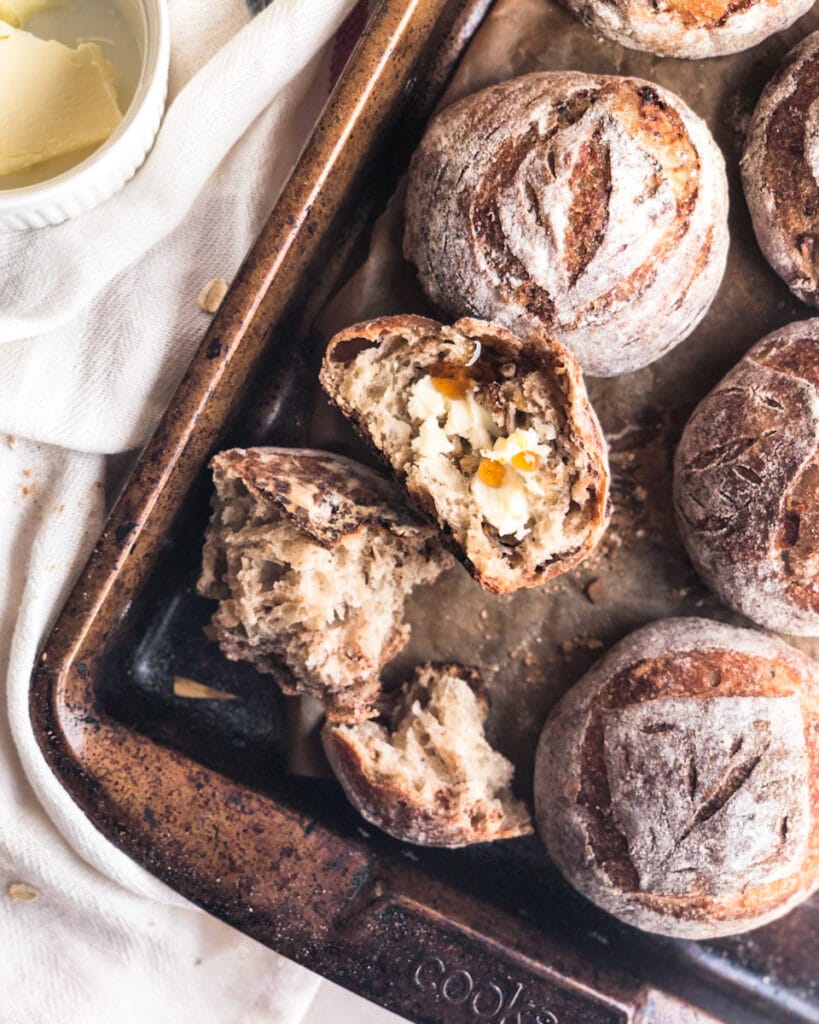 Tips for baking with sourdough
Sourdough can be challenging, so I recommend successfully baking a basic loaf before tackling these rolls.
The recipe I'm providing is a guide, but you'll have to use your own sourdough baking instincts to know when your dough is ready to shape and bake. Here are some things to keep in mind for this recipe:
You need a strong, mature starter that ideally doubles in size in 4 – 8 hours. If you don't have a starter, you can make one following this guide, but take 2 weeks to let it mature before baking.
When adding in the cooked oatmeal, make sure it is cooled with as little additional moisture as possible. I add in the oatmeal after my second set of folds so that the dough has had some time to rise already.
Remember that add-ins such as oatmeal will weigh down your dough and extend the rise time.
Why is this recipe only in grams?
Sourdough baking is a precise art! To ensure that there are no measurement issues, I only provide the recipe in grams, which are more precise than cups. If you don't have a food scale, I strongly encourage you to purchase one. It's great not just for baking sourdough, but also for all kinds of baking and cooking as well! I have this one off of Amazon.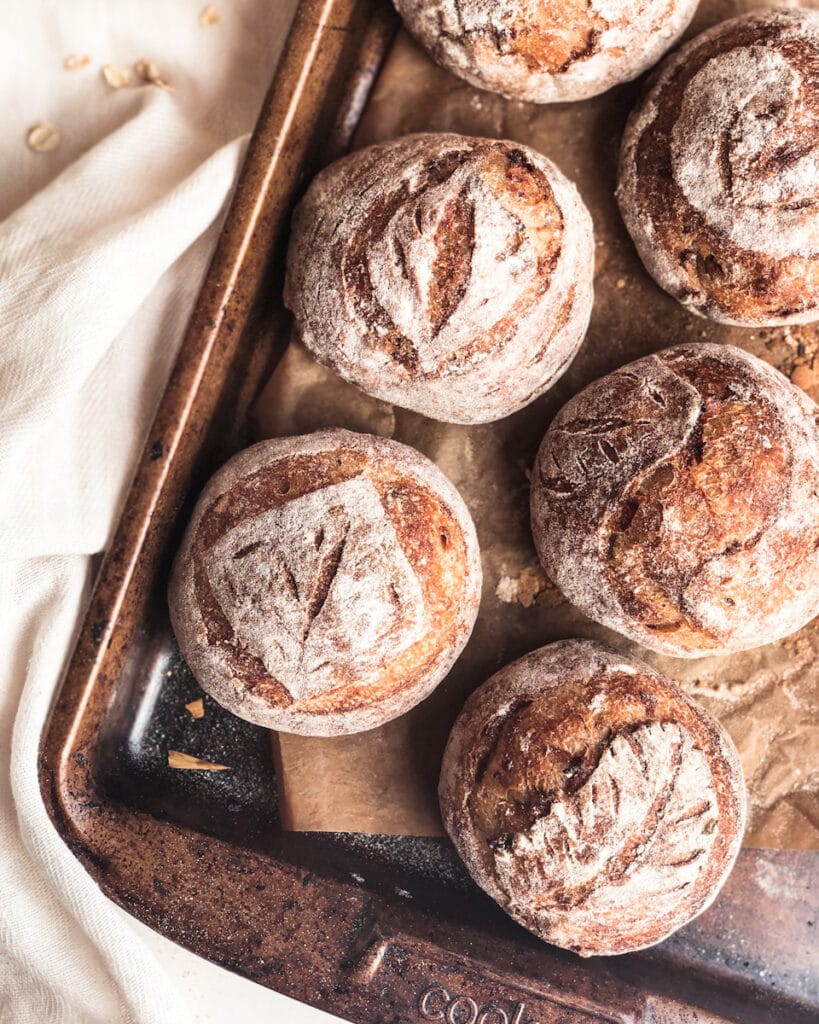 Ingredients
This recipe has 10 awesome ingredients that all play an important role in bringing together the delectable flavor of these rolls.
Bread flour – bread flour acts as the base of our loaf. You need bread flour because of it's high protein content, which helps your bread rise nice and tall. Don't sub it out for all-purpose flour!
Whole wheat flour – whole wheat flour provides flavor and texture.
Sourdough starter – since this is a sourdough recipe, we'll be using sourdough starter to leaven the bread. This recipe calls for starter at 100% hydration.
Lukewarm water – Lukewarm water hydrates your dough and raises the temperature so your starter will grow.
Salt – salt adds flavor, don't skip it!
Honey – honey gives a rich, deep sweetness that you can't quite get with white sugar.
Oats – oats give wonderful texture and moistness. If you've never put cooked oats in bread before, I can promise that it is absolutely delicious.
Brown sugar – I like adding brown sugar to my cooked oats for an additional ribbon of sweetness in each roll. Brown sugar also has a deeper flavor than white sugar.
Cinnamon – cinnamon adds an oomph of spices that balance out the sweetness. I like to mix it into the oats as well.
Diastatic malt powder (optional) – Diastatic malt encourages yeast activity to give you puffier, fuller loaves. This ingredient is optional, though I find that my sourdough comes out beautifully when I use diastatic malt.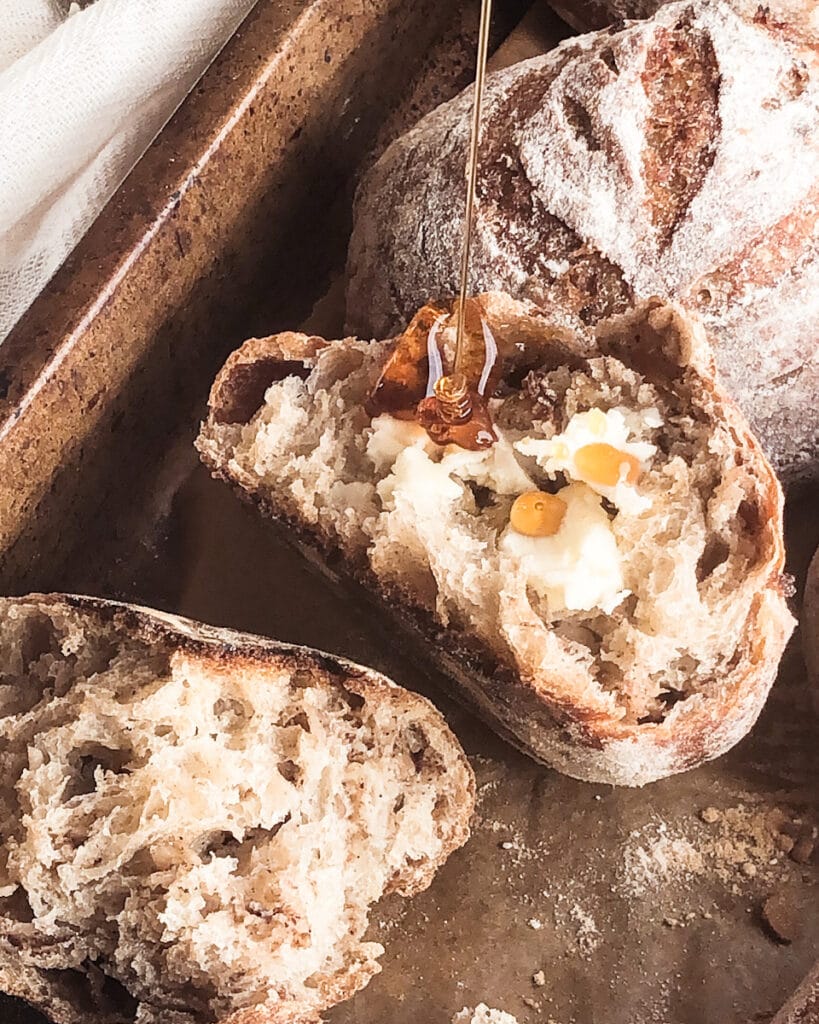 My process
I'm outlining my timeline here to give you an idea of when my sourdough finished each stage, though your timeline will vary. As you can see, I tend to do coil folds every 30 – 45 minutes and add in the oatmeal on the third set of coil folds.
Day 1:
11:00am – Remove starter from the fridge and feed with 100g all-purpose flour + 100g lukewarm water. I probably had 50 – 100g of starter before feeding.
5:00pm – Starter has grown about 2x in size. I make the dough by mixing all ingredients except the oat, brown sugar, and cinnamon in a large mixing bowl.
5:00 – 6:30pm – 2 sets of coil folds spaced 30 – 45 minutes apart. As I wait, I cook the oats and mix with brown sugar and cinnamon. Then I let the mixture cool.
7:00pm – Add oats to the dough. Perform third set of coil folds.
7:00 – 8:30pm – 3 more sets of coil folds spaced 30 – 45 minutes apart. Each set of coil folds further incorporates the oats into the dough.
8:30pm – Cover dough and place in fridge.
Day 2:
1:00pm – Remove dough from fridge and shape into 8 rolls. Let rise for 1 hour. While rising, preheat the oven to 500F with a baking tray inside.
2:00pm – Score and bake first batch of rolls for 15 minutes using a no Dutch oven method, then reduce temperature to 450F and bake for another 10 minutes. Repeat with second batch of rolls.
All right feel good about making these rolls? You have all the info you need, so let's dive in!
Other bread recipes I love:
If you make this recipe, let me know! You can comment below or tag me on Instagram @halicopteraway or #halicopteraway.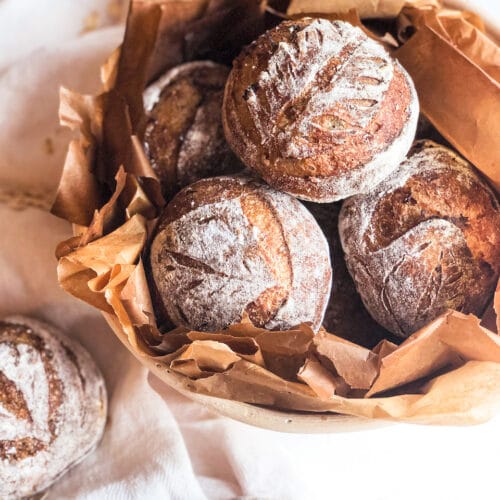 Honey oat sourdough bread rolls
These honey oat sourdough bread rolls have crusty, chewy outsides and soft, fluffy insides. Cooked oatmeal and cinnamon make these rolls fragrant and warming, and honey adds a deep, rich sweetness.
Equipment
Large mixing bowl

Food scale

Baking sheet

Parchment paper

Large aluminum baking tray
Ingredients
For the dough
300

g

bread flour

60

g

whole wheat flour

130

g

fed and active sourdough starter at 100% hydration

240

g

lukewarm water

7

g

salt

1

tsp

diastatic malt powder (optional)

45

g

honey
For the oat filling
45

g

rolled oats

1

tbsp

brown sugar

1

tsp

cinnamon
Instructions
Combine all dough ingredients (bread flour, whole wheat flour, starter, water, salt, diastatic malt powder, and honey) in a large mixing bowl. Mix and stir everything together to create a shaggy dough.

Cover the bowl with plastic wrap and let sit for 45 minutes. While you wait, make the oatmeal. Prepare the oats according to package instructions, making sure to cook off all excess water. Stir in the brown sugar and cinnamon and let cool completely.

Gently slide your hand under the middle of the dough and fold it over itself twice using the coil fold method. This helps gently develop the gluten.

Over the next 3 to 4 hours, allow the dough to rise, performing a coil fold every 30 – 45 minutes. About 1.5 hours into the rise, add the cooled oatmeal mixture during one of the coil folds. Be sure to do at least 3 coil folds.

Cover the dough with plastic wrap and place in the fridge for at least 8 hours and up to 24 hours.

Remove the dough from the fridge and turn it out onto a lightly floured surface. Divide the dough into 8 equal pieces. Gently pull out one piece into a rough rectangle and then pinch and roll the dough together to form a ball. Place on a floured sheet of parchment paper. Repeat with the remaining pieces of dough. Make sure there is at least 1 inch of space between each roll. I was not able to fit 8 rolls on a standard baking sheet, so I use two pieces of parchment paper with 4 rolls on each.

Allow the rolls to rest for 1 hour. Preheat the oven to 500°F with a baking sheet inside. If you are baking multiple batches of rolls, keep the second batch of rolls in the fridge while the first is baking to avoid overproofing.

Score the first batch of rolls. Place the rolls on the hot baking sheet. Place 2 ice cubes on the baking tray and cover with the large aluminum baking tray or other large oven safe vessel. Covering the baking sheet will trap steam to create a crisp crust on the rolls. Bake for 15 minutes. Remove the aluminum baking tray cover, reduce to 450°F and bake for another 10 minutes.

Preheat oven back to 500°F and repeat with remaining batch of rolls.

Let cool for 30 minutes to 1 hour before cutting in.