These super fluffy cream cheese bread rolls are pillowy soft with just a hint of cream cheese flavor. The tangzhong method keeps them soft for days!
For the second day of holiday bread week (day 1 was chocolate peppermint star bread!), we're making cream cheese bread rolls. They're incredibly fluffy and light and spring back at the touch – honestly, I could curl up and take a little nap on these poofs.
These rolls are a twist on my Japanese milk bread recipe. The tangzhong method, where you cook some of the flour, water, and milk on the stove before adding to the dough, keeps the bread incredibly light and moist. A generous portion of cream cheese adds creaminess and flavor. 
My personal favorite way to eat these rolls is simple – I dust with powdered sugar and it's tastes like a fresh donut. But you can also enjoy with warm butter, honey, Nutella, or any other delicious spread.
Tips for making the fluffiest cream cheese bread
I always suggest reading through my bread baking guide if you feel nervous about baking bread. It will walk you through the process from end to end, with troubleshooting tips so you feel confident when you tackle this loaf! I'm including some general tips here:
Liquid temperature matters. Make sure your milk is lukewarm to the touch, as hot milk can kill your yeast. Similarly, make sure your tangzhong is cooled so that it's lukewarm to the touch. 
Air temperature will affect the rise time. At 85°F (30°C), the first rise takes 45 – 60 minutes, and the second rise takes 30 – 45 minutes. Most kitchens, especially in the winter, are cooler than 85°F. A rule of thumb for the first rise is when the dough has doubled in size. A rule of thumb for the second rise is the poke test – when you press your index finger in the dough, it only comes back part way. If it comes back all the way, it needs a bit more time.
The dough is sticky. When kneading, resist adding more than 1 – 2 tbsp of flour. It will firm up as you knead (at least 20 minutes of kneading when using a stand mixer on medium-low speed). When shaping, dust the surface liberally with flour and periodically dust your hands. 
For perfect shaped rolls, weigh your dough. When divided into 12, each ball should weight about 60 – 65 grams. Of course this is totally optional and they will taste delicious even if they are a little unequal!
Let the dough cool for 15 minutes in the container. Cooling too quickly can cause the bread to collapse slightly.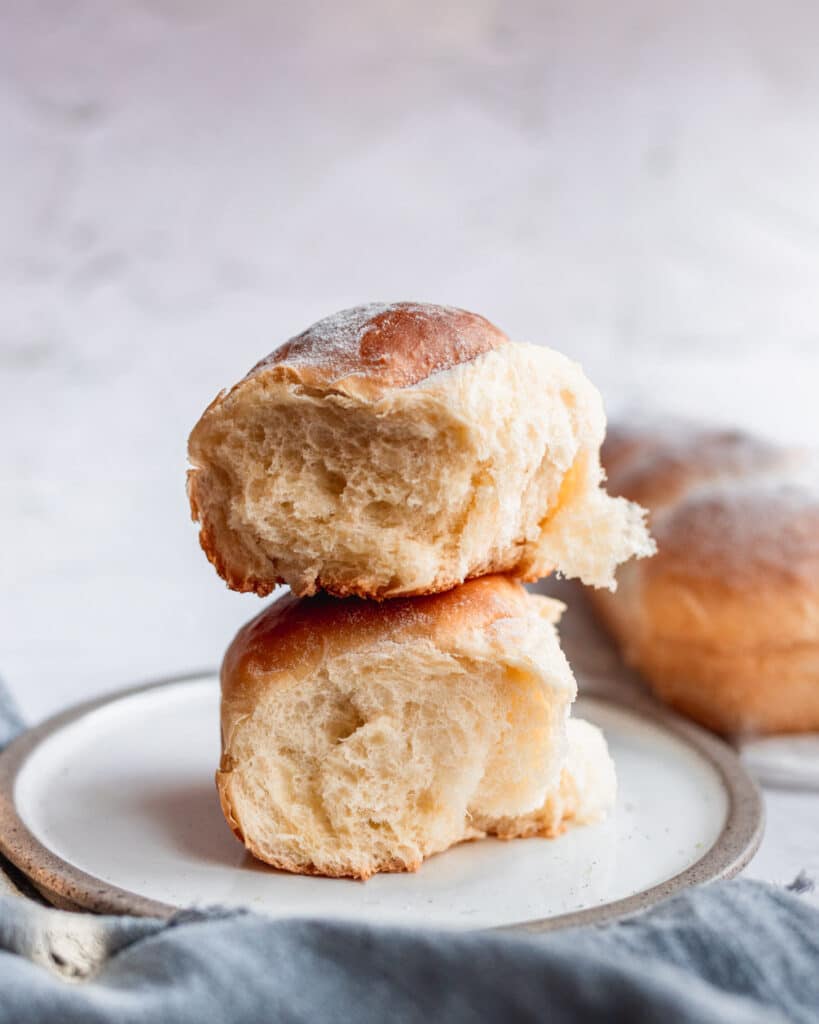 What texture should the dough be?
Between the tangzhong, milk, and cream cheese, this is a very soft and sticky dough. This high moisture content is what creates a puffy and soft roll, so resist adding flour. As you knead, it will become smoother and the dough will stick to itself more than it sticks to your hands or surfaces. When kneaded to the right level, the dough should feel silky, elastic, and very smooth.   
Can I use all purpose flour instead of bread flour?
Nope, I wouldn't do it. As noted above, this bread has a lot of add-ins. The extra protein in bread flour will help create a strong and elastic dough. If you use all purpose flour, the dough will be even wetter, stickier, and harder to handle.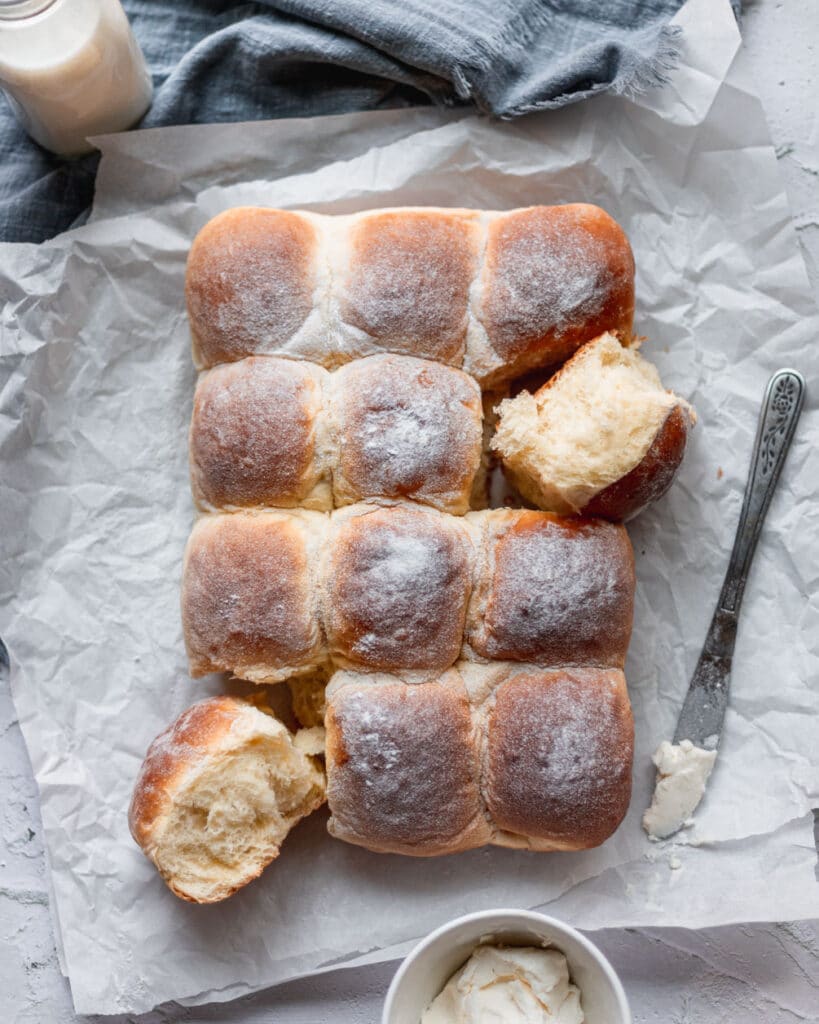 Can I knead this by hand?
This recipe is admittedly easier using a stand mixer, but you can use the method described in my Japanese milk bread recipe if you want to make it by hand. This involves adding the salt and sugar separately and allowing the dough to "autolyse" – basically, you let the flour and liquids sit for 20 – 30 minutes so that the flour absorbs some of the liquid. Then you add the salt, sugar, and cream cheese. Using the slap and fold method will help you handle the stickier dough as well.
This is a simple and wonderful white bread – creamy, soft, fluffy with a milk sweetness. With the holidays approaching, I hope it'll be a delicious side dish, breakfast, or even dessert!
Other bread roll recipes to try:
 If you make this recipe, please let me know! I always love to see what my readers are baking. You can comment below or tag me on Instagram @halicopteraway. Feel free to follow along for the remaining 3 recipes for holiday bread week!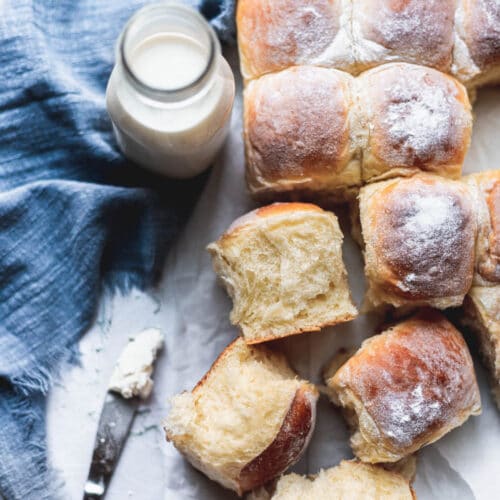 Cream cheese bread
These super fluffy cream cheese bread rolls are pillowy soft with just a hint of cream cheese flavor. The tangzhong method keeps them soft for days!
Equipment
medium mixing bowl

Small skillet or pot

9 x 13 inch baking tin

dough scraper (optional but helpful)
Ingredients
Tangzhong (makes 1/2 cup)
3

tbsp (23g)

bread flour

1/4

cup (60g)

water

1/4

cup (60g)

milk
Dough
1/2

cup

tangzhong (see above)

2 1/2

cups (325g)

bread flour

1/4

cup (50g)

granulated sugar

2 1/4

tsp

instant or active dry yeast

1

tsp

salt

1/2

cup (120g)

lukewarm milk

4

oz (120g)

cream cheese, room temperature

1

egg
Instructions
Make tangzhong
In small skillet or pot, whisk together flour, milk, and water until smooth. Bring to simmer over medium-low heat, whisking frequently, until mixture has thickened but is still pourable. It should take 5 – 10 minutes. Your whisk should leave a mark when dragged along the bottom of the pan.

Pour into a bowl and cover surface with plastic wrap to prevent a film from forming, and allow to cool to room temperature.
Make dough
Mix together yeast, sugar, and lukewarm milk and set aside for 5-10 minutes until the yeast is foamy. If the yeast does not foam, it may be inactive. Try again with new yeast.

In bowl of stand mixer with dough hook attachment, combine flour, egg, milk and yeast mixture, 1/2 cup of tangzhong starter, and salt. Mix on medium-low speed until combined. While the stand mixer is running, add pieces of softened cream cheese until fully incorporated. Mix on medium-low speed for another 15 – 20 minutes until dough passes the window pane test. You should be able to stretch the dough quite thin. If it does not pass the window pane test, keep kneading and check again.

Shape the dough into a ball and placed into a lightly greased bowl. Cover with plastic wrap and let proof for 45 – 60 minutes until doubled in size.

Grease a 9 x 13 in. baking pan. Lightly flour a work surface and turn the dough onto the surface. Knead a couple of times to squeeze out the air bubbles. Divide the dough into 12 even pieces and shape each piece into a ball. If the dough is sticky, sprinkle a bit of flour and flour your hands as well. Place the balls in the baking pan.

Cover the baking pan with plastic wrap and let proof for another 45 minutes. When you press your finger into the dough, the indent should come back halfway. If it comes back all the way, it needs more time. Towards the end of the proof, preheat your oven to 350°F.

Brush the tops of the rolls with milk. Place in the center rack and bake for 25 minutes until golden brown and makes a hollow noise when tapped.

Remove from the oven and let cool for 15 – 20 minutes before removing from the pan. Sprinkle with powdered sugar if desired and enjoy fresh!