All the familiar flavors of banana bread spiced up with ginger, cinnamon, cloves, and all-spice. This gingerbread banana bread is sure to bring warm and cozy vibes to your kitchen.
I love gingerbread and I love banana bread so it makes sense that I absolutely adore this gingerbread banana bread. It takes the regular cozy flavors of banana bread and ups it to the next level with a combination of warming spices. I also love to add chocolate chunks and crushed nuts to make each slice extra special and satisfying.
This banana bread is super tender and moist with a lightly spiced, caramelized flavor. It stays soft for days after, I found myself snacking on it nonstop throughout the day. You just can't resist it!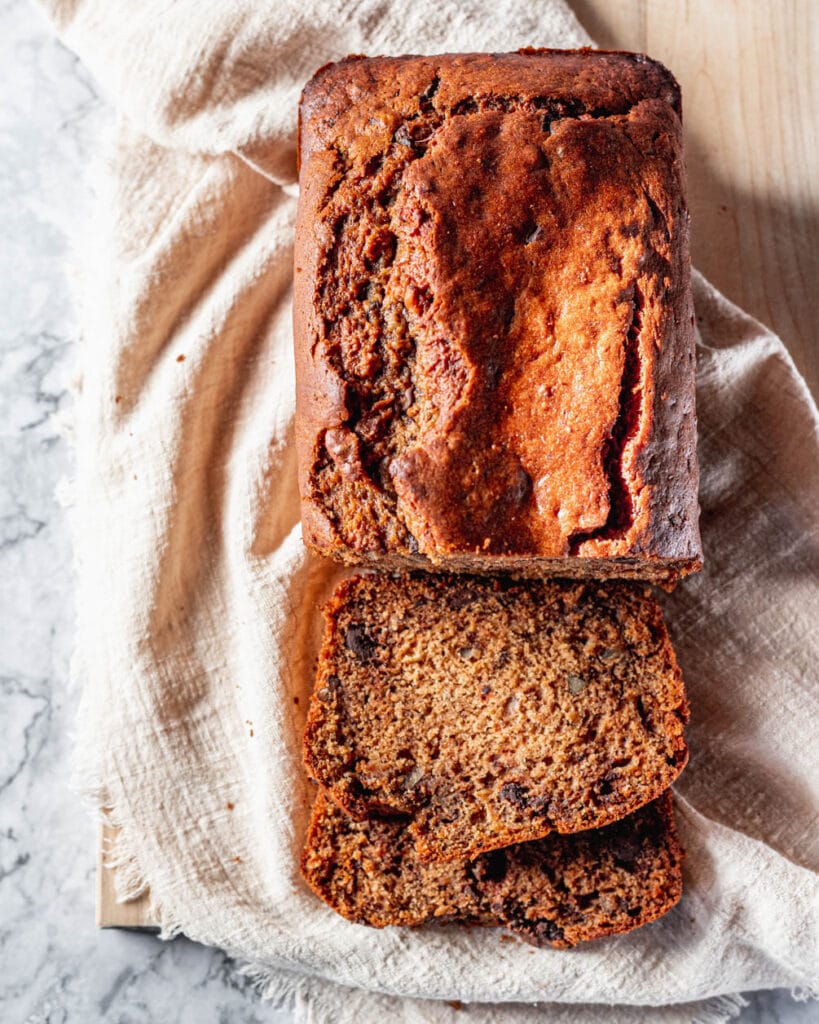 What sets this gingerbread banana bread apart
The mix of gingerbread spices – Cinnamon and ginger play the starring roles here, supported by cloves and all-spice. These will be mixed in with our flour.
Sourdough discard – Yes, because I LOVE sourdough, this banana bread has a cup of sourdough discard that adds an extra tang of flavor. If you don't have any discard handy, you can sub with a 1/2 cup of milk and 1/2 cup of all purpose flour instead.
Adding the oil and milk after mixing in the flour with other wet ingredients. I learned this method from The Clever Carrot's banana bread recipe. This is a really non-traditional way to make a quick bread, but it works like a charm. My hypothesis (if y'all are into the science) is that adding the flour to the wet ingredients allows for some gluten development to occur. But then adding the oil prevents further gluten development (think, gluten development = a tougher crumb, more similar to bread), creating a very tender and soft cake.
Semisweet chocolate and chopped nuts – The chocolate and nuts go so perfectly with the spices and subtle molasses flavor of the bread. To prevent the chocolate and nut pieces from sinking to the bottom of the batter, we lightly coat them with flour before folding them in.
All in all, I love the simplicity of this recipe and how it puts a winter twist on a classic. I hope you'll enjoy it with a hot cup of cocoa! 
If you make this recipe, please let me know! I always love to see what my readers are baking. You can comment below or tag me on Instagram @halicopteraway.

Other cozy recipes to love:
Recipe adapted from The Clever Carrot's Ultimate Sourdough Banana Bread.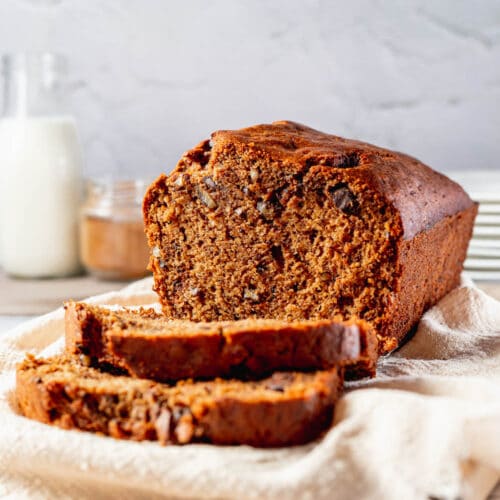 Gingerbread banana bread
All the familiar flavors of banana bread spiced up with ginger, cinnamon, cloves, and all-spice. This gingerbread banana bread is sure to bring warm and cozy vibes to your kitchen.
Equipment
2 medium mixing bowls

Hand or stand mixer

9 x 5 in. baking tin
Ingredients
Batter
3

medium bananas (350g)1

3/4

cup (150g)

brown sugar

1 1/2

tsp

vanilla extract

2

eggs

1

cup (100g)

sourdough starter at 100% hydration (or sub 1/2 cup milk and 1/2 cup all purpose flour, mixed together)

2 cups

(250g)

all purpose flour

1 1/2

tsp

baking soda

1/4

tsp

salt

1

tsp

ground cinnamon

1

tsp

ground ginger

1/4

tsp

all spice

1/4

tsp

ground cloves

1/2

cup (125g)

neutral flavored oil

1/4

cup (60g)

milk
Add-ins
4

oz

chopped semisweet chocolate or chocolate chips

1/2

cup (60g)

chopped nuts (I like pecans or walnuts)

1

tsp

all purpose flour
Instructions
Preheat oven to 360°F and grease a 9 x 5 inch baking tin.

In a medium mixing bowl, whisk together the all purpose flour, baking soda, salt, cinnamon, ginger, all spice, and cloves. Set aside.

In a small bowl, mix together the chopped chocolate, nuts, and 1 tsp of flour. Make sure that the chocolate and nuts are lightly coated with flour. This prevents them from sinking to the bottom of the batter.

Using a hand mixer or a stand mixer fitted with a paddle attachment, cream together the bananas and brown sugar in a medium bowl, until the bananas have broken apart. Small chunks of banana are okay.

Mix in the vanilla extract on slow speed. Beat in the eggs one at a time on slow speed until well incorporated.

Add the sourdough starter (or mix of milk and flour) and beat on slow speed until incorporated.

Add the dry ingredients, mixing on low speed until just incorporated. Be careful not to over-mix, as this can cause your bread to be tough. While the mixer is running, slowly pour in the milk and oil. The mixture will look a little chunky at first, but will smooth out after a minute or two.

Fold in the chocolate and nuts. Pour the batter into the greased tin and bake for 60 – 65 minutes until a toothpick pressed into the center comes out clean, with no batter. Melted chocolate on the toothpick is okay.

Remove from oven and let cool for 10 – 15 minutes.
Notes
If you have jumbo-sized bananas, consider using only 2 bananas. Otherwise, the bake time may be longer. When you weigh all of your bananas together, they should weigh between 350 – 375g.