Fluffy coffee-infused milk bread is rolled with sweet layers of brown sugar and cinnamon to create this wonderful treat. Enjoy one of these soft coffee bread rolls with a glass of cold milk or even more coffee.
All the Internet chatter about Dalgona coffee and all the photos on my Instagram of brown sugar milk tea had me craving a baked good that was milky and caramel-y sweet with that wonderful, rich hit of coffee. In other words, I wanted a brown sugar latte in pastry form.
This bread is the lighter, slightly more grown up cousin to cinnamon rolls. It has lovely, fluffy layers but goes for a more subtle sweetness instead of a super sweet ooey gooey center. Milk bread is the perfect base for this sweet bread. It acts as a fluffy, creamy base that just begs be mixed with coffee. Brown sugar adds a moist, deep flavor that is lightened by a smattering of cinnamon.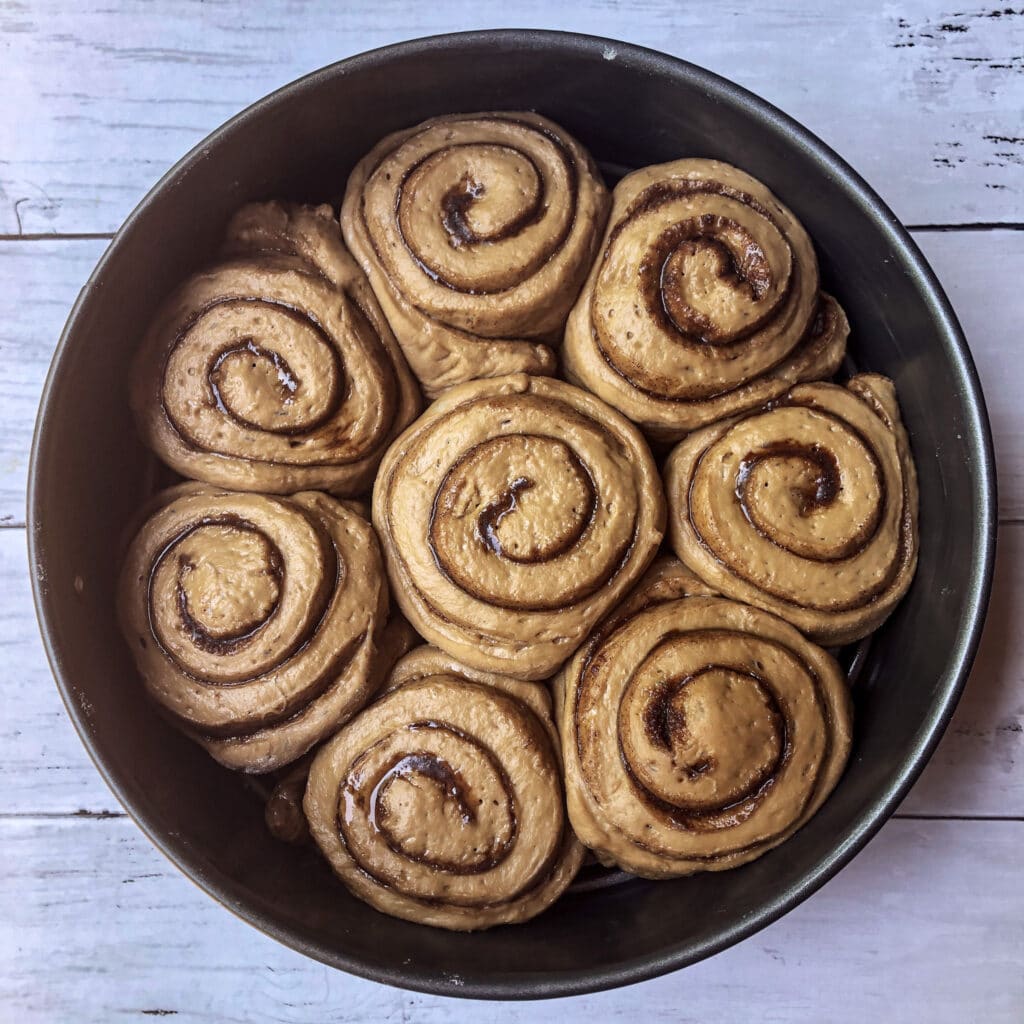 The key to making the fluffiest rolls that will stay soft for days is using the Tangzhong method, where you heat flour, water, and milk on the stove to create a thick roux. The coffee flavor will come from mixing instant coffee and warm milk. You'll add the roux and coffee milk to flour, eggs, yeast, salt, and sugar to create the base dough. Let it proof for about an hour, then roll out into a large rectangle. You'll sprinkle on a layer of brown sugar and cinnamon and then roll up to create those perfect spirals. Slice into 8 even pieces, let rest for another hour, and then bake for 20 – 25 minutes. Your house will smell like pure heaven!
Tips and tricks for perfect coffee bread rolls
The quickest way is to make this dough in a stand mixer, but it is definitely possible to make it by hand. To make by hand, follow the method in this post: Japanese milk bread by hand (no milk powder)
If this is one of your first times making enriched bread, you can check out this post for tricks on kneading and proofing: Tips and tricks for perfect enriched bread
The dough will be quite wet and slack and will tighten up after kneading and proofing. This is what makes the rolls super fluffy at the end. If you are struggling to handle the dough, I recommend letting it rest for 20 minutes to let the flour absorb some of the moisture.
To get perfectly even rolls, I measure out and mark where I want to slice before cutting. I also use a piece of floss instead of a knife to prevent squishing the dough. To use this technique, simply wrap the floss around the roll and pull the two ends in opposite directions. The floss will tighten around the roll and slice through smoothly.
The amount of coffee powder you will need depends on the strength of the powder. You want to add enough to have the equivalent strength of 3 – 4 shots of espresso. I used 4 tbsp of powder.
Because the dough is brown, it can be trickier to tell when your rolls are browned and finished. Tap with a back of the spoon, and if you hear a hollow sound, then the rolls are complete. Be careful not to overbake as the rolls will turn out dry.
You can use either light or dark brown sugar for this recipe. I use dark for that extra molasses flavor.
I prefer not to have too much sugar in the middle, but if you like it a little sweeter, feel free to increase the amount of brown sugar filling.
Other enriched bread recipes:
If you make these brown sugar latte rolls, please let me know! You can leave a comment below or tag me on Instagram @halicopteraway. I always love to see what everyone is baking.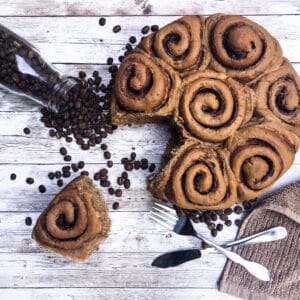 Brown sugar latte rolls
Fluffy coffee-infused milk bread is rolled with sweet layers of brown sugar and cinnamon to create this wonderful treat. One of these fluffy rolls goes perfectly with a glass of cold milk or even more coffee.
Equipment
medium mixing bowl

Small skillet or pot

9 in. round baking tin

Rolling Pin

stand mixer (optional)
Ingredients
For tangzhong (makes 1/2 cup)
3

tbsp (23g)

bread flour

1/4

cup (60g)

water

1/4

cup (60g)

whole milk
For dough
1/2

cup

tangzhong (see above)

2 1/2

cup (325g)

bread flour

1/4

cup (50g)

granulated sugar

2

tsp (7g)

active dry or instant yeast

1

tsp (4g)

salt

1/2

cup (120g)

warm milk

2 – 4

tbsp

instant coffee powder

2

tbsp

hot water

4

tbsp (60g)

unsalted butter, room temperature, cut into pieces

1

egg

vegetable oil for greasing
For brown sugar cinnamon filling
1/4

cup (50g)

brown sugar

1

tsp

ground cinnamon
Instructions
Make tangzhong
In small skillet or pot, whisk together flour, milk, and water until smooth. Bring to simmer over medium-low heat, whisking frequently, until mixture has thickened but is still pourable. It should take 5 – 10 minutes. Your whisk should leave a mark when dragged along the bottom of the pan.

Pour into a bowl and cover surface with plastic wrap to prevent a film from forming, and allow to cool to room temperature.
Make dough
Mix together hot water and instant coffee to make a concentrated coffee mix. Add to warm milk. Add yeast and set aside for 5 minutes. The milk and coffee mixture should feel comfortably warm to the touch, but not hot, otherwise it will kill your yeast.

Combine flour, sugar, salt, egg, milk and coffee mixture, and 1/2 cup of tangzhong starter in a medium mixing bowl. Using a stand mixer fitted with a dough hook attachment, mix on medium-low speed until dough comes together. Slowly add pieces of butter until fully incorporated, which could take up to 10 minutes. Continue to mix in stand mixer for ~10 – 15 minutes on medium-low speed until a smooth, elastic dough forms. Every few minutes, pause and do the window pane test to see if the gluten has developed. To make the dough by hand, please see notes above.

Lightly grease mixing bowl and place dough in bowl. Cover with plastic wrap and let rise for 40 – 60 minutes until roughly doubled in size.

Mix together brown sugar and cinnamon and lightly grease your round baking tin. Generously flour your countertop. Remove the dough from the bowl and place on the countertop. Flour the surface of the dough and your rolling pin. Roll the dough out into a 15in. by 10in. rectangle. Evenly sprinkle the surface with brown sugar and cinnamon mixture, making sure to spread all the way to the edges of the rectangle. With the long side of the rectangle facing you, roll into a 15in. cylinder. Cut into 8 equal slices and place in your baking tin.

Preheat oven to 350°F. Allow the rolls to proof for 45 – 60 minutes. When you press your finger into the rolls, the dough should slowly come back about halfway.

Place in the lower third of the oven and bake for 20 – 25 minutes until it makes a hollow sound when tapped.